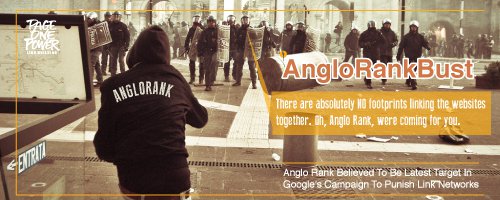 As link builders, we must always keep a close eye on how Google views the links we are acquiring. Building links that appear "unnatural" in the eyes of Google can lead to some serious consequences and potential penalties. Although it is impossible to determine exactly what Google considers unnatural, Google Webmaster Tools does provide some descriptions we can use for reference. According to the "Link Schemes" portion of Google's Webmaster Tools, some examples include:
Buying or selling links that pass PageRank. This includes exchanging money for links, or posts that contain links; exchanging goods or services for links; or sending someone a "free" product in exchange for them writing about it and including a link
Excessive link exchanges ("Link to me and I'll link to you") or partner pages exclusively for the sake of cross-linking
These two examples fit the description of a common black-hat SEO practice referred to as a "link network". Anglo Rank is the latest target in Google's relentless campaign to bring down these link networks.
Read More