Despite all the "link building is dead" and "just do link earning" (whatever that is?) posts over the years, it's 2021 and links remain as important as ever.
Industry research and case studies continue to demonstrate a strong correlation between backlinks and search rankings. We see this connection every day with our clients who invest in link acquisition to improve their rankings and visibility. Here is a recent project we've worked on where links have had a positive impact on rankings in just four short months: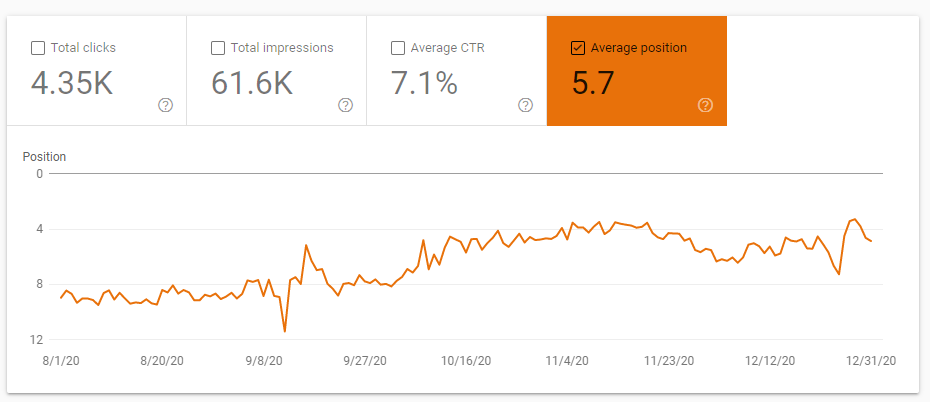 This competitive query (Keyword Difficulty of 55, according to Ahrefs) was a high priority for the client, and has over 2,000 monthly searches.
It's clear that creating useful, valuable content and promoting those pages for relevant, authoritative links is still the recipe for success in SEO in 2021.
Since I've covered the topic of creating search content elsewhere, I want to focus on link acquisition in this post.
So, which link building tactics work in 2021?
In this post I want to answer that question by sharing how we're building links at Page One Power in 2021.
Link Building Tactics for 2021
At Page One Power, we've been earning links for our clients for over ten years and there is one overarching theme that describes how we build links — identifying and emphasizing value.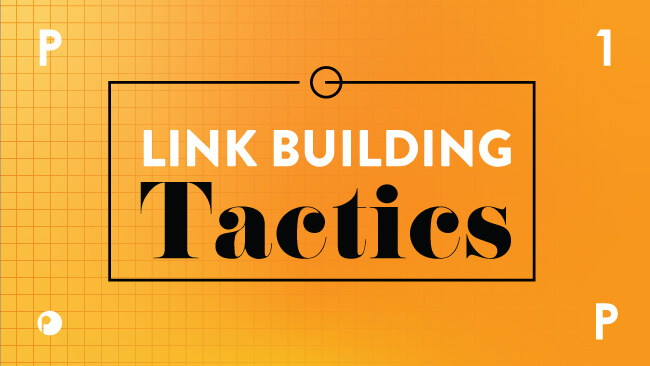 Regardless of niche, client, or website, we've been able to secure links because we identify something valuable about our clients' brands or sites, then promote that value to relevant sites and audiences on the web.
While identifying and emphasizing value is the guiding philosophy behind all our link building, in terms of link building tactics there are three general tactics that our link acquisition efforts can be bucketed into:
Resource promotion
Mention link building
And content link building.
We've found that these tactics scale and nearly all websites can effectively execute at least one of these tactics for links. I'll dive into each tactic and explain how to apply a value-driven approach to effectively secure links in 2021 and beyond.
Resource Promotion
Nothing beats having a resource people want to link to. Having a page that is unique, interesting, or best-in-class already puts you ahead of the curve in terms of link building.
However, you still need to manually promote your assets to ensure those who are willing to link actually know about their existence. You already have value, now you need to emphasize and promote it.
---
Learn how to launch your own link building campaign with our FREE 2021 eBook — Link Building: From Beginning to Launch. Download it now!
---
Resource promotion is a catch-all term we use at Page One Power to describe any activity that involves promoting a resource for the purpose of acquiring a link. Resources can take many different shapes, from linkable content on your website to unique aspects of your business.
Some common types of linkable assets that we promote for clients include:
Interactive pages such as tools, quizzes, calculators, etc.
Engaging visuals and infographics.
Original research and case studies.
Long-form text content.
eBooks and tutorials.
Videos
Etc.
In terms of your business, your brand itself (if recognizable) can be promoted as a resource if you have an established brand. Beyond brand reputation, you can also promote your business for links based on the unique value you provide to customers and your community.
You could also earn links promoting:
Authoritative quotes, speaking events, and interviews featuring employees.
Community and industry events hosted by your brand.
Exclusive offers such as discounts or scholarships.
Imagery and logos associated with your business.
Etc.
If you have something that would be valuable to an audience and benefit other websites, you can promote that resource for links online.
To learn more about resource link building, check out these expert articles:
Mention Link Building
Converting brand mentions into links is another evergreen link building tactic worth executing in 2021. If you've worked to build a respected and valuable brand, people will talk about your business online. Finding these mentions can provide customer insight, relationship building opportunities, and of course links.
Unlinked brand mentions have historically been one of our highest converting link building techniques at Page One Power (with more established brands we've seen upwards of 20-25% conversions with these links).
These opportunities typically convert at a higher rate because the websites we're contacting are already mentioning our client in some capacity. In these instances, an outside website has already identified the value in our client and we're simply ensuring that recognition includes a link.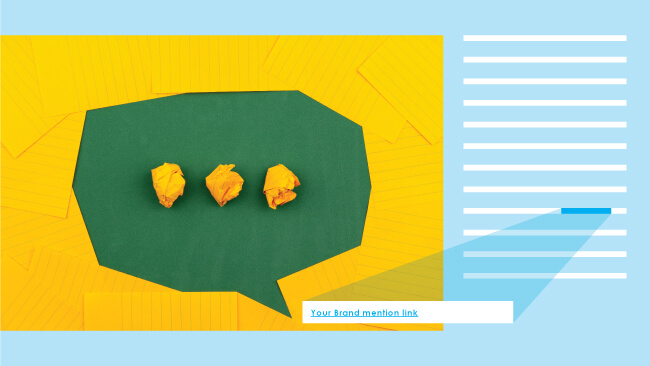 Mention opportunities are not limited to your brand name. There are a variety of ways your business could be mentioned — and eventually linked to — online. Potential link opportunities include mentions of:
The C-suite or other public-facing employees
Company sponsored events and venues
Proprietary research and publications
Misspelled or old brand names
Unique product and service names
And company mascots and logos.
Anything that is unique or specific to your company represents a potential mention link opportunity if it receives coverage online. Using search modifiers, you can find these mentions and convert them to valuable backlinks.
Of course, mention links rely on the fact that someone else has found your brand valuable or interesting enough to talk about online. But if you've established a well-known brand within your industry, these mentions are likely out there and they represent prime link opportunities.
You can find more in-depth information on mention link building from these great resources:
Content Link Building
Contributing useful content to other websites is a time-tested method for acquiring relevant links. Sharing your own personal expertise can be another way to promote your value to other websites.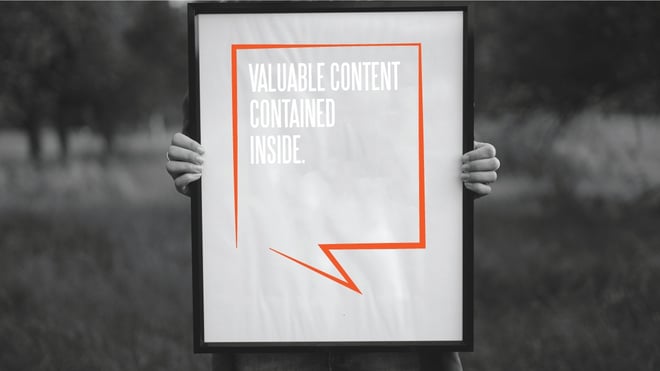 Rather than promoting an existing page, you can offer value by creating something unique and interesting for another site's audience. This strategy can be useful when you don't have many assets on your website.
However, at Page One Power we've historically had the most success with content link building when our client has a robust content library built out and they consistently add fresh content.
Similarly, we've seen the most success with clients who have a fully-developed marketing funnel with: informational top of the funnel content, persuasive middle of the funnel content, and converting pages. The most common misstep we still see clients make is only building out the bottom two sections (middle and converting) of their funnel.
The key to building links with external content is identifying what brings potential customers to your site. Consider:
What are your customers' pain points?
What types of questions are your customers asking?
What common issues or problems does your product or service solve?
Etc.
By writing content that provides solutions to their audiences' problems, you are offering value to the site owner as well and can secure links by citing your website.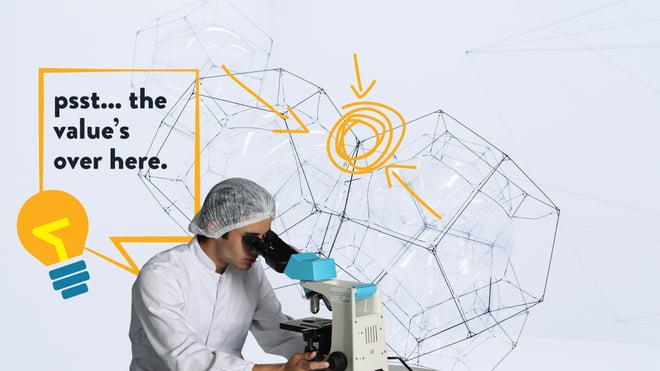 Of course, you'll still need to have something worthy of linking to in the guest content you create if you want to secure backlinks.
Most editors these days are savvy enough to spot an irrelevant or unnecessary link that's only in the content to benefit SEO. However, if you are providing insightful content that legitimately helps their audience, and your links support this, you can be successful securing links with guest content.
We often have clients with newer sites that are lacking linkable resources or the brand recognition required to pursue resource promotion and mention links. Content link building provides an opportunity to leverage other (typically larger) platforms for exposure and links by offering value in the form of expert content.
For sites that consistently produce valuable top of the funnel content, securing links through external content can be especially effective.
Here is some further reading on content link building and how to use this tactic effectively:
Conclusion
Link building needs to be one of the SEO services you focus on in 2021.
Search continues to be a primary marketing channel online, and links continue to have a strong influence on visibility in search and keyword rankings. At Page One Power, we've spent the past ten years testing and tweaking our link acquisition tactics to maximize efficiency. After reviewing our own processes, it was clear that the driving force behind every link we secure is value.
Value can take many forms, but as long as you can accurately identify the value your site or brand provides, you can then leverage that value for links online.
Typically, promoting your value takes the form of one of these three main tactics:
Resource promotion.
Mention link building.
And content link building.
Keep in mind however, not all three options are always available for every campaign as your website, marketing, brand strength, etc. will determine opportunity. The requirements for each are as follows:
Resource promotion - you need to be actively developing assets and research or have a brand that is recognized as a resource itself.
Mention link building - you need to be actively engaged in PR and publicity efforts or have an established brand that is newsworthy.
Content link building - you must be investing in content on your own site to have resources worth citing.
Securing links is tough work, but with a focus on the unique value your business offers and a healthy mix of these tactics, you can be successful in link building and growing your online presence in 2021.