Content and links are the pillars of successful SEO.
Search engines like Google use a wide variety of factors to calculate their search results, but we've heard from Google employees that content and links are the two most important factors for ranking in search:
"I can tell you what they are. It is content. And it's links pointing to your site." – Andrey Lipattsev, Search Quality Senior Strategist at Google
At Page One Power, we specialize in content marketing and link building because those are the practices that can have the most impact for our clients.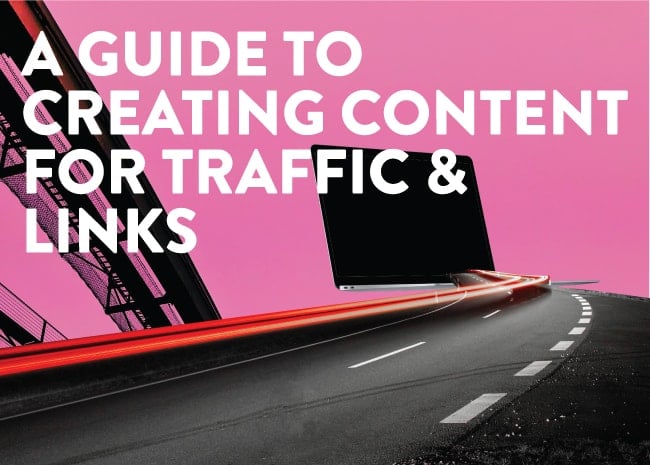 Today, I want to walk you through a couple of our processes for creating content for search — you will learn how to craft linkable content that earns relevant, natural backlinks and how to create keyword-focused content that quickly ranks and captures new organic traffic.
Let's jump in!
Building Content for Links
If you want to grow your website and brand's visibility in search, you are going to need links, and the best way to earn links is through promoting link-worthy content.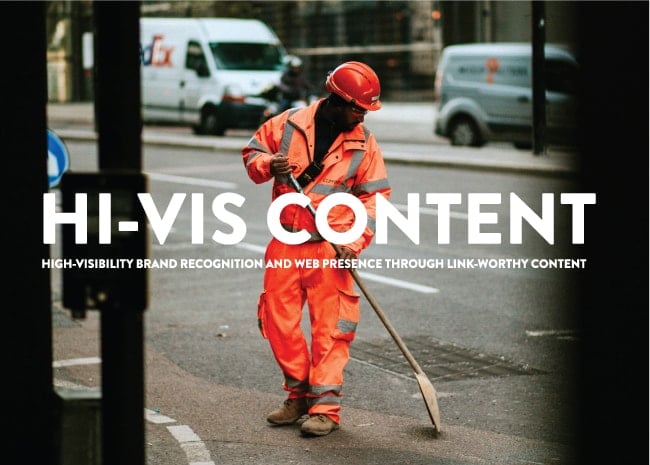 Through years of experience promoting client pages for links, we've identified the types of pages that perform well in a link building campaign and the attributes that compel other site owners to link. Linkable pages are typically:
Engaging.
Informative.
Original or unique.
Data-driven and appropriately sourced.
Audience-focused.
Etc.
Another key ingredient for crafting linkable content is broad appeal. People only link to pages that are relevant to their audience, so pages that serve larger audiences inherently have more link opportunity. Consider how many websites might link to a page about owning pets versus a page about ferret care — there are many more people that would link to the page about owning pets because it has broader appeal and relevance.
To further demonstrate what makes content linkable, I'm going to pull from a real website — ShopKeep. On ShopKeep's homepage, I quickly notice a dropdown that says "Resources" which seems like a promising place to find linkable assets.
ShopKeep has a guide for choosing the right POS, but it appears to be gated by a form, so this will not be something we can promote for links. However, while perusing the blog I notice ShopKeep has another guide about small business tax deductions: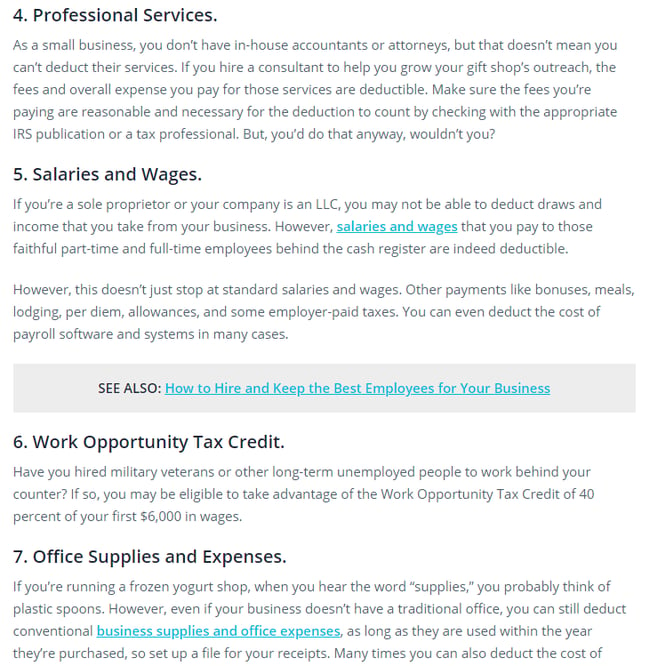 Reading through this page, I can see that it has the potential to earn links — the guide is informative, well-organized, and designed for a large audience (SMB owners).
When I review the page in Majestic, it shows there are only seven referring (linking) domains:

This low number indicates that this page might have been undervalued, but with the right promotion, it has the potential to earn ShopKeep links consistently.
But what if ShopKeep didn't have any existing linkable content?
To craft fresh, link-worthy content, ShopKeep should turn to their competitors and industry for inspiration. Using a tool like Ahrefs, I can sort competitor content by which pages have the most referring domains. Analyzing a competitor like Square, I can see they have a handful of blog posts that have 40+ links: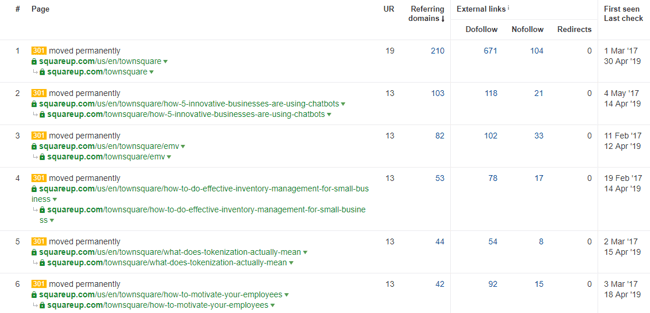 These pages represent potentially linkable topics for ShopKeep to address with their own content.
For example, Square has a page about how to motivate your employees, which has 42 referring domains: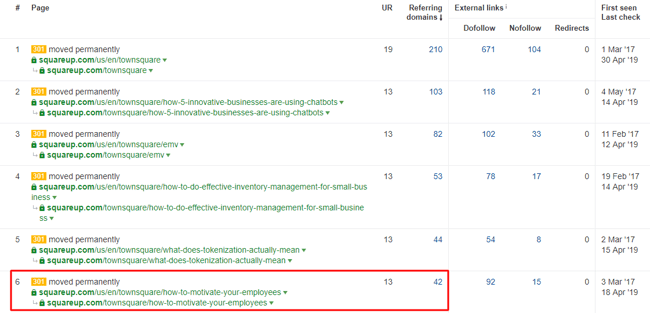 Let's see if ShopKeep is covering this linkable topic on their blog: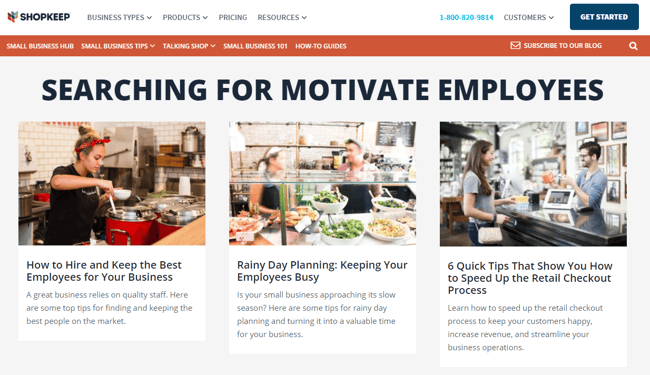 It looks like ShopKeep is just missing the mark here, and there is an opportunity to create new content that has already proven to be link-worthy with their audience.
But that's just one quick glance at one competitor. Through competitive analysis, you can identify trends and topics that you know will earn links because they are already earning links for your competition.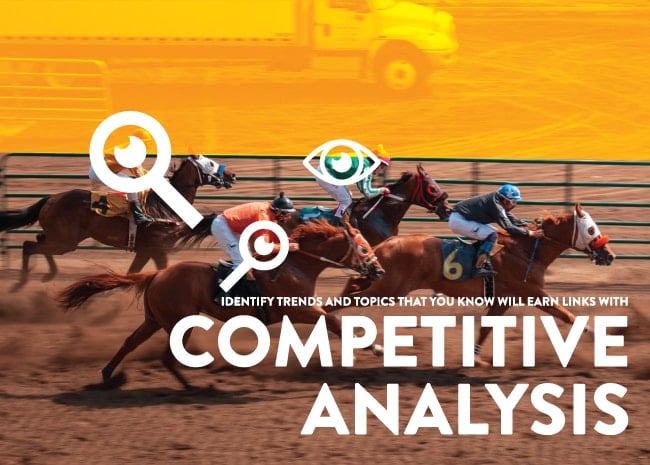 However, you should always dig into the backlinks of a competitor page as well before proceeding with your own page. At Page One Power we've had clients bring us competitor pages that have a substantial amount of links — telling us that they want us to create a similar page for them — but when we review those links we find that the majority are spammy, low-quality, or links that were clearly paid for through sponsorships.
Competitor pages with a high number of backlinks can signal linkability for that topic, but it's important to further qualify the potential topic by reviewing those backlinks.
Building Content for Traffic
Another goal your pages should serve is bringing in traffic from organic search. At Page One Power, we refer to these pages as keyword-focused content. Our process for creating keyword-focused pages is designed to identify low-competition opportunities where we can create pages that will rank well quickly. And as the name suggests, this is done through keyword research.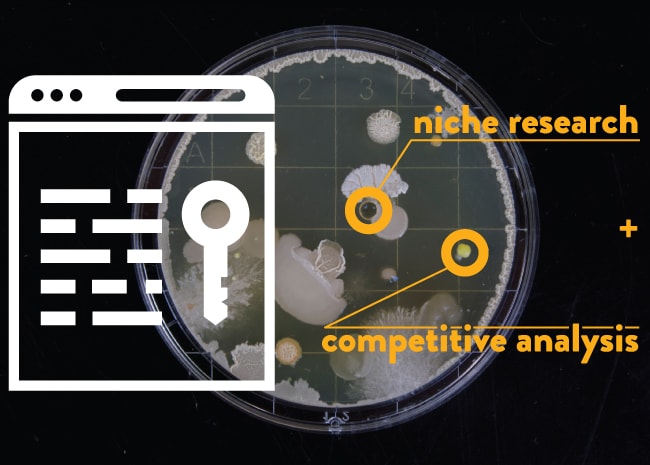 Effective keyword research is comprised of two elements: niche research and competitive analysis. To conduct this research, we like to use the tool SEMrush.
For this example, I'll use TrueCar's website to find some potential opportunities for them to create keyword-focused content.
I'll start by plugging TrueCar into SEMrush: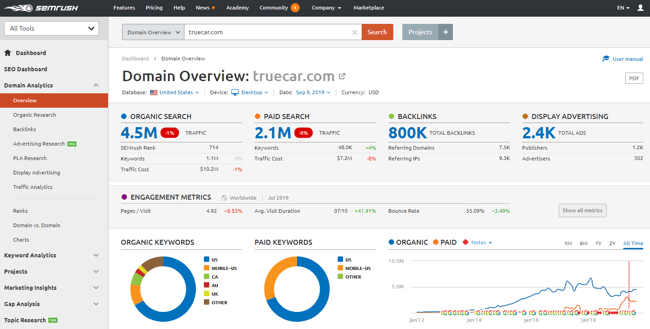 SEMrush provides a variety of data, but we're using it for competitive research. To find organic competitors, I can scroll down and see a list of them:

SEMrush determines these competitors based on shared keywords, so always review this list for accuracy. This list looks pretty good, so I'll start by researching Autotrader.
SEMrush helps me understand how Autotrader is generating organic traffic by showing me what percentage of their organic traffic is coming from a given keyword or phrase: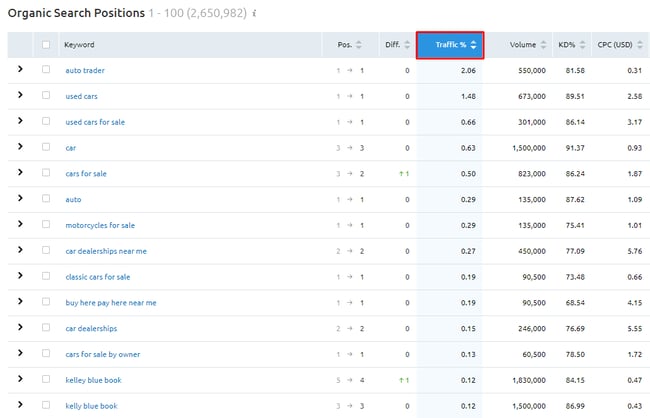 Many of these keywords center on the themes of [used cars] or [car dealerships] which have commercial intent and are likely extremely competitive. However, one phrase that jumps out to me is [buy here pay here] as it looks like Autotrader has a blog post ranking for this term, which typically signals informational intent:

Reviewing Autotrader's blog post make me believe further that this is an informational query: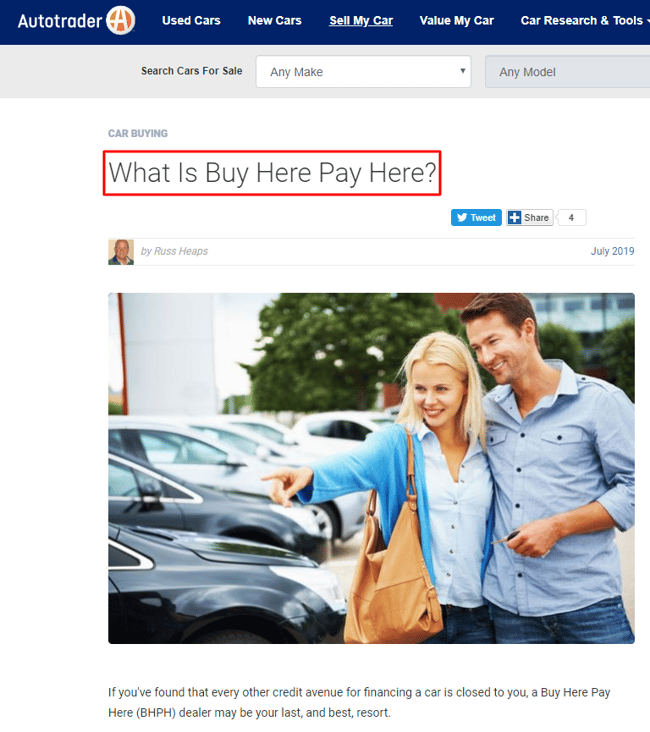 Also, the content provided here by Autotrader is somewhat thin (~650 words). SEMrush is reporting that this page is ranking in position two for [buy here pay here], so there seems to be potential here for TrueCar to create something better that could rank. Furthermore, SEMrush shows a search volume of 165,000 for this term, so there appears to be a real opportunity for traffic for TrueCar.
However, to confirm this is a viable opportunity, I'll need to scrutinize the rest of the search results.
Checking the results for [buy here pay here] paints a slightly different picture: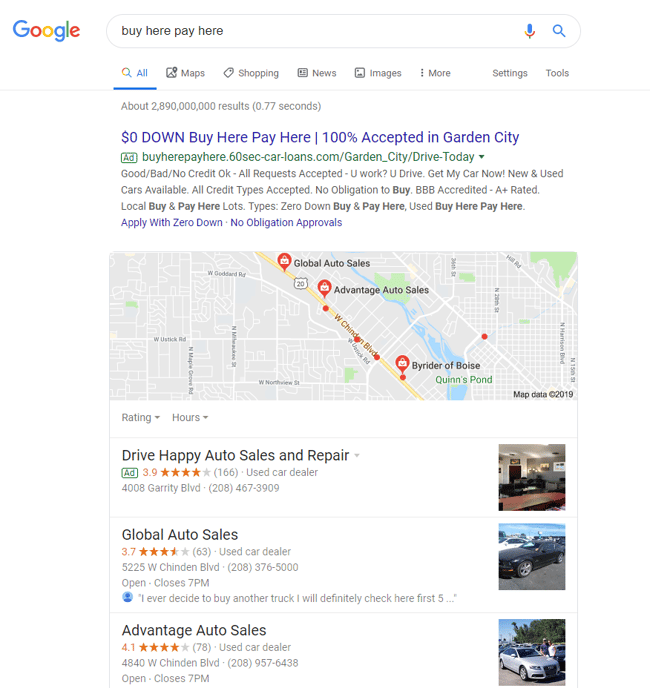 The top of the SERP is dominated by local listings of car dealerships, and there are five more dealerships listed below that before I see the first informational result (Credit Karma):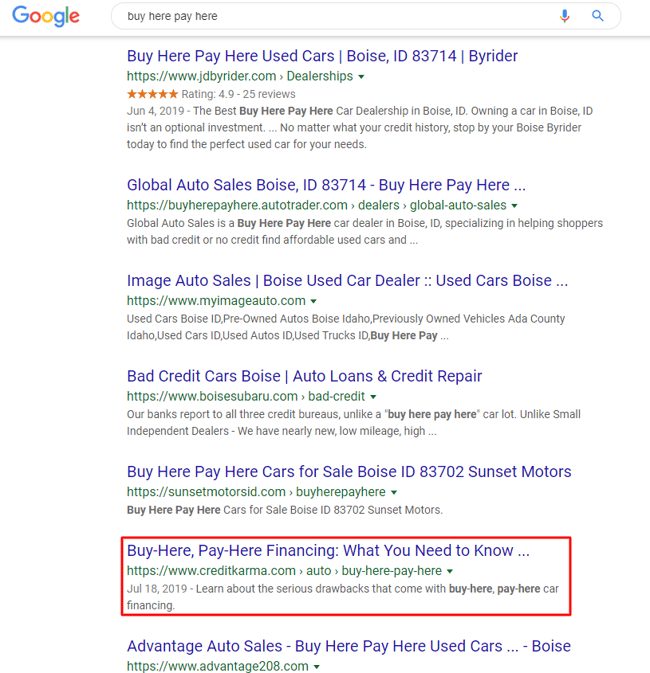 This is why you should always review the actual results when conducting keyword research! Since [buy here pay here] seems to have largely commercial and local intent, this might not be a great opportunity for TrueCar to create a keyword-focused page. However, I'm not giving up quite yet.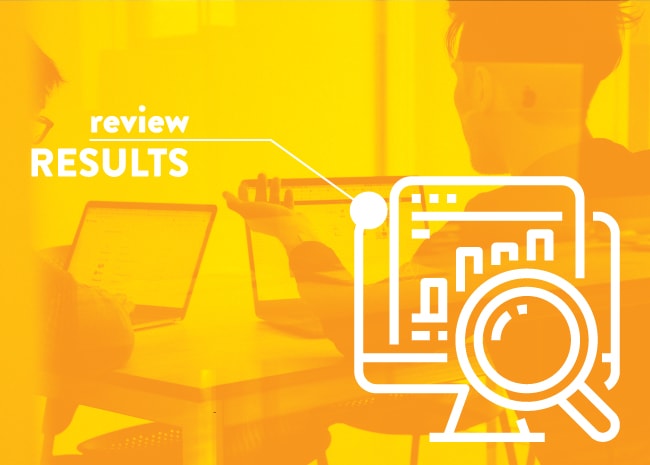 I recall that Autotrader's page was titled "What is Buy Here Pay Here?" — let's see what the results look like for that query: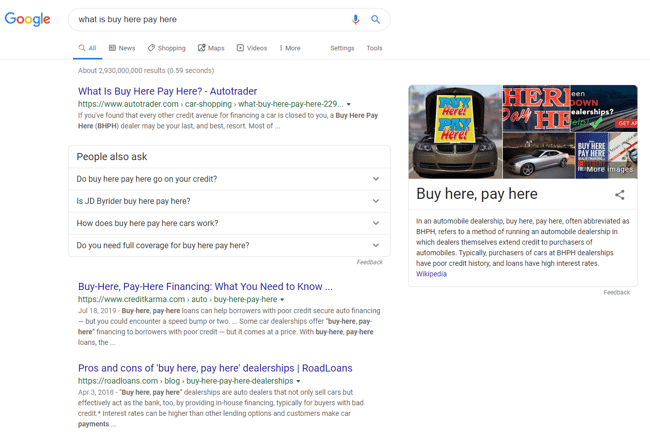 These results look much more informational, and there is Autotrader's post right at the top (Credit Karma's post is also ranking here). While there are some strong brands ranking here (Autotrader, Credit Karma, Experian, and Wikipedia), there are also lesser-known websites ranking: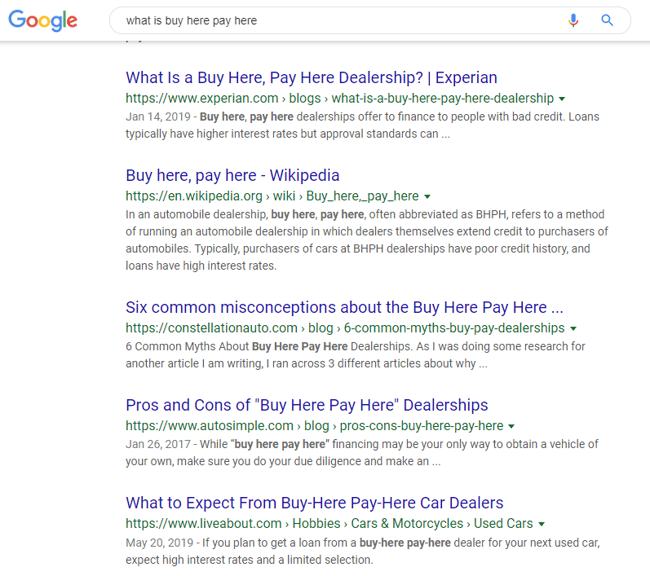 Considering TrueCar is a recognizable brand themselves, this could be a promising opportunity. I already know that Autotrader's content is fairly weak, but I need to analyze some of the other results to better gauge competition.
Credit Karma and Experian probably have the best pages here, but it wouldn't be difficult for TrueCar to create something as, if not more, extensive as these pages.
RoadLoans and LiveAbout have pages that are equally thin as Autotrader's, and while the AutoSimple page is relatively informative, it's littered with affiliate links, is formatted poorly, and has broken video links.
I believe there is an opportunity here for TrueCar to create content that is best-in-class and has a strong chance of ranking.
But would it be worth it?
The term [what is buy here pay here] has significantly less search volume than [buy here pay here] according to SEMrush: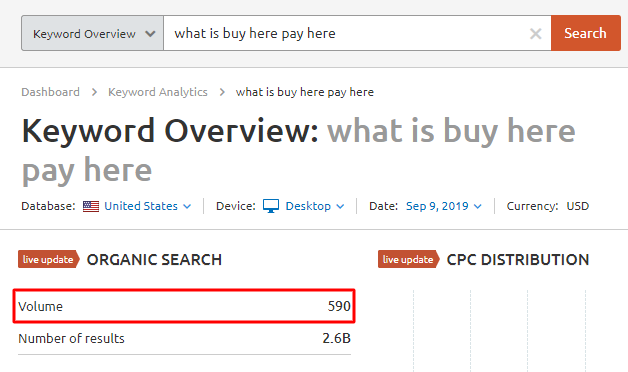 But this doesn't tell the whole story. When you evaluate search volume, you need to consider any related or long-tail keywords that are associated with the individual term you are targeting. For example, here are the related terms SEMrush provides for [what is buy here pay here]: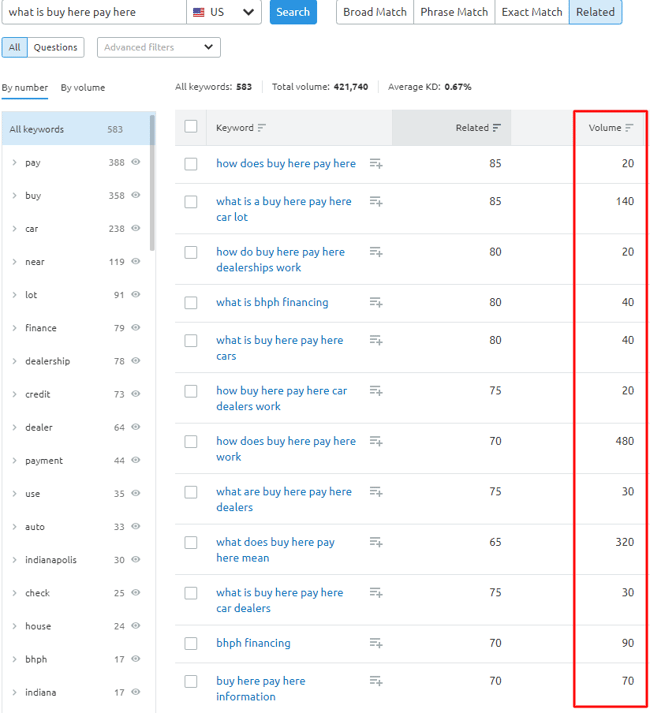 By themselves, these volumes aren't impressive, but on aggregate the total search volume (and potential traffic gains) is substantial.
These related keywords also provide a blueprint for the page TrueCar should create and the sections and sub-headers they should include ("what is a buy here pay here car lot", "what is bhph financing", "how does buy here pay here work", etc.).
Lastly, I need to review the backlinks these ranking pages have to ensure it won't take 5,000 links to be competitive. Using Majestic, I can quickly confirm that these pages are ranking with few links:
Autotrader – 4 referring domains.

Credit Karma – 7 referring domains.

Experian – 5 referring domains.

RoadLoans – 10 referring domains.

LiveAbout – 16 referring domains.

Auto Simple – N/A
It's worth noting that Autotrader, Credit Karma, Experian, and LiveAbout all have 20,000+ backlinks to their domains. However, TrueCar also has a strong domain, with 5,000+ referring domains, and shouldn't have any trouble competing with an optimized, quality page that does the best job of answering user intent.
And there you have it — I've found an opportunity for TrueCar to create a keyword-focused page that could rank well quickly and earn significant organic traffic.
Conclusion
If your goal is to improve the organic performance of your site, you'll need a healthy mix of content that can consistently earn links and content that can rank for targeted keywords. You need both types of content to reliably rank new pages.
Hopefully this guide provides a blueprint for you to create the types of content that can earn more links and traffic for your site. You don't need every page on your site to earn a boatload of links or rank on the first page for a handful of terms, but these strategies will help you create some pages that do achieve these goals, and these pages can support your other content.
Conversely, if you need help with content marketing, contact us and we'll work with you to create a plan that helps your website perform better in search.