You want more people to come to your product pages…I get it. You want more people coming to these pages, buying more of your product, so you can earn more revenue — it makes sense.
And you know that links help pages rank in organic search so that more people can find those pages. So, when you come to Page One Power wanting more backlinks to your product pages, I understand.
But this is not the right strategy to get more traffic to your product pages.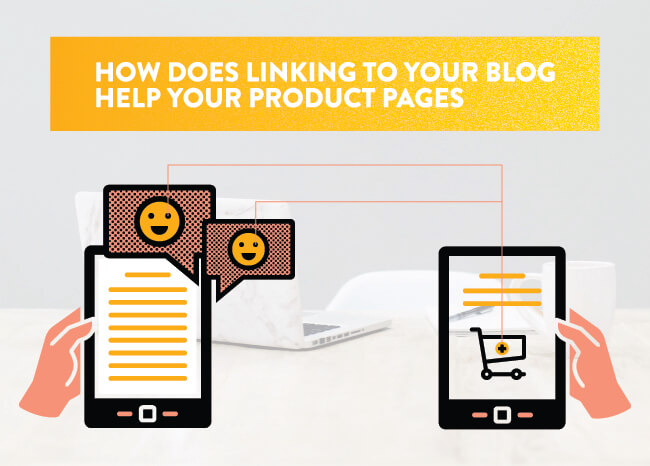 This may seem counter-intuitive…but in this post I'm going to lay out the reasons why linking to your content and informational pages is a better strategy for influencing the visibility of your product and service pages.
Every Link Helps (For the Most Part)
First and foremost, every (worthwhile) link your site earns helps.
Links work as endorsements online, and the more often search engines see your website and pages earning endorsements, the more likely they are to include you in their search rankings. And these backlinks don't just help the page they're pointing to, your total backlink profile contributes to the overall authority of your website which factors into your site's ability to rank.
Furthermore, any link you earn has the potential to send referral traffic to your website. Not only is this a positive signal to search engines, but it means there are literally more people coming to your website. Most of the links you earn won't drive substantial referral traffic but creating more ways for people to find your site is always good and drives exposure for your brand.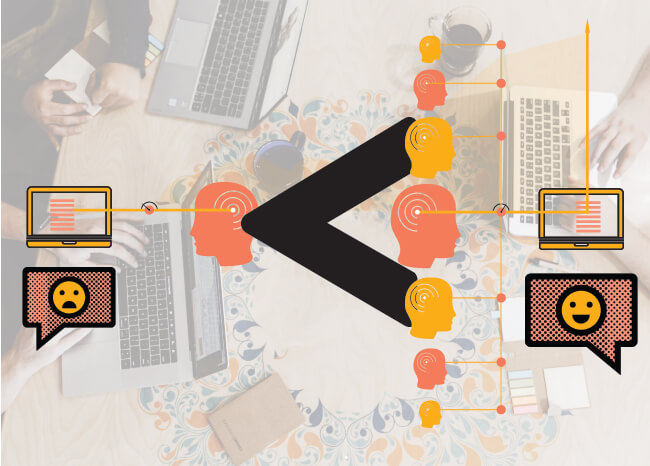 Of course, this is assuming the links you're securing are quality, relevant links. Any link that goes against search engine guidelines, such as the link schemes Google refers to here, will not help your website and may even harm your search visibility.
An easy litmus test for your link building tactics to determine if you're earning links the right way is to ask yourself, "Would I want this link even if search engines didn't exist?" — if you're only building links to manipulate search results, you're at best being ineffective.
At Page One Power, we take a custom, audience-focused approach, because these are the same people Google is trying to serve.
---
Want to learn more about what it's like to work with Page One Power? Download this field guide which explains our approach to partnerships.
---
If your link is for the betterment of the web, search engines are likely to value that link as well.
So, Why Link to Your Blog?
If links are so valuable, wouldn't it be best to try to build links to my most valuable pages, my product pages? Well, no.
While links to your product pages would benefit those pages, the problem is you're not going to be able to earn many links because most websites don't want to link to product pages.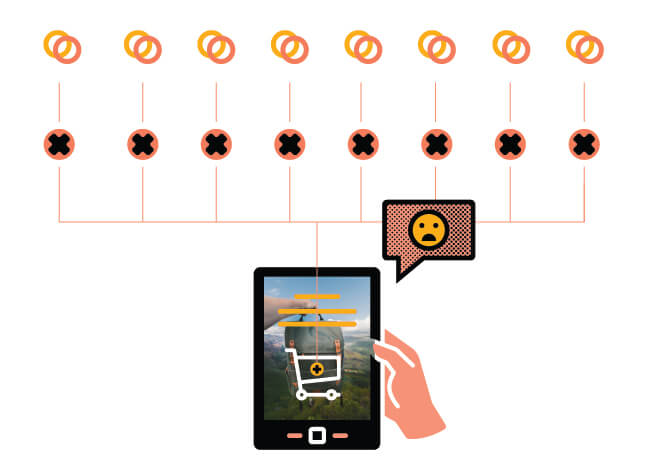 Think about it — how often do you link to other people's products on your site? The opportunities where someone will link to your product or service pages are limited, and you can't sustain a link campaign that targets these pages. However, that doesn't mean you can't still influence the rankings of your product pages.
So, how do you bring link equity to product and service pages? Two words: internal links.
Internal links from pages that are linkable and earn a high number of links can pass equity to your converting pages and help them rank better for their relevant terms.
But rather than tell you, I want to show you how this works…with our own website.
At Page One Power, we offer keyword research services. While this is not one of our primary services, we still feel this is a valuable service that we want potential partners to know about, so of course, we want our page to rank. But again, nobody wants to link to our page about our services.
However, to overcome this obstacle, we built a large, comprehensive guide about everything you need to know to get started with keyword research. This informative resource serves a much larger audience and is inherently more likable, and the page has quickly amassed links from 70 referring domains (according to Majestic):

Of course, the integral part of this strategy is internal linking, which we executed.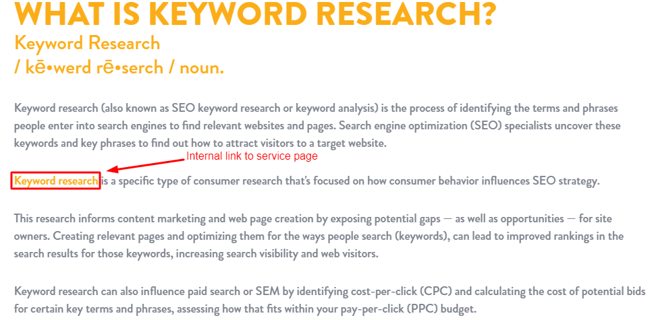 And this strategy has worked! The link equity passed from this internal link has helped a page that traditionally didn't rank well for us to move onto the first page of Google for its target head term.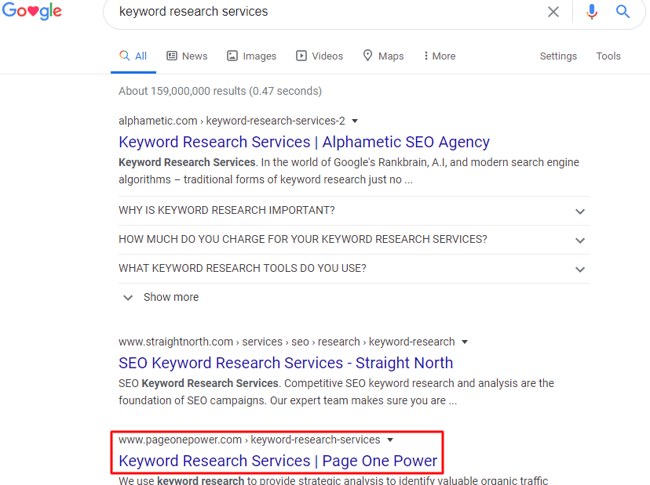 This same strategy can be applied to blog posts as well. You just need a link-worthy page that is relevant to your product or service pages, which you likely already have on your blog. Going back to our keyword research example, here is a blog post I wrote about keyword research that internally links to our service page.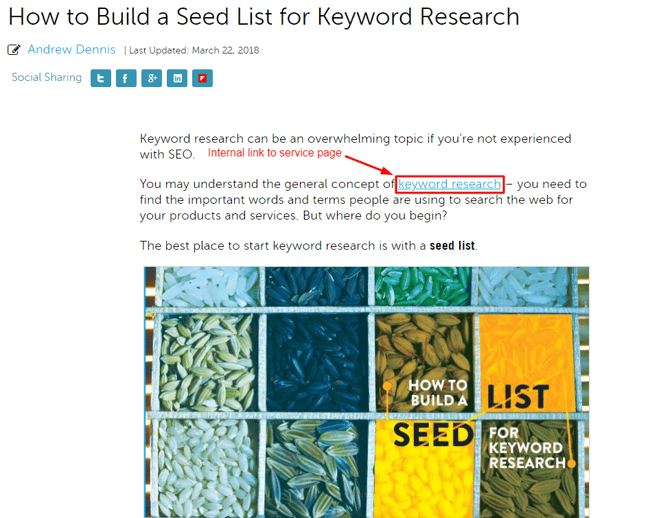 This is a blog post that is link-worthy (25 referring domains).

It is also contributing to the improved visibility of our keyword research service page.
These pages are helpful and informative, rather than promotional or conversion-focused, which is why they can attract relevant links.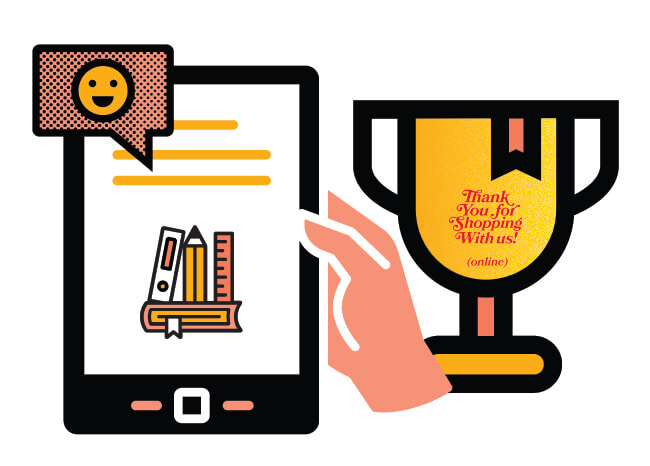 But what if we just tried to build links to our service page instead? Well, we wouldn't be ranking as well as we are, since that page has a difficult time earning links (only 3 referring domains).

And this is why linking to your blog or other informative content is always a better strategy than trying to link to your product pages — people will link to these pages and you can direct some of that link equity to your important, converting pages.
Summary
Obviously, your product and service pages are important — we get that, and we feel the same way about our converting pages. But these pages shouldn't be the focus of a link building campaign because there just isn't enough link opportunity to sustain long-term success. Instead, you should focus your link building efforts on your linkable content, then leverage internal links to grow organic rankings for your product pages.
We've employed this strategy successfully on our own site and for numerous partners, so if you need help with link building schedule a time to chat and we'll put together a strategy that works for you.