Keyword research can be an overwhelming topic if you're not experienced with SEO.
You may understand the general concept of keyword research – you need to find the important words and terms people are using to search the web for your products and services. But where do you begin?
The best place to start keyword research is with a seed list.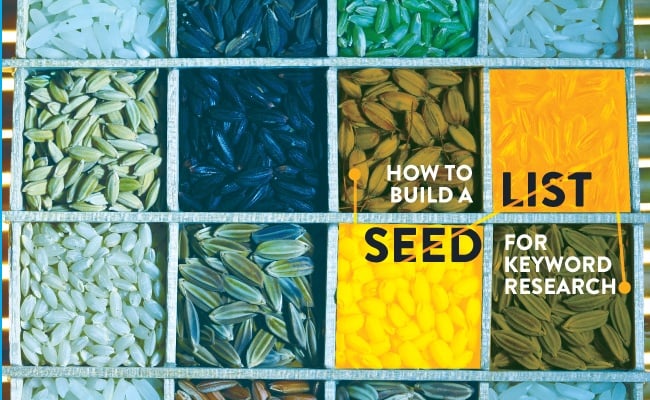 A seed list is the baseline keywords and phrases most relevant to your business. This list of keywords provides the foundation for all of your expanded keyword research. Effective keyword research starts by building a thorough seed list to ensure no core opportunities are missed moving forward.
There are a few primary sources to identify your seed keywords:
Terms directly associated with your products or services.
Terms used by your audience.
Related search terms found in Google.
Current ranking pages and content.
Competitor keywords.
In this post I'll walk through how to build a seed list for keyword research, and since I want this to be an actionable walk-through, I'll use a running example throughout the post.
For my example, I'll use cybersecurity company SiteLock.
Start With Terms Associated With Your Brand
To create my seed list, I'll start with the keywords and phrases directly associated with SiteLock.
Even though I don't work at SiteLock, I can quickly find many of these terms by simply looking at SiteLock's website and their products:
[website security]
[cybersecurity]
[website scanning]
[malware removal]
[DDoS protection]
[PCI compliance]
[content delivery network]
Etc.
Compiling these terms is the easiest part of creating a list of seed keywords.
Rather than using a specialized tool or executing in-depth analysis, I can start building a seed list by simply writing down all the head terms directly associated with my products/services and brand.
However, this only gives me a baseline list of seed words, and I'll need to expand my list via other sources.
Research Terms Used By Your Audience
Perhaps the best source for finding seed keywords is your audience — after all, these are the people you want to attract to your site.
If you have a site search function on your site, start by analyzing how people are searching on your own site. User behavior on site often mimics user behavior in organic search, so terms that are frequently searched on your site are likely searched in organic as well. These terms could represent potential seed keywords.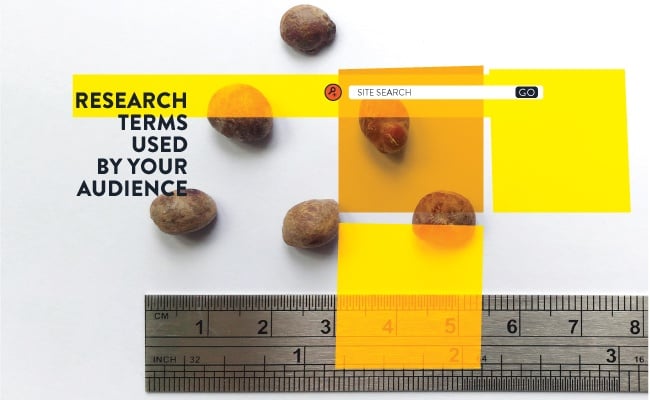 However, because SiteLock doesn't have a site search (and I wouldn't have access to the data I need anyway), I will have to go a different route to obtain audience information.
Some other options for understanding audience language and terms include:
Blog comments (on your blog or others).
Social media posts and groups.
Forums.
Online communities (e.g. Reddit and Quora).
Support tickets.
Audience curated directories (e.g. Wikipedia).
For SiteLock, I'll go to Reddit and search [PCI compliance] to see what their audience is saying about this topic. Quickly I notice a trend of the term [SAQ] being associated with PCI compliance: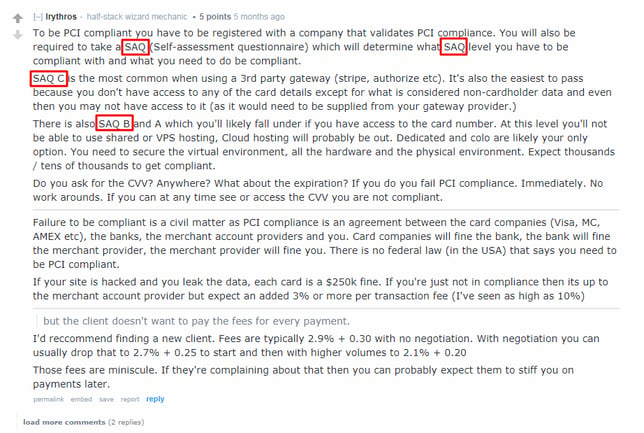 SAQ is mentioned in this comment as well: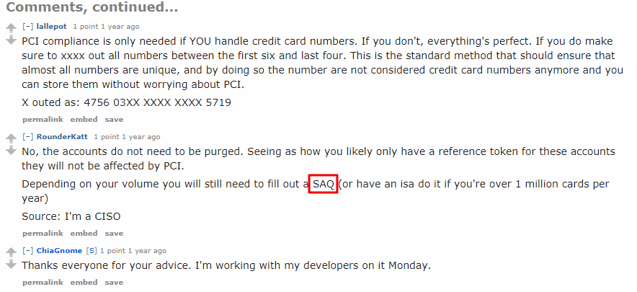 Since [SAQ] is emerging as a theme, I'm going to analyze this term in a keyword tool — for this post I'll use SEMrush.
When I plug [SAQ] into SEMrush, I get the following information: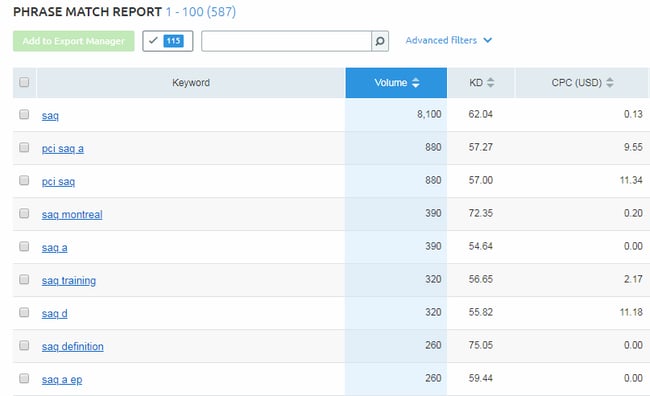 SEMrush shows me that [SAQ] has a large search volume (8,100), as well as a host of associated long-tail keywords that offer more potential traffic. Knowing this information, I will add [SAQ] to my list of seed keywords.
Researching your audience is imperative because you need to make sure you're targeting the keywords your customers are using to find businesses like yours.
Check Google's Related Searches
To expand on the base keywords I came up with for SiteLock, I next look to Google and their related searches function.
Simply searching Google for one of the base terms already identified uncovers more related terms for my seed list at the bottom of the results.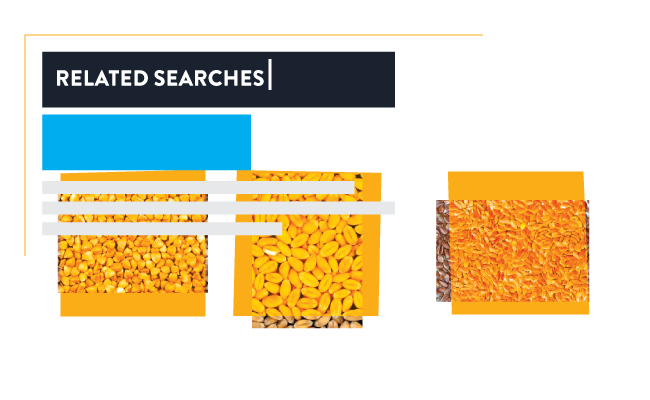 For example, when I search [website scanner] I see some potentially relevant keywords in the related searches section: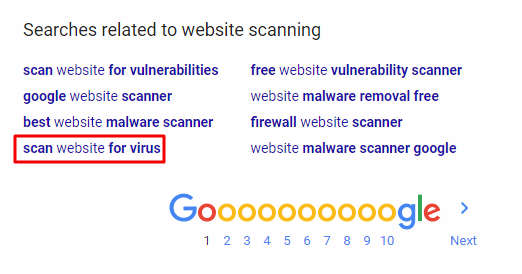 I now have another potential key phrase to add to my keyword seed list — [scan website for virus]. Double-checking this phrase in SEMrush reveals that it indeed has traffic potential:

Repeating this process for the other terms in my list should uncover a handful of other terms worth adding as well.
Examine Ranking Keywords
Don't overlook the keywords and phrases where your site is already ranking well. These terms can provide inspiration later on in your keyword research and should be considered for inclusion in your seed list.
One of the best ways to analyze your keywords is through Google Search Console, which is provided to site owners by Google. I don't have access to GSC for SiteLock, so I'll use SEMrush for my analysis.
Looking through the SEMrush data I can identify some potential seed keywords.
For example, [website protection] is a term that didn't immediately come to mind when I thought of keywords associated with SiteLock: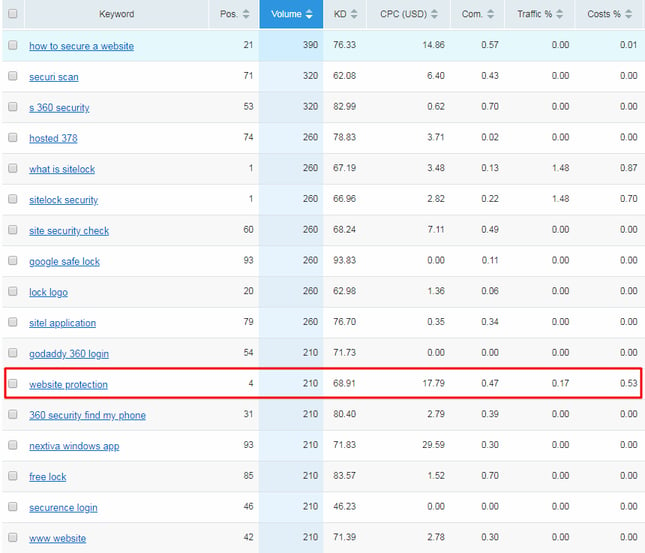 Another seed keyword I might have missed without looking at SiteLock's keywords in SEMrush is [web page security]: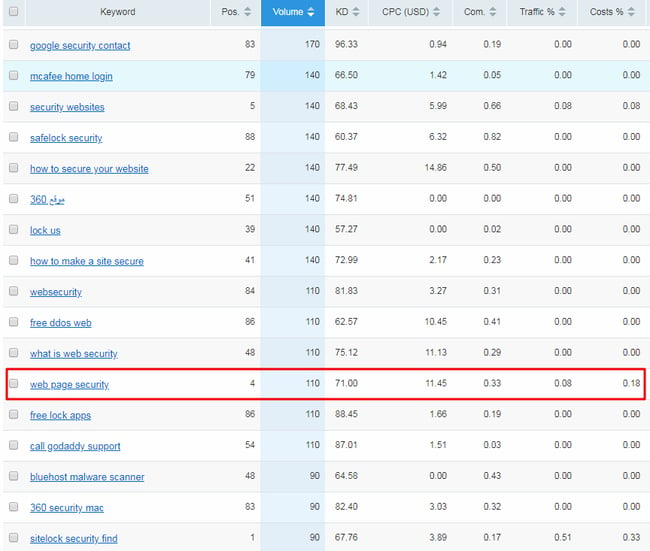 I can pick up a few potential seed keywords that may have been missed otherwise, by looking at SiteLock's current rankings.
Analyze Competitor Keywords
Another great source for seed keywords is your competition.
Competitors share the same audience and subsequently the same keywords. Understanding how competitors are driving traffic to their site will help me capture more traffic for my own site.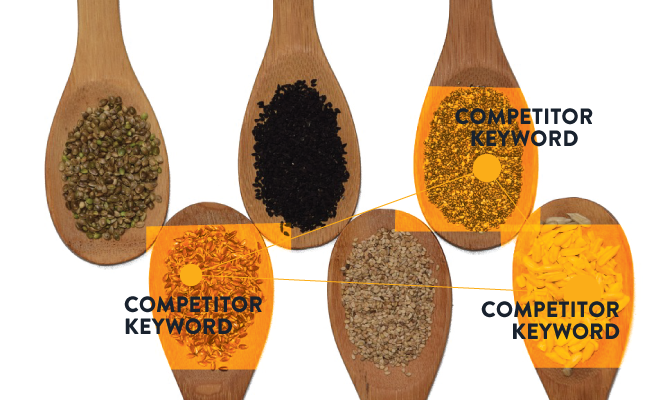 Again, since I'm not intimately familiar with SiteLock's business, I'll rely on SEMrush to provide me with a list of search competitors.
Here are SiteLock's competitors according to SEMrush:
SiteGuarding.com
Web Inspector
Quttera
Foregenix
I can confirm these competitors by cross-referencing with the search results. For example, I see three of these competitors ranking for my seed keyword [website scanning]: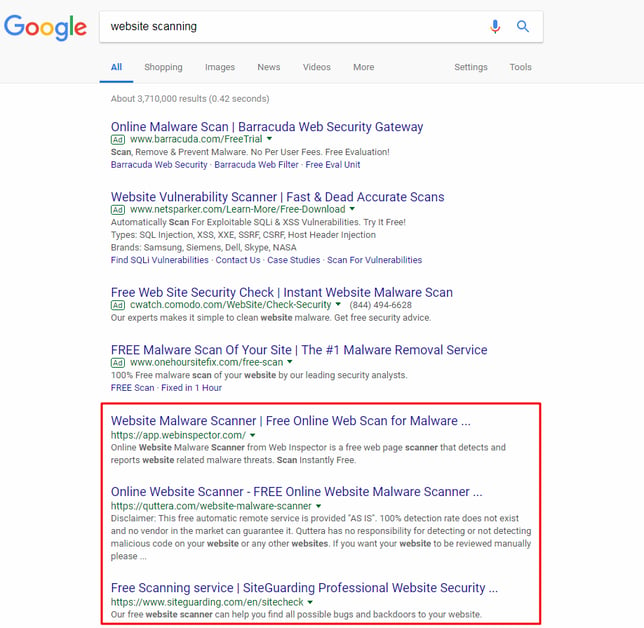 By analyzing these sites in SEMrush, I can uncover more seed keywords by finding what phrases and terms are driving traffic to their sites.
For example, I can see where SiteGuarding.com is ranking by using SEMrush's 'Organic Research':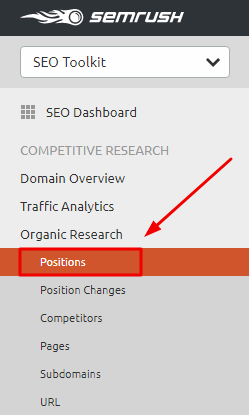 SEMrush highlights another potential seed keyword:

The phrase [website virus checker] is responsible for >2% of SiteGuarding.com's total traffic, which is a decent amount. Since this term is also relevant to SiteLock and offers traffic potential, I'll add it to my seed list.
Analyzing SiteLock's other competitors will unearth more keywords and phrases to help round out my list of seed terms.
Review
Viola! I've now created a solid seed list of keywords for SiteLock, using a variety of methods.
Of course, this post only highlights the processes and doesn't delve as deep as SiteLock would need to in order to fully flesh out their seed list. With that being said, this is a pretty good start:
[website security]
[cybersecurity]
[website scanning]
[malware removal]
[DDoS protection]
[PCI compliance]
[content delivery network]
[SAQ]
[scan website for virus]
[website protection]
[web page security]
[website virus checker]
With a fully developed seed list, I could continue keyword research for SiteLock and expand, refine, and prioritize my keywords to target the highest value phrases in terms of SiteLock's overarching goals (organic traffic, conversions, traffic to specific pages, etc.).
Keyword research may seem overwhelming, but typically the hardest part is getting started. The best place to start with keyword research is with seed keywords.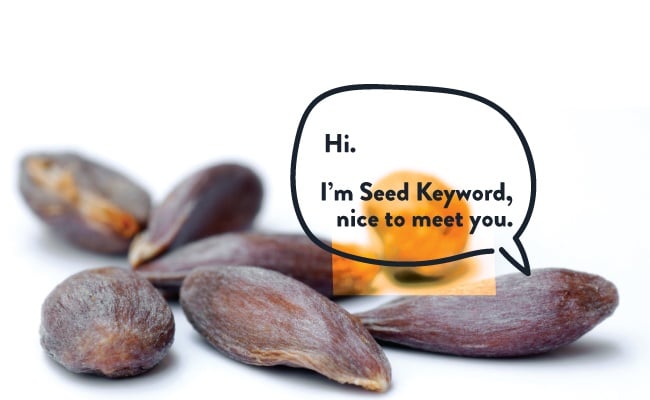 To review, the general process for creating a seed list involves:
Start with terms directly associated with your brand.
Research terms used by your audience.
Check Google's related searches.
Examine ranking keywords.
Analyze competitor keywords.
Keyword research can be imposing, but it's an essential SEO service and cannot be ignored. I hope this process can provide a launching point for your own keyword research and help you identify the terms that are most important to your business.
In my next post on keyword research, I'll walk through how you can use these seed keywords to identify opportunities and guide creation of new pages.