Hello and welcome to another week of Tutorial Tuesday. This week we'll be looking in depth at a fairly basic but often overlooked portion of SEO: determining search competitors.


Competitive analysis should be a cornerstone of any SEO campaign. Even for on-site SEO it's valuable to understand which keywords, phrases, and practices your competitors are implementing. For off-site SEO, specifically link building, it will allow you to make informed decisions. You'll be able to see which strategies are netting your competitors the most links, where their links are coming from, and have at least an idea of how many links you'll need to move the needle in search.
Let's just say that there's a lot of potential insights from competitive analyses.
Today I want to share the some of the practices we use at Page One Power to find search competitors when we take on a new client. Of course every website, brand, business, niche, and industry are different. Every campaign needs to be customized.
But if I've learned one thing building links, it's that the basics shouldn't be ignored. And finding and understanding who your competitors are in search is one of those basics.
Typically there are three different parts, each with their own steps, in determining search competitors:
Ask the client

Direct competitors
Indirect competitors
Niche influencers

Check the SERPs

Head terms
Money keywords
Informational keywords

SEMrush
After some internal debate I decided to use this very website, Linkarati, as our example. While it might have been a touch more insightful to use a non-SEO example, it just made more sense to use Linkarati since 1/3 of this process revolves around asking the client, which I'd otherwise have to fake.
Maybe it'll even be fun for you to get a glimpse into the inner workings of our site.
Part One: Ask the Client
Ideally the client will always be keen to who their direct and indirect competitors are, as well as who ranks as a niche influencer.
Ideals often aren't reality, however. Sometimes the client won't be able to provide a solid or full list. What I recommend is having a conversation based around their business and industry. This will help start a dialogue and can even kick start your relationship with the client.
Step One: Create a Conversation
At Page One Power we have what we call a kick-off phone call where we introduce clients to their Project Manager. There are a variety of topics covered on this call, but it's mostly meant to start a dialogue and address any concerns or questions. It's a great opportunity to ask some questions about the client's perspective on their business and industry. Prior research is a must before any direct client conversations.
Here are some questions I'd recommend asking to get the ball rolling (for finding potential competitors):
Who do you admire in your industry?
Who offers services or products similar to your own?
Who within your industry does a great job in search?
Who doesn't do well in search?
Who has built the largest audience?
Make sure you're writing down any companies or websites mentioned. And always change your conversation and questions based upon the responses – this is meant to be a fluid dialogue, not a direct template.
Step Two: Ask for a list of direct and indirect competitors.
This is often best asked for in writing, in follow up to initial conversations. At Page One Power we ask for a variety of information prior to any campaign launch, so we can attack a new campaign from several different angles.
Here's the list of competitors I would provide for Linkarati.
Direct Competitors:
None – there are no open communities link building communities who focus on link building itself.
Indirect Competitors (those who also discuss link building):
Moz
Search Engine Watch
Search Engine Land
Search Engine Journal
Backlinko
SEER Interactive
Point Blank SEO
Etc.
Optional Step Three: Ask for Niche Influencers
Not strictly necessary, as you'll be able to find this fairly easily within your own research. This information can however be handy if the list of competitors is a bit thin, or for ensuring client satisfaction by targeting influencers they admire for shares and links.
Here are Linkarati's Niche Influencers (those who commonly discuss link building):
Julie Joyce
Brian Dean
Jason Acidre
Wil Reynolds
Erin Everhart
Cassie Gillette
Chris Dyson
Jon Cooper
Eric Ward
Cyrus Shepard
Emma Still
Etc.
Overall this portion of discovering search competitors should be pretty cut and dry, as most of it will be coming directly from the client.
Always, always do your own research as well. Don't take the client's word as law. The more you know and understand their business, the easier it will be for you to persuasively outreach and explain their unique value to link prospects.
That's why it's important to dig beyond client insights – which brings us to part two, checking the SERPs.
Part Two: Check the SERPs
The next step in ascertaining search competitors is independent discovery. Clients will always have great insights to share about their own business and competitors, but those insights don't always directly translate to search.
As SEOs it's due diligence to dive in Google's search results and see who is ranking for important terms to the client.
Let's do a walkthrough what this would look like for Linkarati:
Step One: Head terms
Head terms are the most basic terms associated with your business. They're short, to the point, and often drive a high amount of traffic.
The head terms for link building are:
Link building
Backlinks
Link building SEO
SEO links
Let's look at an example of our headest of head terms--link building--in search (in incognito, of course).
Link building: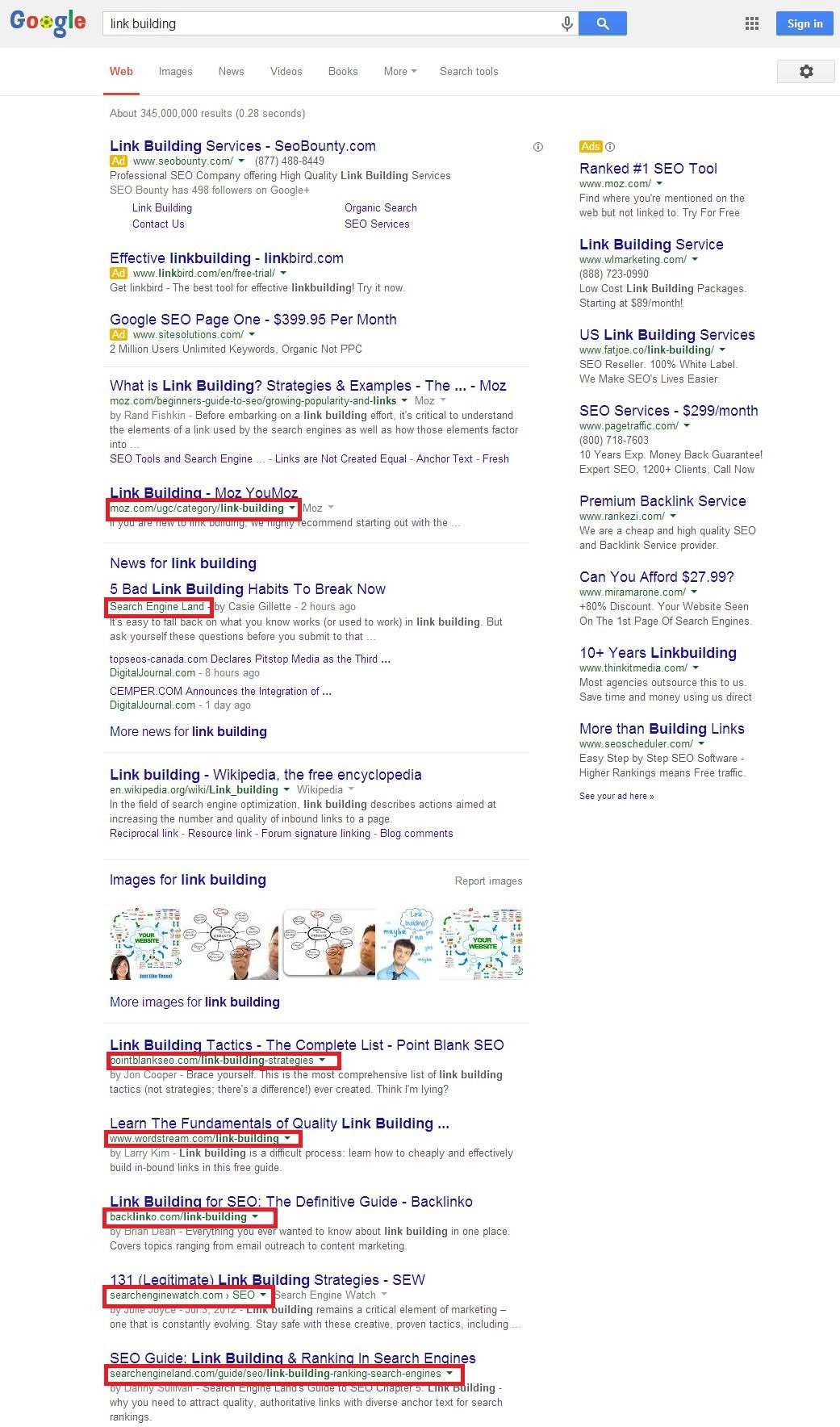 Right off the bat we can see that Moz owns the top two spots, followed by Wikipedia, Point Blank SEO, Wordstream, Backlinko, Search Engine Watch, and Search Engine Land.
Many of those are websites that emerged in the asking the client portion of discovering search competitors. This is a double red flag, so to speak.
Let's look at our next set of important keywords.
Step Two: "Money" Keywords
Money keywords are head terms that directly apply to your business, and have a strong opportunity for conversion.
Where terms such as "link building" are great for attracting large amounts of traffic, now we want searchers who might be interested in hiring a link building company and are doing web research.
Money terms for link building companies:
Link building services
Link building packages
Link building company
Link building seo
Best link building
Let's take a look at "best link building", again in incognito mode to ensure we're not seeing personalized results.
Best Link Building: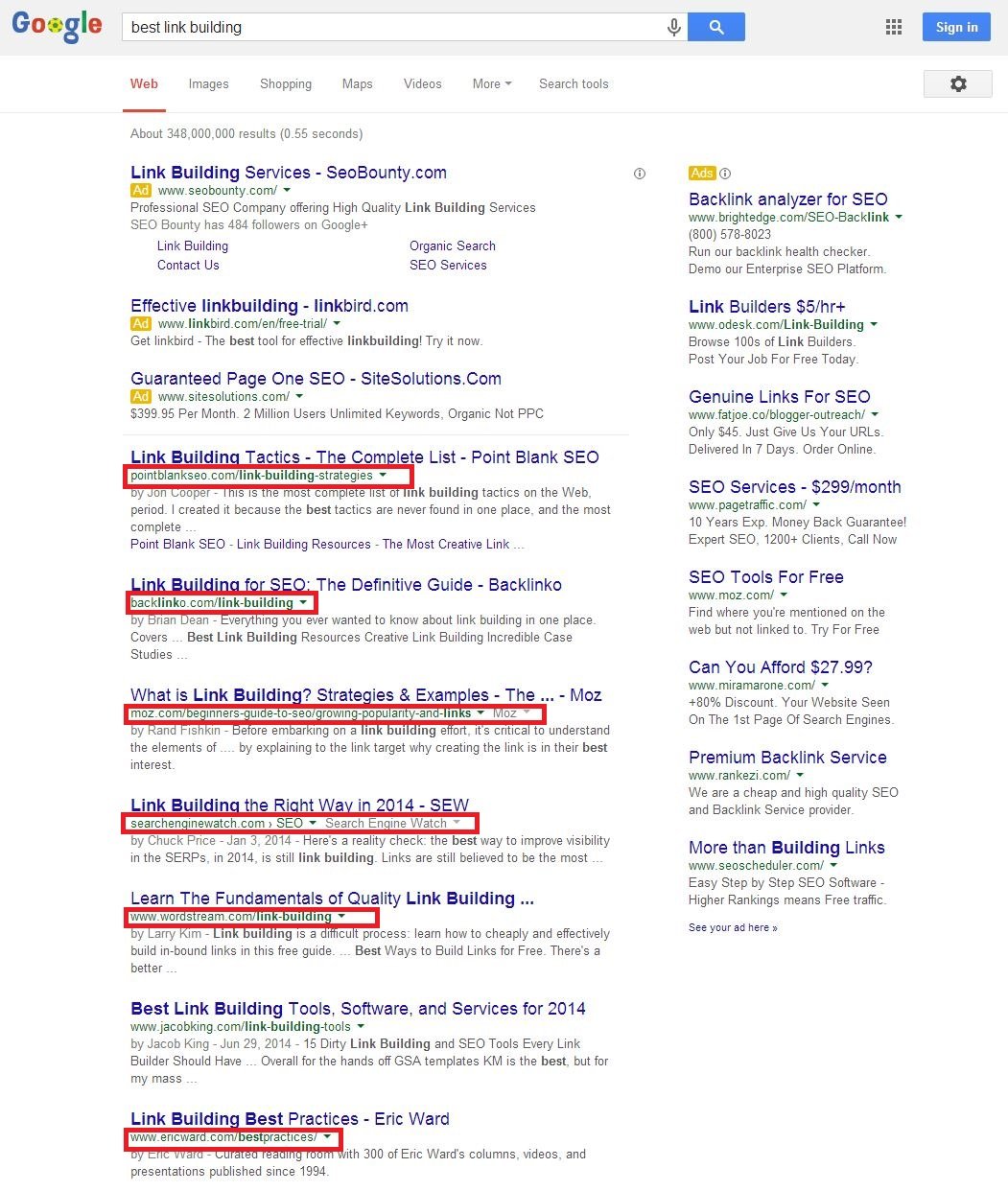 Again we have Point Blank SEO, Backlinko, Moz, Search Engine Watch, and Wordstream. A pattern is quickly emerging, and the websites winning in search are becoming apparent.
Step Three: Informational keywords
Information keywords are great for capturing searchers who are attempting to learn about your industry. Although these terms might not be close to converting, if your company/website is extremely visible in this phase, you will have several advantages:
The customer is more likely to recognize your brand and have a positive reaction during another session at a later date, including the buying phase.
You will establish yourself as an authority within your niche.
You're more likely to capture leads through on-site calls to action.
You can control the conversation during customer research. This is a great time to address concerns, questions, and potential issues.
Here are some informational terms when it comes to link building:
Link building tactics
Link building strategies
Link building 2014
White hat link building
The future of link building
Let's take a look at link building strategies: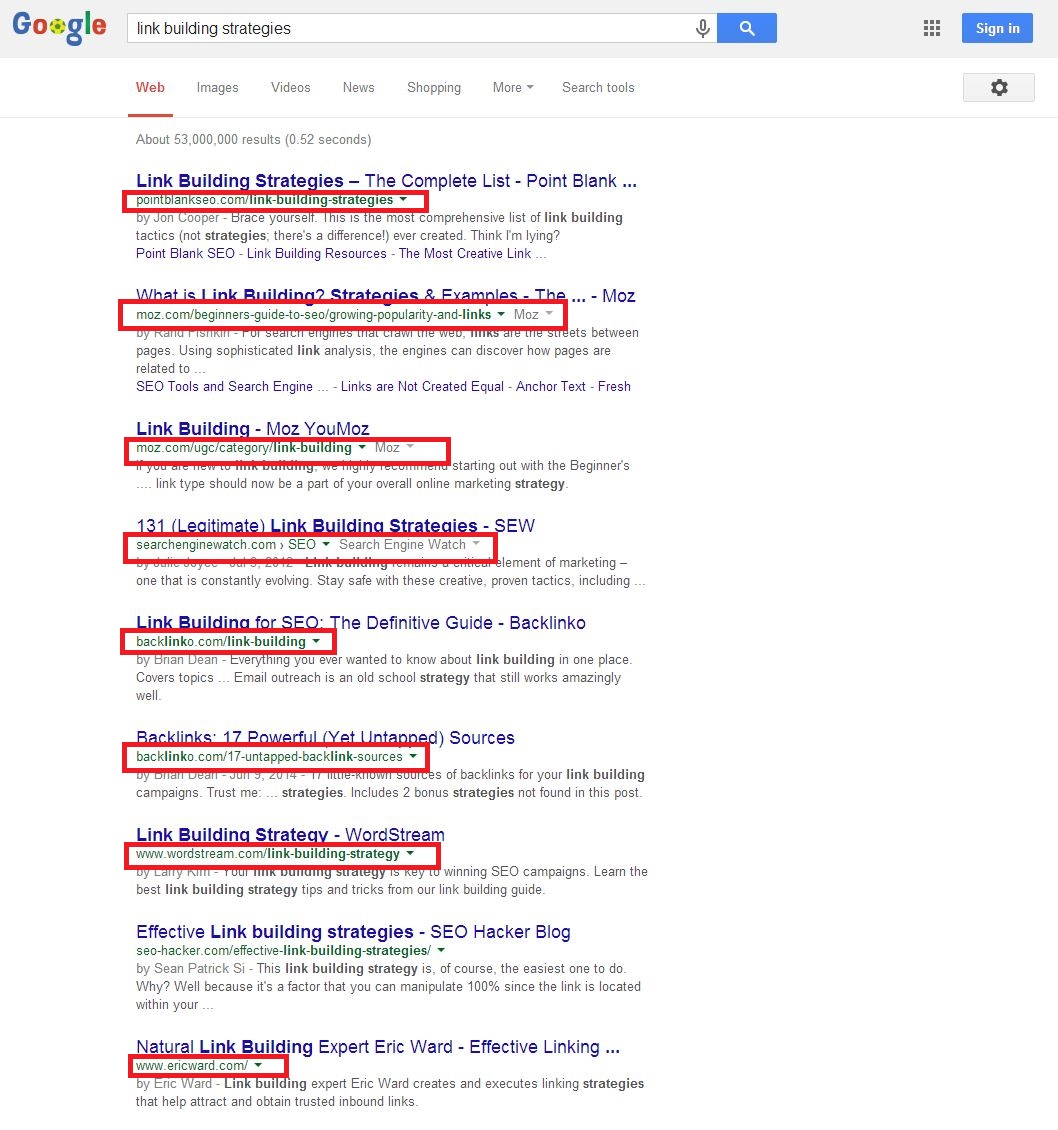 And once again we see Point Blank SEO, Moz (twice), Search Engine Watch, Backlinko, Wordstream, and Eric Ward.
Of course you should check more than three SERPs in this phase of determining search competitors. For our three examples however we have some clear winners in search, and websites we should consider competitors.
Let's move on to the final portion of this tutorial: using SEMrush.
Part Three: Check SEMrush
We're in the final stage of determining competitors. We have a solid list of competitors who've been mentioned by the client and are extremely visible within important industry SERPs.
The last step is to use a third party tool to highlight anyone we might have missed and check for discrepancies.
SEMrush does a fantastic job highlighting search competitors. The way SEMrush determines competitors is it takes the search terms your website is ranking for and looks to find other websites ranking for as many of the same search terms as possible.
The concept is the more terms you share with another website, the more likely they are to be a close competitor.
Here's what SEMrush's list of competitors looks like for Linkarati: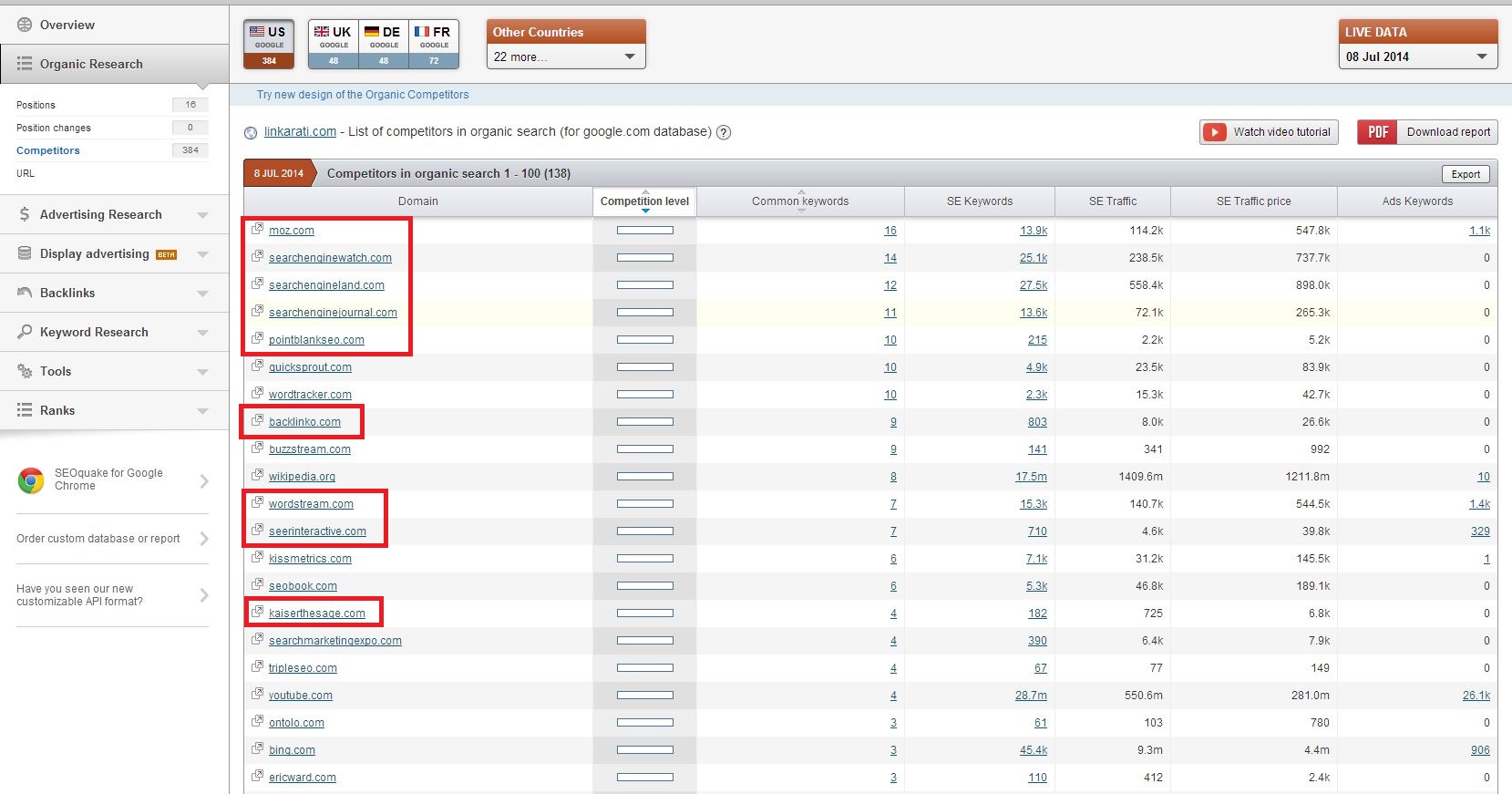 Once again we see Moz, Search Engine Watch, Search Engine Land, Search Engine Journal, Point Blank SEO, Backlinko, Wordstream, and Eric Ward.
After running through these relatively quick three steps, I'd list potential competitors worth monitoring as:
Moz
Point Blank SEO
Backlinko
Wordstream
Eric Ward
SEW (limited to link building content)
SEL (limited to link building content)
SEJ (limited to link building content)
Keeping an eye on these competitors and their top performing content will go a long way to keep us ahead of the curve and give us a competitive advantage.
Recap
Competitive analysis should be a cornerstone of launching any link building—and even SEO—campaign.
Before you can launch into competitive analysis, however, you need to ensure you have a robust list of competitors. It's not enough to ask for handful from the client. As an SEO professional due diligence demands your own research into the SERPs, as well as employ third party tools.
Here's what I recommend when it comes to discerning search competitors:
Ask the client
In person or over the phone:

5 questions concerning competitors

In writing:

Direct competitors
Indirect competitors
Niche influencers

Check the SERPs

Head terms
Money terms
Informational terms

Third party tools
Dig deep into your research with the client's website, niche, and industry. Understanding their competitive landscape is an important step in better understanding their business.
And you absolutely need to understand their unique business value to effectively build links.