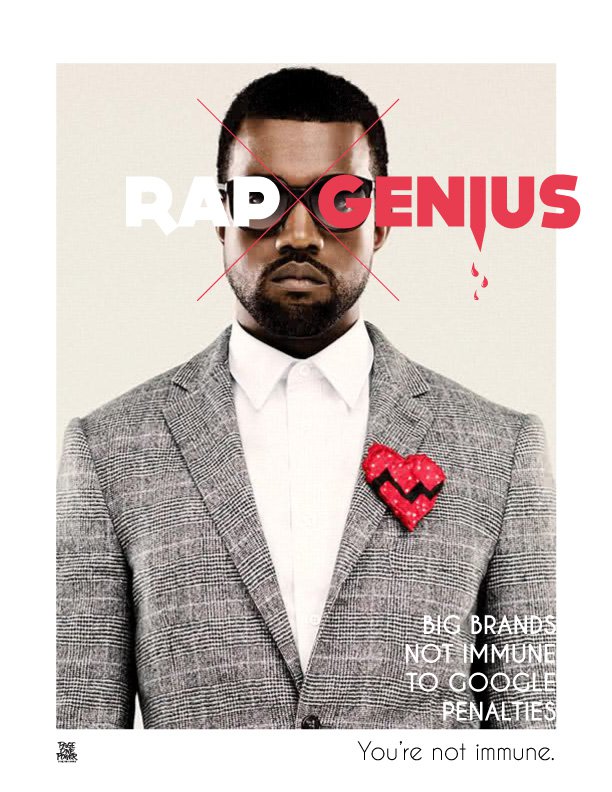 On Christmas day, the owners of the site rapgenius.com got a big heap of Google coal in their stockings. The burgeoning site, which the webmasters describe as a "hip hop Wikipedia," fell victim to a manual penalty from the Google spam team.
The penalty occurred after the webmasters behind Rap Genius employed a tactic which has swiftly been labeled as TieFating. The team would offer to tweet out the site of any webmaster who would embed a link using the anchor text "Justin Bieber lyrics." It has yet to be determined which is worse: the fact that Rap Genius would employ such an obviously foul tactic, or that Justin Bieber is a "rap genius."
"We didn't see our penalty in webmaster tools. We can't see when we wear our sunglasses inside lulz."
According to Josh Constine of TechCrunch, the Rap Genius webmasters are working on a resolution with the all powerful spam detectors at the behemoth search engine. Of course in hip hop terms, a resolution can mean a drive by on the Vegas strip.
Rap Genius was launched in 2009. Despite the steep competition of online lyric databases, the site gained a lot of traction rather quickly. It's not your average lyric database though. Instead, it's a community in which hip hop aficionados can submit their interpretations to lyrics of their favorite songs. But thanks to Google, their traffic took a hit bigger than the one on Ice Cube's street cred.
On the first day of the penalty, Google gave to Rap Genius a 60% decline in traffic. On the second day, 52%. I'm sure the webmasters would have preferred a partridge in a pear tree and two turtle doves. Even a carrier pigeon could do more to increase their traffic.
A penalty from Google, whether it be manual or algorithmic, can and will have a detrimental impact on your site. Even the big boys aren't immune to that. Here are some other well known sites that haven't always been on Google's good side (and what they would do if they were on Rap Genius).
Read More