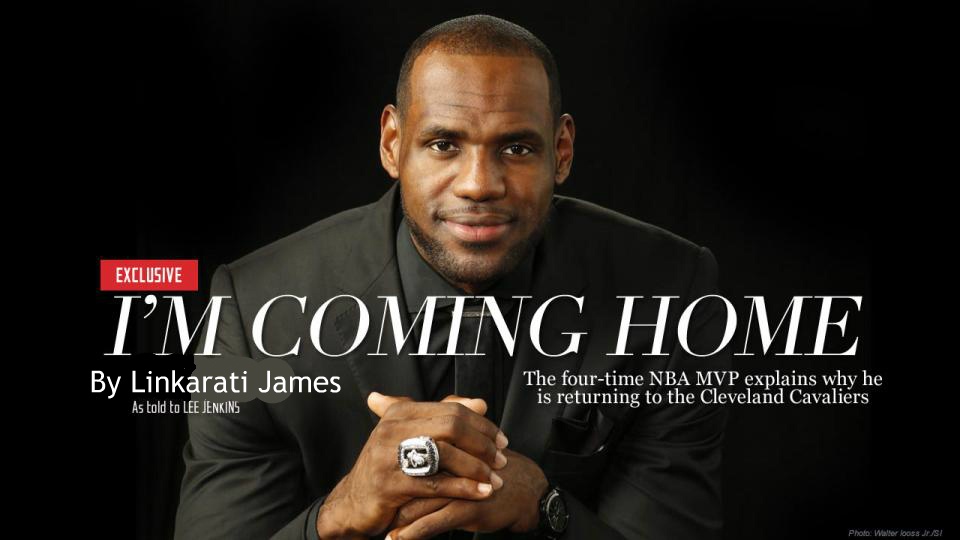 Author note: What you are about to read is indeed an homage to Lebron James' announcement that he would return to the Cleveland Cavaliers in 2014. You can read it here: http://www.si.com/nba/2014/07/11/lebron-james-cleveland-cavaliers Upon rereading it, we found our rationale for moving back to P1P was eerily similar to his motive. Enjoy.
Before anyone ever cared where I would blog about links and link building, I was an agency blog on Page One Power. It's where I learned about the value of links. It's where I espoused my opinions on SEO trends. It's where I found my voice. It holds a special place in my heart. The other employees at Page One have seen me grow up. I sometimes feel like I'm their son. Their passion, and their participation, can be overwhelming. It drives me. I want to give them the most up-to-date information about link building when I can. I want to inspire them with new ideas when I can. My relationship with Page One Power is bigger than link building. I didn't realize that 16 months ago. I do now.
Remember back when I was churning out the backlink show in 2013?
I was thinking, "This is really tough. I could feel it. I was leaving behind content I spent a lot of time creating. If I had to do it all over again, I would have done things differently, but I'd still have switched to another domain. Linkarati, for me, has been like a crash course in media sites for budding marketers and developers. These past 16 months have influenced who I am. I became a better blog and a better part of the SEO community. I learned from a department that knew where I wanted to go, and was eager to get me there. I will always think of linkarati.com as my second home. Without the experience of the offsite experiment, I wouldn't be able to continue to do what I love.
I went to Linkarati because I wanted to explore my potential. I wanted to expand my horizons. We made sacrifices to keep the members of the brilliant team, and we wrote A LOT.
But 300 posts!
I loved watching the writers grow. I believed we could do something magical, given our different but complementary skillsets and backgrounds. And that's exactly what we did! The hardest thing to leave is the powerful brand we built. Nothing will ever change what we accomplished. We are the Linkarati team, and we always will be. I want to thank Jon Ball, Zack Ball, and Nathan Smith for giving me 16 amazing months.
I'm writing this post because I want an opportunity to explain myself uninterrupted. I don't want anyone thinking: "The site didn't make any money." "Link building is dead." "Page One Power has no faith in the external brand that they've built." None of this is true.
I'm not having a press conference or a party. After this, it's time to get to work. When I left pageonepower.com, I was on a mission. I was seeking to drive the conversation about link building, in a way that I didn't think I could with my original agency affiliation. In my opinion, I did. But Linkarati was having a hefty amount of success, success that the Page One Power blog hadn't felt in a long, long, long time. My goal is to further the conversation and to highlight the importance of link building as much as possible, no question. But what's most important for me is to do it under the warm embrace of the Page One Power brand.
It was never clear that I would return here to Page One Power. I didn't know how long it would be before I had to make such a decision. After the mobile update, migration wasn't on the forefront of my mind. But I was never going to leave Linkarati for anything other than the Page One Power blog. The more time passed, the more it felt right. This is what makes me happy.
To make the move, I needed the support of all of the brilliant employees that make up the Page One Power workforce, who (rightfully) demand a lot. The internal questioning of whether or not it was the right move, the knowledge that my best content was going to be used for someone else - these were tough debates.
I'm not promising that I can make Page One Power what it has always strived to be: the world's finest link building firm. I know how hard that is to claim. My patience and my fortitude will be tested. But I see myself as wiser than I was before I left. I have the guidance of a dynamite editor in Cory Collins. I think I can elevate Andrew Dennis and Jesse Stoler to their rightful place as thought leaders.
But this is not about a content arms race. This is not a game of, "My content is better than your content." I feel my calling here goes above link building and/or content marketing. I have a responsibility to inform and edify, and I take that very seriously. My presence can make a difference on linkarati.com, but I think it can mean more where I'm from. I want the novice link builder out there to know there's no better place than Page One Power to learn about the intricacies and complexities of the trade. Maybe some of them will come to work here, or they will help to further the cause of link building. That would make me smile. Our Page One Power community has fought valiantly to be where it is today, but we could always use more talent.
In link building, nothing is given. Even when built through manual promotion, every link is earned. You work for what you have. I'm ready to accept the challenge. I'm coming home.