Editor's Note: Today's guest post comes to us from Sanket Patel, the founder of Blurbpoint. In this post, Sanket walks us through 5 common search marketing mistakes and offers us a remedy for each.
Effective search engine marketing is one way to list a website on the top of search engine result pages and get huge website traffic. Search engine marketing is very popular, as it is a cost effective approach in most cases. The basic mistake that leads internet marketers to the wrong path while doing search engine optimization is starting up without having basic SEO knowledge. In this post, I have listed a few common mistakes that need to be avoided by search engine marketers; also I will provide tips to make your SEO efforts successful.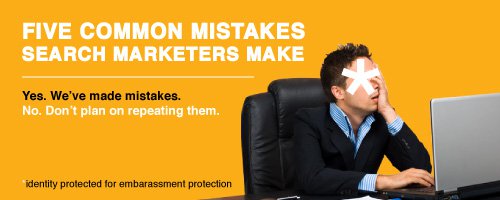 #1: Failure to define proper strategies
We know how important a website is for many companies, as it is considered the main course of their product or service promotion. But many firms fail to realize it. They invest a lot of their funds offline rather than promoting it online. This is a very serious mistake and need to be avoided. More often website promotion and quality content does matter a lot. A good online promotion marketing strategy includes various approaches like email marketing, bestowing complete details and much more. Here are a few things that need to be considered.
Intensity of the website promotion level (based on site):
Depending on the type of the business, it is important to decide website promotion levels (high/medium/low). Large scale businesses need higher promotion levels than small scale and medium scale.
What kind of link building?
Determine the type of link building strategy you are going to follow, for example: free link building or paid link building. Free guest posting is prominent as a free link building strategy. In paid link building, we purchase links to our website.
Be sure of the end results wherein you should be aware of the effects of the online marketing and be well prepared to see expected results for your strategy.
What does the client require?
In the end, what matters most to the client is business which should be your ultimate aim, assisting your customers to the best of your abilities!
#2: Unclear Goals
Every SEO marketer has their own SEO techniques and processes. We cannot say the strategies they use are wrong, but the key to any SEO success solely depends on setting a goal. This is what most SEO practitioners fail to do. Be proactive in staying up-to-date with search engine algorithm changes. Avoid blind link building and social media which makes no sense without a defined goal for your online promotions.
Avoid linking from unrelated blogs or websites to your website. This harms your website and can incur search engine penalties.
Social media with no sense
Social media promotion just for the sake of ranking high on SERPs makes no sense. Such practices could, in fact, harm your SEO process.
#3: Lack of measurements
No matter how hard you strive to get positive SEO results in your search engine marketing campaign the whole effort goes in vain without planning and tracking. There are many things that could affect your website ranking while promoting, and one must make sure to track the changes continuously.
Implement all the metrics that are critical to measure the performance. If there is no measurement of work, it becomes difficult to keep a track of effective strategies and non-effective strategies. This leads to waste of time and money.
What kind of improvement does the campaign need?
The only way to improve your marketing campaign is to measure! This step is highly recommended by many SEO professionals and experts. Figure out keyword density and visits referred by particular keywords and phrases.
Monthly traffic report and other reports
Keep track of website traffic sources every month. This traffic should include – Organic search traffic, direct navigation and referral website traffic. Various tools exist to track monthly traffic reports like Google analytics tool, alexa.com and many others.
#4: Not focusing on target results
Impressing the search engines is not enough to rank well in the search engines. You should also keep focusing on target audience. Many small businesses and SEOs blindly follow old fashioned techniques that cannot guarantee the desired SEO results. It is very important to identify whether to focus on local search engine optimization or not. There are certain dos and don'ts of SEO that would be determined by local search results.
Target your audience locally, based on specific city or area. Besides, having accurate contact information, physical address, DA and categories are essential for obtaining good local search rankings.
Defining a Client's Needs
Optimize your website based on the client's requirements. For example, if you want to target local audience, blog on current local events to draw their attention.
#5: Over optimizing
If a website is temporarily or permanently excluded from search engines then we can say that the website is over optimized. Over optimizing occurs when a search engine optimizer uses more resources to get effective search engine results. Many factors are considered for over optimization of a website. Inability to build good quality links and creating a negative online reputation are the most prominent factors for over optimization.
Not building good quality links
Over optimizing with poor quality and link filled footers doesn't work anymore. Building content blocks just for engines is a big mistake followed by most search marketers; do not ever believe that updating a website with unrelated stuff and keywords in the wrong places will help with search rankings. This approach is going to cost you far more than any benefit you are going to get out of it.
Creating a negative online reputation
Reciprocal links and back-links; do not try to get backlinks from a site that is probably going to be penalized. This will not only make your website penalized by search engines, it can also contribute to a bad online reputation.
Closing thoughts:
These are the factors that need to be focused on while planning an effective SEO campaign. One needs to make sure that these mistakes are not committed in their SEO campaigns. These are the 5 mistakes that can make all of your efforts go in vain, and also make your website lose its search ranking due to penalization.