Hello and welcome to Tutorial Tuesday, where we walk you through a tactic, tool, or process in digital marketing and SEO.
Today I'm going to walk you through the process of reviewing backlinks in Majestic SEO. This won't be an in-depth audit, but rather a quick analysis.
I'll keep this simple and straightforward, so it will be good for both beginners and those looking to better understand how professional link builders do a quick analysis of a new website.
Majestic is a paid tool that starts out at 50 dollars a month. No SEO can live without a backlink explorer to help them review and monitor new backlinks. It's a must-have tool, and Majestic has one of the best indexes available.
Let's get into it.
The Example: Everyday Carry
I will be using the website Everyday Carry for the example today.
Everyday Carry is a website about the tools, gadgets, and gear people carry around with them every day. Everyday carry is the coolest and best gear people love; the can't-leave-home-without-it gear.
They're not a client—just a website I appreciate.
I often use the site to find gifts for friends and family. They use affiliate links, and provide genuinely awesome content, guides, and information about the products they recommend. They have a dedicated staff and large community.
If you're into gadgets, gear, and cool accessories I recommend checking them out.
Step One: Summary Tab in Majestic
Head into Majestic and plug the website you want to examine into the URL bar:

This will take you to the Summary Tab: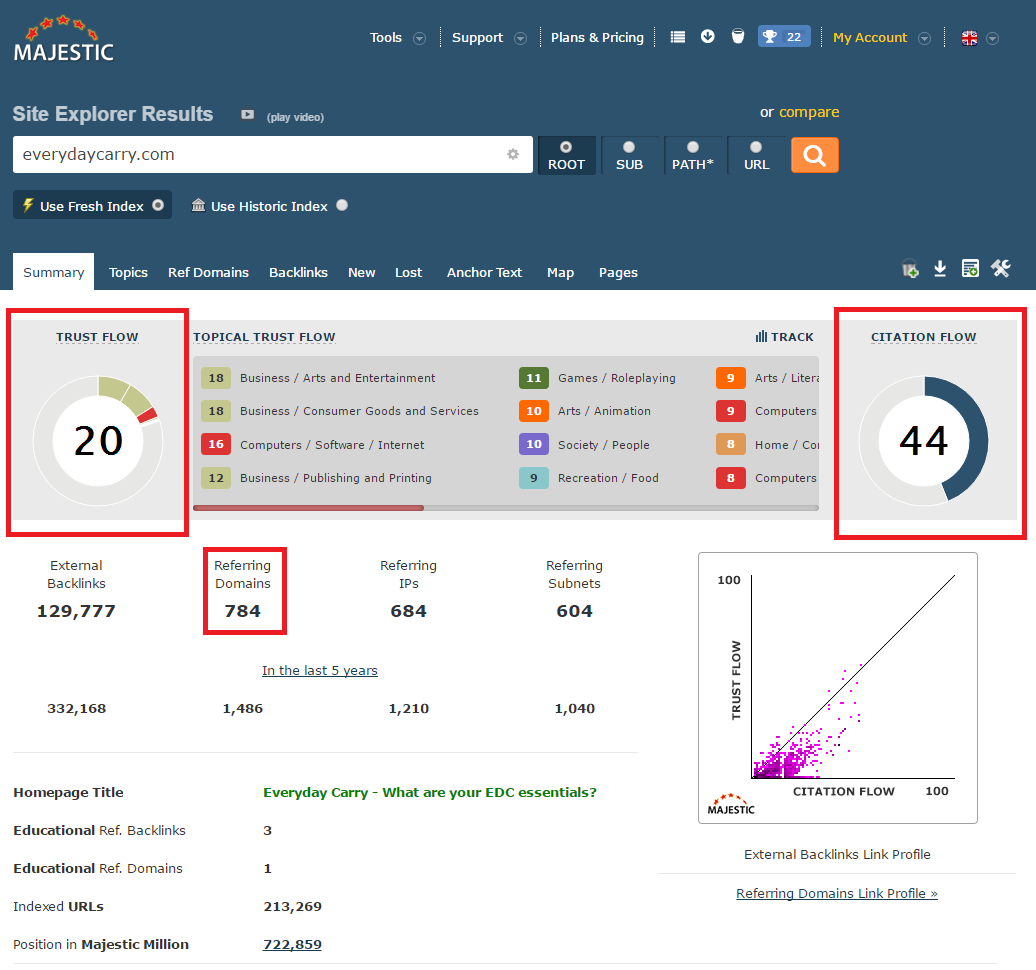 Right off the bat we have a few worthwhile pieces of information:
1. The Trust flow
Trust flow is based upon trusted sites from Majestic's manual review of the web.
Trust Flow is intended to show how closely linked your site is to a trusted seed site. The closer you're linked to a trusted site, the higher your trust score.
2. Citation Flow
Citation Flow is Majestic's estimation of link equity (essentially PageRank).
The value of a link is based upon how many sites in turn link to that site. The more links you have from websites with many links themselves, the more authoritative your website is seen and the higher your Citation Flow.
Majestic has created this short video to explain Trust Flow and Citation Flow:
3. Referring Domains
Similar to Citation Flow, gauging a site's Referring Domains will quickly tell you how many different websites are linking to the site you're analyzing.
This is a smart way to gauge the ranking power of a website, particularly when comparing it to competitors. Referring Domains is a much closer approximation to link equity than strictly comparing the number of backlinks, since Google counts the value of multiple links from the same site as less.
Bear in mind that the authority of the websites linking is relevant, too. Not all websites are created equal.
4. Backlink History
If you scroll down the Summary Tab you'll also see Backlink History, Backlink Breakdown, and Anchor Text: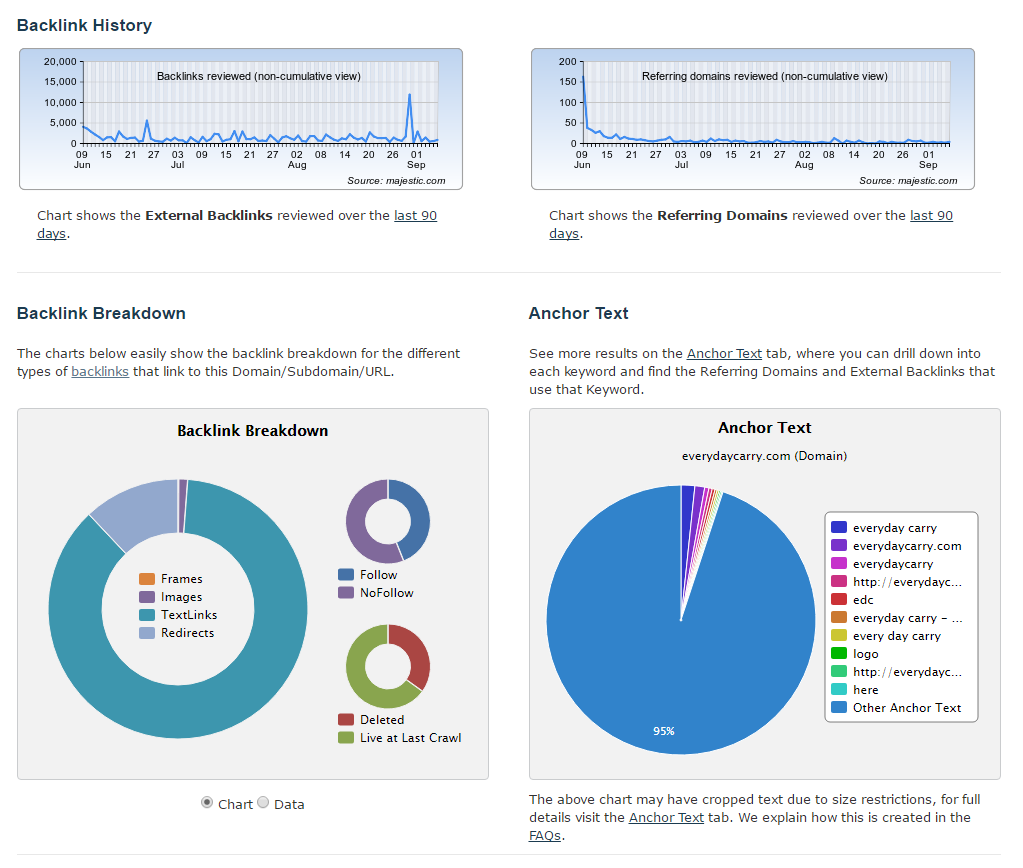 In the Backlink History section, we are eyeballing the recent history (the last 3 months) of backlinks and referring domains.
Any spikes in the left graph—Backlinks—that don't correspond in the right graph—Referring Domains—might signify a new sitewide link, which generally should be avoided.
This video from Matt Cutts, the former Head of the Webspam team at Google, explains why sitewide links should generally be avoided, although they're not strictly toxic: https://youtu.be/mTjN9x-by-I
In both graphs, simply monitor and take note of spikes. If the chart is consistent (such as we see in Everyday Carry's), then it's safe to move on.
5. Backlink Breakdown
The Backlink Breakdown contains three different graphs.
The large graph on the left reports the type of links your backlink profile contains, the top right graph shows Follow versus Nofollow, and the bottom right graph shows how many links have been deleted since they were first found.
Here, you want to eyeball the ratios. You should have considerably more TextLinks (stand links made with text) than any other version. You also want the large majority of your links to be Follow links, with few deleted links.
In the case of Everyday Carry, a quick analysis reveals they have a distinct number of NoFollow links. I would note that in my examination and would earmark it for deeper examination.
6. Anchor Text
Anchor text is the words used to make a link.
For a quick understanding, this page from Moz will help. For a deeper understanding, this guide from Gotch SEO will teach you everything you need to know.
Anchor text helps Google understand what your website (and pages) is about. The more links pointing to your site with specific anchor text, the more relevant and authoritative Google perceives your site to be for those words.
However, anchor text is easily abused and Google is quick to punish clear manipulation.
In quick analysis I expect to see the far majority be "Other Anchor Text", with the next largest (somewhere between 5-10%) be the brand name, along with the name of the website.
We want a healthy amount of diversity with some good keyword and brand name usage.
Everyday Carry is an exact-match domain (EMD), meaning their domain name—which is also their brand name—is also their primary SEO keyword.
Once upon a time EMDs were beneficial for SEO and ranking, but Google has since filtered this out of the algorithm. That's not to say it's a negative for Everyday Carry, but it will affect their anchor text distribution, which we can see in the graph.
Overall, Everyday Carry appears to be in good health.
Step Two: Referring Domains Tab
Next we'll want to flip over to the Referring Domains Tab and review which websites are linking to Everyday Carry.
Note that it's ordered by Trust Flow, then by number of Referring Domains. This can be filtered with a variety of options, but Trust Flow and Referring Domains works great for quick analysis.
I tend to ignore large sites that host make-your-own subdomains or pages. These properties are often referred to as web 2.0 links and misrepresent the actual authority these links pass.
These sites include:
Google
YouTube
WordPress
Pinterest
Blogspot
Feedburner
Blogger
Livejournal
That doesn't mean you should strictly ignore these referring domains—just be aware that they're not as authoritative as they first appear.
You can see the actual page linking from the domain by clicking the number in the "Backlinks" column.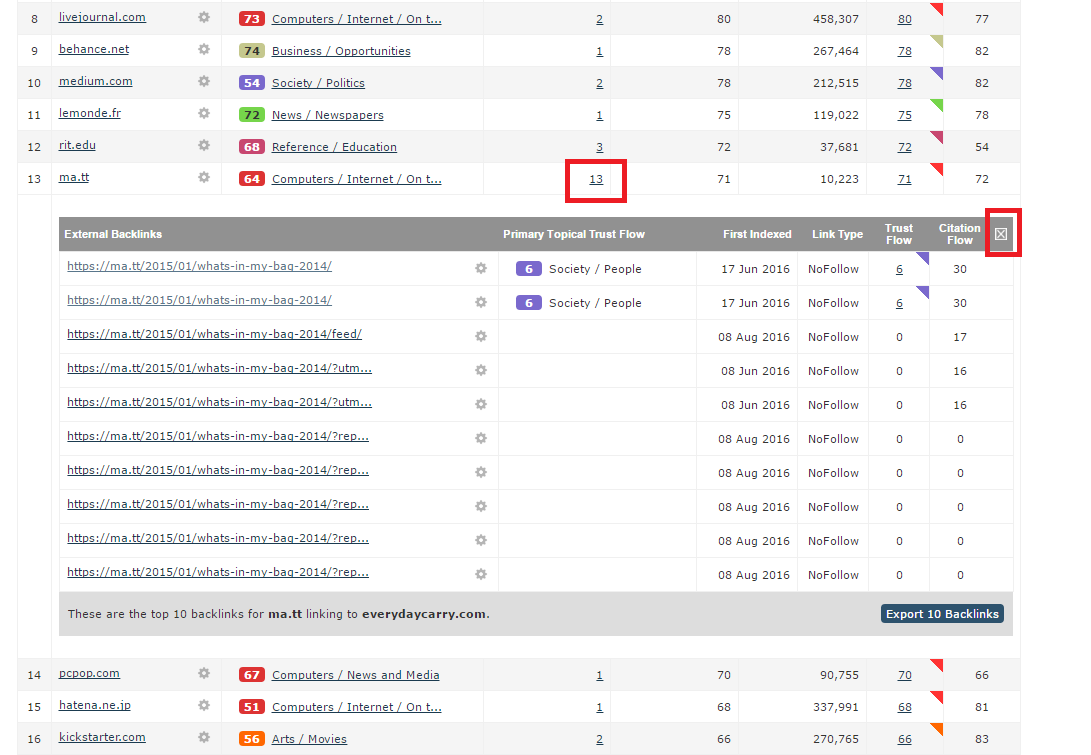 As you can see this expands a list of the pages on that domain linking.
Let's check out this page and review the link. Simply click the URL to see the page: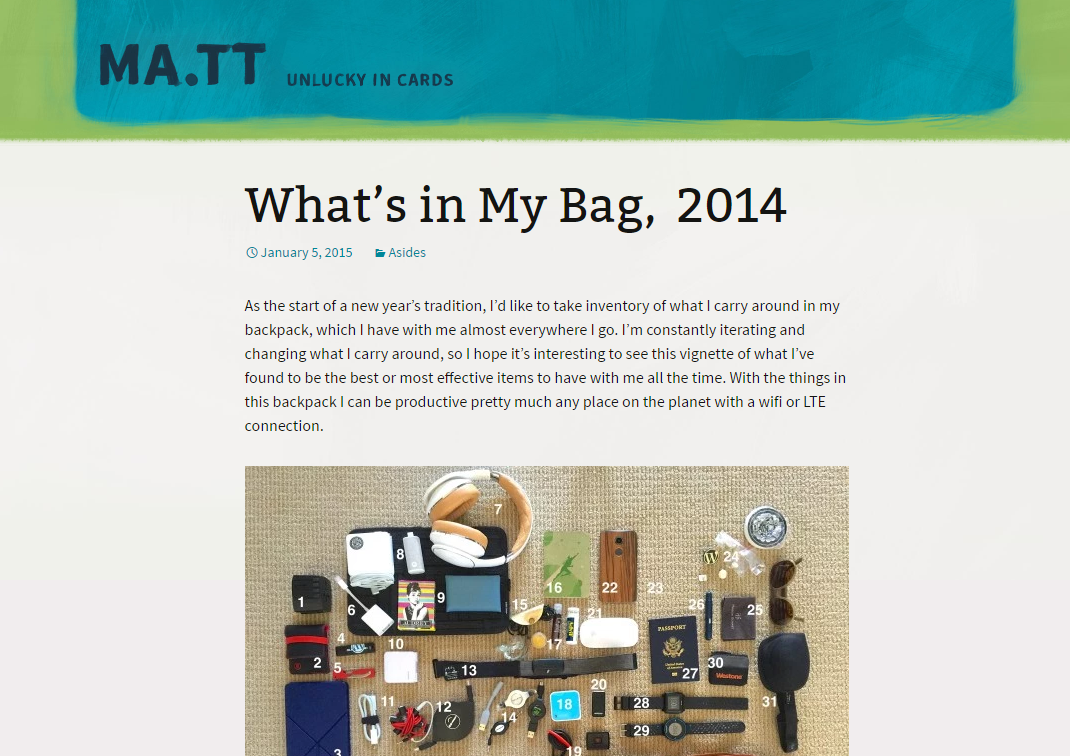 It's a blog page listing the contents of his everyday carry. Very relevant. Let's find the link with a quick control+f:

The link is a blog comment recommending the site. These links are (almost) always NoFollow, which could explain their huge number in the summary tab.
I recommend spending time such as this digging around and looking at various links, particularly on domains that are authoritative an interest you.
This will help you better understand the type of websites linking, and get a feel for how the site is securing links—and how effective certain tactics have been.
Step Three: Backlinks Tab
To really dig into individual backlinks, you can head over to the backlinks tab.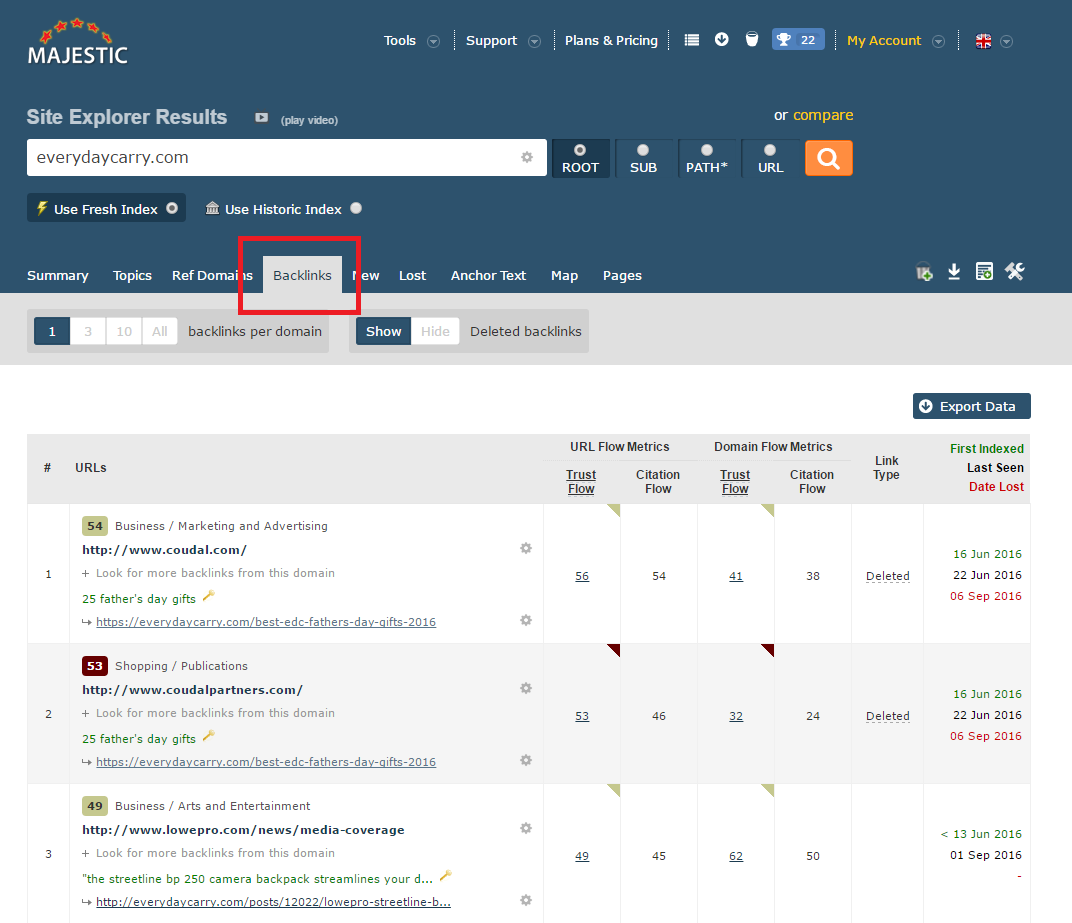 Note the backlinks are sorted by date.
It is, however, very easy to get buried in this tab. If you're really wanting to dig through individual backlinks, I recommend exporting the data to Excel so it's easier to manipulate.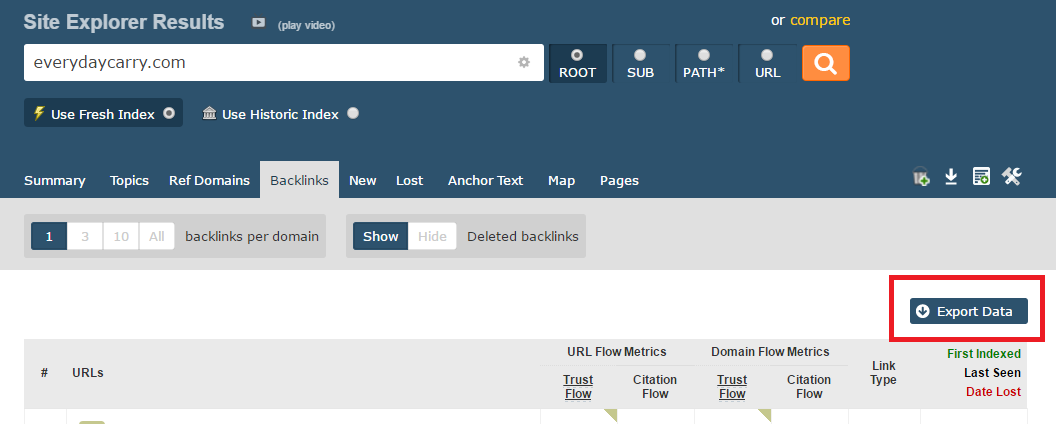 For quick analysis, you can scan through the list of links and eyeball the most recent links Majestic has uncovered.
There's a variety of information embedded into these columns: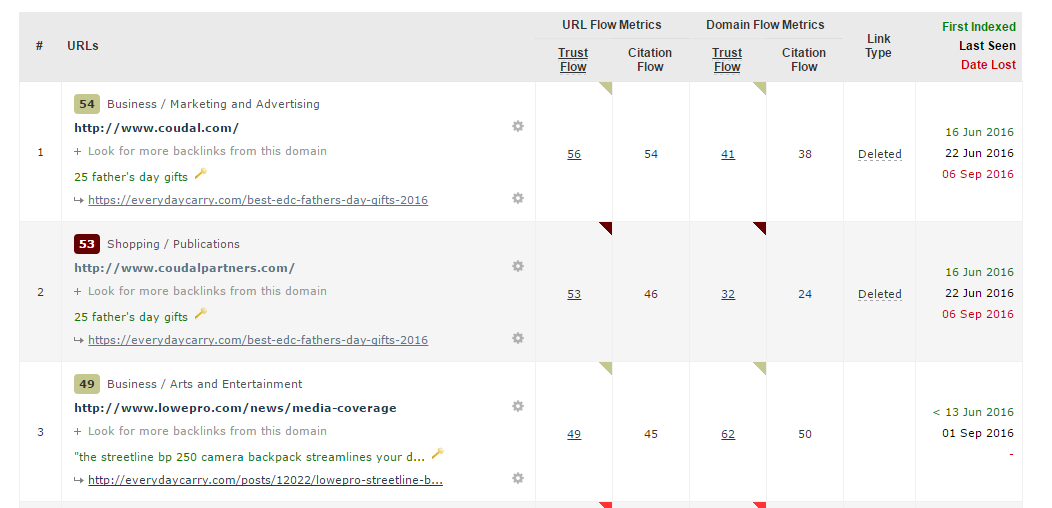 Majestic's columns contain:
The category of the website linking.
The URL linking.
Other pages on the website that link.
The anchor text.
The page the URL links to.
There are also columns for:
URL metrics
Domain
Link Type
Date last seen and type.
Note that if there's a red date in the last column, or the Link Type is Deleted, that means the link is no longer on the page.
This can happen for a number of reasons, particularly if it's a feed page or the home page. The content often changes on these pages and the link naturally is removed as the content is refreshed.
For my own analysis I eyeball the links that have been deleted to see if there's an obvious cause, and review the pages that still have an active link.
My goal is to understand how the link got on the page, why, and if it's a valuable link for the website I'm analyzing.
It doesn't take long to begin to see a pattern with this method.
Step Four: Pages Tab
The last tab in a quick analysis is the Pages tab.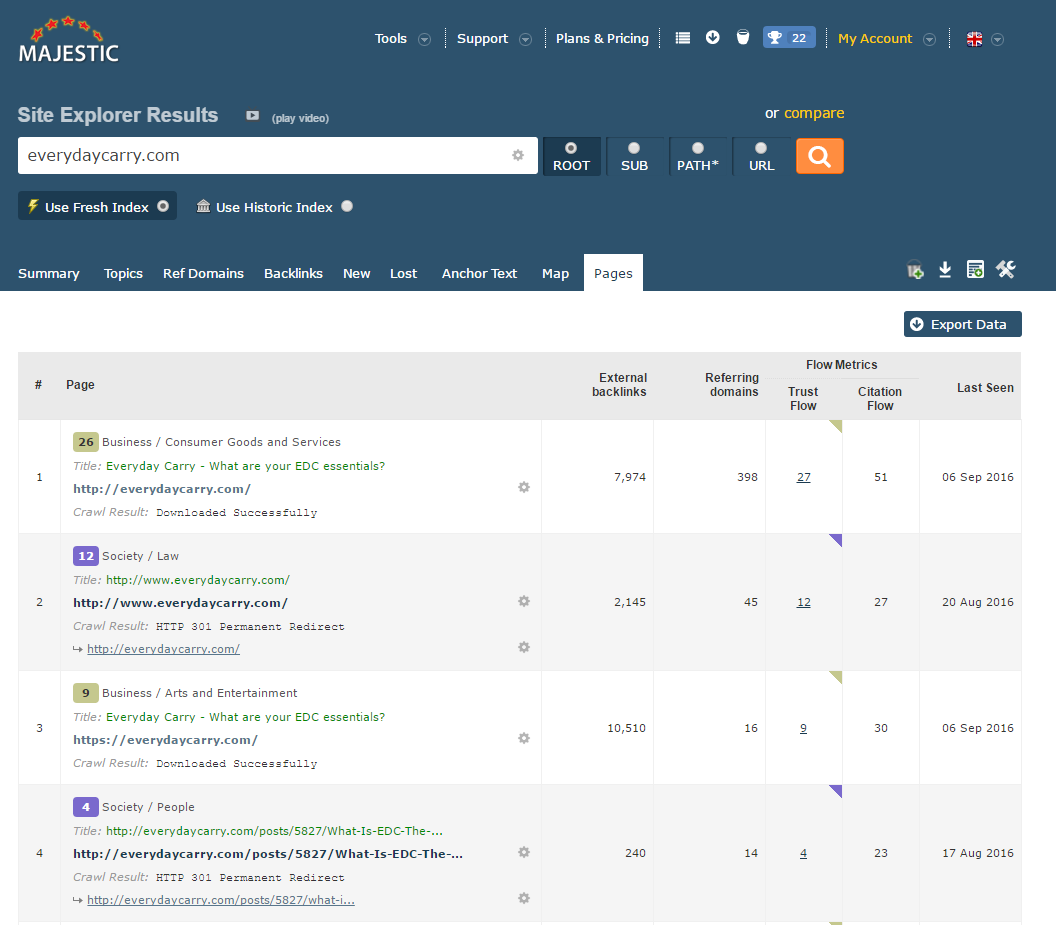 This tab organizes the pages on the website by the most links from other websites. So, the pages with the most websites linking (referring domains) sit at the top.
Because links are vital to organic traffic, and improve search rankings, this helps me quickly understand which pages have the most opportunity in search, and probably bring in the most organic traffic.
These pages are inherently important to the website, and have proven valuable to others across the web as well—since value is one of the key reasons to link.
This helps me better understand the website in question. In one glance at this tab I can understand which pages:
Perform the best in search.
Drive organic traffic to the site in question.
Have been well-received by the audience.
Might have received special attention and promotion.
This information is valuable to understand the site in question.
I can also see if there are any technical issues with the pages, since Majestic reports the crawl result, including HTTP status codes.
I'll also be able to see the link distribution across the site.
That's a Wrap!
In just 15 minutes (or less), Majestic will allow anyone to do a decent backlink review on any website.
I won't understand the site's search performance inside-and-out, nor will I have an audit in hand. What I have gained is working knowledge of the website in a short amount of time.
In 15 minutes, using the web app alone, Majestic helped me learn:
How "trusted" the website is.
How many websites are linking to the site.
The categories of sites linking.
Spikes in recent link activity.
The breakdown of link type, NoFollows, and deleted links.
The Anchor Text of the links.
The specific sites linking, by authority.
General tactics/reasons leading to links.
The most recent backlinks.
The most important pages on the site, for organic traffic.
At this point I'd be ready to discuss the website and potential link strategy. I wouldn't be an expert, but I have enough insight to have a reasonable conversation and discuss a link building campaign.
It'd take considerably more research to build a campaign strategy—but I have the information I need in order to begin the conversation.
Hope you've enjoyed!