Following one metric blindly will get you into trouble—no matter your business.
This is doubly true in link building. Work with enough clients and you'll find a few who are hung up on authority metrics such as Domain Authority, Trust Flow, or Ahrefs Rank.
We hear it all the time from prospects and clients:
"What is the minimum Domain Authority you pursue?" or, "What is the average Trust Flow of the links you'll build?"
It's natural for clients to gravitate to authority, since it is often the most directly measurable metric, but authority is not the only metric that matters. Domain Authority—or any other measurements of authority—shouldn't be used to guide an entire link campaign; authority is not the be-all end-all in link building.
Focusing solely on authority metrics causes a number of issues within a link campaign:
Google hasn't updated their PageRank toolbar in a long time, (and it was never a good representation of PageRank). All available authority metrics come from third-party tools who don't have access to Google's full index of the web.
Authority doesn't account for relevance.
New, popular websites will have low authority metrics, and be overlooked.
Authority varies by industry, and what may be a low authority score in one niche might be a high authority score in another.
Higher authority websites typically have more stringent linking policies, requiring greater investment. Limiting your campaign to these links prevents a project from building momentum (via relationships, improved visibility and reputation, etc.).
Natural link profiles include links with varying degrees of authority.
Authority is an important metric, but basing the entire project around any single metric is a mistake. Worse, it means all of your analysis depends on third-party authority metrics.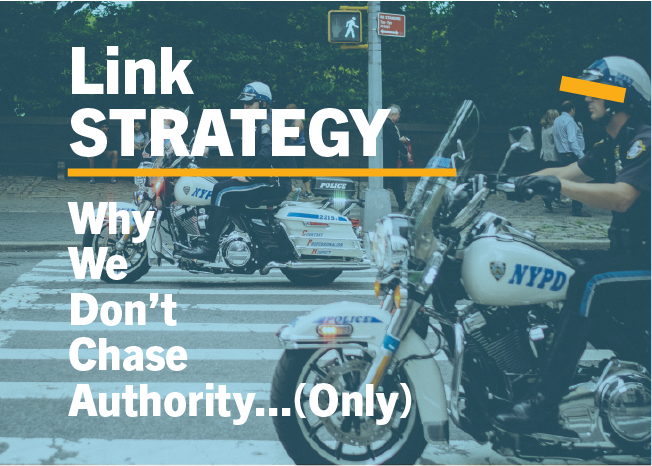 At Page One Power we've secured thousands of links and constantly debate the metrics that make the best links. To ensure link quality in our campaigns, we analyze an amalgamation of factors (which includes authority metrics) to determine the value and quality of a link.
The secret is not to rely on just one metric. Our goal is to build real links, so we use a variety of metrics to test the authenticity of the website in question, and the resulting link. This ensures we don't suffer from metric blindness, and don't chase links that fail to move the needle.
Here's the list of metrics we measure, by order:
Relevance
Authority
Engagement
Content.
Relevance: links that improve the web
Relevance is the north star of our link building compass at Page One Power. Relevance guides our prospecting, quality assurance, and the entirety of how we approach link acquisition.
Relevance is a metric we care deeply about.
A relevance-first mindset guides our effort to secure links that have value beyond search, links that should exist to make the web more navigable and useful for humans. Putting relevance first and foremost in everything we do helps us secure the kind of links Google wants to value.
Here are the four types of relevance we measure at Page One Power:
Page to page
Page to domain
Domain to domain
And link to page.
We also use anchor text relevant to the context of the page, and avoid over-optimization by using diverse anchor text.
Links on relevant sites have two inherent benefits: first, relevant sites will share your same audience; second, relevant sites can send qualified referral traffic—and potential customers—to your site.
While higher authority sites may theoretically pass more link equity, if you only put stock in authority metrics you'll miss relevant opportunities that provide benefits beyond SEO.
For example, let's pretend Page One Power was building links for a website that sells golf equipment. Let's also imagine that our hypothetical client only wants links with a Domain Authority (DA) of 30 and above (a common issue we run into with clients at Page One Power).
30+ DA is fairly reasonable. We've dealt with clients that have a much higher threshold—50 and above. The truth is, our first concern is building real links. Authority is an important metric, but it's only a barometer. We want to find real sites with traffic, an engaged community, and a shared audience.
Searching for prospects in the golf niche I find the Three Guys Golf blog.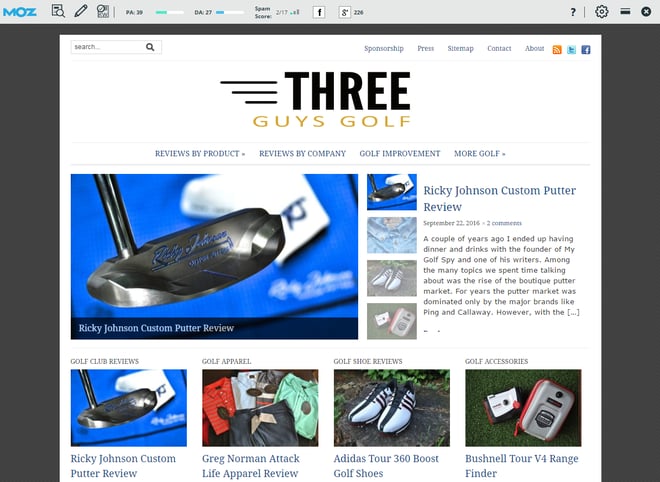 This site is well-maintained, authoritative, and has an engaged audience—even though the site has a low DA. It's a great link opportunity, but the DA of the site is 27, below the client's desired threshold.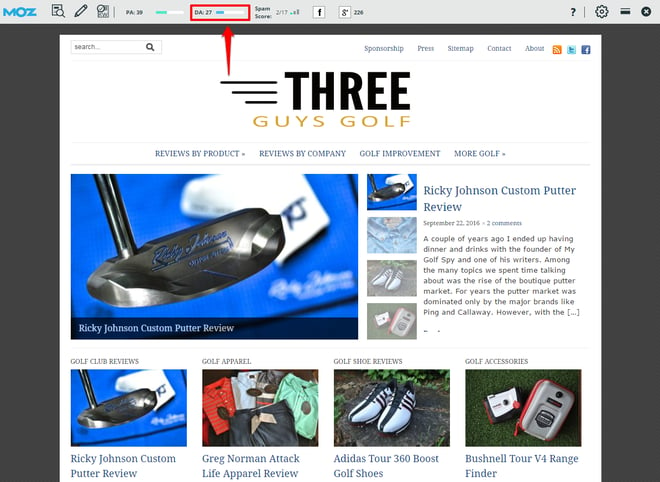 Go look at this site. Seriously. It's a legitimate resource with an engaged community. This is a perfect example of why blanket decisions based on authority metrics limit your project.
This is a worthwhile site run by passionate people. It's the type of connection you should want to build in the real world, and have represented online. This is a link any golf seller should want.
It's hyper-relevant to the golf equipment niche and a link here would provide exposure to a relevant audience with a strong potential for qualified referral traffic.
Furthermore, Three Guys Golf reviews equipment: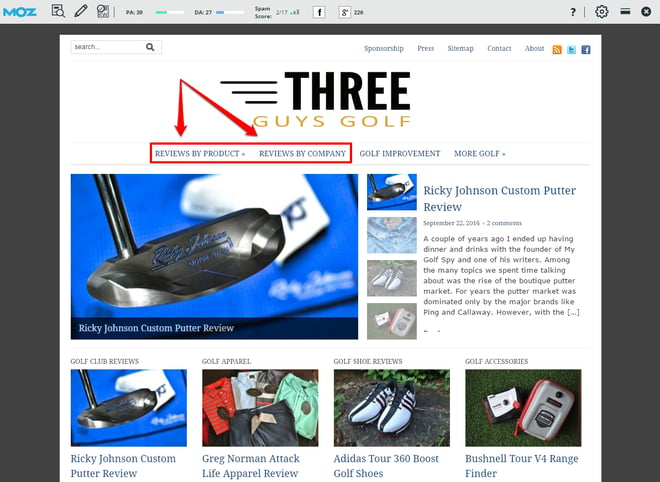 If the client carries products that have been reviewed, there might be opportunities to point links at relevant products (pages that typically are very difficult to secure links to). Or, we might be able to suggest future reviews. We could begin a relationship and find marketing opportunities, in conjunction with link opportunities.
Handicapping a link campaign with DA restrictions is often detrimental to the success of the project. You should strive to earn links from highly authoritative websites in your niche, regardless of third party metrics; particularly if the website is new, but shows strong signs of engagement, passion, and growth.
Authority: a barometer for site analysis
You shouldn't follow authority metrics blindly, but that doesn't mean ignoring them completely. Authority metrics are part of every site analysis.
At Page One Power, once we've found relevant sites, we then check authority signals. Since we don't have access to the authority metrics Google uses, third party metrics provide the next best option. These metrics can be used as indicators (a barometer) of how a site is trending in terms of authority.
We also gauge authority based on the client's website and the niche—since it varies industry to industry.
There are a few different viable options for gauging authority, including:
The measurements we use at Page One Power are Moz's Domain and Page Authority and Majestic's Citation and Trust Flow.
Again, these metrics are not the defining signal for whether we pursue a link opportunity or not, but they are part of our process. Each site is analyzed on a case-by-case basis and we don't rule out sites based on low authority signals.
After analyzing for relevance and authority, we check for signs of engagement and activity on the site.
Engagement: finding passionate audiences
Once we've determined relevance and authority, we check the website in question for signs of audience engagement.
Building links on real sites should involve finding audience overlap.
A site might not have strong authority metrics but could still have an active, engaged audience. Some methods to gauge engagement:
Traffic – checked via SEMrush.
Social activity – checked via BuzzSumo.
Blog comments.
Content and page freshness.
A site with low Citation or Trust Flow could still be a worthwhile link target if there is clearly an active audience. This will often be the case if the site is popular but relatively new.
It takes Google time to appropriately assess the authority of new sites, and it takes more time for the third-party metrics to register authority.
Going back to our hypothetical golf equipment client, let's look at a site that has an engaged audience, but would be disregarded if we measured authority metrics alone.
Adam Young Golf is such a site:
Again, this site's DA (25) would be below the hypothetical threshold. But if I navigate over to the website's blog, I can see some solid signs of engagement.
Looking at the first three blog posts, I notice they have a decent amount of comments: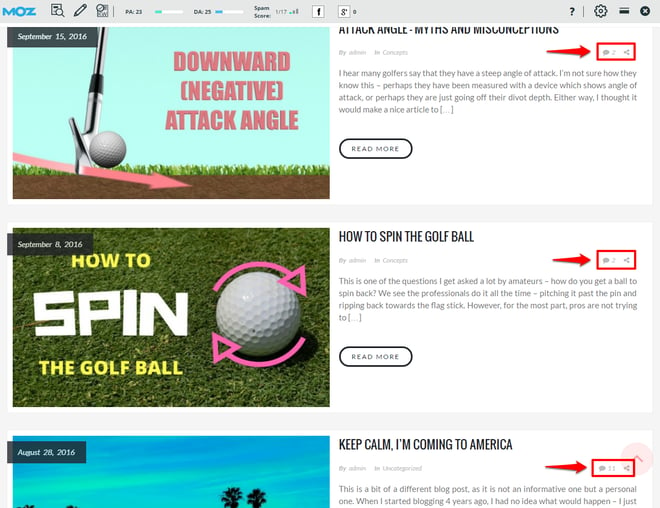 At first glance these posts are receiving nice engagement, but it's important to dive deeper to verify these are legitimate comments.
Clicking on the third post, it's clear they are indeed real comments from real readers: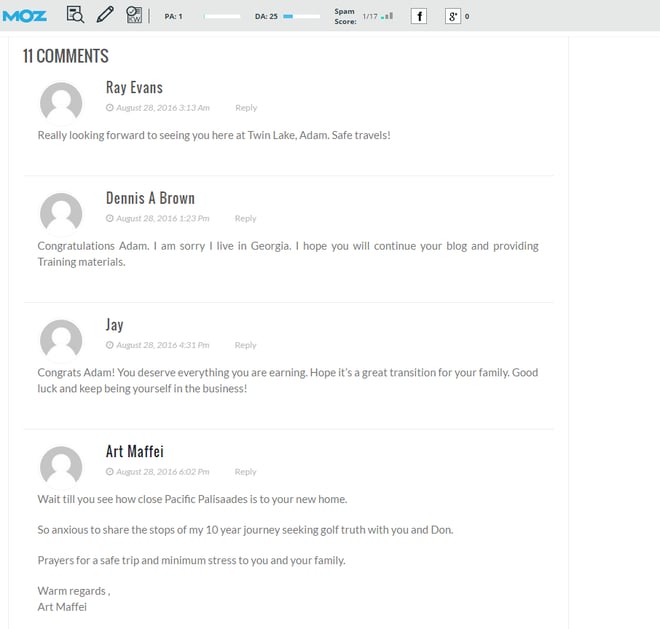 The site has an active and passionate following, and I would strongly advocate pursuing a link here. A link from this site would pass authority (and trust) in the eyes of this engaged audience. Links are, after all, endorsements.
This site is a great example of why you shouldn't write off a potential prospect simply because a third-party tool doesn't report strong authority metrics.
Content: sites with human value
Finally, we scrutinize all link prospects from a human standpoint—in terms of content quality, design, user experience, and value. This often occurs simultaneously as we check signs of engagement.
Tools are helpful in providing authority metrics, traffic estimates, social metrics, etc., but are no replacement for the human brain and manual review to judge the quality and value of a website. Quality isn't quantifiable, so we examine each site to ensure it offers clear value to a real audience.
We look for positive signals such as:
Passionate, value-driven writing.
A clear, engaged human behind the site.
A depth of knowledge on the given topic.
Strong, attractive design.
Easy navigation and solid user experience.
Deep library of content (unless of course the site is brand new).
Fresh content added regularly.
Thoughtful, prompt responses to audience comments and questions.
Etc.
Although quality isn't measureable, you know it when you see it. This is why we manually review the content and design of a site as a final spot-check during prospecting.
Conclusion: multiple metrics are better than one
Authority metrics matter, and should be part of your analysis when scrutinizing link prospects.
However, blindly following third-party metrics like Domain Authority, Trust Flow, Ahrefs Rank, etc. will lead you down the wrong path. These metrics are meant to be a piece of the puzzle, not the defining metric of link prospecting. A holistic approach to prospecting measures:
Relevance
Authority
Engagement
Content.
When you restrict your prospect pool to authority minimums using DA, TF, or Ahrefs Rank, you're unnecessarily narrowing your view of the web and handicapping your link campaign.
If you take nothing else from this post, please understand this: authority metrics are helpful barometers, but they are third-party metrics. They do not have a complete index of the web and you should not base your prospecting entirely off these tools.
Build the links that matter, and will stand the test of time—real links that are relevant, on good sites with an engaged audience.