Hello everyone! Welcome to another Tutorial Tuesday here on Linkarati.
Most of you are familiar with the company Moz, as they are a prominent brand within our industry. It's always exciting when Moz releases a new tool, which they did just two weeks ago.
The new tool is called "Keyword Explorer" (or KWE for short), and Rand Fishkin called it his "biggest launch in 3 years":
Yesterday, I had my biggest launch in 3 years.
Brand new tool: https://t.co/OrY1edH113
Blog post all about it: https://t.co/CfXiMW4aiu

— Rand Fishkin (@randfish) May 4, 2016
Rand was personally involved in the development of the tool along with Dr. Pete Meyers, Russ Jones, and other intelligent Mozzers. Through the ingenuity of these folks and anonymized clickstream data from ~ 1 million real searchers (Moz purchased this data through a third-party vendor), Moz was able to create Keyword Explorer.

Moz Pro subscribers have full access to KWE at no additional cost. If you don't have Moz Pro you can run two free searches per day without logging in, or 5 searches per day with a free Moz community account. You can also buy KWE on its own for 600 dollars/year or 1,800 dollars/year (depending on which level you want).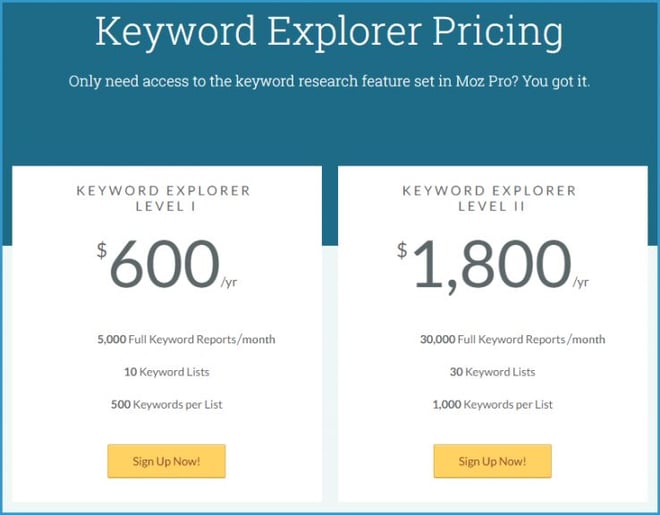 Now that you know the backstory on Moz's Keyword Explorer tool, let's look at what it can actually do!
Step One: Enter a term or phrase
Start by navigating to https://moz.com/explorer.
Here is what the homepage for Keyword Explorer looks like: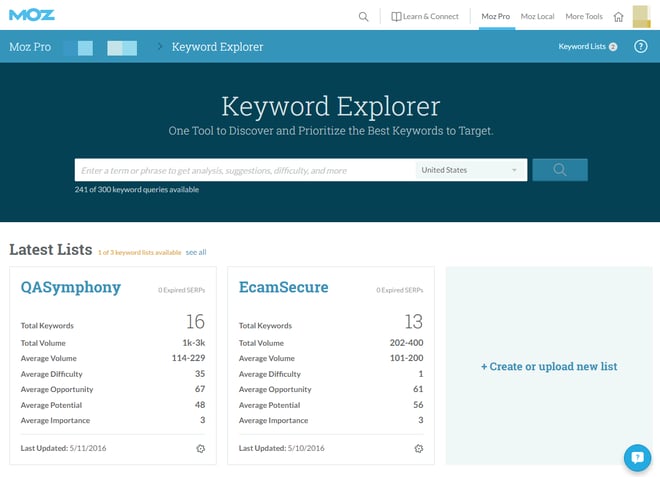 To get started with KWE, you'll need to enter a term or phrase into the search box. Ideally, you'll want to enter a keyword that's fairly important to your industry.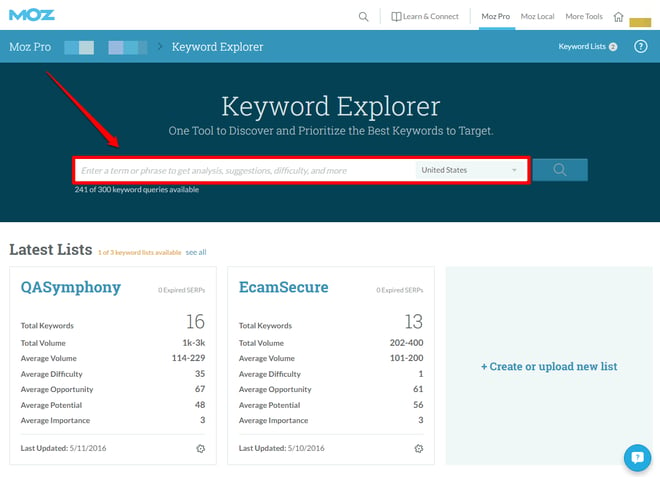 For this tutorial I'll be researching keyword themes associated with "sunburn relief" (I recently returned from a vacation in Mexico).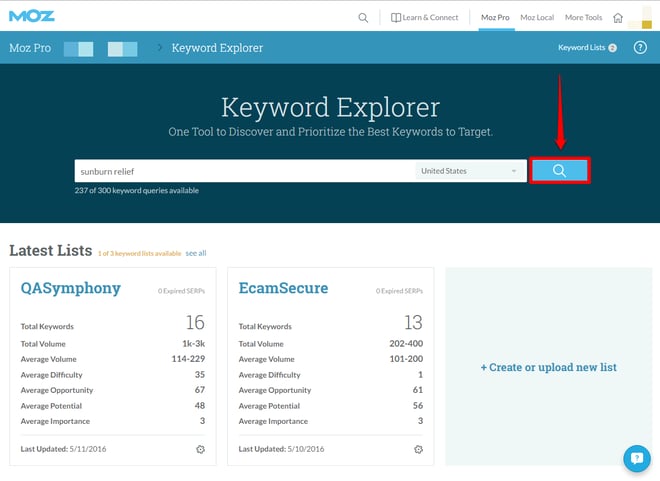 After entering a search term, you'll be taken to this page: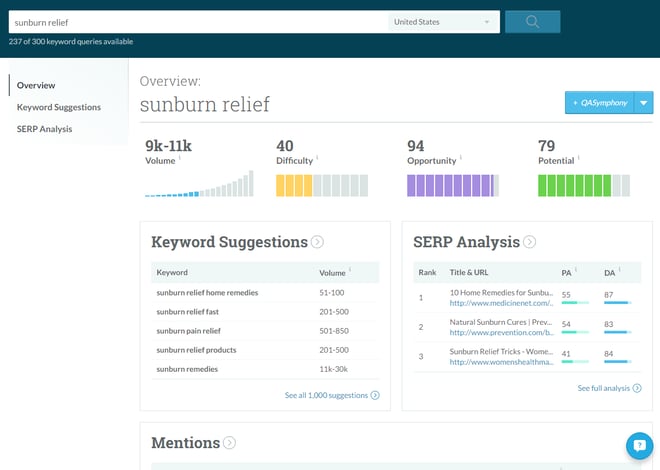 This is a great starting point. Let's dive in a bit deeper.
Step Two: Overview Page
After submitting a key term you'll arrive at the "Overview" page.
There are four important metrics listed at the top of the overview page:
Volume.
Difficulty.
Opportunity.
Potential.
Each metric focuses on a specific aspect of keyword research, which we'll cover individually.
Volume
First, let's look at "Volume".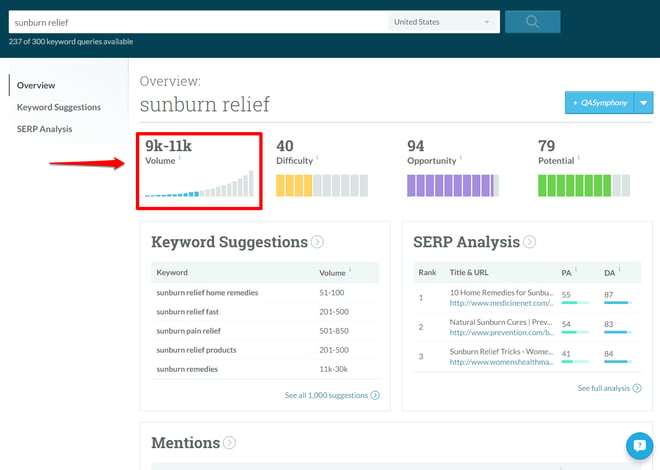 This section represents how often the keyword is searched for in Google each month. These ranges are ~95% accurate because they are determined using Russ Jones' volume bucket methodology and anonymized clickstream data from ~1 million U.S. searchers.
If KWE returns with "No Data" it means Moz has not yet collected search volume for that keyword. It's worth remembering that volume data within KWE only includes U.S. volume.
Difficulty
Next, we have "Difficulty".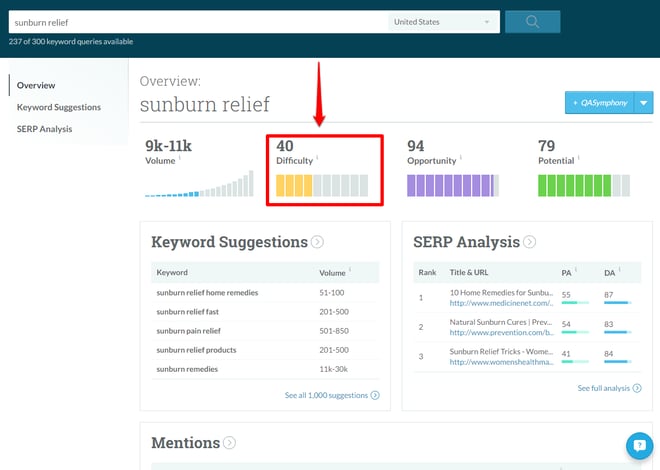 As you might have guessed, KWE's difficulty score is an estimation of how competitive it might be to rank for my given keyword.
Difficulty is scored on a scale from 0 (easy) to 100 (hard) and is essentially an improved, more sophisticated version Moz's Keyword Difficulty Tool. This improved Difficulty score will show much more variation, whereas the old Keyword Difficulty Tool showed ranges mostly within 50-80, this new score shows many more ranges in the 20-40 range, which present solid opportunities where the competition isn't as fierce.
Opportunity
The next metric KWE provides is "Opportunity".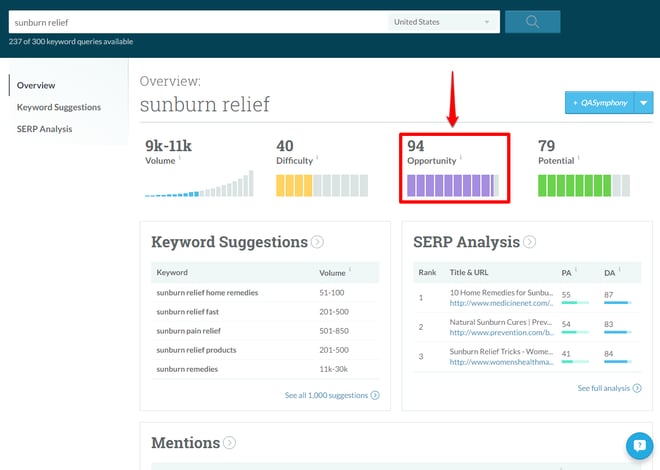 Opportunity is also scored on a scale of 0 to 100. But rather than measuring the difficulty to rank, opportunity estimates relative click-through-rate for organic results.
This score takes into account other SERP features (such as ads, knowledge graph, etc.) that compete for the searcher's attention. When more features are present—therefore increasing the "noise" within a result--the opportunity score is lower.
Potential
Finally, we have "Potential".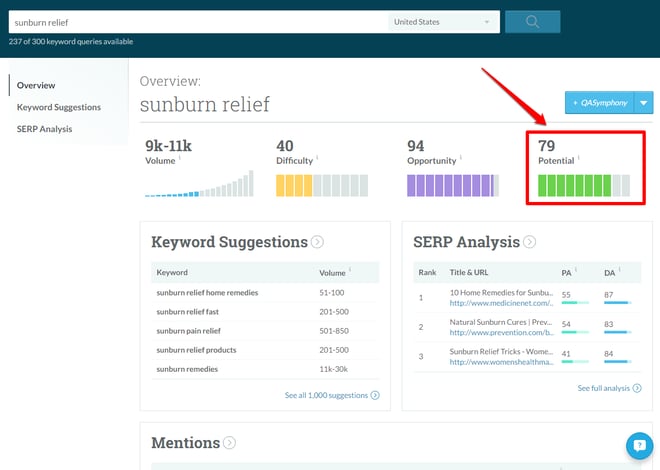 Potential is my favorite part of KWE. Similar to Difficulty and Opportunity, Potential is a score ranging from 0 to 100.
Potential is derived from a combination of the other three metrics KWE provides – Volume and Opportunity compared against Difficulty.
Potential also takes into account "Importance", which is a custom value that you can manually assign depending on which keywords you view as priorities.
A high Potential score means a keyword has high Volume and Opportunity, but low Difficulty. Potential provides a quick way to check if a keyword is viable for your campaign.
Below these four high-level metrics are three separate features within the KWE tool:
Keyword Suggestions.
SERP Analysis.
Mentions.
Each of these sections allows us to get a bit more granular with keyword research. Let's take a closer look at these subsections.
Step Three: Keyword Suggestions
Moz's Keyword Explorer helps expand keyword research through its "Keyword Suggestions" section.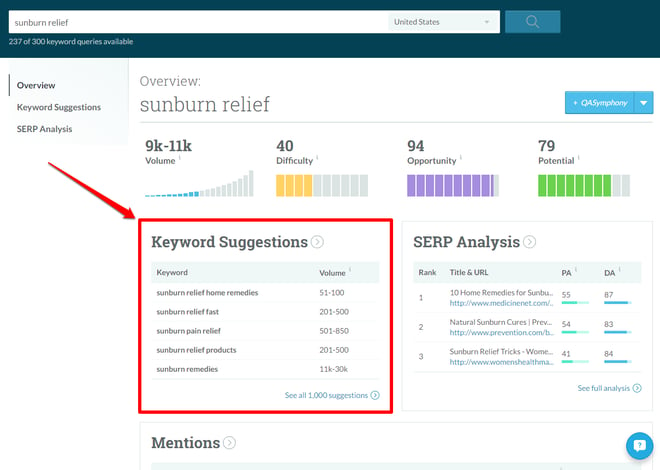 You can see the top five suggestions relative to your keyword without leaving the Overview page.
But if you want to dig deeper you can also see all 1,000 suggestions by clicking the blue link in the bottom right corner of the Keyword Suggestions box or by clicking "Keyword Suggestions" on the left-hand navigation menu: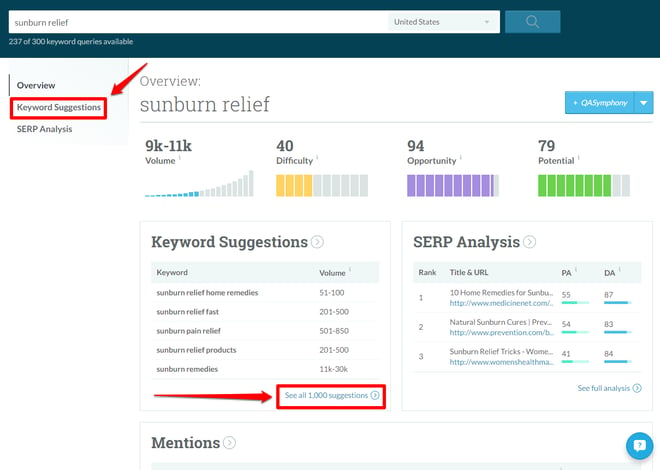 Clicking either of these links takes you to this page: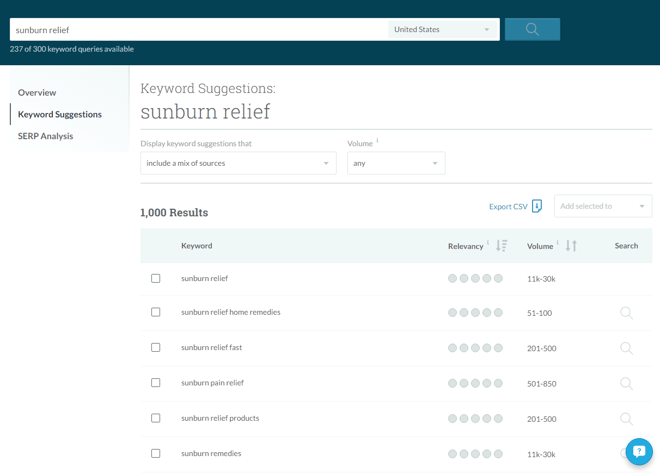 KWE provides up to 1,000 different keyword suggestions, and the results can be sorted by relevancy: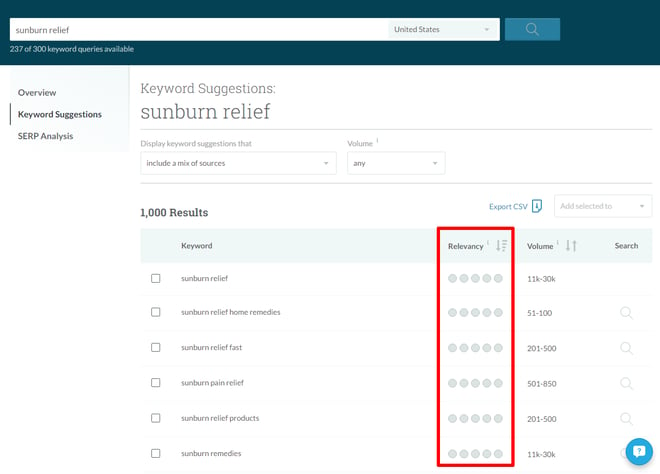 Or search volume:
Results are sorted by relevancy by default, which puts keywords that appear in the most sources and are lexically similar to my original keyword on top.
You can also click the magnifying glass icon next to a particular keyword to see suggestions related to that keyword.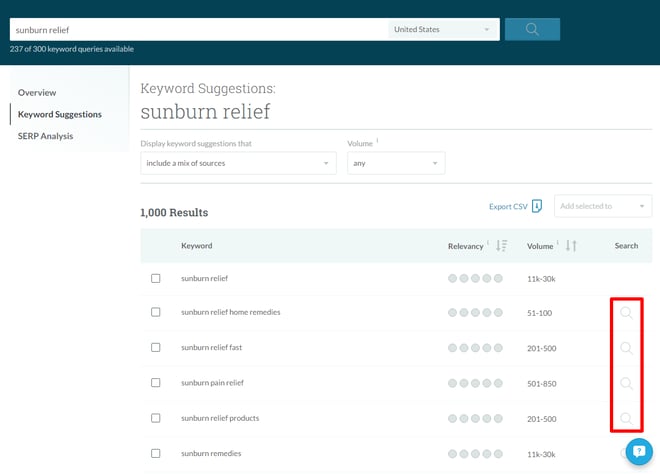 You can also filter suggestions in a variety of way, such as:
Include a mix of sources.
Only include keywords with all of the query terms.
Exclude your query terms to get broader ideas.
Based on closely related topics.
Based on broadly related topics and synonyms.
Related to keywords with similar results pages.
To find these options, simply click on the drop-down menu under "Display keyword suggestions that":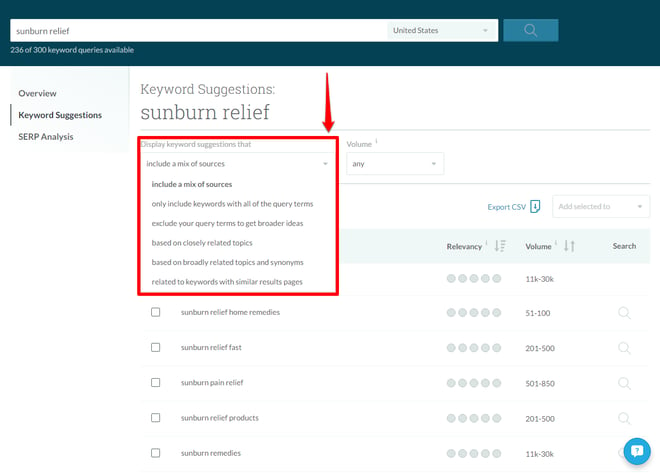 There is also a drop-down menu that allows you to filter by search volume: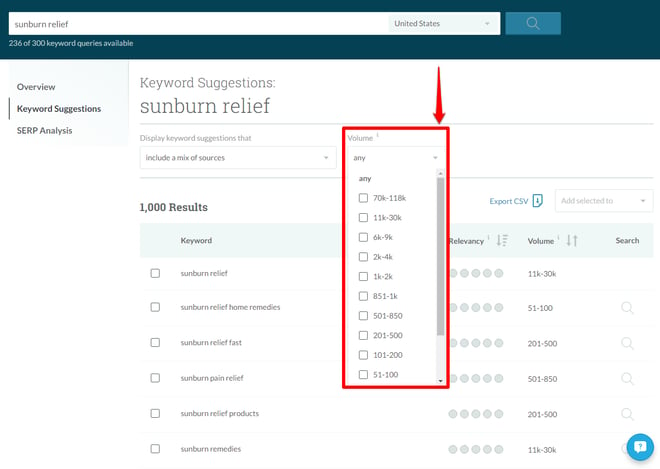 Don't forget you can easily export your data using the "Export CSV" link: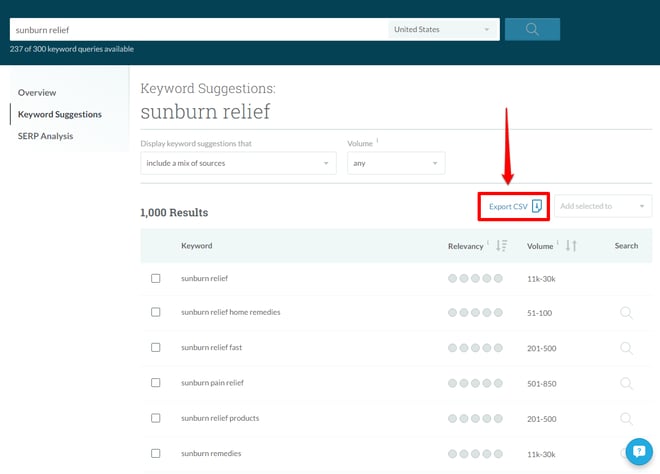 And you can also quickly add selected keywords to a pre-existing keyword list: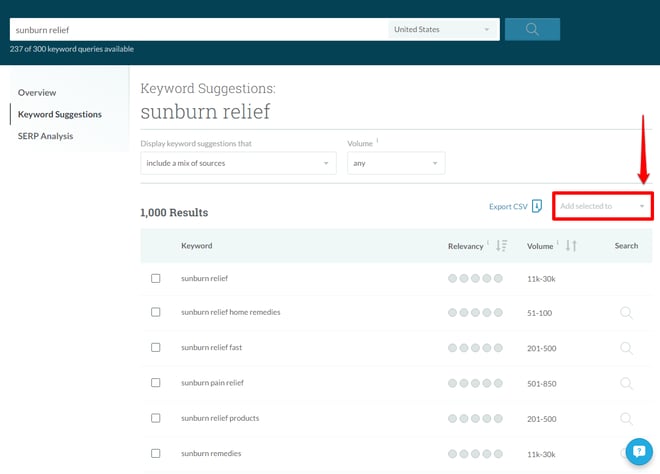 One of KWE biggest strengths is how easy it is to compile keyword lists within the tool.
Step Four: SERP Analysis
If you want to dig a little deeper into the potential opportunity to rank for a specific keyword, you can use KWE's "SERP Analysis" function.
Similar to Keyword Suggestions, the Overview page provides a snapshot of the SERP Analysis section: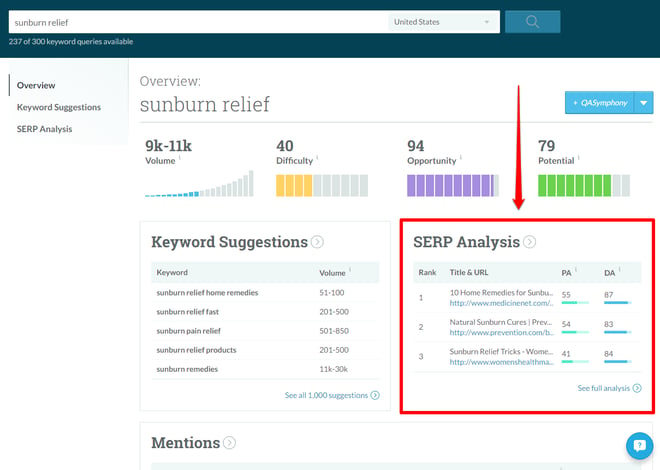 This snapshot shows the top three ranking results, but you can dig deeper by navigating to the SERP Analysis page by either clicking "See full analysis" or "SERP Analysis" on the left: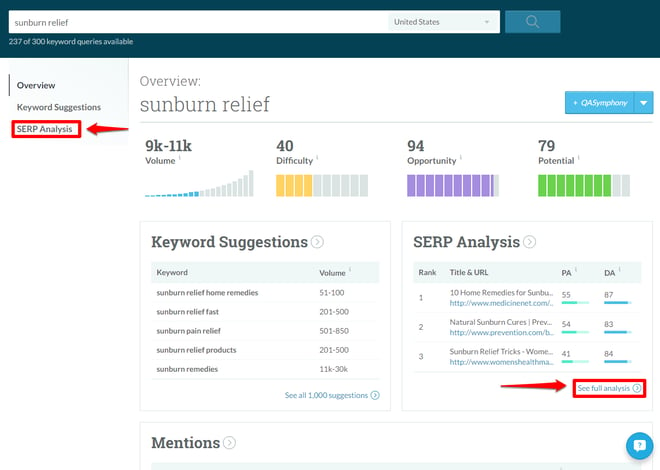 Either of these options takes you to this page: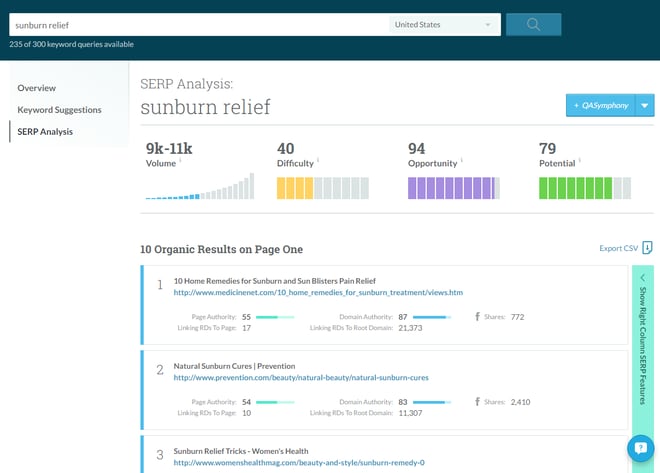 The SERP Analysis page shows exactly what is ranking, in which position, the DA, PA, Facebook shares, and linking root domains to each page and domain. For example, we can see Prevention.com is ranking in spot two for "sunburn relief":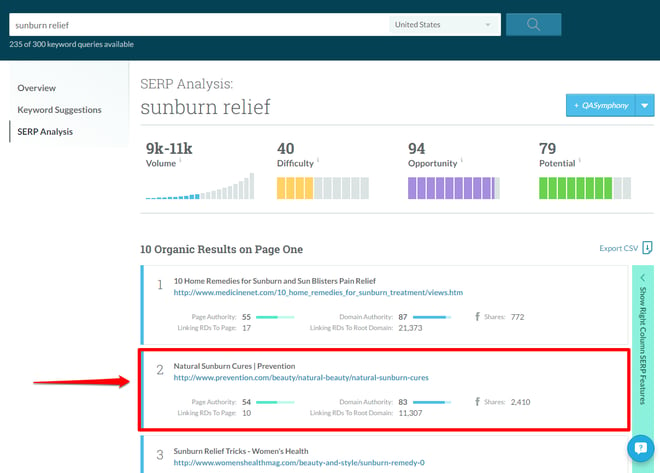 Looking at this result, we can see that Prevention.com has a very high DA (83) and PA (54), and a healthy amount of linking root domains to the domain (11,307) which all likely contribute to the page's ability to rank number two.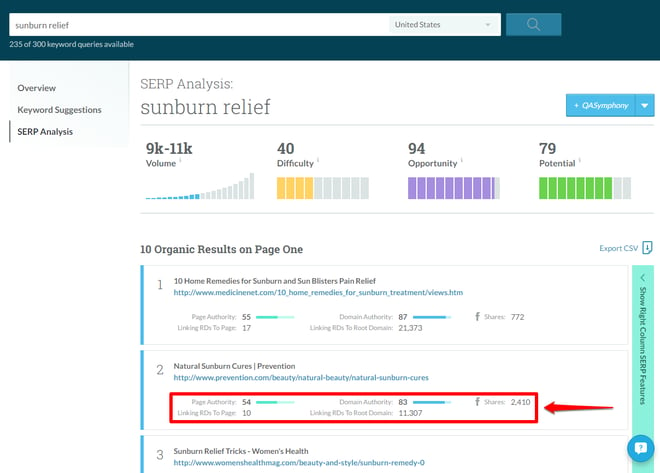 The SERP Analysis page will also show you how many organic results are on page one.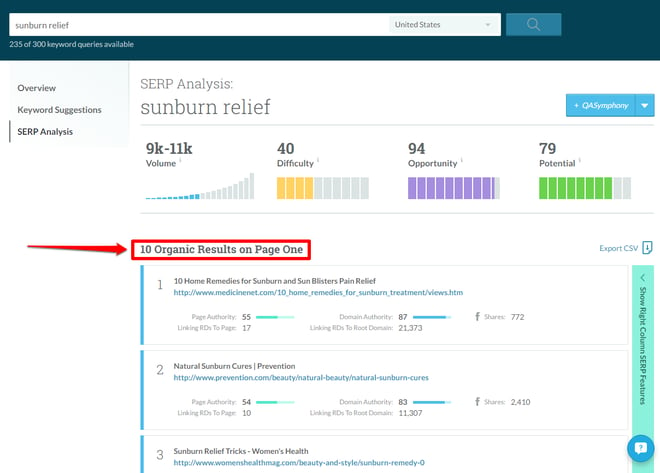 The "sunburn relief" SERP has ten organic results, but I fear this is the exception rather than the rule for most SERPs.
For example, when we look at the SERP for "best aloe vera" we see this SERP with only nine organic results, and five images in the middle of the results: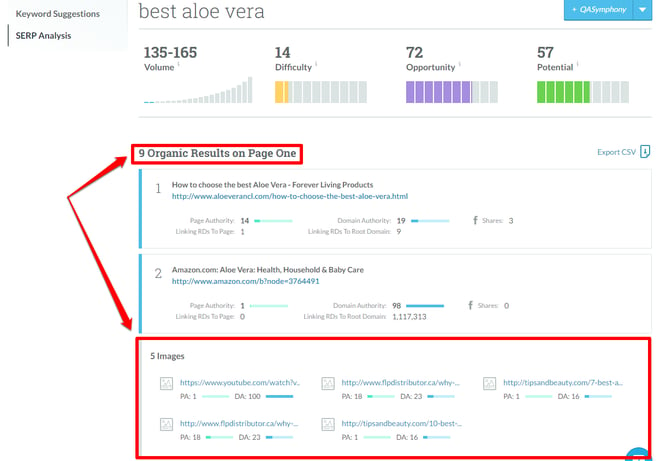 And if we scroll to the bottom of the page, we can see there are also Ads: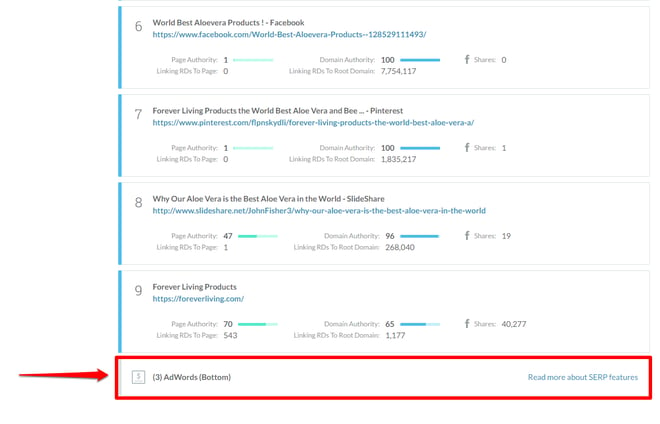 All of these features equate to less space for organic results, and KWE will (awesomely) show you all of them.
You can even see if there are any right column SERP features.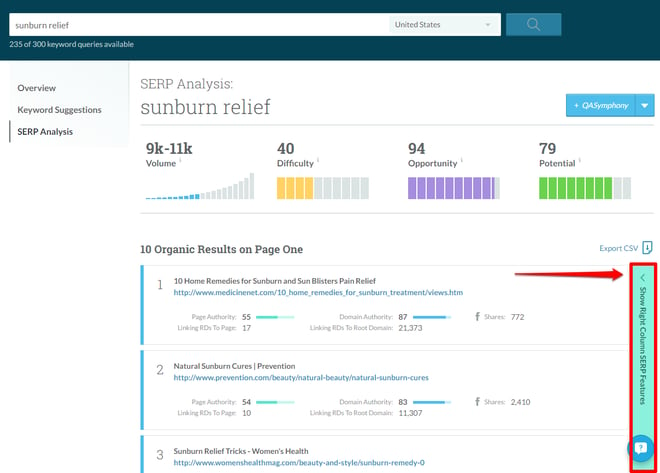 By clicking the arrow on the green box, it will expand and show any corresponding SERP features:
Of course, KWE makes it easy to export data from the SERP Analysis page as well: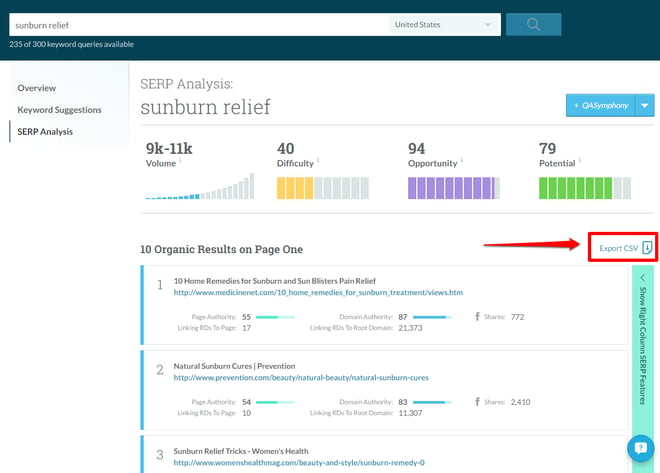 The SERP Analysis page provides a way to dig even deeper into the potential opportunity surrounding a keyword.
Step Five: Mentions
Below Keyword Suggestions and SERP Analysis is the "Mentions" section.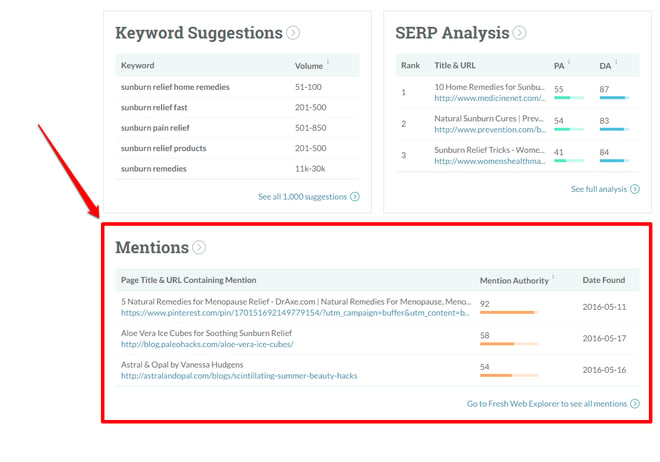 Mentions are when another page specifically includes your keyword but doesn't link.
You can see up to three top Mentions directly from the Overview page. These mentions include the page title and URL, mention authority, and the date the mention was found. One of the most interesting metrics to scrutinize here is mention authority.
Here is how Moz explains mention authority:

"Predicts the authority of the page on which the mention was found – an algorithmic calculation using a combination of Moz metrics that take the authority and influence of the page into account."
If you want to dig deeper into these mentions Moz provides a handy link to Fresh Web Explorer in the bottom right corner of the Mentions section: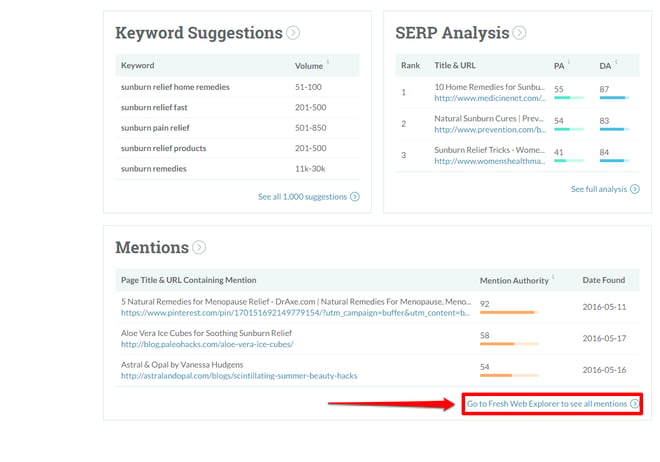 Clicking this link will take you directly into Fresh Web Explorer results for "sunburn relief":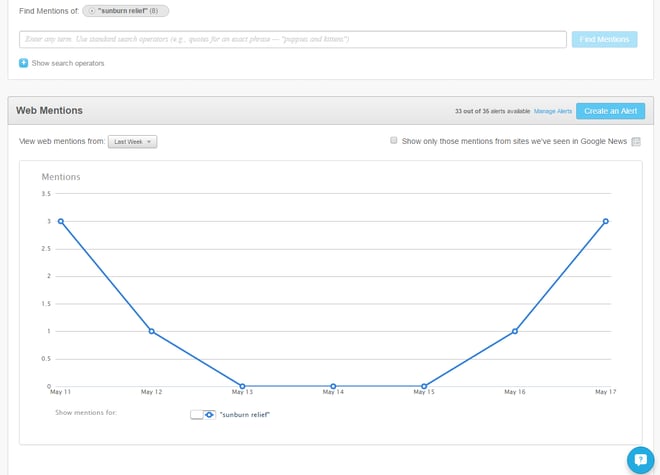 This built-in integration makes it easy to dive deeper into keyword mentions if you want to do a bit more research.
Conclusion
Well that does it for this week's Tutorial Tuesday! I highly recommend playing around with Moz's new Keyword Explorer as I find it to be a very useful tool for keyword research. Some of my favorite features are:
The Potential score which offers a quick gut-check for the viability of a keyword.
Highly accurate (~95%) search volume ranges for keywords.
The Keyword Suggestions subsection which makes it easy to generate new keywords and expand keyword research.
An easy and simple way to export data.
The SERP Analysis subsection that shows the exact composition of the live SERP, including ads, images, and anything else that might draw attention away from the organic results.
Seamless integration between KWE and Fresh Web Explorer for tracking keyword mentions.
Moz has already said they will be working to upgrade the tool in the near future, so it should only get better.
For more information on KWE, check out these additional resources: