Editor's Note: This is the first installment in our FAQ Friday series. Each Friday, P1P co-owner Jon Ball answers frequently asked link building questions from YOU! Our first round of questions is transcribed from our Mar 21st webinar titled "Link Building - Ask the Experts LIVE!" on Digital Marketing Depot.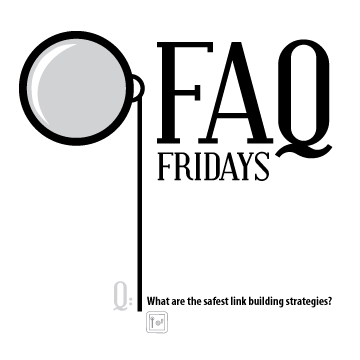 "What are the safest link building strategies?"
There are two things when it comes to link building: there are principles of link building and there are practices of link building. It's hard to really talk about the practice of link building without talking about the principle of link building. The main guidepost, beside relevancy, that will keep you safe as you build links, is a concept that we learned from a friend named Eric Ward, who's nicknamed the "Link Moses."
He taught my brother and I years ago. His concept was that as you build links, you want to do it as if Google didn't exist. As if search engines didn't exist. If Google didn't exist, where would you want to place links? Would you want to put them on Russian directories if you're trying to sell paper shredders in the US? No, you would not do that.
You would look for places where people talked about offices and office supplies and administration of documents. And that is a principle we call Relevancy-first link building. If you can go with the principle of "in a world without Google, where would I build links?" then you're on the right track.
As I build links, I'm looking for places that make sense for me to get those links. That's an approach you need to absorb before practice comes into play, because practice is simply the strategy of how to get the link. I've spoken many times on different practices and different strategies to build links, and it seems like when people talk to me they want to know how to do this. "How do I build links? How do I get more links?"
And I always have to go back to this principle--you have to first absorb the concept that you're not just building links for SEO's sake. You're trying to build stuff that makes sense in your niche. If you do that, and you can do it consistently month after month for six, seven, eight, nine months or a couple years even, you will see phenomenal success in your rankings because it does not take hundreds of links to rank in Google.
It takes tens. Sometimes up to 20, 30 links. That is all you need to rank really well for fairly competitive terms. But what are the safest and best strategies? If you can do guest posting, I think that's a really good option and guest posting is simply going out and finding blogs that talk about your niche or have relevance to what you're doing, and then offering them well written content that works for the benefit of mankind.
So if you're selling paper shredders, you can find a blog that talks about business. The blog might talk about how to do business, offices, how to take care of an office, Human Resources or something in that category. You can then write an article that relates to them and talks about how to help any part of business. You don't need to write an article about paper shredders, but if you write an article about business and offices that's relevant to paper shredders, then you have a safe opportunity to get links.