Editor's Note: This is the second installment in our FAQ Friday series. Each Friday, P1P co-owner Jon Ball answers frequently asked link building questions from YOU!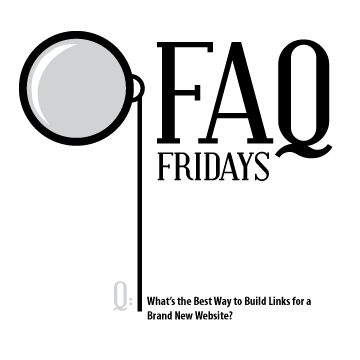 "What's the best way to build links for a brand new website in today's SEO climate?"
With a brand new website, you have a great opportunity because you're not beholden to the legacy of spam. A lot of older sites that have had SEO work done have a history. The best thing you can do is take your keyword and write every term that relates to your term on a white board or a piece of paper.
So if your term is 'office chair,' then you write everything that relates to the office chair: office, working, sitting, carpal tunnel syndrome-- anything that relates to that term. At the end of that exercise, circle all of the words that a community might be built around online. And then you're going to search for associations.
You should search for groups, blogs, experts and everything that's related to what you talk about. Then you can start to strategize on how to get links on all of those sites, and you're in a perfect position. Now if you're in a highly, highly competitive niche, don't lose heart. We've ranked some fairly new sites in some extremely competitive niches with handful of links.
Once again, it does not take thousands of links. Matt Cutts talks about how Google counts links or does not count links. That's his style, and that's their way of doing it. They don't go out and penalize you. They go out and just say, "Well, this link does not count towards your profile." I've had some fairly heated debates with people about that concept.
If there was a documented case of someone who did negative link building at a competitor and they lost their rankings because of that, or if someone published a paper and talked about it, it would be world war three on the internet. Everyone would do that because it's easier to take your competitors down than to build yourself up, usually. So, it's my belief that Google just doesn't count certain links-- they don't consider links that aren't relevant.
There's an article that interviews Andre Weyher, who worked on the spam team at Google. He says that relevancy is the new page rank. That's what they're going to pursue because it's easier for them to sort out whether or not a link has value in through a relevancy lens than through a page rank lens. That's because a page rank lens is perfectly agnostic. It has no affiliation with any terms at all.
So, if you're a brand new site and you want to build links, it just comes down to two processes:

1. Find the target site.
2. Get a link on said target site.
That's really what it comes down to--whether you write an article and get a guest post, or whether you beg the webmaster to put a link somewhere on the site.
You can also make a beautiful infographic or you can say, "your readers would enjoy this." It really comes down to finding the sites and asking for a link. So your job right now, as a new website, is to discover some of the sites in your niche that are relevant to what you're doing, and then figure out how can you get links on those sites.