At some point in your life, you have probably felt lost in what you wanted to do for your career. Fortunately, life gives us many chances to figure it all out, and one opportunity we have is internships. Being a lost individual myself, trying to figure out what my career would be, I took one of my chances and became an intern and I want to share my experience.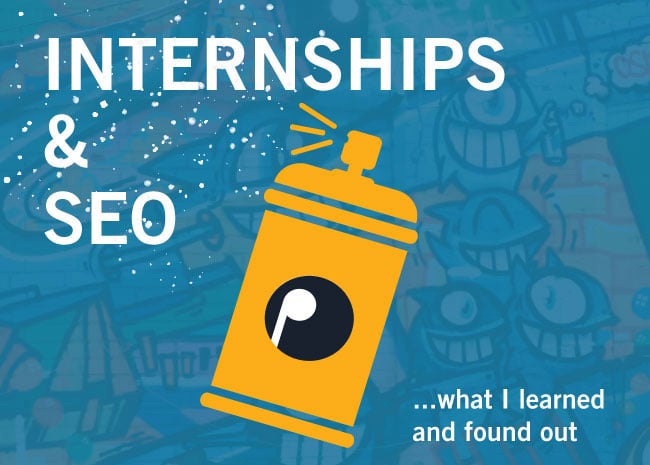 My Internship Journey
First, let me introduce myself. My name is Dani Ryalls, and this summer I spent two months interning at Page One Power in their marketing department.
Let's talk about internships for a moment. Like most college students, I had a minor freak out about the fact that I didn't have anything figured out in life and that I haven't been doing enough for my career.
As a BA student, I wanted to make my degree as general as possible, so I could have more time to figure out exactly what I wanted to do. My procrastination paid off, and during my Junior year, I realized I wanted to be in the marketing field. Woohoo!
So, with my newly discovered path, I marched down to my advisor's office and added a marketing minor. However, my freak out didn't end there. I was tasked with a new question, what now? I figured out what I wanted to do as my career, but was that enough? Nope, not for me.
The marketing world is vast and saying you want to go into marketing is like saying you're going to be a doctor; okay, but what kind of doctor? At this point, I realized I needed some real-life experience in marketing.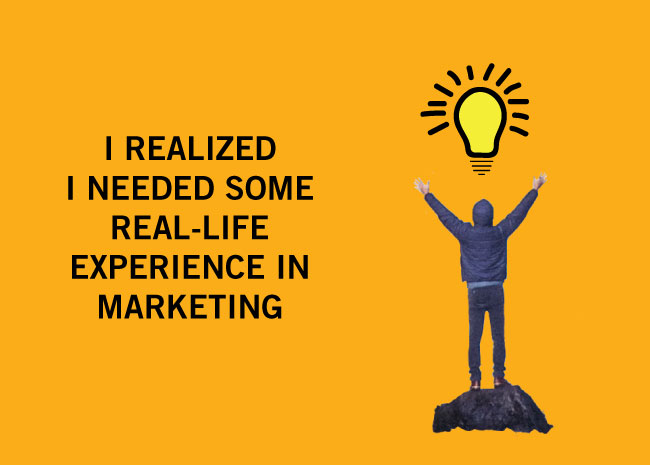 But, was it too late to find an internship? Would any company want me? This is when the self-doubt and insecurities kicked in. I had no professional experience whatsoever, so why would a company pick me out of a pool of talented people? "Why me," was a question I continuously asked myself throughout the hiring process, and I am still asking myself.
When I started my search for an internship, I applied to any company that posted the words "marketing internship" to the career center. After a thorough search, I interviewed at five companies, and after some rejections from companies — and vice versa — I finally decided that Page One Power was the place for me!
Why I Chose Page One Power
I should mention that I had very little knowledge of what SEO was before I started at P1P.
As a marketing student, I had some knowledge of SEO, but I was no expert (spoiler alert, I'm still not). Therefore, I wasn't entirely sure what P1P actually did. Yes, I did my research, but if you know anything about SEO, you know that there is no simple answer to what SEO is or how it works. Was it foolish to intern at a company where I didn't know what they did? Maybe.
So why did I choose Page One Power? Well, one of the biggest sellers of P1P for me was the diverse efforts they put into their marketing strategy. Also, during the interview process — and throughout the internship — they continuously asked me what I wanted to do during my time at P1P. The company wasn't looking for free labor to do busywork, they were happy to teach you what you wanted to learn and if that overlapped with the department's daily tasks, even better! The option to work on social media, a print magazine, graphic design, content creation, and so much more was an offer I couldn't refuse. They are an SEO company, but they offered me more opportunities than any other company I interviewed with.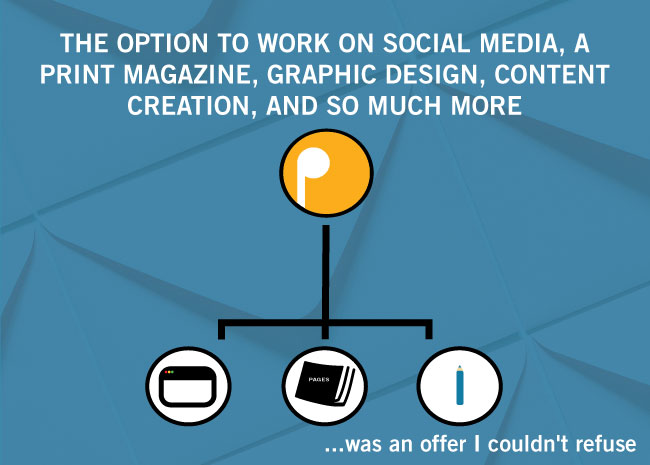 When I started, I was nervous they would think I wasn't worthy of the position they gave me because I didn't speak nor understand the industry's jargon. But, I never once felt that way during my internship.
The people I worked with understood that SEO isn't an easy concept to grasp and that it would take me some time to understand the basic principles. To help, they scheduled time for me to learn about the industry. I read blog posts, met with employees from across the company, sat in on department meetings, and much more. My colleagues made sure I understood what I was doing before all else.
What I Learned During My Internship
After I understood the basics of SEO and the P1P marketing plan, it was time to get started on the really fun stuff! So what did I actually do during my internship?
If you are curious like me and interested in what I completed during my time at P1P, here is my dashboard of completed tasks (pulled from a tool that P1P uses called Asana):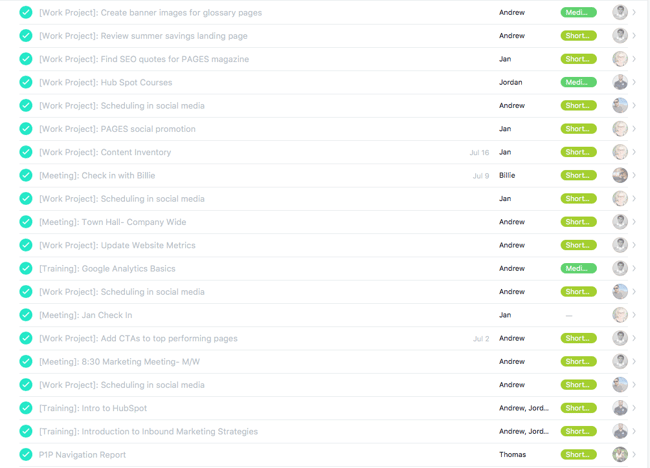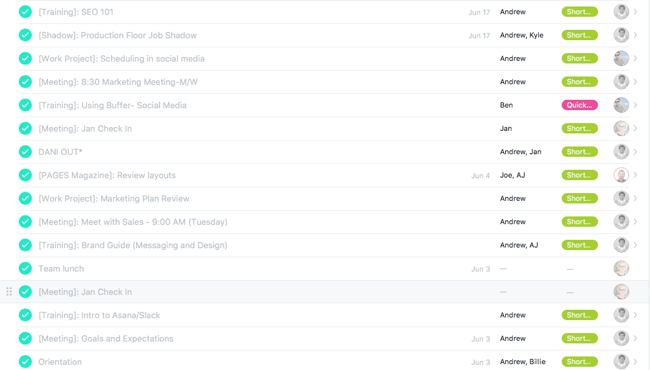 These tasks were tailored to my wants and interests, so you may experience something totally different while you are on your own journey.
When P1P asked me what I wanted to do during my internship, my answer was graphic design, graphic design, and more graphic design. And I got my wish.
For my first graphic design project, they offered me something I never thought they would trust me to do, creating three images for a blog post on an external website. I think my eyes bugged out of my head when they told me that!
Now you may be thinking, since she wanted to do graphic design so bad, she must have had some experience with it before. Yeah, no.
Even with no experience in the field, I happily accepted the project. So, I furiously worked on my images for a couple of days, and when I stepped back to look at them, they were awful. Okay, they weren't awful, but I didn't feel like it was my best work, and right then and there I realized graphic design wasn't for me. Now I'm not the type to back down after I fail, but this time I truly knew this wasn't the path for me.
Since then, I have completed some small graphic projects here and there for P1P, but graphic design is an art form and I feel like I don't have those specific skills. But that's okay, onto the next task!
The reason I told you this story is because I think this best demonstrates what P1P is about. I asked them for some graphic design opportunities and they gave me just that. Did I totally fail? Definitely, but they were encouraging and supportive throughout.
Page One Power gave me the chance to sit down with their graphic designer to better learn and they also gave me other smaller projects they knew I could manage and where I could have success. I even created all the images in this post! They were willing to trust an intern — with little to no experience — with an important project, and if that's not someone believing in you, then I don't know what is.
Experience with different elements of marketing was exactly what I wanted to get out of this internship. Like I said earlier, marketing is a vast world and I had no idea what field of marketing I wanted to pursue. Although I may still not know what field I want to get into, I know what I don't want to do. For me, that's a good enough step in the direction of figuring it all out.
So did I make the right decision in choosing Page One Power as my internship? Absolutely.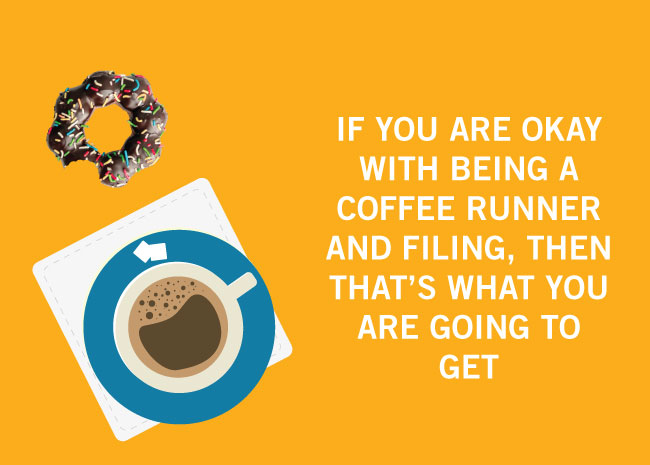 Like most things in life, you get out what you put in. If you are okay with being a coffee runner and filing, then that's what you are going to get. I'll be honest, some internships may be exactly that, so do your research and read the job descriptions carefully.
Even then, you might not find out what the internship is really about until you actually interview for it. Go in with an open mind and voice any concerns or wants you may have. Internships should be all about your success and getting what you want out of it, so go get em'!
A Thank You
To finish off this post, I would like to take this time to thank the people at P1P who dedicated time out of their busy days to teach me their skills.
A very special thank you to Andrew Dennis, who was my mentor throughout my internship. Andrew always made sure I understood and was comfortable with whatever task was assigned to me. He believed in everything I did, which I can't thank him enough for —although, he's a Yankees fan, so beware Red Sox fans!
In all seriousness, I wouldn't have been able to succeed in this internship if it wasn't for him, so thank you.
Final Thoughts
The time I spent at Page One Power is something that I will never forget. The things I have learned and the personal growth I have gained is irreplaceable. If you are looking to join the Page One Power team as an intern or full time employee, I hope I helped you make your decision easier.
What's not to like?
If you enjoy friendly coworkers, a positive environment, and free cereal, then this may be the place for you!