If you're responsible for managing or executing digital marketing strategy for a business, there's a good chance there are seasonal considerations involved.
Whether your business is seasonally-focused, you have holiday promotions to plan, or you encounter fluctuations in sales throughout the year, planning your marketing strategy to best serve the needs of your business can help you get more from search.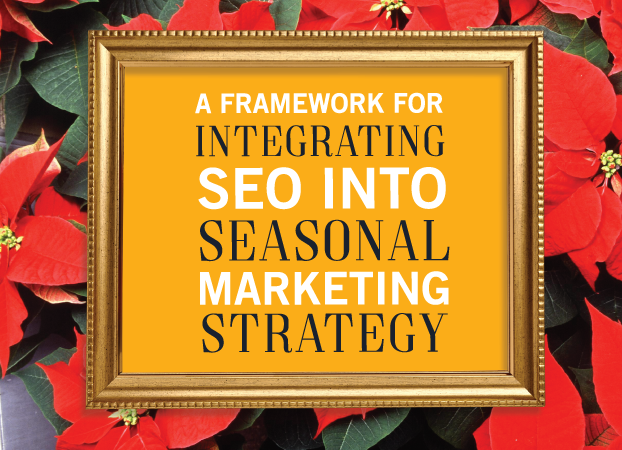 Here's a framework that addresses keys for integrating SEO into your seasonal marketing plans that can be applied no matter which holidays and seasons are most important to your business:
Timeline management

Tactics you can utilize as you work toward growth through SEO, and

Tools that will come in handy.
Most organizations begin dipping their toes into SEO with ad hoc implementations, which means their SEO work has a tendency to be siloed from other marketing initiatives.
The intent of this framework is to help you take steps towards a more integrated, strategic approach to SEO. Using these principles, you can develop organizational practices to move toward more holistic campaigns that address multiple channels of your marketing mix. When applied, you'll see increased efficiency and efficacy from all involved channels. Let's jump in!
Managing Timelines
The most important step toward integrating SEO into your seasonal planning is a clear understanding of your goals and timelines.
SEO campaigns take significant planning to see the best results. Additionally, it takes time to see results from your optimization efforts — former Google Developer Programs Tech Lead Maile Ohye explains you should expect to see the impact of optimizations beginning sometime between four months to a year from when the work was completed. It's not uncommon to start seasonal planning too late, which can make all the difference in a time-sensitive campaign.
If you have ambitious goals, give yourself plenty of time to complete the work you need to finish before next season. Many websites at the top of the SERPs start thinking about next year while they're finishing up the current season's work.
The most time-sensitive aspects of your campaign are promotional strategy, content development and creation, and outreach strategy and execution.
As always, the first step towards search success is making the most of your existing pages by applying best practices for on-page and technical SEO. Generally, if you're hoping to improve performance through off-page optimizations, it's best to make sure there aren't existing on-page opportunities to improve performance.
If you have existing content that can be leveraged for a seasonal campaign, make the most of it.
You may have content marketing initiatives already in place that can be utilized for link building. Of course, these assets need to be optimized and linkable, so perform an objective review of the content to determine linkability.
If you don't already have plans to build linkable content assets as part of your seasonal campaigns, you'll need to create them.
You'll first need to identify opportunities to develop resources that will support your seasonal goals. Your objective is to create valuable content that another website would link to — linkable assets. This post from Cory Collins is a great resource on how to take a strategic approach to linkable asset creation, utilizing research in SEMrush to develop content.
Beyond having real value to people, the primary purpose of a linkable asset is to earn links from other websites. But the most valuable content does more: it's also relevant to your products, services, or business, and has search traffic opportunity.
Consider the kinds of content you can create that ticks these boxes, while also serving the search intent of your target audience. What questions are they asking? What are the problems that you can offer advice or solutions for?
Seasonality influences content strategy in a variety of ways. Obviously, certain topics will trend during certain seasons and you probably already understand which seasonal events or topics are important to your business — plan your editorial calendar accordingly.
Seasonality can also provide opportunities to freshen up your existing content or generate new ideas.
Applying a seasonal spin to a common or overworked topic can help you expand your reach to new audiences. Think about the ways your niche can be applied to seasonal topics, and plan to create seasonally-specific pieces of content that you can leverage to earn links.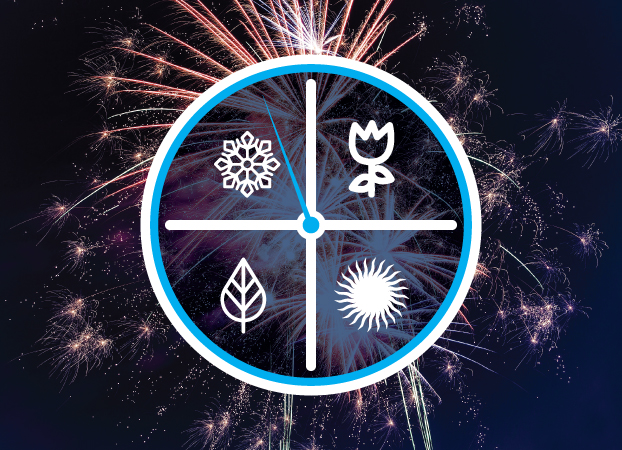 While for content marketing purposes, it might be fine to publish content in the weeks or days leading up to a seasonal peak, content created to serve SEO objectives requires you publish a little sooner than you might otherwise. Whether the primary goal of your content is gaining traffic or links, you'll need to publish the content well in advance of the topic's peak relevance.
For example, let's say you're hoping to boost product pages that are your primary Valentine's Day sellers.
After researching your search opportunities, you might create a gift-giving guide that includes appropriate internal links to your popular products. You'd then conduct outreach campaigns to secure links to your guide on relevant websites.
Alternatively, you might create uniquely appealing product pages, which you could then promote for inclusion in other third-party gift-giving guides.
All of this takes significant time to be executed to its best potential. It may take several weeks to develop the gift guide or promotional product pages alone.
It may take several more weeks to conduct the necessary outreach to secure links, and several more for the links to publish.
Finally, you'll need to account for the time it takes to see the full impact of the links built.
All said, the minimum amount of time you'd need for this process to be applied successfully is at least three to four months prior to when you hope to see the full benefit of your seasonal SEO work. Six months is even better, particularly if you'll need to invest in significant content development, and gives you time to ensure you're getting the most out of any major content initiative.
Review your editorial calendar and be sure it's aligned with your most important seasonal periods. Also take the time to determine dates that you plan to begin your outreach — you want to get started on this step well in advance of the actual holiday or event you're planning for.
When it comes to outreach, the winter months can be particularly difficult to plan for — folks are often a bit more likely to miss an email than they might be other times of the year. Summer is prime time for vacations. Other seasons and holidays come with less predictable challenges, but thinking about which downtimes you're likely to encounter will ensure your outreach goes as smoothly as possible. Planning can help you avoid putting your team into a pinch during the last stage of this process.
Here's a general rundown for planning seasonal campaigns: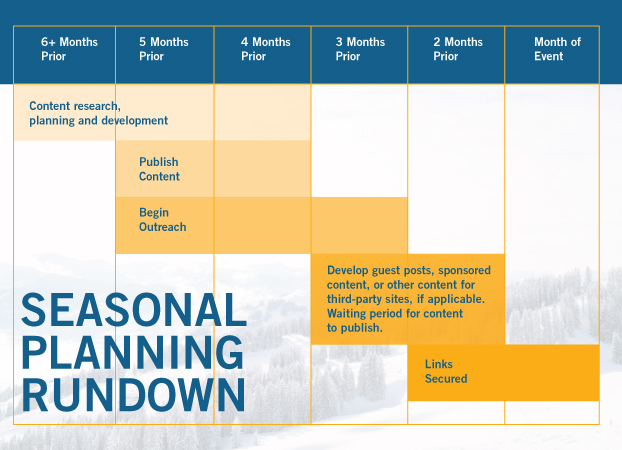 Creating a similar visual timeline specific to your upcoming seasonal initiatives is a good way to ensure your team understands what's in store and how they'll be involved.
Leveraging Tools and Tactics
SEO is often a cross-functional effort, involving several key players in a digital marketing team. The process outlined above may involve content creators, PR specialists, developers, and web analysts, depending on your organization and your strategy.
To keep your team aligned and working together towards seasonal goals, utilize tools to keep everyone on the same page.
Search marketing tools like Ahrefs or SEMrush can help you determine which of your competitors are excelling seasonally.
Searching for holiday-related or seasonal terms will help you uncover where competitors are doing well in search, and where they're missing out. These tools can also help you analyze your competitors' pages and content, which can inform your own content creation strategy.
A general guideline for choosing content topics for linkable assets is identifying topics and target keywords that are:
Brand- and business-relevant

High search volume, and

Low competition.
Always take time to conduct an actual search for your target keywords, and study the search engine result pages to determine searcher intent, well-ranking competitors, and review the content that performs well. You'll learn about the structure and features of the ranking content and the quality of the links the content is earning, which can shape your own content development strategies.
Buzzsumo can also be helpful for monitoring content performance, competitor research, and generating topic ideas for linkable assets.
Buzzstream or Pitchbox can help you track link building prospects and outreach techniques. Utilize the tracking features in these tools to monitor performance and adjust your outreach strategies accordingly. Outreach campaign performance data can help you identify outreach tactics that are working best, allowing you the opportunity to refine your technique. This can be critical while you're building relationships, reducing some of the work and time that goes into outreach.
Your social team can also help you connect with influencers, build relationships, and promote your content resources. Make sure they understand your SEO-focused goals and your seasonal resources are in their posting queue.
And of course, leverage your task management tools of choice to organize your efforts from planning to execution.
Outline task assignments and deadlines as you develop your strategy — figure out who in your organization needs to be involved each step of the way, so they're aware of what's coming and how their workload may adjust accordingly.
Here at Page One Power, we like using Slack and Asana to keep us all connected. The most important consideration here is choosing tools that are easy for everyone on your team to use, and ensuring you're all educated on how to best utilize them.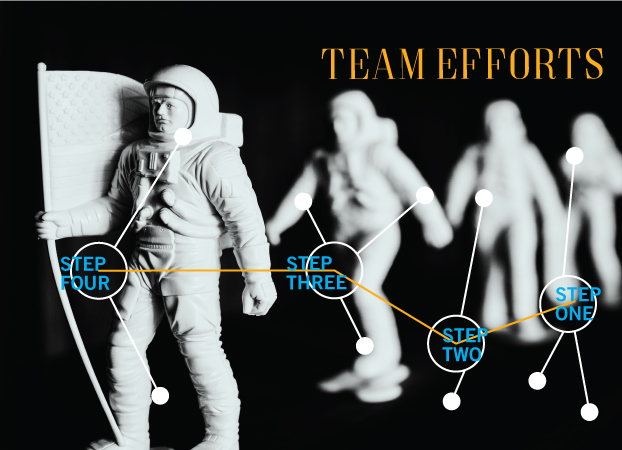 Successful SEO doesn't happen in a silo. Seasonal considerations are important to many businesses, and understanding how each person on your marketing team influences the success of your site's optimization is key as you work towards goals that have a real impact on the bottom line of your business. Applying this framework can help you get more out of your seasonal campaigns.
Do you have seasonal marketing initiatives that you can integrate with your SEO objectives? What barriers prevent your team from making SEO a part of your seasonal marketing? Which techniques are you utilizing to earn buy-in for SEO tactics and drive better results from your seasonal marketing campaigns? Let me know on Twitter!