Lack of buy-in. Failure to prioritize. Limited budget and resources. Low understanding of search. Corporate silos. All these and more are obstacles standing in the way of getting your team's best search work implemented —and much of it can be prevented by starting the search program on the right foot, whether it's your internal program or with an external client.
What could go wrong?
Let's say you won a new client or got a new opportunity to start a search program at your job. You are probably feeling antsy and excited to get started, your boss or client is feeling hopeful, and the honeymoon phase begins. What could go wrong?
Then, a few months in, you notice things that don't seem to be what you signed on for. Perhaps the client is constantly challenging you, priorities seem to be changing almost hourly, stakeholders are obsessing over unimportant metrics, or the client is expecting immediate results when you can't seem to push the work through. Or worse, they might be asking, "What am I paying for again?" Before you know it, you're desperately racing around to manage crisis after crisis instead of focusing on the future.
The team might be frustrated and showing signs of burnout, even feeling gaslighted. Meanwhile, you have an unhappy client and your new account is at risk or your boss is questioning whether search is really important at your company.
To quote my colleague, Charles Gooch,
"Everything feels like it's on fire, and no one knows where it's coming from."
When situations like this arise, it turns out there are several common causes that are often preventable. Wouldn't it have been nice to have known to look for these pitfalls before you started your project to prevent the stress and swirl?
The 4 biggest mistakes we make
After one too many painful experiences, I decided to get to the heart of the issue. I reflected on my own past failures with clients and surveyed our search industry peers to look for patterns. From that research emerged four common mistakes we tend to make.
Not Gauging Client Understanding - This can mean your client's understanding of the value and limitations of search, but it can also mean assessing the maturity of their search program and not assuming it's more advanced than it is.
Not Communicating Early, Often, and Clearly - The success of your search program is only partially about how good your actual SEO is. A huge amount of your success is how effectively you communicate with your bosses or clients about search.
Being Reactive Instead of Proactive - This comes from a good place - we're all trying to be a good partner or subject matter expert, so we try to do whatever our boss or client wants, especially early in the program. But instead of steering the ship, we find ourselves meandering and the program becomes ineffective.
Failing to Align On Expectations & Outcomes - This is a chronic issue in search. The gap between a client's expectations and reality is proportionate to the failure your search program could face.
But this isn't our clients' or bosses' faults. All four of these mistakes boil down to one core problem —a failure to communicate. And often that failure stems from an innate fear of — or discomfort with — having hard conversations with our clients and bosses.
A great doctor cures the cause
You can scramble to treat the symptoms, or you can prevent the problem to begin with. A little leg work up front can help to avoid great pain and suffering in the long term. Proper immersion into a brand can start your search program on the right foot and uncover problems that would otherwise catch you off guard later. Whether your search client is an external partner or an internal executive at your company, an immersion workshop can have a huge impact on the understanding of, support for, and success of your search program long term.
According to an informal survey I conducted, search professionals generally agree that onboarding new clients is important. But onboarding tends to be inconsistent from one client to the next, if proper onboarding happens at all. In order to combat this uneven experience and set search programs up for success, try this robust, standardized immersion process.
This onboarding workshop is an immersive crash course on the brand, the organization, and how search can best serve the business. It helps search experts become knowledgeable fast, develops communication channels, builds relationships with important stakeholders. It organizes people around a common purpose, the strategic roadmap, and what success looks like. Ideally the workshop should be conducted in person, as the knowledge sharing and organic dialogue are important —but digital works just fine too!
Resist the temptation to dive straight into tactical execution.
It's common for a client to want "quick wins" and "low-hanging fruit," and it can be tempting to dive straight into SEO tactics without pausing to immerse and understand.
If you absolutely must start work immediately, negotiate a parallel path. While doing the strategic immersion process, perhaps work on a low-hanging fruit tactical win that will earn their trust early. But never minimize the importance of attaining deep knowledge through immersion, and aligning on a strategic, focused direction for the search program. This sets the tone for the rest of the partnership.
Survey says we need to care about more than keywords
There is a lot more work to be done and knowledge to be gained besides keyword research for our search programs to be successful. From my survey, our search industry peers ranked these important onboarding priorities that go beyond the SEO work itself.
Don't build the plane while you're flying it.
Without doing the legwork to get the knowledge you need, you're building a plane while you're flying it. But good news —you can realistically establish strong footing in all 13 of these criteria in just 2 days through a well-designed search immersion workshop.
You may encounter objections like perceiving the kickoff workshop as being a speed bump to getting results, or perhaps you think your client isn't big enough to warrant immersion, or maybe the client thinks it's too expensive.
We have found that it helps to level set with your clients or bosses on the importance of this efficient onboarding and education to the success of the search program. They have been receptive to the concept of slowing down briefly to speed up over the course of the program. They recognize that this is an essential step in order to make the most effective use of their marketing dollars. It earns their confidence that we hear them, we understand their needs, and we are prepared to help them win in search.
Search Immersion Workshop Agenda
Begin the process with a sample search immersion workshop agenda to let the client or boss react and start the conversation. Work closely with them to completely customize the agenda to be as relevant as possible to their business and objectives. Including them in the planning process ensures they have skin in the game to make the workshop successful.
There are three types of sessions in a standard workshop —mission, stakeholder, and practitioner. They break down as follows:
Mission - The objective of this session is to understand the brand's DNA, objectives, pain points, stakeholders, roles, and responsibilities. The client or internal marketing lead typically prepares the content for this session. They share about the brand and its strengths, weaknesses, opportunities, and threats. They share their objectives and priorities for the year, the things that keep them up at night. They know the brand better than anyone, so this session sets the tone for the immersion workshop.
Stakeholders - This is a high-level, strategic set of sessions with the marketing team you'll be working with day to day. You will meet other stakeholders in the organization who will be impacted by SEO outcomes. It includes things like business unit or department deep dives. In large organizations, perhaps one or two business units' objectives can be prioritized in a typical year, and we want to know everything about them. These sessions are highly conversational, and often the best insights come out of the unplanned dialogue. Use discussion guides here to steer your conversations.
Practitioners - This block of sessions is intended for practitioners — like the developers, content creators, or analytics experts — to educate the search team. (Not the other way around.) For technical developers and content writers, it's important to understand their workflows, when and how to include them in the process, how to submit requests, and how they allocate resources and prioritize their projects. For content teams, we want to understand who owns content and how they make editorial decisions. We work with analytics teams to understand goals and KPIs, how they measure things, and the best approach for search reporting dashboards to ensure our search work is always aligned.
Then, we close with a summary session, where we highlight the big themes and takeaways, and agree on next steps across the group. Attendees should leave the search immersion workshop with clear actions and ownership.
This is a rigorous, two-day boot camp when executed in full. This base model greatly increases the speed of ramping up the search program and the likelihood of its success. It can be modified to be digital, have different sessions customized to your brand, as well as a number of other ways.
Key Search Immersion Tools
We use several tools to make spinning up a search immersion workshop a breeze, and ensure a thorough and complete onboarding of our clients every time.
Standard Onboarding Checklist
We always need things from our clients like access to their analytics account, or keys to the website so we can implement changes. This is a completely repeatable process, so there's no excuse for reinventing the wheel every time. This standardized onboarding checklist helps you and your clients get organized early, reducing downtime while you're waiting. Send it to your client as soon as possible and start gathering what you need. It sends the message that this isn't your first rodeo and you came ready to work.
[Download a starter onboarding checklist here, then make it your own!]
Immersion Workshop Discussion Guides
We don't just need access from clients, we need knowledge. When we skip this step up front, it results in backtracking and delays. We create discussion guides to kick off the conversation in the various immersion sessions and ensure we get the most possible value out of them.
[Download a starter discussion guide here, then make it your own!]
Customize these discussion guides to your brand, then send them as prework so attendees can come prepared. But don't just toss these over the fence. Use these to seed a few (not all) of the questions in real-time discussions to get the conversation rolling.
Then, follow the conversation organically. This is an important time to listen more than you talk. Pay attention to the answers, and ask open-ended, follow-up, and clarification questions. These open discussions reveal far more insights than simply sending this list via email.
Get the most out of your search immersion workshop
Explain the need for access and information
Some clients are sensitive to sharing the access and information you need to be successful. Some items are more important than others. For the truly critical items, be sure to articulate the consequences of not getting what you need. A few examples:
"If we don't get development resources allocated, these changes won't get implemented, and you won't get results from SEO."
"If you can't grant us access to your web analytics, our decision-making will be pure guesswork, plus we can't measure the impact of these search efforts so we can't prove to you it's working.
"We've seen with other clients that when there is no clear focus area defined for the program in year one, the effort tends to be less effective. It's important that we decide what your most significant priorities are this year."
Meet stakeholders and create advocates
The immersion workshops are an important opportunity to meet with people in the organization, beyond your day-to-day client contact or immediate boss— a chance to seek perspective from people in other parts of the business who may have different goals or incentives. You can better understand broader concerns beyond the rankings and traffic SEOs love, to make you a better search decision maker who considers how search impacts all parts of the business. By knowing who has a stake in the work and bringing them to the table, you create a "discoverability taskforce" of advocates inside the client organization across different roles and business units.
Create a "Discoverability Taskforce"
A Discoverability Taskforce consists of advocates, allies, and stakeholders who are important in the pursuit of implementing your work as seamlessly as possible. The mix of people may vary. They may be all or partly client side or agency side. Consider the diagram below.
The orange box is the SEO program owner if it's your client, or if you are in-house, that person may be you. This individual is the cornerstone of this search work. Working closely with the search lead are fellow practitioners relevant to search, like content creators, technical developers, or analytics experts. Above that individual may be vertical stakeholders, like the person in charge of all digital marketing efforts, or perhaps the head of marketing like a CMO. Then, parallel to the head of digital might be other department heads in the organization. These are horizontal stakeholders; they may be business unit leads like heads of product or service lines, heads of certain regions or global markets, or other departments like sales and accounting.
---
Download this free checklist to learn how to integrate SEO into your greater marketing plan!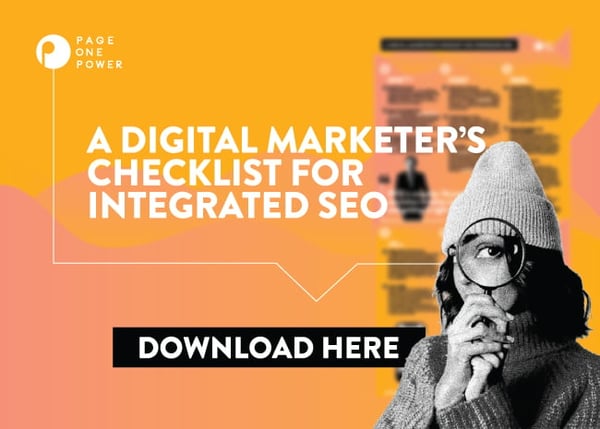 ---
All stakeholders have different responsibilities, and SEO outcomes impact them differently. Listen deeply and understand how they fit, any preconceived notions they have about search, obstacles they face, and what success looks like to them. It's important to give them a seat at the table and proactively seek their input and opinions. This dialogue helps you identify the advocates and the skeptics. Getting into the same room at the same time with a common purpose breaks down search program-killing silos. You can leave the search immersion workshop with allies and advocates who ensure your success —these are the people who will break up log jams and fight for your work inside the organization. Empower them to do that through communication, education, and alignment.
Root out potential obstacles to the search program
The search immersion workshop is also a pivotal moment to root out potential stumbling blocks. This may include internal politics, resource constraints, or other business challenges. Ask the hard questions and put the onus on everyone to make search successful. Read the room and read between the lines. If you detect any skepticism or tension or discomfort, don't shy away from it. Dig deeper.
One way to do that is a simple sticky note exercise. Include the stakeholders, advocates, and skeptics —we want to hear from them all. We ask two questions:
What will it take for this program to succeed?
What obstacles might cause it to fail?
Allow about 10 minutes for people to brainstorm as much as possible on their sticky notes, throw them up on a wall, and then sort and group them. We pull out common themes and discuss as a group. They will reveal the internal actions they need to take, things they have seen work or fail in the past, and political, prioritization, or budget obstacles that put the program at risk. This simple exercise creates ownership beyond the lone SEO expert for the success or failure of search at the company.
Diagnose Your Client's Search Maturity
We regularly kick off partnerships with a structured maturity assessment, then conduct it annually to show how they are progressing on a search maturity curve over time. Here's a quick crash course.
The most difficult blockers any SEO program encounters often have nothing to do with search engines. Instead, they are organizational problems like people, processes, and integration. This maturity assessment exercise can open your eyes to problems a business needs to solve internally before meaningful search work can get done.
This isn't just punching numbers into a spreadsheet or a one-sided assessment. Ask as many stakeholders as possible across many departments and at many levels in the organization to participate in the maturity assessment survey.
We ask questions that help us assess the health of the organization when it comes to having defined processes, necessary staffing, adequate knowledge, enough capacity, and advance planning of important search work.
[Download starter maturity assessment questions here!]
We collect the survey responses, then score the brand in each category and overall.
We use the scores to help the client visualize where they fall on the maturity curve. The scores are helpful, but we also share eye-opening quotes from the anonymous, open-ended answers to help the truth hit home. Those answers are especially insightful to uncovering pain points and missing links in their search program.
Prioritize Key Areas of Focus
Based on the survey outcomes, scores, and open-ended answers, identify no more than three top priority areas for the client to focus on in year one to improve their search program. Too many, and you lose focus. It's unrealistic to tackle three major program challenges for most brands in a year. Some examples may include:
Developing a clear, aligned strategy for the search program that was missing before
Breaking down silos and achieving alignment with stakeholders across departments and levels that impact the ability to implement a successful search program
Increase education and knowledge sharing about search and success stories across the organization
Developing clear, refinable process and documenting that process for democratization and scale
Improving technical or content governance that impacts search
Propose Solutions & Assign Clear Ownership
Based on the key areas of focus, identify how to take action and who will own that action. It's essential that you achieve absolute clarity about what, specifically, the client must be responsible for, and what you as their search partner will own. Specific action items based on those priorities may be things like:
Identifying and creating case studies to market SEO successes to the organization
Unifying editorial content calendars to align disparate content workflows
Allocating more points in each dev sprint to dedicate to SEO improvements
Sell the Search Dream, But Not the Search Pipe Dream
Finally, the search immersion workshop is the ideal place to align on the promise and possibilities of organic search.
Clearly Articulate Shared Purpose
This meeting of the minds to kick off a search program is a chance to get everything out in the open, articulate a shared purpose to a full audience of stakeholders, and build momentum from day one. Be sure to verbalize the goals and ask for verbal agreement like you're in an emergency exit aisle on a plane. It's important to leave the immersion workshop agreeing on what to accomplish and how to get there.
Paint the Picture, Sell the Dream
This is the beginning of the relationship (or perhaps a fresh start on a soured relationship). People are fresh with optimism and hope, and great opportunity lies ahead. Use the immersion workshop to capitalize on this energy and help the stakeholders envision their brand (and themselves) in this new world of search success. Organic search has a ton of great selling points —reaching the hand-raisers, inherently high-ROI, lasting effects, builds on itself over time, integrates seamlessly with other marketing efforts, doesn't stop when the media dollars stop. There's a lot to get excited about; get everyone to buy into the shared mission.
Show the Horizon to Results
Don't let your infinite optimism cause you to make grand promises you can't keep. Don't assume everything will go smoothly with zero problems. The consequences are very real. Be realistic and transparent about what's attainable. Acknowledge the obstacles you're likely to face. Be clear about how ambitious or conservative goals are based on projects that get prioritized and how resources are allocated. It's notoriously difficult to forecast ROI and timing to outcomes with SEO, but even a wide range with lots of caveats can help ground the client in what's possible.
Align Expectations
A chronically recurring theme in my research is that the gap between expectations and outcomes is directly proportionate to the client frustration when we get it wrong. Misaligned expectations are a huge problem in search partnerships. It happens most often when a client has unrealistic expectations of what search can and cannot do, when they expect ROI to happen faster than is realistically possible, or they expect a larger impact than what they get in return.
If a client doesn't understand the capabilities, drawbacks, and benefits of search, you may have overpromised and underdelivered. If a client thinks they know the right KPIs, but you didn't align in the beginning, success looks different to both of you. If the client thinks they don't have to participate, it's because you weren't clear and didn't hold them accountable. If the client expects every SEO change to have immediate impact, you didn't explain it well, or at best, you were complicit in allowing them to believe it.
It's our responsibility to close the gap between expectations and reality. Attain absolute clarity to reduce misunderstanding. Eliminate the space for them to create their own personal narratives. Let them know what to expect from you, and what's expected of them for this to work. Repeat it, get verbal agreement, and level-set at every opportunity.
Raise red flags early and get the program back on track quickly.
Your clients and bosses are very smart and capable, too. They want search to work just as much as you do. Search practitioners can't shy away from hard conversations. Be clear about what stands in the way, what you need from them, and the processes in place for bottlenecks and conflict resolution. Have hard conversations. This step is essential, but many search experts never do it.
Raise red flags early and get the program back on track quickly. Prevention is much easier than solving a crisis. Trust your gut. If it feels off, it probably is. Flag it with your boss or client as quickly and directly as possible. Inventory the situation and clearly articulate that, "If we are to accomplish X, then we need to do Y." This might be things like:
"In order to implement SEO recommendations and get results, we need to increase development resources by X points per agile sprint."
"In order to ensure we can quickly publish content without bottlenecks, we need to establish a content calendar and regular cadence for content to come our way for optimization."
"In order to make sure we meet your expectations, we need to align on measurable KPIs before deploying SEO projects."
Initiate this conversation before your boss or client has to ask for it. If your boss is calling for the retrospective, you're too late. Not being honest about challenges the search program faces costs critical time, money, and results.
Close the gap between expectations and reality.
Whether you are starting search for the first time or if you are realigning a program that went off track, try this search immersion workshop to align (or realign) on expectations, outcomes. Even if the route changes, having a roadmap can reduce anxiety and obstacles to successful search efforts for all. Now is your chance to close the gap between expectations and reality, and ensure the success of your organic search program.