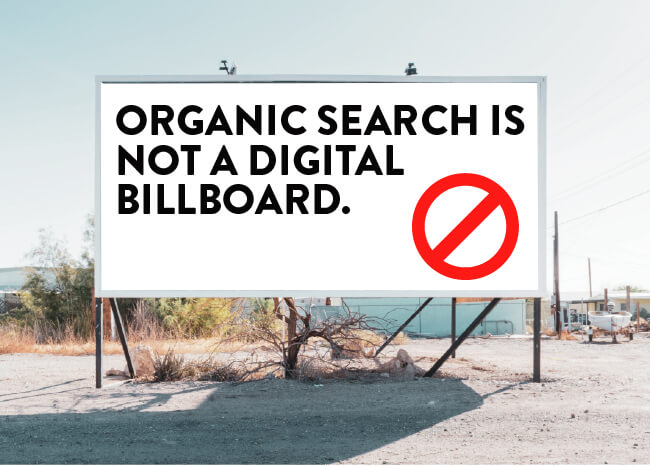 Organic Search Is Not a Digital Billboard
A major goal of search engine optimization (SEO) is to increase visibility, and while businesses and marketers need to acknowledge this goal, a lack of further context can cause misunderstandings about the true value of SEO. After all, if you want a billboard, why not get a billboard? If nothing else, it is important to understand that SEO isn't just about getting eyes on your product or service; it's about understanding who those eyes belong to, and offering intellectual and ethical value that can rival your competitors, even if your actual product or service is only on par.
The Goals of Organic Search
The major goals of SEO are to increase your product or service's visibility, build your business's reputation, and offer potential consumers genuine information about how to navigate your industry in a way that is most beneficial to them.
The Goals of Organic Search vs. Paid Search
Ideally, an effective online marketing campaign should optimize for both organic search and paid search. Paid search, more so than organic search efforts, operates like a digital billboard. You are paying to get your brand in front of your audience's face. Meanwhile, an effective organic search strategy plays the long game, building good foundational content, increasing the likelihood that your audience will see your content, and developing a marketing funnel.
It could be helpful to think of organic search efforts like building your stats in a video game. They do not guarantee you a win in your next combat, but they do offer you an additional edge that will give you a better chance of winning in future combats. Furthermore, it may take some time and effort to increase your stats, but as they add up, they offer robust, sustainable advantages throughout the game, as opposed to short-term boosts.
Visibility
Again, while organic search optimization will not automatically put your content right in your audience's face, it does benefit your online visibility by increasing the chances that your content will be organically served to your audience by search algorithms. This chance is increased in many ways, such as ensuring you are employing commonly-used search terms, ensuring that the search engine "understands" your content, and demonstrating expertise and authority through your online content.
Reputation
Effective search engine optimization should develop your business's reputation with both humans and bots. One way that a search engine determines how useful your content may be to consumers is based on its assessment of your expertise and authority. It can determine this through many factors, such as backlinks (which demonstrate that real people find value in your content), how up-to-date your content is, how competitive your content is with other entities in your industry, the overall quality of your website (e.g. page speed, security, mobile-friendliness), and the relevance of your content to the user's query.
Appealing to the bots is important to gain the attention of readers, but you won't keep it unless you also have relevant, authentic content to offer readers once they get there. There are a few, simple best practices for how to demonstrate these qualities to readers, including:
Ensuring you have clean copy;
Avoiding overly promotional content, especially for upper-funnel articles;
Providing answers that match the

searcher's intent

;
Verifying that the information your content offers is accurate.
Cultivating Consumers
Ideally, your content should not only show readers that you know what you're talking about when it comes to topics within your industry, but also teach them how to navigate your industry, especially as it pertains to the value of relevant products and services and how to use them.
For example, a company that specializes in digital transformation could create a piece about how businesses can become more sustainable, to demonstrate a sometimes overlooked benefit of digitization. Or, a shoe retailer could create an article that discusses how to choose the right running shoe, to teach the customer what they should be looking for in a shoe, and why various features (ideally, features that the company in question offers) are important.
Audience Focus Over Product Focus
It is tempting to measure all marketing efforts by the effect on conversions and your bottom line. However, in the case of SEO, this view once again fails to appreciate the fact that organic search efforts utilize strategies that are indirect, but substantial. In fact, in the context of an SEO campaign, it matters much less what your product is than who your audience is. To this point, two different SEO campaigns built to support product pages for very different items can utilize almost identical content to facilitate this goal. However, if the audience differed greatly between the two campaigns, it would be a huge mistake for the content to be highly similar between the two.
For example, both a mobile game developer and an online university could benefit from content that explores the growing opportunities for careers in the gaming industry because there is likely overlap in target demographics. Meanwhile, a real estate agency that manages affordable housing could leverage a lot of content related to living on a tight budget, while this same content would not be as useful to real estate agencies that deal with expensive downtown residences.
SEO: a Marriage of Old and New Marketing Strategies
Digital marketing efforts don't only offer unique value due to the fact that that is where your audience is. Although many digital marketing efforts mirror tried-and-true traditional marketing strategies, many other strategic opportunities are unique to digital marketing. Just like traditional marketing, search engine optimization tactics seek to increase brand awareness, improve the quality of leads, and develop an effective marketing funnel. This can be achieved by increasing visibility, partnering with other brands, offering great customer service, and building your reputation.
For traditional marketing efforts, these goals can be met by taking steps such as:
Putting up billboards;
Attending community events;
Improving the quality of in-house service;
Ensuring your place of business looks clean and professional.
Meanwhile, organic search efforts may approach these same goals through tactics such as:
Creating top-and-mid-funnel content;
Utilizing

affiliate content

opportunities;
Optimizing content to align with searcher intent;
Maintaining clean copy;
Updating your content;
Ensuring that your website is functioning safely and efficiently.
You have to carefully sew your seeds, and give them time to grow.