Discovering you have some leftover marketing budget in Q4 is a lot like finding a twenty-dollar bill in your coat pocket. First, you're excited to have found some extra money, then you wonder where the heck it came from, and finally, you start thinking about what you can spend it on. However, unlike the twenty-dollar bill, your 2020 budget won't carry over to 2021 if you try to save it.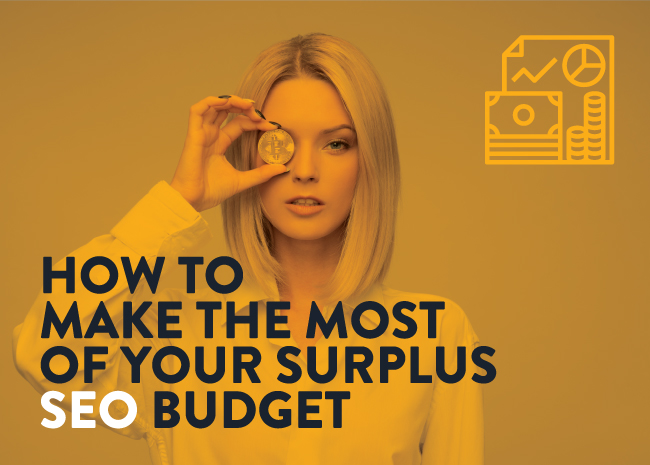 You'd be surprised at how often I get approached at the end of the year by companies who need to spend large budgets quickly or risk losing them. They typically want to do a quick blast of link building — in hopes that they see quick results — before deciding if links should be part of their budget going into the next year.
However, the idea that link building is a short-term solution for anything isn't one I'd subscribe to in most cases. The best link building campaigns are typically rolled out over a longer period of time, which enables you to learn about what works and what doesn't, develop the right linkable assets along the way, and give yourself the time needed to see results.
So, if you can't spend all of your money on just link building, where should you spend it? In this article, I hope to provide a few ideas of where I think end-of-year (EOY) budget could best be spent within SEO.
Content Creation
A great way to invest your leftover budget is to address gaps within your content strategy. Here at Page One Power, we specialize in content built for search — two types of content we focus on are linkable content & keyword-focused content. If you're having a hard time getting your content to rank or find it extraordinarily difficult to get links to your site, then both of these types of content would be great options for your leftover budget as they can fuel your success in 2021.
Linkable Content
If you want people to link to your site you need to have something of value to compel them to link. One of the pitfalls that people run into is thinking links are a commodity that is bought and sold. In reality, links are a connection from one person to another, so you need to treat link building as the human enterprise that it is. This means you'll need resources that provide helpful information to audiences on the web that actually have pages dedicated to them.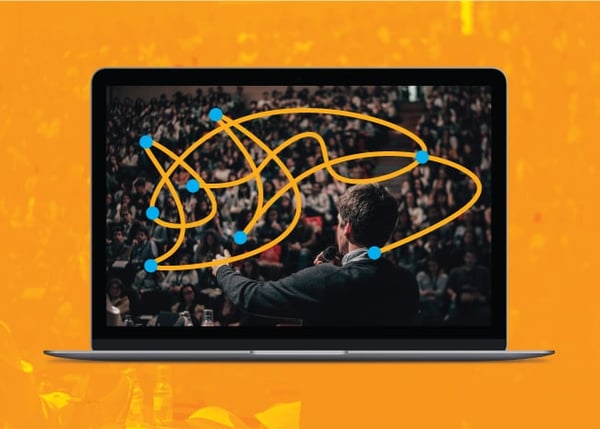 What I often see in my sales process is brands getting too caught up in creating very technical or conversion-focused content, neglecting to create content for broader audiences on the web that would be willing to link to them. You need to take a step back, think about the larger audiences related to your business and develop content that is valuable to those audiences but also relates to your industry, products, or services.
---
Now is the perfect time to maximize your leftover budget by investing it into Page One Power link building services, because right now you can get a FREE content strategy included with your campaign. Your free content blueprint is an end-to-end content strategy that includes consultation, a review of your website, and recommendations for creating search-optimized content.
---
A great example of a linkable asset is this guide for female entrepreneurs on DelawareInc.com. DelawareInc.com did a great job of thinking about their target audience (small business owners/entrepreneurs) and then creating a piece of content that would provide value to a segment of that audience that has resource pages dedicated to them on the web (female business owners). This piece has helped them earn over 20 links including 6 from .Gov & .Edu sites.
The top questions to ask yourself when creating a linkable content piece are:
Who will want to link to this?
Why would they want to link to it?
What makes my page different to or better than similar pages on the web.
Remember, certain kinds of content are better than others for certain kinds of links. So if you're looking to get links from resource pages, create a resource page like I've referenced above. If you're hoping to use guest posting or HARO then you'll want to create informational articles with plenty of citable information.
Lastly, make sure that you're using internal linking from your linkable content to areas of your site that matter to you. Let's face it, no one wants to link to a product page or a bland definitional piece. You can support these pages by internally linking to them from your linkable content. Look at your internal links as a bridge for the link equity to cross from the third party site to your conversion-oriented pages. During our time building links (over a decade) here at Page One Power, we've seen success increasing traffic and rankings for our clients key pages through this approach.
Keyword-Focused Content
As part of my standard sales process, I like to provide clients with some high-level keyword research to show them where the best opportunities for growth might lie within their current keyword base. I also share examples of content that is driving traffic for their competitors, as these pages typically cover topics that are relevant to the client and often represent opportunities.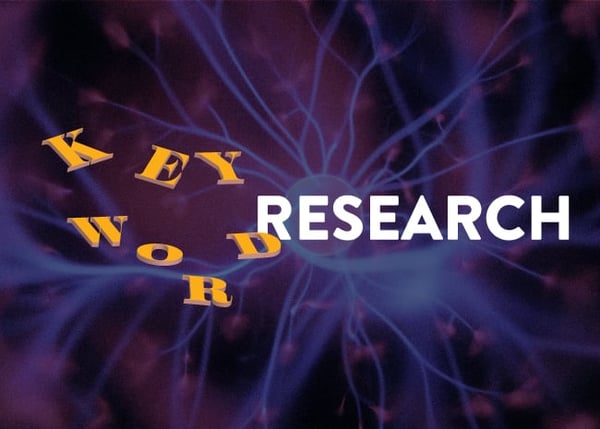 For example, let's say I want to pitch a keyword research and content strategy to Soccer.com. I'll begin by using SEMRush to find examples of sites in the soccer space that are earning traffic. From there, I'll export the keyword data into Excel and turn it into a pivot table where I sort the pages by keywords.
In this case, what I found was a lower authority site called SoccerExpert.com that was getting tens of thousands of visitors per month through their content strategy: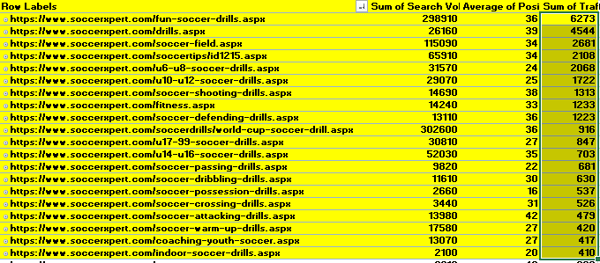 My pivot table reveals that content about different kinds of "soccer drills" is driving nearly 30,000 visitors per month to this competitor. Creating this content would enable Soccer.com to be an educational resource to thousands of members of their target audience and bring those people into their marketing funnel. Also, since Soccer.com is more authoritative, they are likely to outrank SoccerExpert.com with relative ease.
By investing your budget into crafting a strategy for keyword focused content you can give yourself a roadmap for what content you can create in the coming year and set yourself up for some incredible success in 2021.
Let's take a look at another example of keyword-focused content in the B2B software industry from Zenefits.com, an HR and Payroll solution. They've created a fantastic piece about bereavement leave that ranks for some great keywords and captures a fair amount of traffic.
I assume Zenefits identified bereavement leave as a topic of interest for HR professionals, leading to the creation of this guide to bereavement leave. At the time of this writing, this piece ranks on page one for a variety of bereavement related keywords (according to SEMrush):
Bereavement - 201,000 MSV
Bereavement Leave - 40,100 MSV
Bereavement Pay - 4,400 MSV
Bereavement Days - 1,300 MSV
On aggregate, this page drives over 12,000 organic visitors per month — securing this traffic through PPC would cost roughly 20K dollars per month (again, according to SEMRush).
Keyword research and execution of it in your content is the difference between creating content that ranks and content that simply exists.
Technical SEO Audit
A technical audit is a great way to identify issues that are holding back your website's performance, fix the issues, and then reap the rewards — as the year winds down, it's the perfect time to conduct an audit.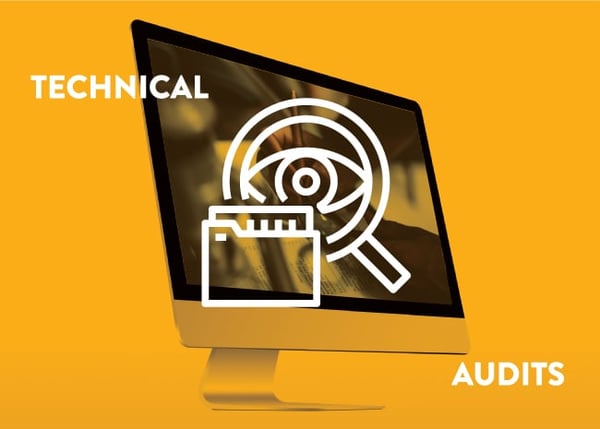 At Page One Power, we'll typically execute a preliminary audit by running a site through a tool like Screaming Frog, as well as checking for redirect chains, Robots.txt issues, and checking to see if the site shows up with Javascript turned off. If you find red flags among any of these items, it can indicate you have larger issues and warrants a deeper dive into your technical SEO.
Technical audits are a great way to make sure that Google is able to crawl your website efficiently and that all of your pages are being crawled and indexed. Google bots can be a little bit like people, if you make it hard on them to do their job, they aren't going to like crawling your site. Also, if they see numerous errors while crawling your site (404s, Broken Links, duplicate headers, etc), they won't trust your site enough to rank it well because it's not likely to provide a great experience to users.
We've seen some remarkable results from clients who implement recommendations from our technical audits, as these changes typically have immediate impact and are relatively easy to make.
For example, a client came to us after seeing steady dips in traffic over 2018 and asked us to help them with an SEO audit. We conducted the audit at the beginning of 2019, and the client implemented our recommendations over Q1:

The client ended up recovering all of their lost traffic and continued to grow throughout the year! This is a great example of how a technical audit can provide a better opportunity for faster returns on your limited, remaining budget.
Having leftover budget at the end of the year can be an exciting opportunity, but you still want to get maximum ROI with that money. These are just a few ways that you can maximize your return by investing into SEO.
If you have any questions or would like to learn more about how the team at Page One Power can help, please don't hesitate to reach out — I'd be happy to see what opportunities exist for your website and help you put a custom plan together!