Welcome to the final installment of Michael Stricker's three-part series on SEO strategies for different industries. Let's see what Michael has in store for us today!
In parts one and two of this series, I covered everything from local businesses to large ecommerce sites. Today, I want to talk about one of the trickiest niches for SEO — "Your Money Your Life" websites.
Let's get started!
Exaggerated Emphasis on Your Money or Your Life (YMYL)
Trust and authority signals apply heavily to YMYL sites that may influence life-changing decisions and upon which big expenditures occur. These industries include:
Healthcare
Medical
Finance
Investment
Legal law and policy
And STEM (Science, Technology, Engineering/Technical, and Math).
Science practically invented the importance of primary sources and peer-reviewed articles as a demonstration of importance, verity, and expertise. That model is valued by Google to evaluate in-depth articles.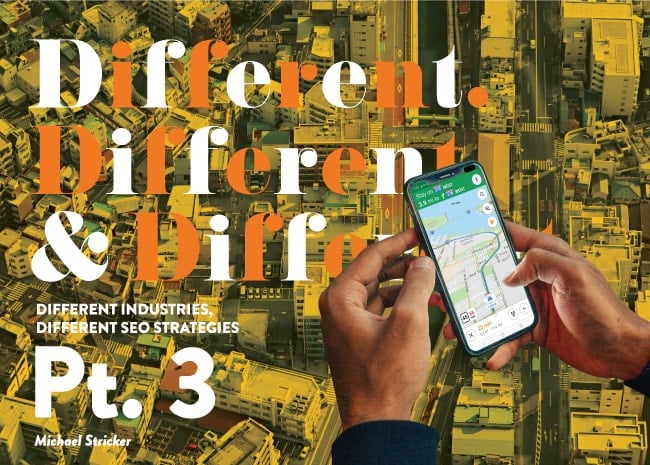 Queries producing these results often depend on factors seemingly beyond SEO control, such as:
Searcher history (e.g. likes factual, non-commercial content from high-authority sources with lots of citations)
Searcher context (e.g. never clicks on ads, spends long periods devouring organically-linked articles once clicked)
And specificity and complexity of query (e.g. make the term long and sentence structured with complex informational intent).
Google's John Mueller has suggested that using real, verifiable identities of authors, and not pen names, may better serve readers of YMYL pages. Identities of experts and their education, community, and published outlets would be key sources of authenticity, due to a rich network of trusted entities.
Healthy Medical and Pharma
High-risk informational content about health and medical topics may require:
Authority (PageRank and trusted link sources),
Extensive citations,
Outbound linking,
And official entities from experts.

Authors
Editors
Contributors
It was even suggested by Google's John Mueller that YMYL content had better be written by subject matter experts, and not by generalists. A good idea: hire editorial staff that includes a technical editor, or impose a professional review to maintain accuracy and cite primary sources.
See Ya' Later, Aggregator
Aggregator sites built to scrape and present useful data from other, more authoritative, origins may have to package those dynamic results with demonstrably greater expertise.
These sites need to improve entity profiles of staff and contributors, link out to the bastions of their respective industries, cite sources, and add significant value to maintain visibility in search.
Sensitive Industries
If products or services are sold on-site for sensitive sectors, then YMYL rules may apply. Google's algorithms can detect if a query is related to YMYL and then adjust the weights of the ranking algorithm for those specific queries.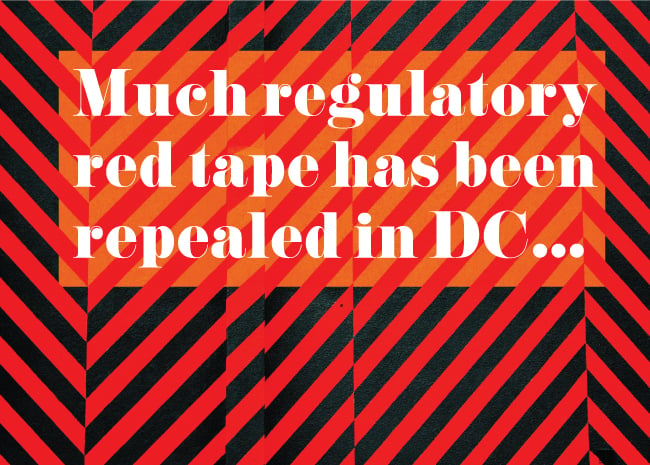 Much regulatory red tape has been repealed in Washington D.C. but Google's fiercely-guarded reputation and defense against liability ensures additional scrutiny.
So, beware unsubstantiated claims and over-promising in homeopathic remedies, holistic methods, or dealing in drugs subject to abuse (recreational drugs or psychoactive substances), or offering access to regulated substances subject to border interdiction.
Finance
Financial services are also subject to YMYL. Domains must offer "adequate information" for consumers to make informed decisions: rates, full disclosure of costs, and adherence to state and local regulations.
When presenting rates, remember to state the formula (e.g. LIBOR + 0.5%) and link to the source used for the base rate, to enable verification.
B2B
B2B sites using funnel-based content to fish for leads may find some practices result in better rankings, and yet, with the wrong intent, can kill conversions.
Case in point: a solution provider published an evergreen set of expert articles and pages outlining solutions to business issues. Their CMS was applying dates to pages and URLs, and that convinced Google that the content was news or PR, and thus subject to QDF criteria, which hurt rankings.
Many WordPress installs, if not properly configured, will build dated directories in which to archive duplicate content versions of posts by year and month. So, these articles will rank well for a few days, then fall out of sight in Google SERPs.
A fresh supply of links, consistent canonicalization from dated URLs to shallow ones, plus some article schema improved the ability of new posts to 'hang' high in the SERPs for longer periods. The configuration was changed to eliminate the date directory URL versions.
B2C and D2C
Another example of issues with YMYL sites would be a company blog for a D2C/B2C domain that is placed into a subdomain with text that lacks sufficient relevant internal linking and relevant anchor text. Google treats this content as distinct from the primary domain, severing dozens of posts from greater detail, relevance, utility, and conversion. This reduces the relevance of primary domain pages for keywords and phrases covered in the subdomain blog.
Unite your content into logical, conversion-oriented crawl paths for users to enable Googlebot to sequentially crawl and index topically-related pages in a convincing display of depth and value to searchers.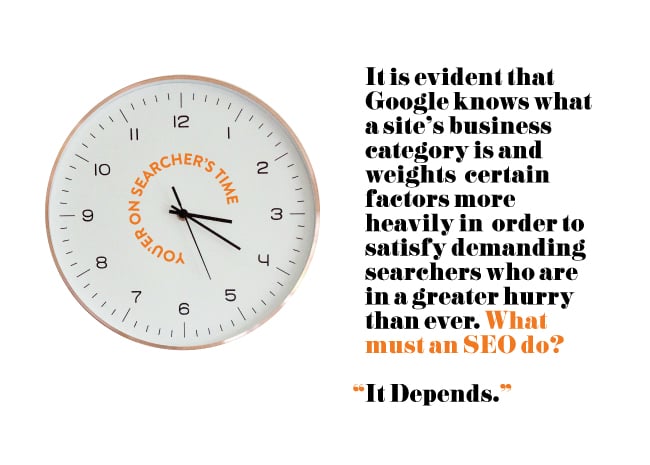 Competitors are another type of related entity that Google understands. Legitimate comparisons of feature sets make for welcome guides for ecommerce, B2B and B2C searchers and shoppers.
They afford a linkable resource for SEO and landings for ads that may leverage competitor brand keywords at a lower cost per click (CPC) due to a higher Quality Score and likelihood of converting.
Link Source Sorcery
Links are essential to SEO, and various links are likely to be of greater value and better suited to certain industries or web business models.
Among the ways that Google evaluates trust is through online reputation — e.g. through online reviews or sentiment analysis — and use of accurate information (facts).
So, if your site sells directly, or collects B2C or B2B leads for YMYL-type products or services:
Health and medical,
Financial and investment,
Legal services,
Security, etc.
…then your link sources are likely to have greater influence.
Consider the referring domain's proximity to the reputation, age, and trouble-free operation's history of a 'seed set' of the web's most-trusted, highly-trafficked websites. Nuzzle up close to relevant, trusted domains when seeking inbound links. When in unfamiliar territory, try Majestic's TrustRank factor as a proxy.
The preceding is applicable at the domain level, as it applies to certain categories of business, but it also can positively affect SEO for sections.

It is evident that Google knows what a site's business category is and weights certain factors more heavily in order to satisfy demanding searchers who are in a greater hurry than ever.
And that concludes my series here on the various SEO strategies needed to compete in a variety of industries. So, what must an SEO do to succeed? Well, "it depends."