Editor's Note: In Part Two of his three-part series on the different SEO strategies required for different industries, Michael Stricker discusses optimal strategies for events, ecommerce sites, and blogs.
Take it away Michael!
In the first part of this series about the different strategies needed for different industries, I discussed local businesses and news sites. Today we'll examine a few more industries and the appropriate SEO strategy for each.
In Event of Events
Events rely on the imminence of the event date to set the visibility clock of Quality Deserves Freshness (QDF). Events are a case where event schema and microdata markup can make a big difference, both for search engine comprehension and for presence in alternative SERP features where Google may index your labeled data and represent that in snippets or SERP-only tables of their own devising.
Rather than decrying Google's increasing preference for in-SERP answers at the expense of search clicks, most event organizers and ticket sellers will leverage those markups to boost visibility. Location citations should relate to the national, regional, or local audience draw.
These event, exhibition, trade show, and conference SERP listings will quickly fade from view for date-related and "near me" queries. They may retain some visibility for [event name] searches, showing past years, especially if those pages have been enhanced by:
Contemporary photo galleries,

Live blogging and journaling,

Videos,

Comments,

Testimonials, and

Statistical recaps (numbers of exhibitors, attendees).
Those attract links afterwards, demonstrating the lasting significance of the event.
Virtual Events (Podcasts, Webinars, Chats, Streams)
A further subset of event listing factors will apply to virtual events. It's especially important to cite the ongoing availability of presentation recordings. Such video and audio pages can rapidly attract their own links from:
Calendars

Schedules

Lists

Audiences

Brands

Hosts

And guest speakers.
Host and guest brands, speaker biographies, and other entity info will add welcome depth when embedded or linked.
Schema, such as:
Event

Video and Livestream

Review Snippet

Subscription & Paywall Content Schema
…can all enhance a search presence.
Ecommerce
Ecommerce sites will thrive on citations of a myriad facets of products, in an organizational scheme built of:
Categories and Subcategories

Gender

Brands

Cut

Color

Materials

Features

Price

And even SKUs and Parts Numbers.
Provide, and perhaps markup, that info. Offer options to organize products as shoppers prefer.
Connecting searchers with a "buy now" intent to for-sale products is one way Google keeps searchers happy, attracting ad dollars for top-of-page placement in Google Shopping. Shoppers closest to purchase will employ long, specific queries. Mobile devices encourage voice search, employing long, natural language-spoken search queries. Therefore, expect little devaluation of inbound links with very specific anchor text.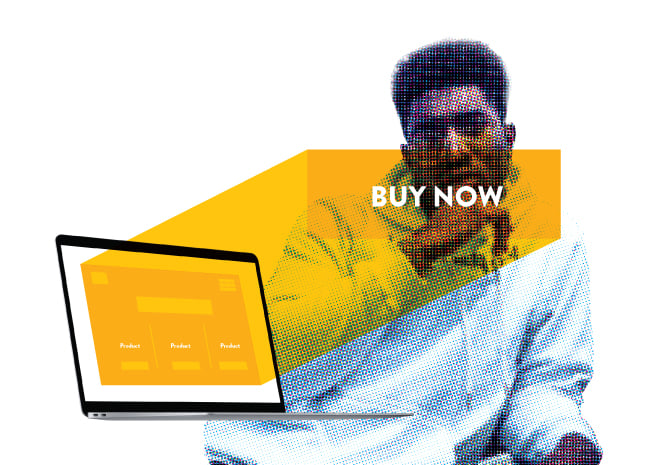 Google Search may accommodate domains with many thousands of products by the inclusion of a site search field (called "Sitelinks Searchbox") right there in the SERP, for which Google provides specifications to obtain via schema. That field can lead to quicker conversions and sustained, productive clicks– the definition of search satisfaction. So, whether this SERP feature is a rank factor or not, it's too conversion-empowering to ignore.
Reviews are supremely useful to searchers, unless engineered. Google trusts their own collected reviews over others', but trusts certain platforms enough to surface them in Knowledge Graphs and as Snippets. Schema such as:
Review Schema

Organization

Product

FAQ

Video Schema
…can enhance SERP presentation and win snippets that occur higher on the page.
Blogs – What NOT to Do
Blogs and topic-centric article sites are editorial in nature, and Google embraces that model as a reliable source of trustworthy information. But in the past decade, Google has found many such sites repulsively spamming the index, running link schemes as PBNs, or thinly-masked commercials with the intent to hijack clicks to affiliate links (undeclared profit motive, arbitrage model for 'owning' SERP status, and reselling clicks to the highest bidder).
Blogs and content farms were once the spam factories of the web, filling SERPs with tripe and defrauding search engines. So, Google has evolved a deep set of 'negative factors' as a litmus test against dilution of SERP utility.
Avoid:
Link wheels

Spun or duplicate content in the extreme sufficient to reduce crawl efficiency and defy canonicalization

Shallow, thin posts lacking utility

Scraped or plagiarized content void of citations, attribution, or cross-domain canonicalization

Bulk links

And blogroll links and footer links.
Blogs – What TO Do
Blogs might better focus on what Google deprecates and derogates, than the trite litany of positive factors. Sort of. Let's recite:
Fresh

Useful

Up-to-date

Unique, quality writing with clarity

Demonstrated depth of relevance (internal linking to details and reference, plus external links to authority)

Crawl paths to comprehensive subject matter in clusters that make a necessary and comprehensive coverage of related topics that enhance understanding and support decision making

User-generated content without link spam: some ongoing evidence of engagement can float a post in the SERPs much longer and higher than otherwise (witness many a long-reputation management campaign fought against a wall of constantly-renewed comments with 'verified' identities)

And some categorical organization by subject matter.
Many of the tenets of proper expository writing are applicable to blog and media vertical SEO:
Footnote citations make good internal links to outbound links to authority;

Correct grammar and spelling;

And proper citations of extended quotations.
These quality factors abound in blog ranking and articles, where professional writing skills are more valued than perhaps in ecommerce descriptions.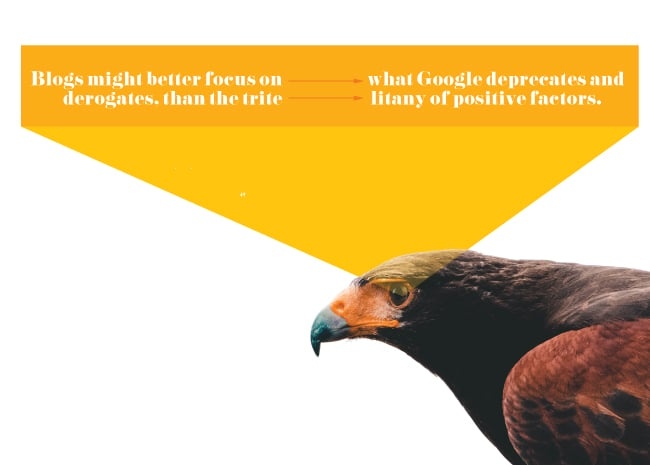 Google's recent release, "What Webmasters Should Know About Google's Core Updates" outlines the questions that content managers and webmasters should be asking about their page content, to meet user expectations for quality. This practical perspective may be more revealing than simply touting "E.A.T.," for example.
Does the content provide original information, reporting, research, or analysis?

Does the content present information in a way that makes you want to trust it, such as clear sourcing, evidence of the expertise involved, background about the author or the site that publishes it, such as through links to an author page or a site's about page?

Was the content produced well and error-free, or does it appear sloppy or hastily produced?

Does the content provide substantial value when compared to other pages in search results?
Features such as:
Outbound links in text to primary sources for definitions and factual reference

Solid HTML structure, tagging, metadata

Mobile-friendly design with readable-type sizes and finger-sized tap target navigation

Original images (photos and illustrations, charts, diagrams) of size,

Well-compressed,

Relevant,

Explicit alt text,
…give blogs another chance to rank on page one results, and as an Answer Box feature.
Schema such as:
Article,

Q & A,

Fact check,
…can all be useful schema markup to enhance earned listings.
Comment and Open Graph (OG) markups may also improve uptake of UGC and related social mentions.

"How To" Schema can aid search engine interpretation of this popular type of content.
Caveat: "How To" content, itself, was part of the content farm fiasco that led to Google's Panda Update.
Recipe and other specialized content types have spawned their own schema and even plug-ins to help automate its creation, so much so that penalties are routine for excessively-applied schema. Us schema within reason and don't overdo it.
Well that wraps up part two. Keep an eye out for my final installment of this series, where I'll dive into Your Money Your Life (YMYL) sites and B2B brands. See you next time!