Selling to small businesses can be tough. Their budgets are generally tight and they usually want fast results. That means investing in SEO is completely out of the question, right? Wrong. There are a few SEO strategies that don't take much time or experience, and if left undone, can leave a business vulnerable and on a trajectory towards failure.
Google My Business is Free But Can Cost You Thousands
Google My Business is a Google entity that allows businesses to control their Google Search and Maps presence in one place. While many industry professionals are aware of this tool, many small business owners are not. And here's the thing: not having control of your business listings is DANGEROUS.
While claiming business listings is not as easy as it once was, changing the information on listings is still rather easy. People are able to "suggest an edit" for a business, and if it is not resolved in two weeks, Google will assume the change is legitimate and allow it to go live. Changes can be made to addresses, business categories, websites, hours of operation, and phone numbers - all of which are crucial to a business's success. Imagine calling a business for the first time, only to be forwarded to another business you've never heard of! Would you know the difference? Probably not.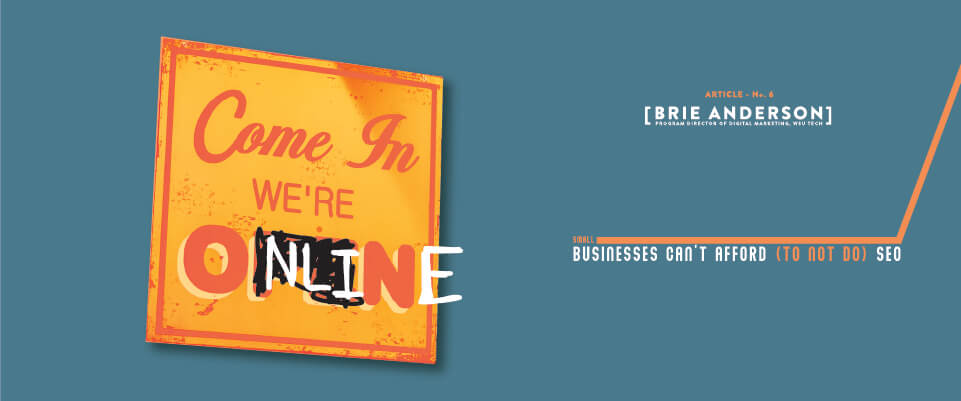 The most important feature of Google My Business for brick-and-mortar businesses is the ability to set the business location. While Google may have the correct address for a business, their maps don't always select the correct location for the address - especially if the address is a suite or is in a large industrial location. With a Google My Business profile, you are able to see the exact location pin Google has for your business and move it if necessary.
Any of these mishaps can cost a business money. I like to use emergency rooms as an example when explaining the value of SEO. Imagine a searcher who, in a panicked state, Googles "ER near me" and is unknowingly given an incorrect address. The potential customer is then navigated to the wrong place and with no time to mess with what went wrong; they are forced to find another ER. In this case, not only did the original ER lose a potential client (and a good chunk of change), they also let the potential client down in a crucial moment. That letdown could very easily be the end of a relationship for the business.
Not all instances will be this extreme, but this is the easiest way to drill home the fact that GMB profiles are not something that small businesses can ignore. Oftentimes the businesses have no relationship with the customers who find them on Google, and a bad first impression (due to inaccurate information) can cost a company thousands of dollars in lost customers. And here's the thing: controlling a GMB is not that time intensive! It only takes a few hours a month.
Don't Forget About iPhone Users
While we are on the topic of locations and maps, it is important to note that about 10% of users rely solely on Apple Maps (Statistica). That being said, working on your Maps Connect account is also important. The process of accessing your business information through Apple requires a lot less hoops to jump through compared with GMB, so the verification process, requiring only a phone number, will be a lot shorter. However, this also means you'll want to keep a closer eye on it to ensure your information doesn't get changed by an unauthorized employee or someone looking to do harm.
Maps Connect is the same in regards to the nature of the information it holds about businesses. You are able to share your address, phone number, business category, and business location. But on Maps Connect, you are also able to share your social and Yelp profiles and link to your branded app.
Again, leaving your Maps Connect for Apple profile incomplete and failing to monitor it is very dangerous for your business. You never know what sort of information Apple is using for your business or where they are sending people (their maps service is usually not the best), so it's best to manage it all manually.
Reviews are Today's Social Currency and the Easiest Way to Print (or Burn) Money
Perhaps the most important reason small businesses need to be worried about SEO is for reviews alone. Gone are the days of traditional "word of mouth" marketing - WOM is all done online. According to BrightLocal, over 85% of consumers read the online reviews of local businesses and these same consumers, on average, feel they have to read 10 reviews before being able to trust a local business. Needless to say, small businesses cannot afford to ignore the feedback they are getting online.
Increasing Review Numbers
The first thing businesses need to worry about is the sheer number of reviews they have online. It is not good enough to have two or three reviews on two or three different platforms - there has to be enough reviews on each platform to make consumers feel comfortable about making a decision. Remember, oftentimes an online search result is going to be your first impression with a consumer, and you want it to be positive.
There are people out there who focus solely on this SEO strategy, but building the number of reviews online doesn't have to be overly complicated. A simple strategy can be established for most businesses by creating an email campaign, using signage, or training employees to do a soft ask for reviews after checkout.
Creating a Positive Impression Through Reviews
Once reviews start rolling in, the most important piece of the review formula comes into play - business responses. A positive review is one thing, but what consumers really want to see is a business that responds to its consumers. In the same report mentioned above, BrightLocal found that 83% of consumers read a business's responses to customer reviews.
Many platforms will automatically generate profiles for businesses if people check-in to the location online, if the business is listed in a directory, or if it is a well-known business. That means that there can be reviews on those profiles that you don't know about. This may not be a huge deal, but if there are negative reviews, it could be extremely harmful to your business's success.
The majority of the time, consumers that read reviews are looking to see how the business interacts with the reviewers, right? So what kind of impression is made if the business doesn't interact with reviewers at all, or specifically, has nothing to say in response to the negative reviews? Probably nothing good. Negative reviews are going to happen and the best thing you can do on behalf of your business is to reply to them with empathy and understanding. The way your business responds could be the difference between a positive or negative first impression.
SEO may be expensive and time intensive, but there are many SEO strategies small businesses simply cannot afford to disregard. The most important thing for small business owners to understand when it comes to SEO is that by not taking an interest in their online reputation and pertinent information, they are setting themselves up for lost revenue or online attacks from ill-intended people.