Quality backlinks are critical to SEO.
Links are necessary to rank in competitive search and secure organic traffic from Google. But how do you determine link quality, and more importantly how do you acquire quality links?
How do you build links that improve search performance?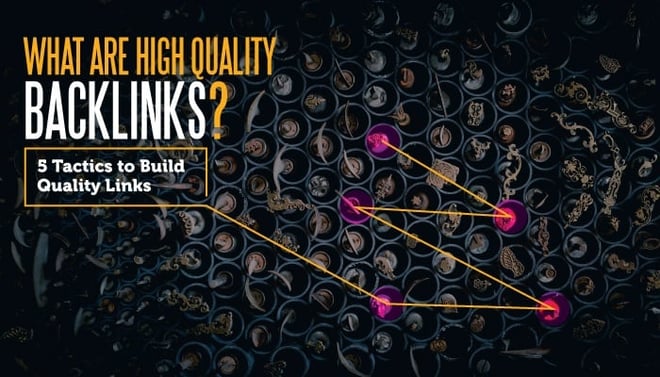 Simple:
Build links for humans.
To secure quality links, pursue real links that real humans would click.
Quality links are:
Only quality links improve search performance. Anything less than quality isn't going to make the difference you need.
Websites need to link responsibly – not just to preserve their performance in Google, but also to preserve their visitors' trust.
All links should serve a purpose, a function. A link should:
Connect two relevant pages, directing humans from one page to another.
Signal trust, to both humans and search engines.
A quality backlink is a vote of confidence from one site to another, to both humans and search. By linking, a site is effectively telling their visitors another page or site is worth their time.
So how do you secure these quality links?
Let's talk tactics. Note: these aren't tips and tricks to make people link to you unwillingly or unknowingly. Each tactic listed here is based upon providing value to be worthy of a link. These link acquisition techniques involve manually promoting your site, but quality links have to be deserved. Any quality links resulting from these tactics will be scrutinized under editorial review.
Quality link building means you're only able to secure the quality links your site deserves.
Quality Link Tactic #1: Create And Promote Content Valuable to Your Industry & Audience
The original method to build visibility online: create outstanding content and share that content with your audience.
Google continues to recommend the creation of content that is valuable to your audience and industry as the best way to build links. A quote straight from their link schemes page:
Creating valuable content can power your link building, particularly if you have an SEO to guide strategy.
Your primary goal should be creating content your audience will appreciate, use, and share. Involve strategic link planning, but don't overwhelm your content with SEO keywords or link opportunities.
There are a thousand ways to create content, so don't limit your thinking to blog posts alone. Use the format that makes the most sense for your audience.
A great example of the power of creating valuable content for link building is our own Link Building Resource Page, which secured links from 25 referring domains. That's 25 different websites that have seen the value in our guide, and link to it editorially.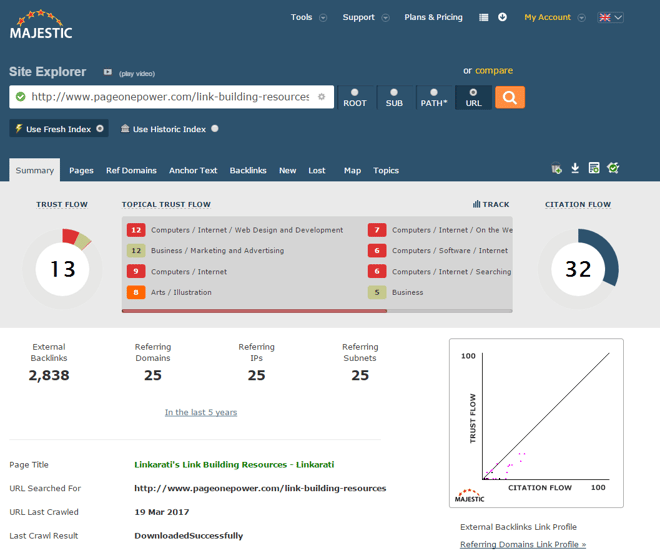 This has led the page to currently rank extremely well to a variety of searches related to [link building resources]: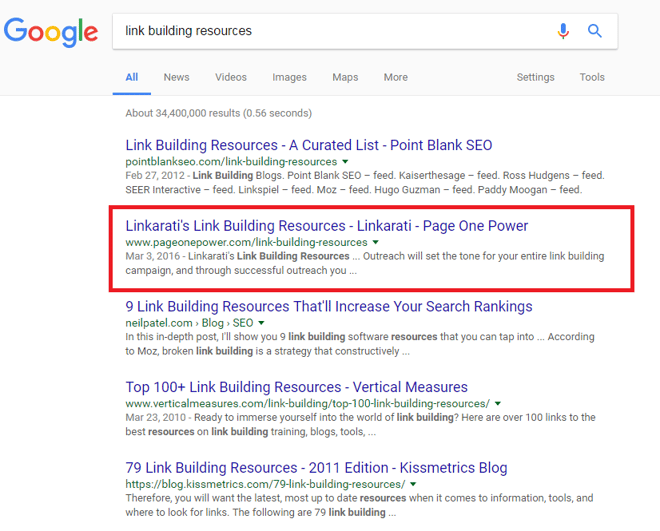 Furthermore it increased our recognition throughout the industry, bringing in over 2,000 social shares from influential figures across the industry: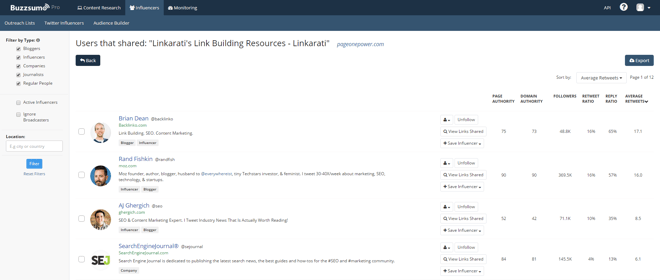 Long story short? Creating content your peers and audience value is extremely lucrative for links, shares, traffic, and recognition.
But it's not enough to create valuable content. You need to promote your work to your audience, peers, and industry influencers.
We initially sent personalized emails to 100 people whom we had previously built relationships with. We also emailed our 3,000+ newsletter list, and promoted the work to anyone mentioned or linked within the page.
Furthermore, we continue to promote the resource page, whenever and wherever it makes sense. We made an effort to tap into other people's audiences, and it worked well.
Quality Link Tactic #2: Contribute to Industry Publications, Journals, Blogs
One of the best ways to gain visibility in any industry is to publish meaningful work in related publications, journals, and blogs.
This is often known as guest blogging, although it can take many forms. It often includes a column, sharing research, or writing op-eds in industry-related journals, printed publications, or magazines.
The goal is to secure real, legitimate, quality contributions to important industry websites.
Few link building tactics are as powerful as contributing to an industry publication. You'll tap into a big audience, build relationships, and gain recognition across your industry. The more valuable the content you contribute, the more valuable the tactic becomes.
Of course, this will take dedicated resources. You'll either need to be a subject matter expert (SME) in your industry, or have a SME who is willing to produce quality articles relevant to your niche and industry.
You'll also want to have pages you can cite via links on your own website. The absolute best way to gain editorial links is through valuable content that lives on your site.
My team calls this the pillar link building strategy. The pillar link strategy is extremely simple and straightforward:
Create valuable content on your site that comprehensively explains an idea, concept, or industry opinion. Research and data is extremely helpful.
Write a piece for an industry publication.
Within your article reference the idea, concept, or opinion explained in step #1.
Instead of comprehensively explaining that idea, concept, or opinion simply link to the content on your own site, thereby saving yourself time and providing the reader with more comprehensive information.
That's all there is to the pillar link building strategy – natural as breathing. These citation links only make sense, especially when you're creating valuable content prolifically across the web. It doesn't make sense to repeat yourself over and over and over again. Instead, link back to your previous work, thereby creating a pillar of information.
A perfect example of this is Andrew Dennis' inaugural piece on the industry-relevant publication Search Engine Land. Within his post Andrew links out 18 times, mentioning many different resources, tools, and processes. Three of those are Linkarati links, using the pillar method. None of the links are manipulative — far from it. They're quality backlinks that are:
Relevant
Editorial
Useful
Natural.
Each link further explains an industry opinion or idea, saving Andrew time in his writing, adding value for the reader, and building a great link.
Quality Link Tactic #3: Mention Links
If your business, brand, website, products, or employees have any sort of visibility online mentions can be a consistent source of quality links.
Finding online mentions is one of the most undervalued quality backlink building tactics.
The concept is dead simple:
Anytime someone mentions your brand, business, website, product, or employees you should want to know about it. Not just for links, but for the insight into the online conversation surrounding your business. Once you've found the mention, simply reach out to the site owner and ask them if they'd mind linking back.
It's that easy.
So:
Set up alerts for mentions of your brand, business, website, product, etc. via: Google Alerts, Mention.net, Fresh Web Explorer.
Search the web for "mature mentions".
Outreach politely to the websites mentioning you.
Build relationships and links.
Don't limit yourself to textual mentions. If your site hosts visually compelling, proprietary images, you should monitor those images as well to see if other websites use them.
This is a stellar opportunity to get a link: simply outreach and ask they provide an attribution link back to your site.
For a complete walkthrough, check out Quick Wins with Image Link Building.
Further resources:
Quality Link Tactic #4: Broken Link Building
The web is an amorphous mass of interconnected websites, pages, thoughts, concepts, and ideas.
Ever-evolving, growing and changing faster than anyone can track, the internet is positively riddled with broken links.
As with any tactic, chasing broken links can be done incorrectly or abused. There is a right way and a wrong way.
Keep in mind the aspects of quality links:
Relevance
Editorial
Useful
Natural.
If you're able to find a broken page or resource that's been linked to by other worthwhile sites, why not create a suitable replacement and track down broken links?
I'd recommend reading Russ Jones' The Broken Link Building Bible, which is a complete resource on everything you need to know about broken link building. Once you've read through that detailed guide make sure you read his New Testament, which serves as an update.
For creativity and strategic thinking in broken link building, check out Brian Dean's Skyscraper technique, along with The Moving Man.
Broken link building is rife with opportunity, and can lead to quality backlinks.
Quality Link Tactic #5: Competitor Analysis
In order to create a link building strategy you'll need to perform niche research. This includes researching the competition, keywords, linkable assets, audience, offerings, and more.
If you're not strategic in your pursuit of links, you will struggle from day one to build a single quality link.
There's no excuse to skip competitor analysis within a link campaign. If your competitors are beating you in search, you should be checking their link sources. Where, why, and how are they being linked to?
Determining how your competitors are securing great links will help guide your own link strategy. More than that, you can chase the very same quality links your competitors already have.
If they link to your competitors, why not you?
A few complete guides to competitor backlink analysis:
Recap TL;DR
Quality links stand the test of time and continue to move the needle in search and marketing.
Quality links are links made for humans, first and foremost. These links are:
Relevant
Editorial
Useful
Natural.
There are a hundred ways to secure links online. For five common, easy-to-follow tactics I recommend:
Content creation and promotion
Contributing to blogs, publications, journals
Pursuing online mentions
Targeting broken links and outdated resources
Competitive analysis.
At the end of the day quality links can't be manufactured.