At Page One Power we pride ourselves on being the world's finest link building firm. We always strive to secure the right links for our clients—links that are valuable to web community as a whole.
SEO—and link building in particular—is a fast-paced, evolving industry that continuously keeps us on our toes. However, it's also an industry that offers opportunity for growth and allows us to be both creative and analytical.
During this holiday season I wanted to take some time to walk around our office and find out what the folks here at P1P are thankful for this year.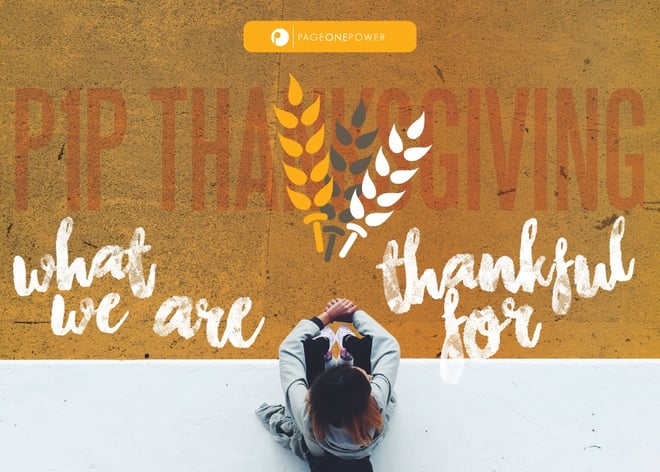 I noticed a few common themes within the quotes I received, and I have grouped together quotes with corresponding themes.
Colleagues
One of the most common themes among the quotes was that people at Page One Power are thankful for the wonderful coworkers they have.
"I'm thankful for the people P1P hires. Link building can often be monotonous, being surrounded by talented and innovative coworkers makes it easier to accomplish my goals" – Ange DuBois
We've always touted our people at Page One Power as our secret to success. We have a diverse group of employees with a wide variety of interests, personalities and backgrounds. Because of this, it was no surprise to see that many of the quotes I collected expressed thanks for the people we have at our company.
"I'm incredibly thankful to work with so many incredibly talented and creative colleagues, both at Page One Power and in the industry at large. Coming to work every day and having the ability to build something new and fresh and meet dynamic challenges head on is a tremendous blessing. Our industry is a lot of fun." – Cody Cahill
I was honored to hear such high praise from my colleague in the marketing department, Jan Schmidt:
"I'm grateful for the 1,920 (+/-) hours each year spent with an incredible marketing team.

From the creative genius of the graphics guru, to the wittiness of our webinar/tradeshow wizard, I'm thankful. And our analytical thinking maestro (who makes my world spin a bit too early with numbers), to the tireless efforts of the one who spins out endless email outreach.

To the two who seem to never be at a loss for words and talk endless hours about SEO, link building, strategy, process, etc (never thought I knew so much, but yet so little about the world I now work in.) And I'd be amiss if I didn't mention the two youngest of our group, who are tasked with sometimes the most tedious of tasks, but are always gracious when asked. I'm thankful.

And last, but certainly not least, to the commander who is always manning the ship. And who always seems to have a seasonal sampling of Trader Joe's snacks, I'm grateful.

So to the marketing team of Page One Power, thank you. You make coming to work each and every day a true pleasure. Here's to another 1,920 hours with you." – Jan Schmidt
Our COO was particularly thankful for the talented staff we have at P1P:
"On behalf of the administrative team, I'm particularly grateful at this time of year for the outstanding team of SEO experts and other professionals we employ. We continue to be impressed by their commitment to excellence in their respective crafts. Their commitment to high standards propels the company forward, and we are all better for it." – Nathan Smith
P1P Values (and Four Day Work Weeks)
Another common theme I saw was an appreciation for the values and beliefs Page One Power holds as a company.
"It's great to work at a company that helps me reach my goals rather than leaving me to fend for myself when I have questions and struggles." – Rob Lanterman
Alluding to the fact that P1P is dedicated to innovation and autonomy.
"I'm thankful for the opportunity to work at a company that is constantly innovating and allows for the open and free exchange of ideas." – Patrick Dennis
And that P1P encourages critical thinking and creativity.
"I'm thankful to work for a company that allows their employees to work outside of the box to create solutions for the challenges in each of our roles." – Michael Johnson
Page One Power focuses on growth—both for the company and its employees.
"I am grateful to work for a fast-paced company that keeps me on my toes and continues to mold my professional skill-set on a daily basis!" – Hailey Wood
There was also appreciation for the tools we use on a regular basis.
"I cringe thinking this, because having a doc for everything is such a long-running internal joke here at P1P, but you know what I am so grateful for Google Drive products. These products, probably more than any other are a part of everything I do from scheduling and time management to organization and reporting. I would be a wreck without them." – Amy Merrill
Of course, four-day work weeks don't hurt either.
"I'm grateful to live in a free country where we all have the opportunity to work and provide for ourselves and our families. I'm also thankful to work for a company that cares about its employees and creates a fun and comfortable atmosphere. And I'm grateful that our founders decided early on that Friday would NOT be a day we're in the office!" – Dan Beardall
Three-day weekends are always popular!
"I am thankful for the 4 day work week (which I am sure everyone here is), and for how well we are treated here at Page One Power. I am also thankful for the fun people I get to meet while traveling to different (SEO) shows or conferences." – Harris McMullin
Industry Culture
Our employees are also thankful for the helpful and inclusive culture of the SEO industry.
"I'm grateful for a caring, vibrant SEO community—both internal here at P1P and across the entire industry. The SEO industry has evolved greatly in the last ten years, and the active community we've built is like none other I've experienced.

You can always reach out for help whenever you encounter a new problem or question. The amount of information willingly shared is inspiring, and the fact is people care. You don't find that everywhere and I'm grateful for a strong community of good people." – Cory Collins
This ranges from peers at industry conferences:
"I'm thankful for all the diligent live tweeters at digital marketing conferences passing along all the highlights for those of us holding it down at the home office." – Mike Bryant
To the clients we build long-lasting partnerships with:
"I'm thankful for clients who strive for long-term SEO results, rather than look for shortcuts." – Nick Katseanes
In fact, some of our staff simply enjoy the fact that working in SEO means working on the Internet.
"I am thankful that my job allows me to connect with people throughout the world wide web every day." – Chuckie Carbone
Which enables them to stay connected with those they care about.
"I am thankful for the ability to keep in touch with my friends and family over long distance via the internet." – Colin Eggleston
Happy Thanksgiving From P1P
I hope you enjoyed this glimpse into our company, and learned a bit more about the real people behind our brand. What I'm most thankful for this year is you, our loyal readers! Thank you so much for your ongoing support of Linkarati, and for helping us continue to push link building forward as a practice.
Let me know what you're thankful for this year in the comments below, and have a happy Thanksgiving!