Nothing shapes a company's identity more than the people.
The people define the company, what it can accomplish, overall direction, and how it's perceived.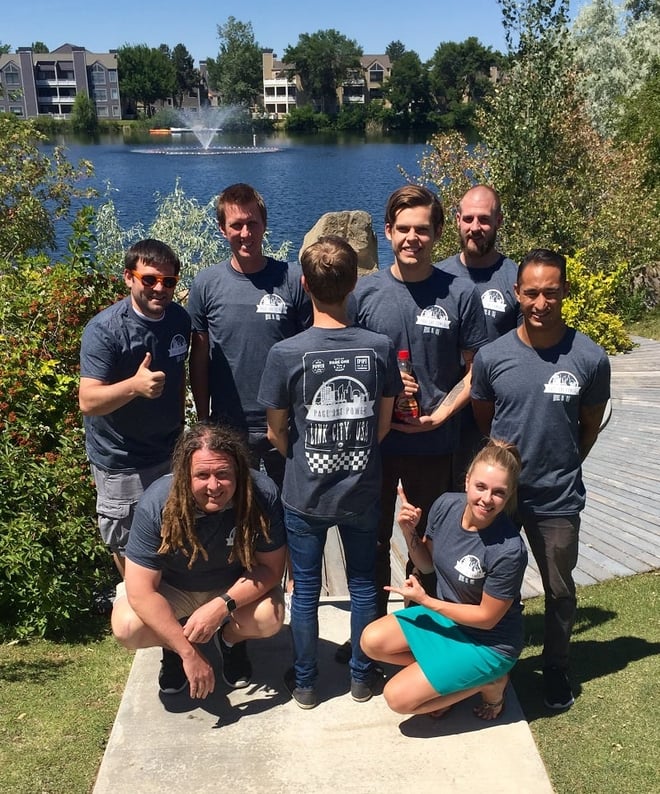 Other opportunities exist to shape the company, of course. The purpose the company serves, the goals, the service/product, the founders, leadership, training, HR, day-to-day environment, communication, events—all of these will build and influence company culture as well.
But nothing will directly drive company culture quite so much as the group of people who actually make up the company. In the startup environment, this means that your company culture evolves rapidly.
If you are not intentional about the culture you want to create, the culture will create itself—without your input.
Today I want to talk about how we hire at Page One Power, and the culture we aim to achieve.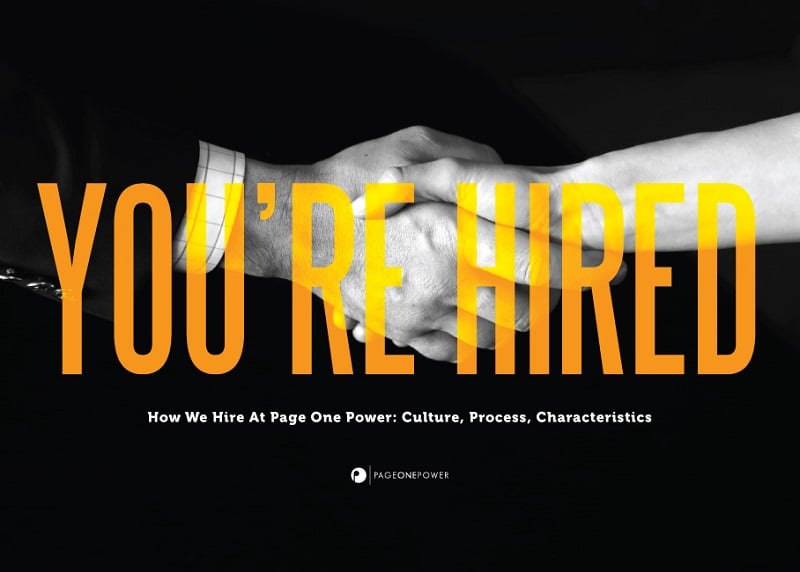 We have a single directive that dictates how we hire at Page One Power:
Hire smart people we admire; people who care, and will grow with our organization
Every single person leaves an indefinable mark: on the company, their coworkers, office environment, department, leadership, service/products, and client/customer relationships.
We believe hiring is a serious responsibility.
Hiring is complicated for us at Page One Power. We do not have the classic option of hiring for direct experience. There are no SEO programs at universities, too few prospects with SEO experience to sustain our hiring needs, and even fewer prospects with any direct experience in link building.
How do we deal with the inability to hire for experience?
We hire for culture fit, characteristics, skills, and attributes.
We've developed a rigorous hiring and interview process to find people who will help us be successful and thrive within the company.
Hiring is not an easy topic to cover, but my hope is to help you better understand who we are as a company—the culture of Page One Power—and the exacting process we use to make sure only the best and brightest join our staff.
I'm going to start with culture, but if you'd like to jump to another section, click the nav links below:
---
The Culture
So, what is the culture of Page One Power?
Like describing any culture, it's hard to be definitive. Culture is based upon company purpose, values, leadership, and the core group of employees who make up the entity.
The culture I describe here will be both a reflection of our culture today, and the culture we strive to achieve.
Here are the beliefs our company was founded upon:
Community.
Creativity.
Autonomy.
Care.
Growth.
Community: strong bonds, non-traditional
The entirety of Page One Power's organization is built around the concept of community, quite literally.
When the owners Jon and Zach created Page One Power, they decided the opportunity they'd found in the SEO market was worth sharing.
There are lots of people in this area who need good jobs.

It wasn't about Zach and I. It wasn't about this link building company, our families' futures, or making money. It was bigger than that.

We wanted to make something that contributes to people's needs and helps them feel happy and wanted. I think Page One Power does that for a lot of people.

— Jon Ball, CEO of Page One Power
The very organization of our company is intended to promote community. Teamwork is the thread that binds our company together, and we're all located in a central office in Boise, Idaho (with very few exceptions).
Every single link we build is built not individually, but by a team of people. Our departments are structured in teams. Our Project Managers—the leaders of the teams, who interact directly with clients—exist as much to support their teams as to manage client relationships.
Our office is open, with desks grouped together in teams.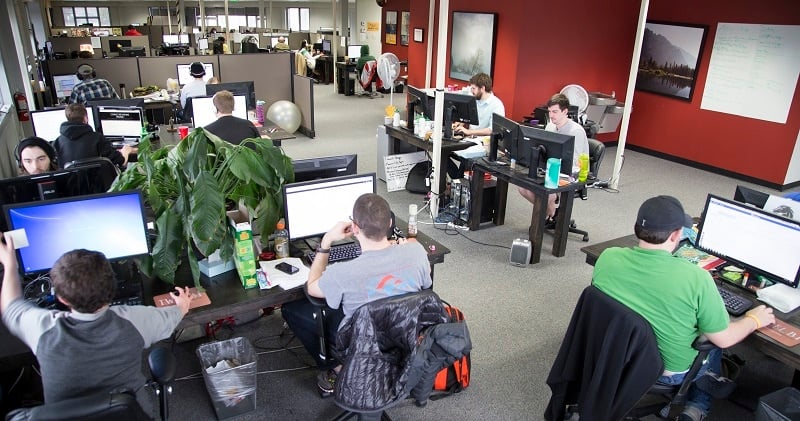 We believe deeply in the importance of community, and community involvement. It brings greater purpose to the work we do, makes work a meaningful environment, and sprinkles joy into our everyday lives.
We have company-sponsored monthly events where we enjoy lunch and gather together as friends, not just coworkers.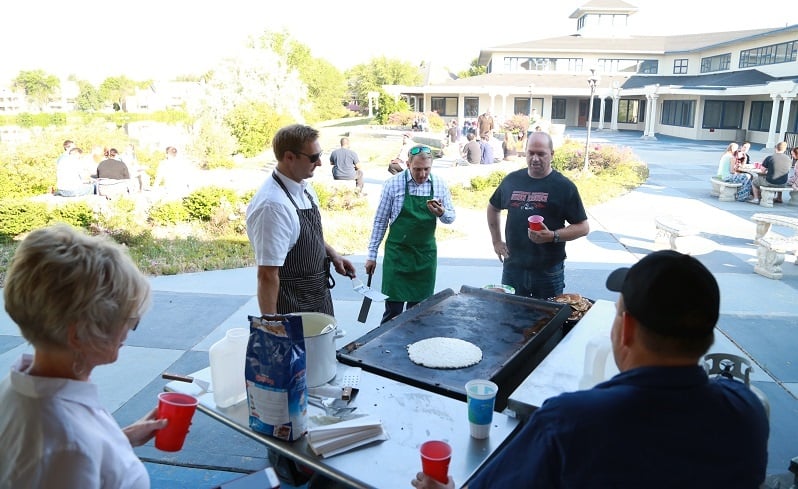 co-founders Jon and Zach Ball make pancakes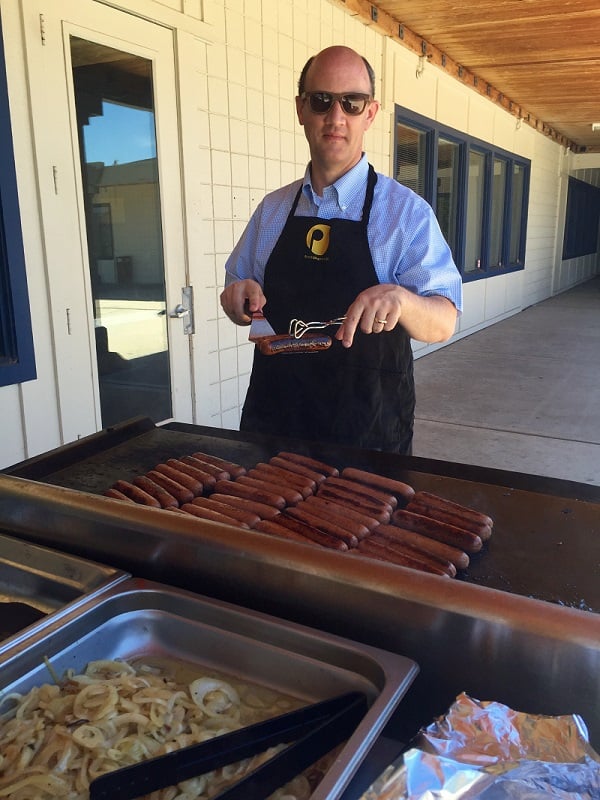 Nathan, COO, grilling sausages at a company BBQ
We volunteer and give back to our local community: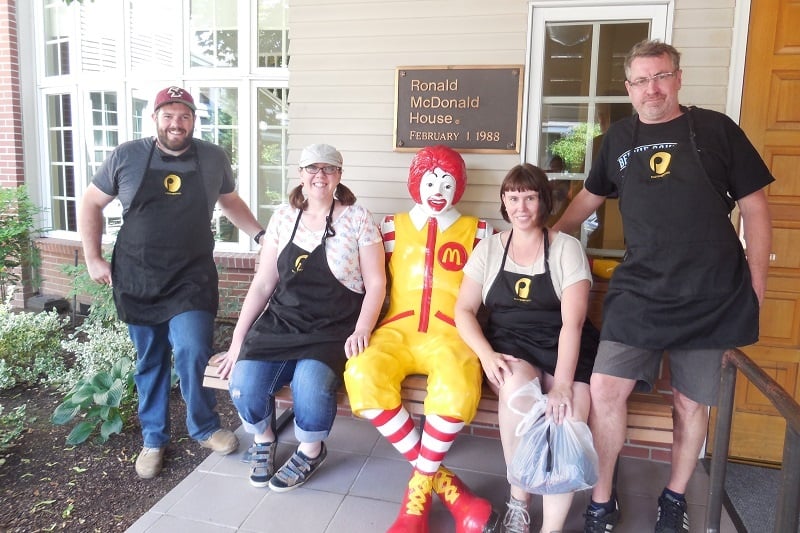 A few #P1People volunteering at the local Ronald McDonald House
And care about our environment: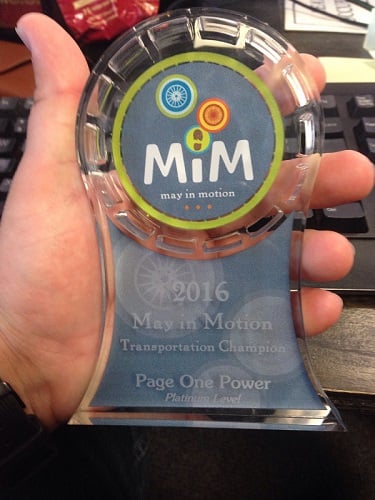 We hold an annual food drive, and have been known to get really into the holidays.
When we hire we look for others who have the same investment in community. Whether it be through volunteering, event participation, club/charity involvement, or even local sports. We look for those who have roots in the community.
THE GOAL: create an office community where people love to come to work.
Creativity: finding solutions and adding positivity
At the core all humans have the desire to create. We believe that humans are happiest when they're productive and adding positivity to their environment.
These are the type of people we want to hire: creative, productive, happy people.
I have a belief that at their core people are creative beings—they're creators.

So if you let them do what they're born to do, which is create—whether it's their own systems, or concepts, or the way they do their link building, they'll be happiest.

— Jon Ball, CEO of Page One Power
Creativity doesn't have to mean artwork, poetry, music, or writing—although it's worth noting that Page One Power has attracted many poets, musicians, writers, and artists of all stripes (in fact, we made a schedule to feature all the P1P musicians performing at Treefort this last year).
Creativity can also mean:
Analyzing data and finding the missing piece.
Innovating a process to achieve better results.
Contributing a unique idea to a brainstorming session.
Pitching a new idea to a client and communicating clear value.
Identifying missed opportunities within a link building campaign.
Whatever form, all humans want to create a better world. They want to add their own creativity and innovation. We hope to empower the people who chose to spend their time with Page One Power to create a better work environment and achieve better results for our clients.
THE GOAL: empower people to achieve more, live productive lives, and be happy in their work.
Autonomy: trust in people
Managers at Page One Power are taught that their role is to support their staff, NOT micromanage.
To be clear, we have proven systems and processes. Our managers inform direction, guide work, and oversee projects. We're a startup with an emphasis on innovation, and continue to invest into research and development. But to achieve our best level of work, we've found that providing autonomy within a defined system is the best approach.
We hire the best people possible and give them the tools they need to do their best possible work.
We trust and respect those we hire, and give them the autonomy and guidance they need to be successful.
We don't want people to feel removed from the final product.

We want our people to be as close to the fire as possible because it keeps them sharp, it keeps them focused, and it keeps them engaged.

— Zach Ball, co-Founder of Page One Power
The power of autonomy is echoed across our entire organization.
Individuals have to be given the opportunity, need to be empowered with the ability to manage their own work flows, and come up with their own ideas.

The more autonomy we give employees, the more we get from them. That has been my experience.

— Cody Cahill, Project Manager at Page One Power
THE GOAL: give our staff the opportunity to take ownership of their work, and empower them to be their best selves.
Care: personal responsibility and ownership
Diverse is perhaps one of the best descriptions of our staff here at Page One Power.
There is no straight path into SEO, and every single person we hire has a unique background in some respect.
One aspect we require in all staff is inherent care—in the work they do, in the role they serve, in the things they create. Care is a trait that can't be learned, a skill that can't be trained, and a quality that affects all aspects of work.
Every person on our staff needs to take personal ownership of their job, their responsibilities, and their work. They need to care at a fundamental level.
If we hire the right person who cares, we can teach them how to be successful.
We want people who are scrupulous in their thought process, and desire to achieve not just the right results, but in the right way.
When we understand the situation of the client—their needs—then provide the right service at the right time. When we can overcome and win—that's very satisfying.

— Jon Ball, CEO of Page One Power
Page One Power has been successful because we chose to work in the right way—building real links using systematic, human-oriented processes—even in a time when spam worked and was the easy (and common) solution.
When Penguin dropped, we were ready. And we're going to be ready no matter how Google or the web changes. We help our clients achieve results, and we do it in the right way.
We insist in this same mentality—this same care—in those we hire.
THE GOAL: create a community and organization that insists on work done the right way, by individuals with personal responsibility.
Growth: personal and professional improvement
As a startup Page One Power has experienced rapid growth, testing our ability to scale personnel, systems, and processes to meet market demand.
Today we're more settled, but growth is built into our DNA—into our culture. We're always growing, learning, refining.
We had talked and talked about what kind of company we wanted to build.

We had two roads:

One was the high-end boutique, very hands-on, us working. And one was to build a big company with lots of people.

— Zach Ball, co-founder of Page One Power, discussing the creation of Page One Power
Growth doesn't just mean company size, although it is one measure. Growth means company value: what we produce, how we serve our clients, our retention, brand reputation, ability to attract new prospects, the strength of our community.
Growth is building a better company, one person at a time, one day at a time.
I like the fact that this is a small, new company, and I'm watching it grow, as I grow with it.

— Taylor Hawkins, SEO at Page One Power
Growth fundamentally means hiring people who can and will grow with the company, both personally and professionally.
It's why we remind ourselves that every single person we hire will have an impact on the growth of our company, and why we never hire only to fill the position.
In fact, the core of our management team started in the entry-level position here at Page One Power, as SEOs building links for clients.
THE GOAL: create a culture of personal and professional growth, consistently improving ourselves, our organization, and the value we deliver.
---
The Hiring Process at Page One Power
Page One Power's hiring process is continually being refined. It is much different today than it was when I was hired some 4+ years ago.
Today, our hiring process involves a full HR department, our Director of Training (Colin), and most importantly our Recruiter and Benefits Coordinator (Hailey), who handles the entire recruitment process.
The process, as I outline it here, has and will continue to evolve.
Step One: First Call

Discovery: We are interested in a candidate's application and resume. Our Recruiter does an unscheduled call for a brief discovery with the candidate.
Next Step: Depending upon the conversation, we schedule an on-site interview.
Requests:

Industry research before the scheduled interview.
3 writing samples if the candidate boasts a writing background (creating content is often a requirement of the job).
Step Two: First Interview

One-on-One: Our Recruiter meets with the candidate. They explain who we are as a company, and makes it clear this interview is focused upon getting to know the person.
First test: The candidate is asked what they learned about our industry (SEO) and company. If the candidate failed to perform the prompted industry research the interview ends.
Signs of potential: Within this interview we look for a few important details:

Clear understanding, efficient research: The candidate displays an accurate understanding of SEO, and can discuss their research. In building links, efficient research is an invaluable skill. We want those we hire to become interested in SEO, and this is a fair indicator.
Pet projects: Passion can't be taught, and pet projects are a sign of passion, creativity, and self-motivation. Skills we foster across our staff.
EQ/Social Skills: not everyone is fantastic in an interview, but we look for candidates that display a certain amount of social savvy. Communication is part of the job.
Community involvement: we work in teams at Page One Power and the culture is community-oriented. Anyone already involved in their local communities tend to do well in our organization.
Volunteering: Even better than community involvement are people who actively volunteer and give back to their community.
Perpetual learner: coming into Page One Power often means learning new skills. It certainly means learning to work in our environment. As a startup, anyone who displays perpetual learning will not only grow with us, but potentially help us grow.

Red Flags:

"I don't know": While there is nothing inherently wrong with admitting when you don't know something, "I don't know" cropping up often—or worse, stated without any further remarks—tends to be a red flag.
Lack of humility: It's hard to be humble in an interview (you're often there to talk about who you are, your qualifications, and achievements) but a distinct lack of humility is often a red flag.
Lack of objectivity: We work to understand all candidates' prior work history. If personal bias is telling in their work history, they're likely not the candidate we want.
Inauthentic resumes: any details of a resume that seem inauthentic. Whether it's descriptions of past responsibilities, skills listed, or even their style of communication.

Request(s):

ProveIt.com tests:

Typing: words per minute.
Internet research.
Persuasive writing.

Step Three: Mashable Pitch

Depending upon the first interview, ProveIt.com results, and writing samples, we may request the candidate put together a pitch to Mashable about a piece on virtual reality (or some other tech). No instructions are provided - this is designed to test the candidate's ability to find a contact, research the topic, research a prospect (Mashable), and craft a pitch.
Depending on the pitch and if the candidate has writing experience, we may ask the candidate to actually write or outline the piece (in brief).
This project has an assigned deadline to test the candidate's ability to work in a reasonable time frame while producing quality work.

Step Four: Second Interview

Technical: This interview involves a manager as well as our recruiter. The manager gives a view of the day-to-day duties, expectations, and responsibilities.
Signs of potential:

SEO background: not every candidate will have an SEO background, but those that do are ahead of the curve.
Maintains a website: this one is fairly self-explanatory. Bonus points if they've had any experience with e-Commerce.
Technical skills: many technical skills can be useful. We do work in SEO, after all. This includes coding, software, web tools, etc.
Marketing/PR skills, experience, education: link building is often tied to marketing and public relations, and either background is directly applicable.
Journalism, or online writing portfolio: we hold any writers we hire to a professional standard, and trust them with client work.
Innovation: can clearly relate a specific example of innovation they've introduced in a previous job.
Organization: we work in teams with multiple clients, and each staff member might work on a handful of different projects. Organization is key to our ability to perform, meet deadlines, and keep clients happy.
Enthusiasm: SEO and link building isn't glamorous. Friends and families aren't going to understand the job. It's a good sign if the candidate displays genuine enthusiasm for day-in, day-out responsibilities.
5 year plan: has a clear understanding of where they want to be in five years, which involves the opportunity generated by this position.

What to expect: the candidate is given an estimate of when they will be contacted again by our Recruiter.

Step Five: HR Process:


Our HR staff performs the necessary steps to officially extend a job offer to the candidate. This typically takes a few days.

Step Six: Orientation (paperwork, policies, contract)

The candidate is brought in for a short orientation which involves paperwork, covering policies, learning about our benefits program, and receiving some P1P swag.

Step Seven: Training

3 weeks: the first two weeks are spent with our Director of Training, in a course designed to prepare the new hire for our industry and to succeed within our organization. The final week consists of hands-on work, with guest speakers and shadowing.
Those are the definable metrics of our hiring process. Of course, this is far from set in stone, and continues to evolve with our organization.
Because we can't often hire those with practical experience in SEO, we look for five traits in those we hire.
---
Characteristics We Seek in Hiring
Our values as a company and a stringent hiring process allows us to hire candidates who are sure to do well at Page One Power.
But it's not enough to do well—we want candidates who will help us improve as a business, and grow with us. We need those who will naturally excel at link building, helping us drive results for clients.
Certain traits, we've found, lead to the best link builders. With a bit of guidance, coaching, and hands-on experience, those with these innate characteristics will flourish at Page One Power.
Excellent communicator
Emotional intelligence
Determined, self-motivated
Creative, problem solving
Perpetual learning.
Let's walk through each one.
Excellent communicator
The only links we build are those that will stand the test of time, and return real results for our clients. Every link needs to be editorial, with an emphasis on human value.
Excellent communication—both written, and verbal—is the name of the game.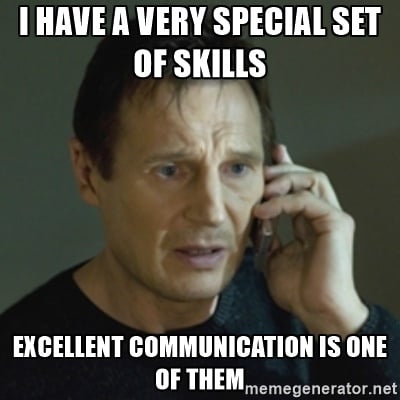 Every staff member we hire is trusted to communicate clearly and independently through the entire process, from first contact all the way through the end of link placement. They have to communicate personably, succinctly, with well-positioned messaging.
One of the core traits we hire for is excellent communication.
Emotional intelligence

Excellent communication is tied to emotional intelligence. However, we seek emotional intelligence for more reasons than communication.
We believe deeply in teamwork at Page One Power, and we seek to hire those that not only work well in teams but contribute life to those teams.
Emotional intelligence is necessary for working all-day, every-day within a team environment. Having empathetic coworkers means tighter-knit communities, more collaboration, greater problem solving, and generally a better overall work atmosphere.
Emotional intelligence is also valuable in marketing.
We want to hire those who will come in and make our community better. We want to hire those who improve our culture, and we've found emotional intelligence to be core within that culture.
Determination and self-motivation
The life of a link builder can be difficult.
You're contacting people day-in, day-out asking for something of value: to share your link with their audience.
We work with the best clients, but even in the ideal situation rejection is a part of everyday life.
It takes real grit to deal with ongoing rejection, celebrate the wins, and face it all again the next day.
We need people who are determined, and able to self-motivate.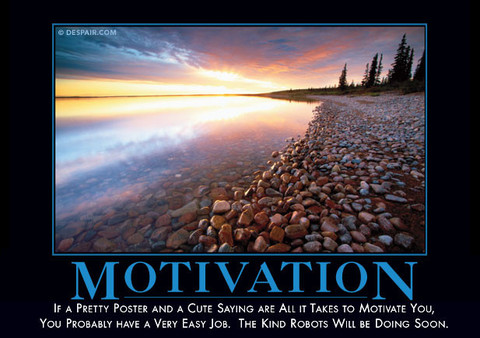 Life can be fun at Page One Power, but it's not always a walk in the park. There are support structures—your coworkers, team, manager—but we need those who are able to overcome rejection and down moments and continue on, working hard.
We need those who are able to sustain their own motivation, create enthusiasm, and bring life to our office.
Creativity and problem solving
Professional link building training barely exists beyond the confines of our office.
We do offer professional link building training as a service—as do a few others—but for the most part there is no rule book on link building. Only the information SEO agencies similar to ours have gleaned through hard work, creativity, and experience.
Link building continues to evolve rapidly, as does the rest of the SEO industry. Perhaps moreso. Add in the fact that Page One Power is an agile company, and it means that employees are expected to work with a high degree of autonomy, and embrace change.
Our goal is always to hire the most capable, intelligent individuals possible. We want people who show a strong bent for creative thinking and a can-do attitude.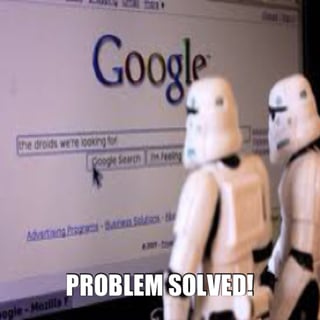 Link building is a new industry. There are few "pros".
Support is built into the very way we structure, with individual SEOs and link builders working in teams. If ever a staff member runs into a problem, there are at least five other staff members nearby who are able and willing to help.
Perpetual learners
SEO is not a static industry, and there is no formal path into this career.
If you're to become an SEO and link builder, perpetual learning is part of the package.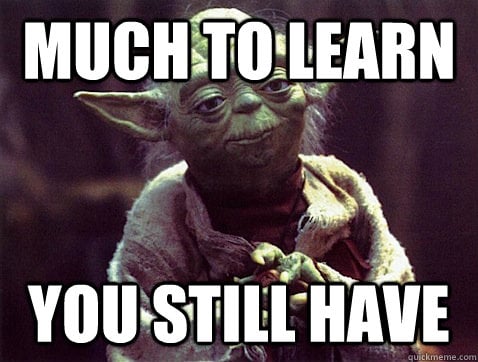 Those who do best as SEOs aren't just open to learning more—they're perpetual learners by nature. Curiosity fuels their habits. They don't wait to be told how to do something, but instead dive headfirst into new tasks, relishing the unknown.