Links are crucial to any SEO strategy.
Google has confirmed links remain one of the top two ranking factors, and data has revealed pages are unlikely to rank without backlinks.
Despite the vital role of links in SEO, year after year we see and hear misinformation and myths surrounding links and the acquisition of links. This is in part due to Google's evolving search algorithm, and in part due to the search community.
With the launch of Penguin 4.0 and integration into Google's core algorithm, there have been granular changes to the search engine in a real-time basis.
It is important to discard any myths that continue to linger around links. With such a critical piece of SEO, it's vital we dispell any misinformation.
In this post, my goal is to call out some of the more common link building myths in 2017.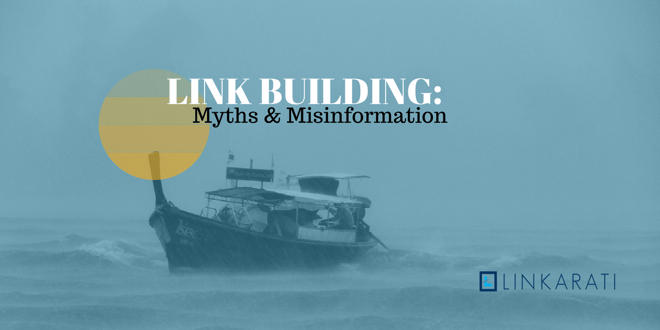 Link Myth #1: Link Building Is Dead
How many times have you heard it? "Links are losing strength as a signal".
I can't tell you how many times I've heard SEOs perdict the rise of a new signal, and subsequent death of links.
Apps threatened classic online navigation and the need for links. Rankbrain brought stronger AI into the algorithm and predicated the end of Google's reliance on links.
Except, none of those situations actually happened the way SEOs predicted.
The fact is, links remain vital to the online economy. They're as important today as ever in search, and the web itself would be unnavigable without links.
But you have to build real links that are relevant to your business, and serve value to the web.
Some people fear penalties, often citing several black hat link building scams. Some people reject link building, claiming link building simply doesn't work, and opting for PPC.
Building low quality links is a recipe for disaster. If you attempt to manipulate your way into links and better ranking, you'll wish link building was dead.
So build a good network of link signals, and use high quality content that offers enough genuine value to be linked to by another site.
Link Myth #2: Nofollow
Links Have Zero Value in SEO.
Nofollow links are links tagged with rel="nofollow", instructing search engines not to flow link equity.
SEOs have always hated nofollow links, even when secured from genuine sources with the potential to drive relevant traffic. Often, nofollow links feel like wasted effort.
The common thinking is that nofollow links don't have any value in SEO.
But the truth is, if a nofollow link sends beneficial referral traffic, why wouldn't you want it? Not only can nofollow links still flow relevant, valuable traffic, but nofollow links are part of any natural backlink profile.
John Doherty, a famous SEO consultant and growth marketer conducted a survey asking fellow SEOs if they take nofollow into account for SEO and online promotion.
John's survey found that 43% didn't care about nofollow links, as long as they were from a high authority site. 27% think about nofollow links, but would still outreach. 16% don't take nofollow into account at all.
The fact is over the years, the nofollow trend has increased and the use of nofollow from genuine sources can do a lot of good for any site.
Nofollow links from relevant sources still add value.
Link Myth #3: Forum and Directory Links are SPAM
Before the launch of Google's Penguin algorithm, forum, directory, and blog comment links were part of nearly every SEO's toolkit.
It's fact: the tactics were abused, and used as a method to secure manipulative links. Many view these links as part of old school techniques.
But the truth is link building is about tactic, not application.
I have personally had great experiences with forum links, when done in a personal, strategic manner. These links resulted in conversions and quality traffic. The screenshot is testimony to the success.

As you can see, there are 7 goal completions from the forum, which is not bad at all.
That's not to say you should include forum, directory, or blog commenting into your link buidling tactics. But, if you're actively involved in your community, and already commenting on blogs and forums, don't be afraid to leave a link.
Link Myth #4: Websites Should Have 30+ Domain Authority
First of all, Domain Authority (DA) is a metric from Moz.
Moz is good, but they're still at third party tool. No one knows Google's analysis of site quality. All third party metrics should be taken with a grain of salt.
If the website is new, the DA will be less. That does not mean it is a low quality website, or that you don't want a link from the site.
Website engagement, ranking keywords, trust and citation flow, social presence, and the like are important factors that matter in the long run for judging the quality of the website.
You should really be using an amalgamation of factors to judge site quality.
Link Myth #5: Links Need Keyword Rich Anchor Text
You shouldn't chase only keyword rich anchor text links.
It's directly against Google's manipulative link schemes guidelines.
Google's algorithm does place value on links with keywords, but you should use natural language and variance. Realistically, you shouldn't have control over the anchor text -- it should be up to the editorial control of the site owner.
There are a variety of different ways you should approach anchor text.
Synonyms and keyword themes
Natural language involves heavy use of synonyms. For example, "SEO Agency" can also be refferred to as "Internet Marketing Firm" "Online Marketing Company", "SEO Service Provider", etc.
According to an interview of Google's Matt Cutts (former employee),
"Key phrases don't have to be in their original form. We do a lot of synonyms work so that we can find good pages that don't happen to use the same words as the user typed."
You should use long-tail keywords and phrases with great impact while formulating a sound SEO keyword strategy.
Branded links are the most common and should make up the largest percentage of your backlink profile.
As mentioned in Kissmetrics blog:
"Co-occurrence is the presence, frequency, and proximity of similar keywords across various websites. Co-occurrence logically includes keywords that are topically relevant, but not exactly the same."

Image source: SEMRush blog
So, you should try to locate keywords close to the branded anchor text. Google will observe the particular word and associate it with the brand.
Link Myth #6: Getting Links From Wikipedia (& Other Authorities) Boosts Rankings.
It has been a common misconception that links from Wikipedia boosts a site's ranking.
This branches off a misconception that's been floating around since, well, forever: Google favors x site, so securing a link there boosts rankings more than usual.
Gary Illyes, unofficial spokesperson of Google, clarified on Twitter that Google ranks Wikipedia just like other websites on the web.
In fact, it does not receive any special attention from Google at all. Wikipedia rather works on getting links to internal pages for more success.
This is always the case when you hear a rumor that securing a link on a specific site boosts rankings more than usual. Google doesn't treat any site specially.
Conclusion
I believe that some forms of link building are dead.
Now not every link will be helpful to you. Many sites ranked well before with a boatload of low quality directory links.
Any manipulation is a short-term ploy, at best.
In link building, you should build great resources with good content and then reach out for links.
Links remain vital, but you must build links that add value!