You've just landed a new client.
They've invested in content and growing a brand presence online.
Their frustration: a lack of links and organic traffic to content they are creating. They need help driving organic traffic to deserving content and pages.
This is a common situation for our clients, and today I'm going to share one of my favorite tactics for building links in either situation: the Foundation Technique.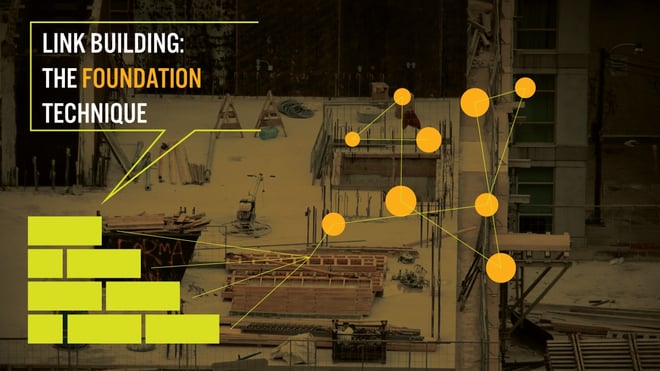 It's a mix of content strategy, prospecting, niche research, competitor analysis, and outreach all rolled into one.
Sound difficult? It isn't.
Despite the fancy language, the driving force behind the tactic is common sense. That's right, common sense is the core of the Foundation Technique.
The entire principle is based upon one simple fact: any page ranking in search—especially for competitive keywords—is ranking due to links and content. Google recently confirmed that content and links are the two biggest ranking factors.
That means if you already have content that deserves to rank, then you're only missing one piece of the equation: backlinks.
Therefore, if I can secure quality links to the client's page, it will rank.
So where do I find link opportunities? Where do I start looking? The Foundation Technique: I look at the pages that are already ranking; no need to recreate the wheel.
How The Foundation Technique Works
I have a client who has invested in content, creating value-oriented pages providing solutions to problems for their audience.
These pages deserve to rank, but are lacking the requisite links. It's my job to go out to find and secure links to improve the page's ranking in search, thereby driving qualified organic traffic and improving the lifetime value of the page.
The solution: go investigate the pages ranking for the keywords my client's content targets. I review the ranking pages and the pages linking to them (their backlinks), making a list of the pages I think will also link to my page.
Given ten ranking pages (page one of a single SERP) with a diverse set of links, I should have a multitude of link opportunities in no time flat. If my client's content deserves to rank for a variety of keywords (rather than targeting a single headterm) then I have even more opportunity.
We're talking fifty or more opportunities in short order.
The best part is how simple the Foundation Technique is to execute. In fact, it's the first tactic I consider when examining a new website.
That's why I call it the Foundation Technique—this tactic provides the foundation of any new campaign. It's how I build a base of links for any new page I want to rank.
I don't believe I'm unique in this—many SEOs are likely enacting some form of this technique—but I do believe this method is often overlooked.
Google is already providing a list of links it considers valuable and relevant to your keyword. You just need to go to the first page of their results and review the pages ranking.
Foundation Technique Requirements
Here's what you'll need to execute the Foundation Technique:
A piece of content that deserves to rank and answers searcher intent well, but is lacking in links.
A list of keywords important to the page.
That's it. Seriously.
You don't need the best content in the world. It doesn't have to be 3,000 words, well-designed, or have brand partnerships you can leverage. Your keyword research doesn't need to be exhaustive.
You want a solid piece of content that deserves to rank, with an understanding of the head terms the page is targeting. Basic materials for promoting content.
Brian Dean's Skyscraper Technique works on the same principle (I recommend reading Backlinko, Brian's blog), but the Foundation Technique doesn't require the effort of building incredibly complex, in-depth content.
Brian Dean's Skyscraper Technique works, and is fantastic if you have the time, energy, drive, and resources to create best-in-class content. In fact, if you're investing into content I highly recommend you invest into skyscraper content. Best-in-class guides are an important investment into brand.
BUT, content strategy needs to be diverse, like all strategy. Diversification is valuable in audience development, preventing reader fatigue, securing links, and creating a well-rounded brand voice.
If you're an ecommerce site, it won't always make sense to write a 3,000 word guide. Sometimes you'll want to provide a recipe, a short product walk through, or an opinion piece about an important industry event. None of those necessitate 3,000 words.
Let's look at examples of the Foundation Technique.
Locating Content for the Foundation Technique
Before we jump straight into examples, let's first cover how to find content and pages on your client's site that can secure links when promoted to the right audience.
You'll want to scour your new client's website to see what assets exist.
I've covered this in depth in a few posts:
That first post, Three Simple Steps to Find Link Worthy Pages, is probably the most direct in terms of how to find link worthy pages on a new website.
To summarize how to find link-worthy pages on an unfamiliar website, the steps are:
Talk to your client. They know their own site and goals, and communication will also help you set client expectations.
Check for top shared content across social channels (I recommend BuzzSumo).
Check top linked content with a backlink explorer (Majestic, ahrefs, Moz, CognitiveSEO, etc.).
(Optional): Review top viewed pages in analytics.
Use your own brain as well. These tools will help you efficiently find popular content, but then YOU need to analyze the content and determine whether it has the merit to secure links.
Content promotion requires a unique selling point (USP) that makes the piece worth promoting in some way. If it's not any different than the results currently ranking you'll struggle to explain why a site that links to one of the top results should also link to your page.
You will be emailing important people across your client's niche to secure links. You'll need to believe your page deserves the link to be compelling and persuasive in your outreach.
Foundation Technique Example: REI.com
You won't find a better example of a well-known brand investing into quality, brand-building content than REI.
Seriously, check out these pieces:
I found these pages with BuzzSumo, using the exact method I mention in my post on Three Simple Steps to Find Link Worthy Pages.
REI is creating a mix of thought leadership, gear reviews, camping advice, and emotional human interest pieces that remind the reader of the importance of nature, humanity, independence, and conservation. Each piece represents a true investment into brand, marketing, and community.
It's all on-message, authentic, passionate, and adds value to REI's community. These pieces are a perfect example of a content strategy done well.
Not one is a 3,000 word guide.
Let's think about this from the SEO perspective. REI is clearly making a significant investment. This is a brand marketing initiative. This is audience-building, message dissemination, core-value material.
Shouldn't that be promoted? Shouldn't there be an effort to make sure that content lives in the best channel for visibility (search)?
Analyzing this content, I would say 11 Camp Cooking Hacks has the most opportunity to succeed in search.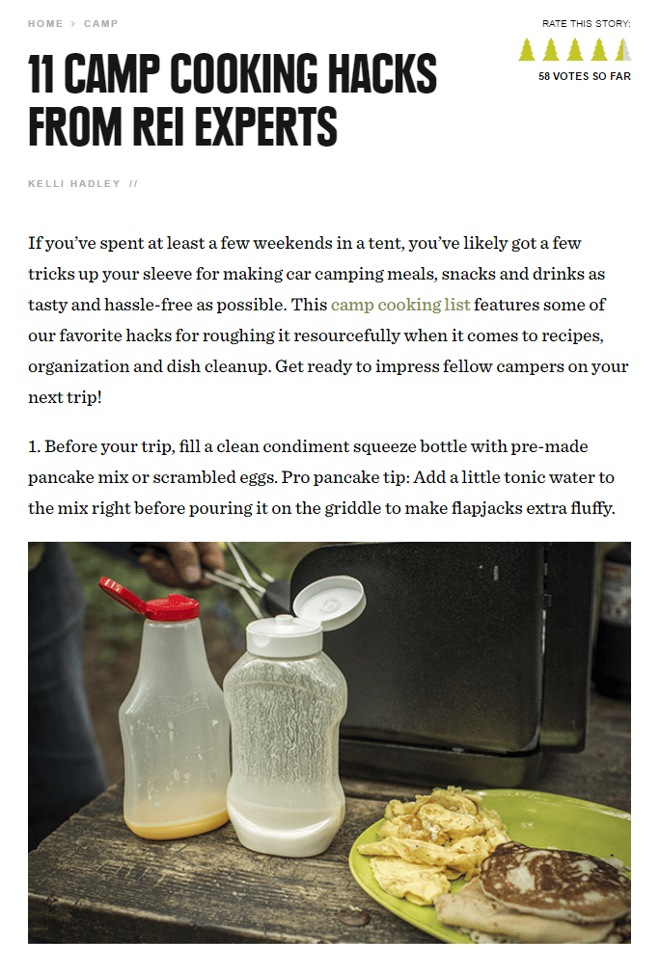 It's commercial-oriented, evergreen, and targets searchable terms [camp cooking], [camp cooking ideas], [camp cooking tips], etc.
The post also links directly to product pages.
Majestic reports 22 linking root domains (LRDs) to the post: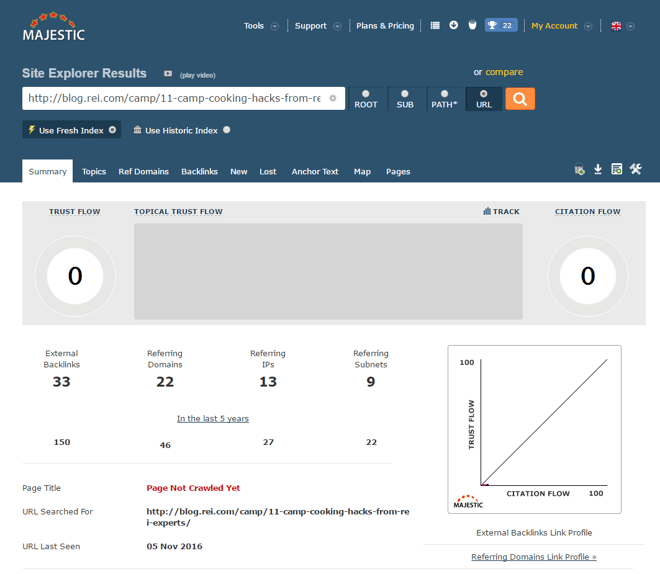 However, those are all thin/bad websites scraping REI's content. Those aren't real links. There's one link that's not the result of another website duplicating the post, but it's a sponsored post: http://matadornetwork.com/notebook/essential-items-backcountry-camping-trip/.
Not ideal.
Long story short, no real links to this post. Thousands of social shares, overall valuable content, but no links.
Unsurprisingly, this means it's ranking off page one for the core term [camp cooking]. It ranks #1 for [camp cooking hacks], and on page 9 for [camp cooking tips]. No other rankings.
Now let's apply the Foundation Technique to show how I'd secure a base of links.
Step One: Review the Post
The 11 Camp Cooking Hacks from REI Experts post:
Deserves to rank.
Keywords: [camp cooking] 2.9k search volume. Additionally, I could review [camp cooking ideas], and [camp cooking tips] for additional opportunities.
That's all the information I need to apply the Foundation Technique. Let's get started.
Step Two: Review the pages ranking for our head term [camp cooking], and the pages linking to them.
Let's break this down piece by piece, so you can see the exact process of review.
I'll walk you step-by-step through my mental process to review a ranking page and the links pointing to it in order to find relevant link opportunities.
There are 10 pages ranking for [camp cooking].
1. Camp Cooking 101 — Epicurious.
URL: http://www.epicurious.com/archive/howtocook/primers/camp-cooking.
This post is a basic guide to camp cooking. It's not exhaustive or well-designed.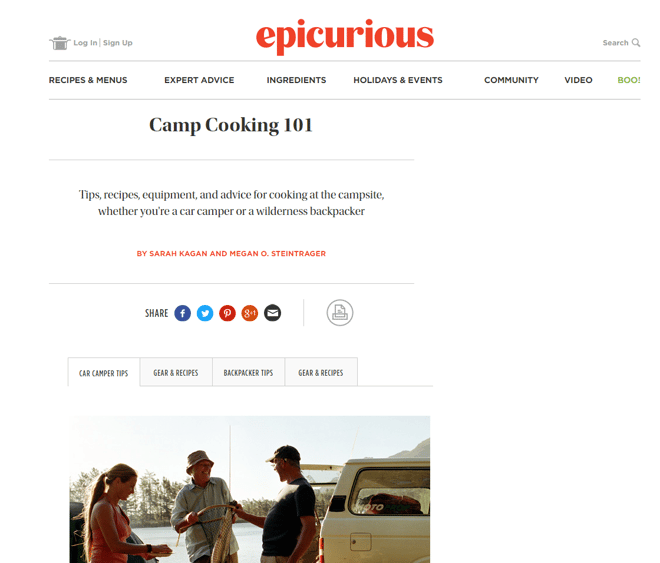 Content:
Clunky header.
Small font.
Minimal design/formatting.
Lack of images.
Basic information.
REI's post is slightly different in terms of topic, but better produced. It deserves to rank over this post.
Links:
Majestic reports 6 referring domains. Analyzing those links, only a few links pass scrutiny. The two links above are relevant opportunities.
2. 25 Easy Campfire Recipes That Are Finger-Licking Good — Country Living.
URL: http://www.countryliving.com/food-drinks/g2444/campfire-recipes/.
This post focuses on recipes, so isn't 100% relevant to REI's post. It's also formatted as a slider, which is scientifically the worst format ever. Period. It's also suboptimal from an SEO perspective, since the content lives across many unique URLs.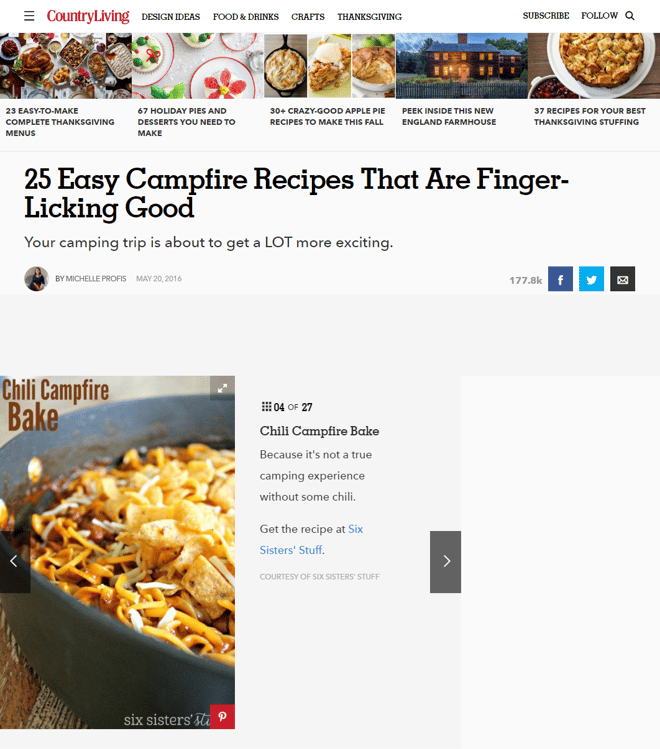 Content:
Poorly formatted (slider).
Thin: picture, short description, and link to source.
Recipe based (slightly different than REI's topic).
Links:
Majestic reports 39 referring domains. Many are based upon an article about Podtents that links to the page, which was then picked up by many different websites.
It's also worth noting that Country Living is a well-known magazine, and has brand authority.
The links listed above are what I would consider relevant link opportunities.
3. Camp Cooking Tips — Love The Outdoors.
URL: http://www.lovetheoutdoors.com/camping/camp_cooking_tips.htm.
A guide to cooking meals while camping, this is a word-heavy page, formatted almost entirely in a non-spaced list.
Good information, hard to read and digest. REI's post, while less comprehensive, is much better.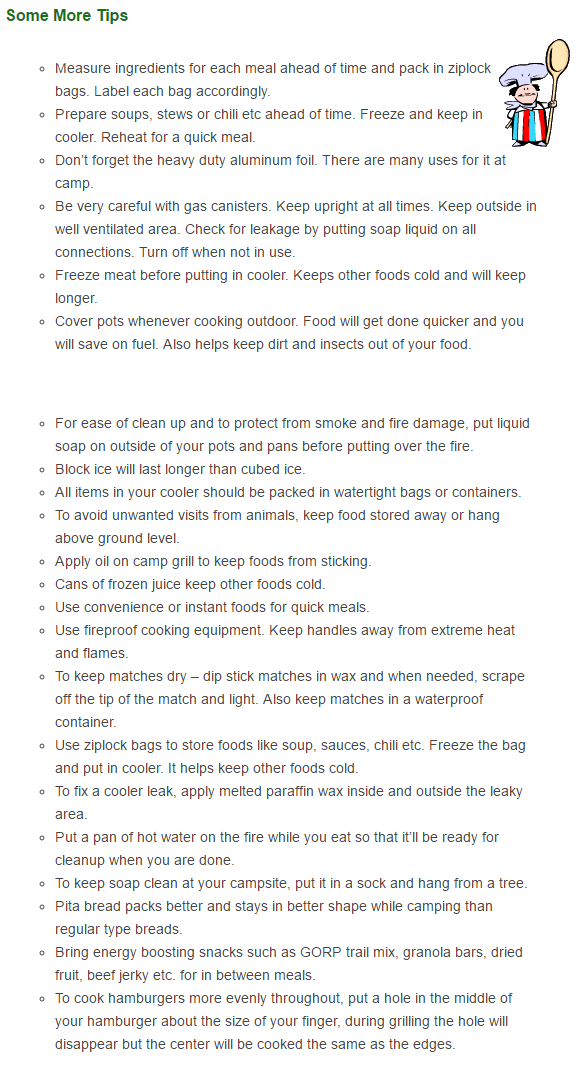 Content:
Comparable content, although much more in-depth.
Lack of images.
Hard to read due to formatting.
Links:
Majestic reports 30 linking root domains--not bad. The best and most relevant I pulled out above.
4. 34 Things You Can Cook On A Camping Trip — BuzzFeed.
URL: https://www.buzzfeed.com/twopoodles/recipes-for-camping-food.
Classic BuzzFeed post--solid content, primarily visual. Links directly to the recipe/tip.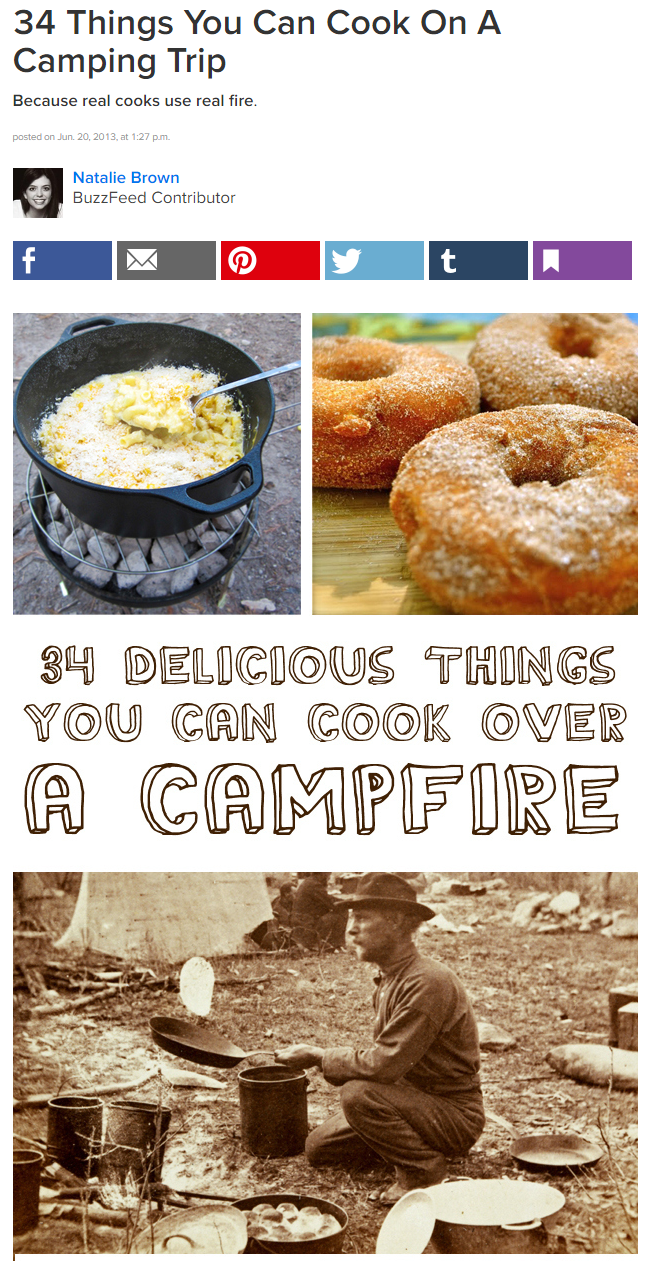 Content:
More entertaining than informative.
Primarily visual, no real explanation of the process, ingredients, or necessary supplies beyond a link to the original source.
Comprehensive--it's a decent list of various different foods worth cooking in the great outdoors.
Link:
Majestic reports 9 referring domain--not overly surprising considering BuzzFeed caters more to social than search.
I pulled out the most relevant opportunities above.
5. Campfire Cooking — Eartheasy.
URL: http://eartheasy.com/play_campfire_cooking.htm.
A solid guide to safely cooking in the outdoors. Still some formatting issues, but this is the most comprehensive guide we've come across yet.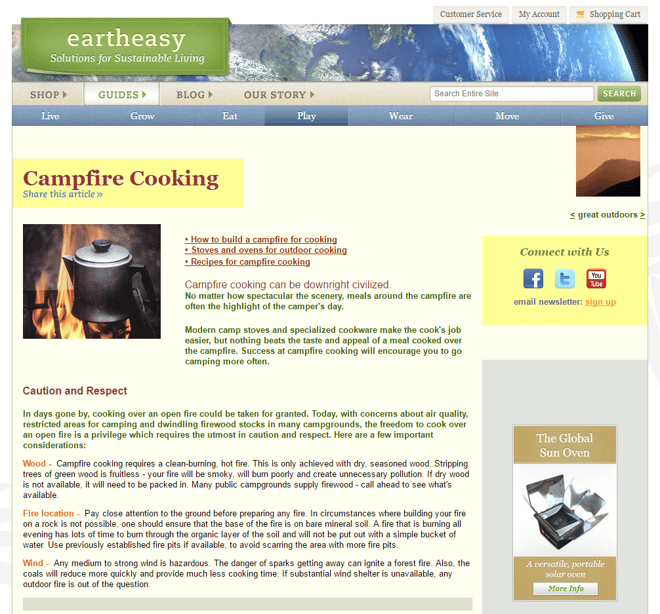 Content:
Informative, visual, and better formatted than the other results.
Comprehensive: covers a variety of topics including safety, how-to, supplies, recipes, etc.
The best content in the SERP so far. Informative, in-depth, and covers a variety of topics
Majestic reports 83 referring domains--the best yet. Not surprising, given this is the best content in the SERP. It's been picked up by many blogs, websites, and resources.
The list above is just a sampling of the best link opportunities.
6. Camp Cooking — feedfeed.
URL: https://thefeedfeed.com/camp-cooking.
This is a tag page on feedfeed, who self-describe as a website "connecting people who love to cook".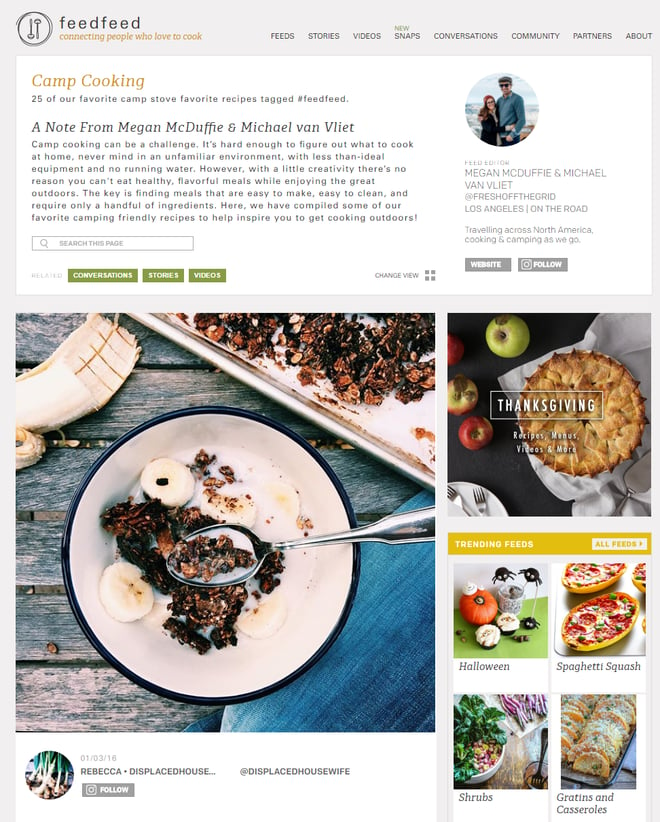 Content:
A tag page. Serves as a category for all posts on the site related to camp cooking.
The content on the page itself isn't useful, but does serve as a guide to other potentially helpful pages.
Links:
None - this pages is likely ranking for variance in results, domain strength, and internal links.
7. Camping Recipes — Allrecipes.
URL: http://allrecipes.com/recipes/1529/everyday-cooking/on-the-go/camping/.
Another category page, this time an amalgamation of recipes from the popular recipe website, Allrecipes.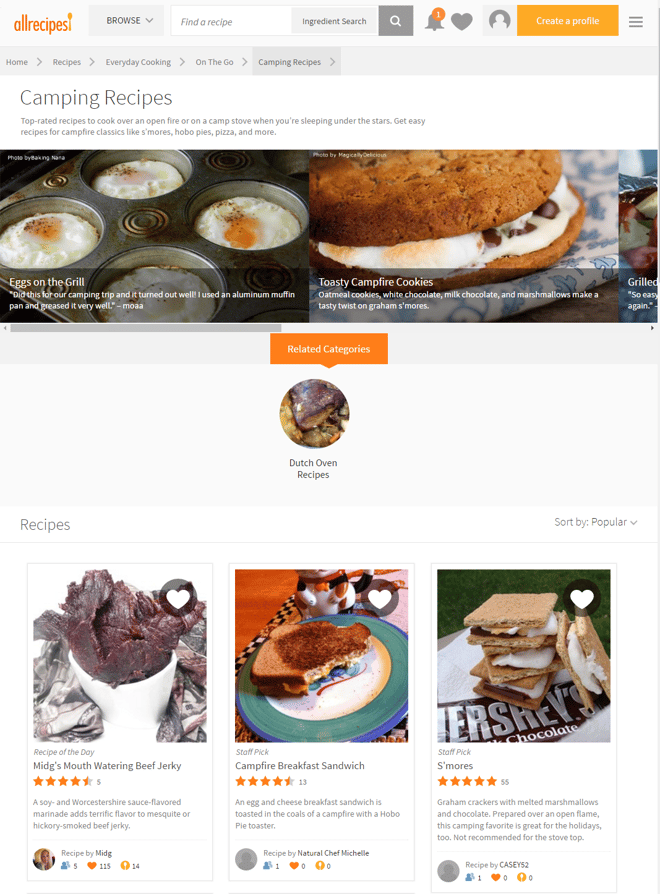 Content:
Category page, amalgamation of camping recipes.
Not relevant to REI's page.
Links:
Majestic reports 19 referring domains. While the page itself isn't directly comparable (they serve different topics and intent), there are opportunities worth pursuing listed above.
8. 20 Delicious Camping Dinners — Sunset.
URL: http://www.sunset.com/food-wine/kitchen-assistant/camping-cooking-recipes.
A well-known magazine, another magazine that is presenting a list of recipes in the form of slides.
Why do magazine websites think slides are a good way of displaying information?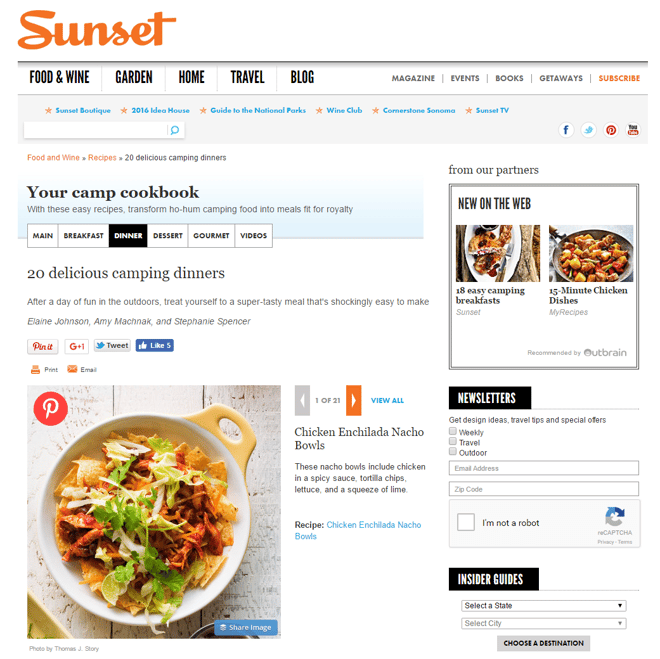 Content:
Thin: image in a slide with a short description and link to source.
Unique URLs: each slide is on a unique URL (bad for SEO).
Not very relevant; although they call the recipes "camping dinners", they don't appear to actually serve that purpose.
My guess is this is ranking on the efficacy of links and domain.
Links:
Majestic reports 13 referring domains. Many of the linking domains are decent, as well. You can see the best opportunities above.
9. Camp Cooking & Dining — Cabelas.
A product category page from Cabelas. Likely Google's attempt at including a purchase/commercial intent.
Not relevant to REI's post.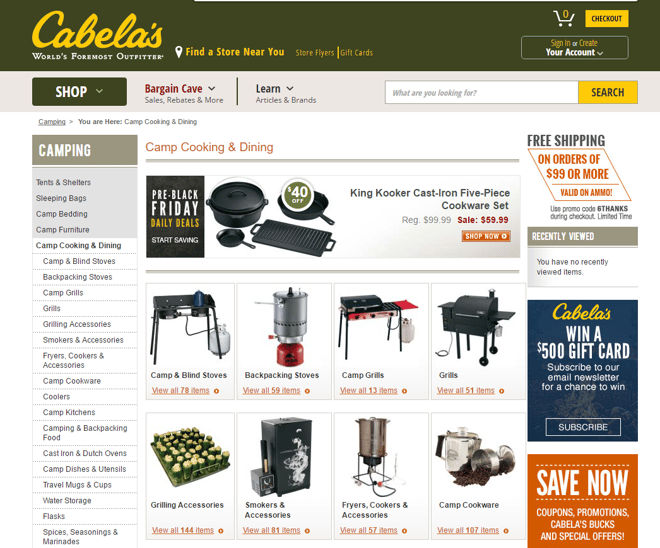 Content:
Links:
Majestic doesn't report any referring domains. This page is likely ranking because Google wanted to answer commercial searcher intent, and based upon domain strength (Cabela's is a well-established outdoor brand).
10. Camp Cooking 101 — YouTube.
URL: https://www.youtube.com/watch?v=g0h7Szg0bWk.
A video from MSR cookware about camp cooking. 154,000 lifetime views--good to note that video content is a viable option.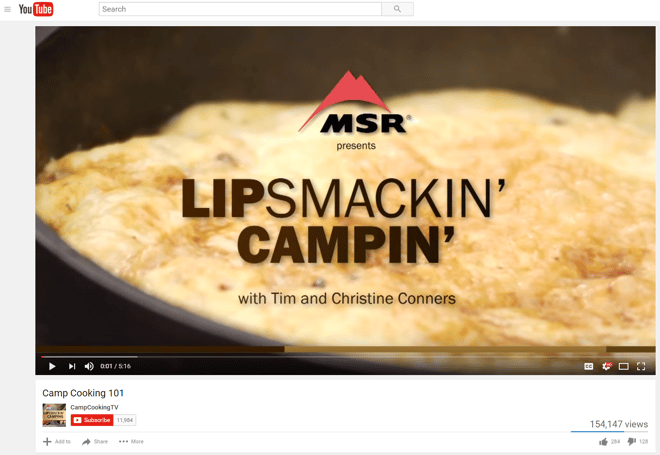 Content:
Relevant YouTube video with over a 100,000 views.
In-depth, good information about supplies and process.
Visual guide showing actual supplies, gear, and process.
Links:
Majestic reports two referring domains, neither of which is quality. This page is likely ranking based upon the domain authority of YouTube and Google's desire to display a variety of different results and content.
-------
That's a list of the top ten pages ranking for the term [camp cooking], along with a sublist of the links I've found via Majestic that are relevant and valuable. Those are the links worth pursuing.
Of the ten pages ranking, only two are irrelevant, ranking on the authority of the site: the two category pages (Cabelas and feedfeed). The YouTube video, while not a direct comparison, does demonstrate the value of video to our audience.
Best of all, our content is better than the relevant pages ranking. Depending on the sites we're contacting, it won't be a hard sell to explain why it's worth linking to our page as well.
Step Three: Review pages ranking for additional keywords.
30 link opportunities from reviewing a single SERP. Not bad, eh?
But why stop there?
There are three more terms we can and should analyze. [Camp cooking] is the most search volume SERP, so it will likely have the most links (since it's the most competitive).
However, we should also analyze:
[camp cooking ideas].
[camp cooking tips].
[camp cooking tricks].
Those, if anything, will be more relevant and comparable to our post, which is about camp cooking hacks (essentially the same as tips, tricks, and ideas).
Repeat step #2 for each SERP, as needed. This will create an even stronger foundation—the only limiting factor is how much time you want to invest. Typically I am able to comb through a SERP in about 20 minutes—not much investment.
In total, I should be able to comb through all SERPs in about an hour. From the work, I would expect to find somewhere around 100 link opportunities.
There will inevitably be opportunities I don't pursue, for various reasons--but 100 link opportunities at the start of a campaign is fantastic.
Just as valuable, I should also gain unique insight and perspective as to how these pages are gaining their links.
Step Four: Analyze the SERPs and Backlinks for Insight
We reviewed the top ten pages ranking for [camp cooking], and found 30 link opportunities.
We're not going to stop there, however. There are three other decent search volume SERPs we should analyze as well.
While performing the Foundation Technique, don't turn your brain off (I certainly don't). Critical thinking is part of SEO, and should be ongoing as you work through Majestic (or your backlink explorer of choice) to see the types of pages linking.
The point of the Foundation Technique is to find quick and relevant link opportunities, which we've done. It's also to create a base for the rest of the project.
So, what have I learned from reviewing the SERPs and their backlinks in the REI example?
It won't take many quality links to rank. A handful will likely achieve our goals. Most pages ranking in the SERP have a few each.
The quality links are primarily citation-based, in blog/resource posts about the subject (cook camping). They're citing information.
The content ranking for our target keywords is at best comparable to ours. In fact, REI's Camp Cooking Hacks is better than the vast majority of the pages we want to compete with.
In order to secure links we simply need more awareness that REI's content exists. Targeted, intelligent promotion to the right websites should reasonably result in links.
If we can achieve ranking for REI's content, I strongly suspect we'll continue to gain links through awareness. Because much of the links appear to be citation/resource based, I suspect those creating pages on websites are simply searching for relevant information as they create the pages. As new sites create new pages, searching for relevant information to cite, they'll find our (newly) ranking page—resulting in additional links for REI.
This is a self-fulfilling cycle. As we build links and awareness to REI's valuable content, we not only increase search rankings and traffic, but also gain further awareness, visibility, and links. If we consistently build links to REI's valuable content that answers common searches in their industry, we'll create considerable growth for their blog, audience, and brand.
If REI is investing in content, they should invest in a promotional strategy. I would strongly suggest SEO and link building to gain further traffic and awareness to their content.
Securing links and growing their traffic can be achieved with straight forward common sense—the Foundation Technique.