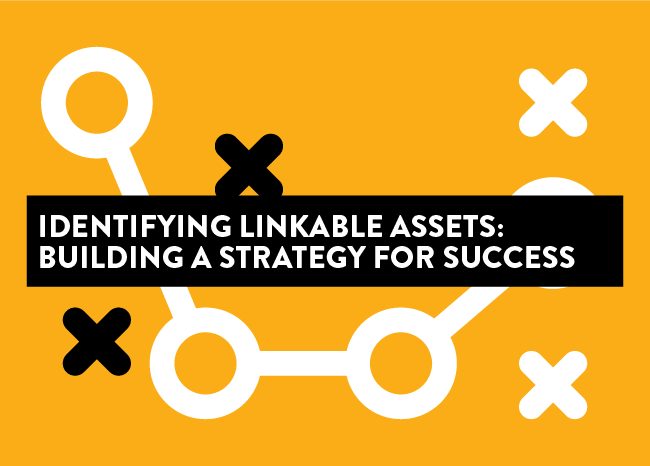 Your company has invested countless hours into building a blog that represents your views, showcases your talent, and delivers value to your readers. It is likely a mix of keyword-focused and linkable content that has strong relevance to the lives and needs of your readers. But is that enough to stand on its own?
When it comes to seeking out high-quality, relevant backlinks, companies benefit from focusing on a targeted selection of pages that best represent the goals of their current link-building campaign. Identifying those assets makes it easier to determine exactly how the campaign is going as links "mature" and growth appears over time.
Setting Goals
It's easy to see the big-picture of most goals for link-building; you want more traffic and more users. But for a targeted campaign, where do you want those new users going? What do you want them to see? Understanding your company's marketing journey and identifying core conversion pages is a major part of the process.
Use tools like Google Analytics to see where your customers are spending the most time and identify where the conversions — the sales, sign-ups, and subscriptions that drive the bottom line — happen. These pages aren't likely on your blog. Instead, they form the core of the site itself, and they lie at the very heart of a link-building campaign, even if a single external content link never goes their way.
Identifying Link-Worthy Pages
The reason your core conversion pages might not see direct backlinks is that they are rarely linkworthy in and of themselves. Conversion-oriented pages, most commonly sales or product pages, lie at the very bottom of the traditional marketing funnel, while the majority of traffic and search volume is found at the top. The marketing journey leads users from the top to the bottom of that funnel, and identifying your link-worthy pages focuses your link-building efforts.
That's where your blog enters the scene. The content you've created for your readers can be a major point of attraction for new users and a key source of new conversions. Your top-performing content, in terms of search volume, the number of keywords appearing in Google, and overall traffic, is likely to be much higher in that marketing funnel and attract far more new users to your site. These are also likely the pages that already have quality external backlinks pointing their way.
Pages with fewer backlinks may still be sleeper hits. If your content is well-crafted and has broad appeal, it's likely to be a link-worthy candidate for building external links. If a blog entry has clear relevance to the conversion pages you've selected as goals, then it should be included as a potential target page regardless of whether or not it is currently getting traffic and search volume. The links you build may be the missing element that moves a page from sleeper to slugger.
Transferring Link Equity
Your blog entries are fun, but they aren't your conversion pages, right? How do you bridge that gap? Likely, if you've got a blog seeing any traffic at all, you've got the basics of internal linking in place. While external links that cite external sources can help blog entries build authority, it's the internal links that get that "Google juice" flowing. The goal of search engines isn't to count links or keywords. Those are, at best, tools for accomplishing the main goal of helping the reader find what they want and continuing their journey of seeking goods, services and information.
The best content isn't created for the algorithm, and it's rarely created for conversions. The best content is created for people — flesh and blood readers — and it's meant to take them on a journey. Your internal links facilitate that journey, and the search engines follow it just like any other reader. Adding relevant internal links to other blog entries and your conversion pages creates a web of options that ultimately helps fulfill the reader's needs. This aligns your goals with those of the search engines, and acts as a built-in bulwark against algorithm updates and changes that may derail competitors.
Link-Building and Outreach
You've identified your goals, either on your own or with the help of a trusted SEO team, and you know which pages on your blog have the potential to sleep or swing for the fences. What's the next step? Finding and getting those authoritative backlinks that will build your site's expertise, authority, and trust.
Luckily, the Linkarati blog has you covered. Check out our guides to outreach and link-building, the next steps in the process of securing the rankings your content deserves. Outreach involves getting your quality content in front of those who've built up a relevant audience. Proper outreach is a time-consuming process that requires understanding the people behind these audiences and what they offer their readers. Working with site owners, administrators, and editors, you'll begin the process of crafting the actual links to your top assets and the content to deliver them to readers.
This can also be a highly involved, labor-intensive process and may well require a dedicated team. Outreach and link-building form the core of what we do at Page One Power. Along with this service, we can create keyword-focused content that captures high search-value topics, linkable content that hits all the right marks, and there's a reason we're the #1 link-building company when it comes to strategic links according to Neil Patel and Gotch SEO.