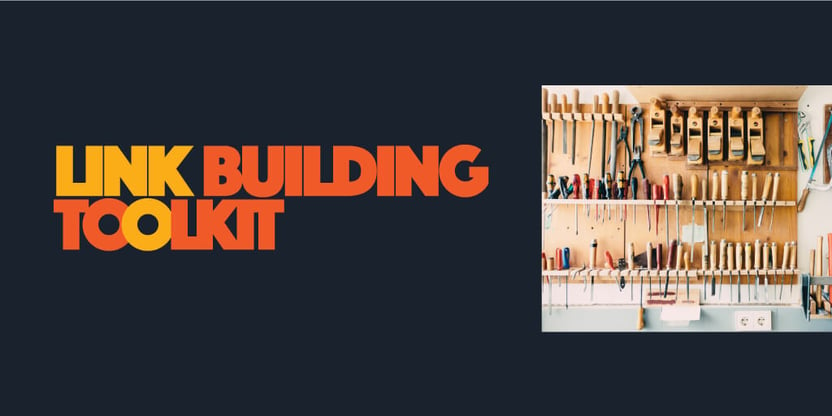 To a beginner, the world of link building might look like nothing but technical tutorials and bizarre buzzwords.
If you've been feeling overwhelmed and don't know where to start, don't worry. You can build your first links with nothing more than a few free or inexpensive tools, some educational materials, and a good attitude.
These are the tools you'll need in your kit:
Continuing Education (and Patience)
The way search engines help users navigate the web changes all the time. If you want to be an effective link builder, continuing education will be a major key to your success. Even professional link builders are always learning. Don't just dive into the deep end of the pool; start with the basics, master them, and then branch out.
Take it slow and start by learning what makes a good link, how to discover trustworthy sites, and the core elements of outreach and communication. These are the three basic principles that will guide all of your link building.
Linkarati's link building resources page contains just about anything you'd ever want to know. Read and learn whenever you can, but don't put any undue pressure on yourself to understand something that's much more advanced than what you currently know.
And remember — link building takes patience. Don't just abandon a link building tactic because it's not bringing you overnight success.
Google Operators and Search Strings
To build a link, you'll need to find a relevant website and ask for one. Sometimes, the websites that are most valuable to your own website aren't always on the first page of Google's search results. To find those websites, you'll have to learn how to use Google to search for them correctly.
Here's where advanced search operators can come in handy. Search operators are commands that you can use to refine your search results.
I like this comprehensive list at Optimize Smart because it helps you find your specific search parameters. Product reviews, sponsorships, industry resources — you name it, and it's there.
With this list, you can start anywhere you want and learn as you go. Soon, using these search operators to find relevant websites will become second nature.
There are an almost infinite number of search operators you can use to help you discover what you're looking for. Experiment freely with different searches to find the results you need.
An Authoritative Email Address
Next to finding relevant websites, effective outreach is the most important part of link building.
Webmasters frequently receive spam email from all sorts of random Gmail, Yahoo, and Hotmail addresses. If they can see that your email is associated with your website or business, you already look more credible than most of the people they're hearing from.
It's a simple switch to use a domain email address: yourname@yoursite.com instead of yourname@gmail.com
It's simple and basic, but it's something many beginning link builders don't even consider.
There are exceptions to this rule. Some webmasters and bloggers prefer more casual outreach. However, for the most part, it's best to keep it professional and credible.
Outreach Tracking and Organization Tools
You need a way to keep track of all the sites you discover and contact. This will help you avoid making embarrassing mistakes — like accidentally emailing the same person as if you've never tried to make contact before.
I recommend using a simple spreadsheet — a Google doc will do just fine.
It needs to include:
Date
Website
Contact Info
Action Taken (email, phone call, filling out a web form, a social media message, etc)
Linking Page (if you successfully build a link)
You can also organize this spreadsheet into communication stages. This allows you to see which sites have already linked to you, which ones you're communicating with, the ones you're attempting to reach, and which ones you still need to reach out to.
Many link builders like to note the site's Pagerank, Domain Authority, and Alexa Ranking, too. We can debate the merit of those metrics any time, but if you think they're important, it's best to include them in your spreadsheet. Including them will help you to prioritize.
I've built a basic link building tracking sheet in Google Docs, and you can download and/or copy it to your own Google Drive here. You can also read a tutorial on how to create your own outreach doc here.
I've divided it into four sections:
Live Links - links you've successfully built
In Communication - for when you're still conversing with a webmaster but have yet to build a link
Attempting to Reach - for when you've yet to get a response
Research - for sites you've found, but haven't yet reached out to
It's more basic than the tracking sheets I personally use, but it's more than adequate if you're just starting out. If you want a more advanced sheet, feel free to contact me, and I'll give you some suggestions.
SEO Tools
If you're just beginning to build links, there are only a couple basic SEO tools that you'll need.
MozBar - This browser extension will show you a site's domain authority, how many links are going in and out, and relevant keyword information, all while you browse the web.
Moz Link Explorer - Link Explorer can show you a site's Domain Authority, detailed link reports, inbound links, and a decent spam score for any given URL. If you don't inherently trust a target site, run it through OSE. You can use this tool free for the first month, but there's a small fee after that. Even without an account, you can check a few URLs per day at no charge.
Linkable Assets
Last but definitely not least, to build links, you need something worth linking to.
No one wants to link to your product page, or even to your homepage. If you ask for a link, your site needs to provide some value. Your content can be educational, entertaining, or interesting, but it has to be something people want to see.
If you already have a bunch of content, Cory Collins wrote an excellent piece on how to find a linkable asset on your own site.
If you need to create that content, do it before you start building links. In a post on my site, I talk about how you can start at the most basic local level to create linkable assets and provide value. It's okay to start small. I call this form of grassroots link building the Ground Zero Technique.
Not everyone wants to start small, however. If you want to go big right out of the gate, Andrew Dennis wrote a great tutorial for brainstorming creative content ideas in on SEMrush. It gets a bit advanced, but he offers concrete ideas to spark your creativity.
You'll just want to provide something people will want to read and a place to which they can link. When you're starting from the beginning, it's hard to build great links without good content.
If you need to create that content, do it before you start building links. It's hard to build great links without great content.
Conclusion
As a link builder, you have to learn as you go. Along the way, you'll encounter rejection and disappointment. You'll make mistakes.
And that's okay, because we've all been there.
We all started somewhere, and none of us understood all the terminology and technical stuff from the offset. If you want to build links, you will have to get your hands dirty and start with the basics.
In reality, you won't need much more than the will to learn, a few basic tools, and a can-do attitude. There are no shortcuts — it will take time and hard work. However, if you build up from the basics, you'll be building effective links with the best of them in no time.