Guest blogging has been under fire for a while, and we can't really say it's a bad thing. Major search engines and their leaders are coming out against guest blogging for one simple reason: People have been taking advantage of a good thing by producing spammy sites, full of random, linked content in an effort to increase site rankings.
While that type of guest blogging will no longer do you any good, guest blogging in its purest form is still a great way to build your organic SEO while gaining valuable exposure within your sphere.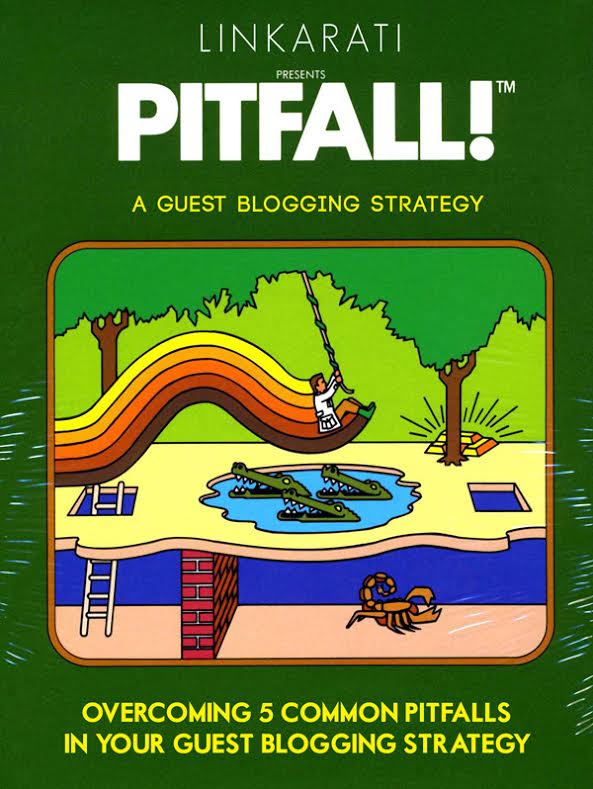 The Good News
Yes, it's still worth your time to generate and trade quality content in exchange for solid links back to your site. Just remember that the content you put out should be your best work, and avoid using spammy links. It's also important that you only contribute to blogs that fit your topic. This advice is a bit vague, but it should also be pretty self-explanatory. Produce quality content, get good SEO karma back!
Introducing the Struggle
Now that we've got that cleared up, you're probably ready to start writing. That's great! You will, however, want to prep yourself for inevitable set-backs in your strategy. In an ideal world, the process would run smoothly as a mutually beneficial exchange of content between two professionals. In reality, things get a bit messy.
To help you get ready for the bumpy road ahead, I've provided the top 5 set-backs I've encountered in developing and implementing guest blogging strategy at my firm. Even better, each of these set-backs is accompanied by the best strategy for overcoming it. Enjoy!
1. Strict Content Guidelines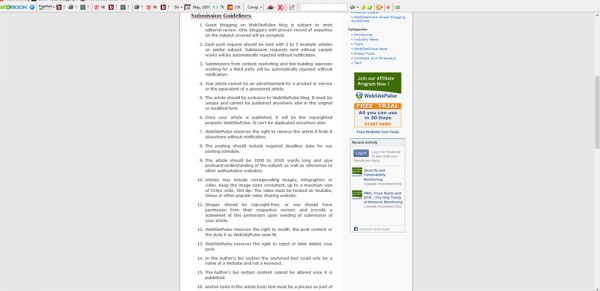 As you search for quality sites for content submission, be on the lookout for their guest blogging guidelines. If the site accepts guest posts, they'll more than likely have this section. Here, you'll find specifics on post length, tone, grammar, etc…
Now that you know this section exists, you'll notice that some of these guidelines can get pretty specific. Some blogs request that you not only match their exact tone and style, but also reach or stay below specific word lengths, cover certain topics, add links to other articles, etc... This is where it gets tricky.
Rather than give up on the site then and there, realize that the editor is simply asking that you make your content a good fit for their blog. So how can you meet their strict guidelines?
First, read each guideline in full. Become familiar with each request, and be sure that your post/pitch complies.
Second, read a few of the blog's most recent posts to get a feel for the preferred style, tone, etc... It will also be important for you to note that the admin will more than likely request changes. Accept their critique and make the changes to produce a piece of content they actually want to publish.
2. Slow Response
Editors can be difficult to reach for a number of reasons. First of all, they're busy. A lot of the larger blogs have editorial schedules set months in advance. This means that they receive A LOT of email pitches that take time to get to. Slow response isn't just limited to editors of larger blogs, though.
Many of the smaller blogs are run on the side. Their editors have day jobs that occupy the bulk of their time during the work week. This means that it can take days, weeks, or even months for them to get back to you!
While you don't want to wait on an editor for a month, it's important to respect their time and give them a week to respond. Keep in mind, you'll still want to be pitching new ideas to other blogs in the meantime.
If you don't hear back from your blog of choice within a week, send a follow up message. Still don't hear back? They may not be interested. Move on and keep looking for sites with more responsive editors. Eventually, you'll find editors who are willing to work with you to get your content published. Keep pitching new ideas and constantly be on the lookout for new leads.
3. Stingy Link Policies

Sharing your content with a new audience is great on its own, but the ability to add in a link back to your site is ideal. Most blogs will allow you to include at least one link, but it's important that you check this before agreeing to contribute.
Linking policies should be listed in the guest blogging guidelines. If you don't see any information regarding links, be sure to ask about them in your correspondence with the editor. Some sites will be less generous than others. This stinks, but you can still work with them.
Ideally, you'd like to choose the type of link you insert into your post. There are a lot of sites that let you do this, but some others don't, and this is understandable. Work with the admin to get the best possible link you can. No-follow, plain text, and non-keyword links will still add SEO value, just not quite as much. Understand the blogger's reasoning, but don't be scared to negotiate for a better link.
For example, if you're looking for a deep link (back to an internal page on your site. Not the homepage), ask for it! Be willing to settle in some areas, but stick to your guns when it comes to securing the best possible link for your specific goals.
4. Picky Formatting Requests
Each blog will have its own set of formatting guidelines. While some only ask that you send your finished work in a Word document or other editable form, others give a whole list of requirements.
Pay close attention to this list to ensure that you cover each of the guidelines. If you don't understand a section, be sure to ask about it! Once you've completed your formatting, chances are your editor will have some suggestions for changes. Be flexible and plan time for this. Whether they ask for additional images, paragraph breaks, or repositioning of content, expedite the process by being ready and willing to make the changes they deem necessary.
5. Lack of Detailed Information
As you read through some of the previously published posts on a blog, you may realize that they contain A LOT of detail. Sometimes, this is detail you don't have to offer at the moment. You do, however, have the resources to obtain the information you need to produce a detailed post.
No matter the party you're guest blogging for, you have access to the information you need to get specific in your piece. Ask experts around your office and/or assign more detailed research to someone who has the time to get it done.
Editors will want you to be specific, and for good reason. Get a good understanding of the information their readership needs, and do your best to provide detailed, specific and accurate answers from reliable sources.
Get Your Guest Blogging On
Now that you have a basic understanding of how you can overcome common pitfalls in guest blogging, it's time to dive into your strategy! Be personable yet professional in your approach. Understand that this is a process that can take some time to get started, but is well worth it in the end. Good luck!