Let's start with the obvious. In 2020, every search is a local search. Google knows where you are and where you used to be (it can probably guess where you're going, as well). Whenever you type a query with commercial intent, you're getting carefully-calibrated results.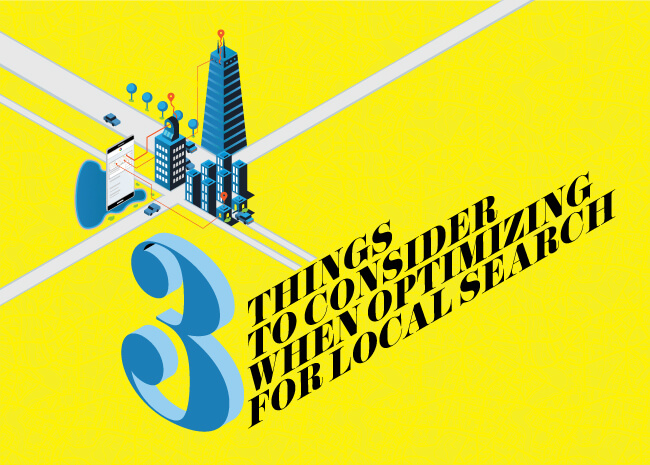 Ideally, where you want to be is Google's Local Pack. The Local Pack is that table with top business listings that appears when you search for something to buy. With over half of searches run from mobile devices, a single Local Pack may take up as much as an entire results page on a smartphone.
If you aren't putting in the effort to optimize for local search, you are simply leaving money on the table. This guide is designed specifically to go over the most important aspects of optimization for local search. By the end, you should have a clear enough idea about what to do next.
So the three biggest issues for local SEO are:
Google
Links
And website audit.
Let's examine each one in detail.
Handle Google My Business
There is this new thing all the kids are crazy about these days: Google search. Unsurprisingly, and in very short order, Google My Business became absolutely vital for ranking locally.
I'm assuming everybody reading this already has their Google My Business pages all set up and running. Let me be clear here: it is the thing to do if you have any desire at all to optimize for localized search. If you haven't yet done that, you absolutely must go now and become a verified business owner on Google My Business.
The tool is free, obviously, and will allow people searching to see the details about your business as filled in by you. Take care of the details like phone number, opening hours, payment methods, physical address, and so on. Also, upload photos of your business! Of course, the most important photos are of the location itself, but having photos of your products, interiors, — even staff — matters quite a bit to Google.
After creating a nice, enticing description for your business, identify the appropriate category in which it will be listed. Be precise. "Used car dealership" and "car dealership" are two very different categories, attracting two very different types of customers.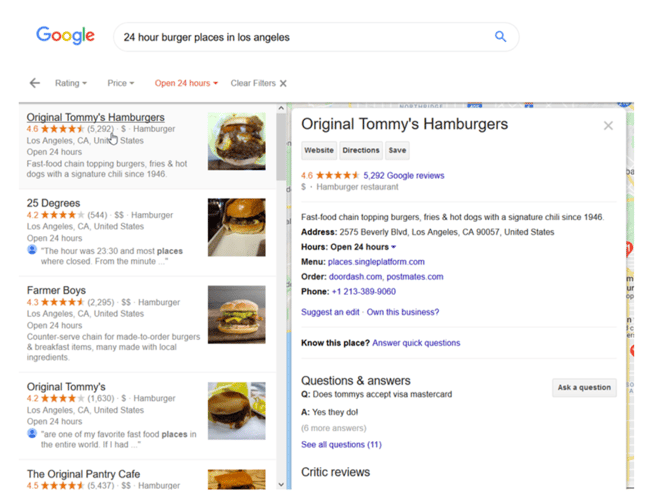 And don't forget about Google reviews
Oh, Google reviews. It's typical these days to be in line, ordering a burrito, only to discover there's a discount if you leave a Google review. I've encountered some business managers who might feel that it's wrong, "cheap" almost, to be asking for a review.
Leave all that behind.
Google reviews are the number one most important factor for rankings. When you get five Google reviews, they will start popping up for anybody encounters your business page in search.
So, you absolutely have to make it your priority to ask for a Google review. Set up an email, have a QR code, leaflets — whatever. Be careful not to be overzealous, but do keep those gentle reminders coming because they actually help.
When those reviews do come in, be sure to engage with them! Thank the customers who leave positive reviews, and address the issues raised in the not-so-positive ones. This is important for two reasons.
First, it's crucial to solve any problem your customer might have with your product or service. Second, your potential customers should be able to see how you handle negative feedback. A thoughtful response to a negative Google review might actually convert you some clients along the way.
The priority for ranking on Google is obviously Google reviews. That said, increasing the number of your reviews on the web in general also affects your standing in Google's Local Packs.
Take Care of Your Links

Ever since Google rolled out what is called a Pigeon update, local SEO started using more of the same ranking signals as regular SEO. That means that now the backlinks are just as important for local SEO as they are for your non-local campaigns.
The relative weight of your page, in relation to backlinks, is one of, if not the most, important ranking factors. For Local SEO, backlinks are easily the second most important factors for your rankings. So make it a priority to find important, relevant links.
PageRank is as pertinent now as it's ever been to rankings. This is why building a great backlink profile should be at the top of any marketer's agenda. As always, your backlink profile is an equilibrium between link quantity and quality. Obviously, more links are better, but high-quality links are better still.
Managing your website's backlinks is not an easy task, which is why you should be using a tool. I am, in fact, the creator of one such tool called SEO SpyGlass, and since I obviously have the most experience working with it, I can vouch for its functionality.
SEO SpyGlass allows you to see the domains linking back to you, giving you the opportunity to add your local competitors and see who links back to them.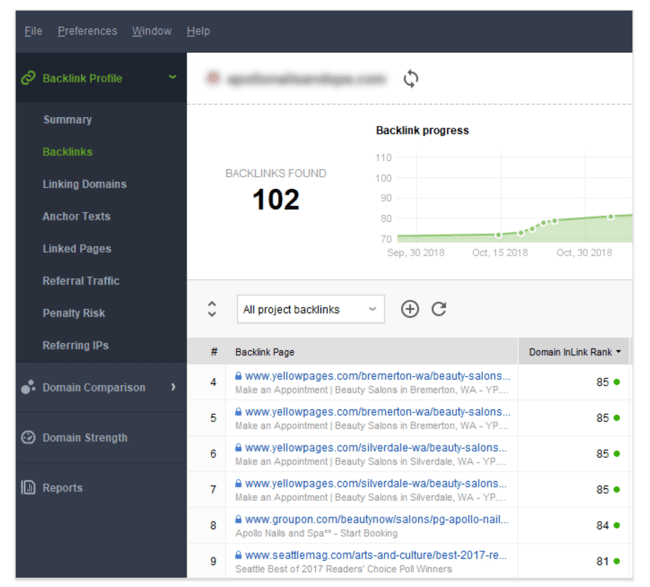 After that, you know the drill. Start guest posting on the relevant websites and blogs. Do an outreach campaign for local influencers. It's always a good idea for local rankings to create content related to local events, too.
And don't forget about the unlinked mentions
Don't limit your research to just your backlinks. Make it a priority to also monitor your unlinked mentions with a social listening tool. This will allow you to see who's talking about you on the web, and in what context. As you well know, most people talking about your business don't really bother with a link.
Right now, there are hundreds of people talking about your business online, and yet you probably know nothing about it. Using a tool like Awario, Tweetdeck, or Brandwatch, you'll get to see thousands of mentions of your brand all over the web. Addressing the people actually talking about your business will allow you to control your brand image in a very direct way.
Audit Your Website

After the already-mentioned Pigeon update, traditional on-page optimization became a vital metric for local rankings. So, running a proper audit should be a top priority for anybody looking to rank. Fixing your h1 tags, minimizing the 3xx pages, taking care of the 4xx pages — all of that is paramount for ranking.
Specifically, pay attention to the pages that are already ranking well. See what keywords your pages already rank for and, if your tool allows, see what keywords are used by your competitors as well.
Place valuable keywords wisely throughout your HTML tags, but be careful not to overdo it. There are penalties for keyword stuffing, of course. That said, a properly-optimized page that is also written for actual human beings will have a much higher chance of getting into the Local Pack.
And track your local rankings
Of course, after all that effort you should actually go and check your rankings. Any business benefits from learning how they rank in different areas of their country, city, or even neighborhood of operations. We all know that SEO is not limited to only improving the content and link building.
Sometimes, as prosaic as it is, a business fails to rank locally simply because there is not enough of a customer base in that location. A problem like that can only be diagnosed by looking up SERPs for different areas for which you want to do business.
Both Maps and Local Pack results are extremely location sensitive. Always keep that in mind while doing your research. In order to verify that your business shows up for the right locations within a city, the search should be narrowed down to a specific street address.
There's the easy way and there's the hard way to look up localized search results.
First, you can do it by adjusting your Google Search settings, or using a proxy, or a VPN. Though if you want to look up your rankings on a street-by-street basis, you need to go a little deeper.
In Chrome, go to Tools > Developer Tools, then click on the 3-dot icon. From there, it's More Tools > Sensors. Then, in the dropdown for geolocation, select the option Other and enter your coordinates. Then all you'll have to do is run a search and see the rankings for the location you've specified.
Now, does that sound more like the easy way or the hard way?
An easy way to do it, as it is with everything since chopping down trees, would be to use a tool (e.g. Rank Tracker). By getting specialized software, you'll be able to put in the location you want and automatically get whatever results you require. For details on how to see Google search results for different locations (both manually and using tools), check out this guide at Search Engine Journal.
Making It Work
A decade ago, local SEO was a completely separate thing from the "usual" SEO. Nowadays, everything is different. Search engines are perfecting the art of providing their users with extremely specific results. Never again will you, living in Seattle, get Brazilian keyword-stuffed websites after looking up "buy bike".
Instead, you will see a Local Pack, with reviews, ranks, addresses, phone numbers, and pictures. And the businesses will be conveniently marked on Google Maps. In that environment, any business that wants to grow has to do local SEO.
If you aren't in that Local Pack, there's a good chance your clients will never find you at all. The more I work, the more I'm assured of the fact that in 2020, every search is a local search. And optimizing for it is the only way to go.