Hello, and welcome to another edition of Tutorial Tuesday here on Linkarati! Each Tuesday, we thoroughly dissect an individual link building process. This week, I will be talking about how to find your competitors' top performing pages using Open Site Explorer.
Competitor analysis is crucial to any marketing campaign, online or offline. Although of course it's imperative to create your own unique value proposition to set yourself apart from competitors, there's nothing wrong with following in the footsteps of what your competitor is doing, just as long as you're not straight-up plagiarizing them. Remember what T.S. Eliot said: "Good poets borrow, great poets steal."
If your competitor is outranking you in search, it's likely a result of powerful links pointing to their site that you don't have.
How are they acquiring these links? The answer is going to be different from competitor to competitor obviously. Whatever the answer, you can acquire these same links. You just need to identify them, and a good place to start is by identifying your competitors' pages that have received the most links from other influential websites.
Step One: Pick Your Competitor
This sounds easier than it actually is. I mean, what business owner doesn't know her/his competitors? However, many business owners don't consider search competitors as direct competitors. I would say that even if you are in different markets, if a company is similar enough to yours to merit similar industry links, that company is worth further analysis. Cory Collins wrote about methods to find such competitors in a different Tutorial Tuesday.

Step Two: Navigating to Open Site Explorer
For the purposes of this tutorial, I'm going to pretend that the blog I write for is my own competitor.
So let's throw Linkarati into Open Site Explorer.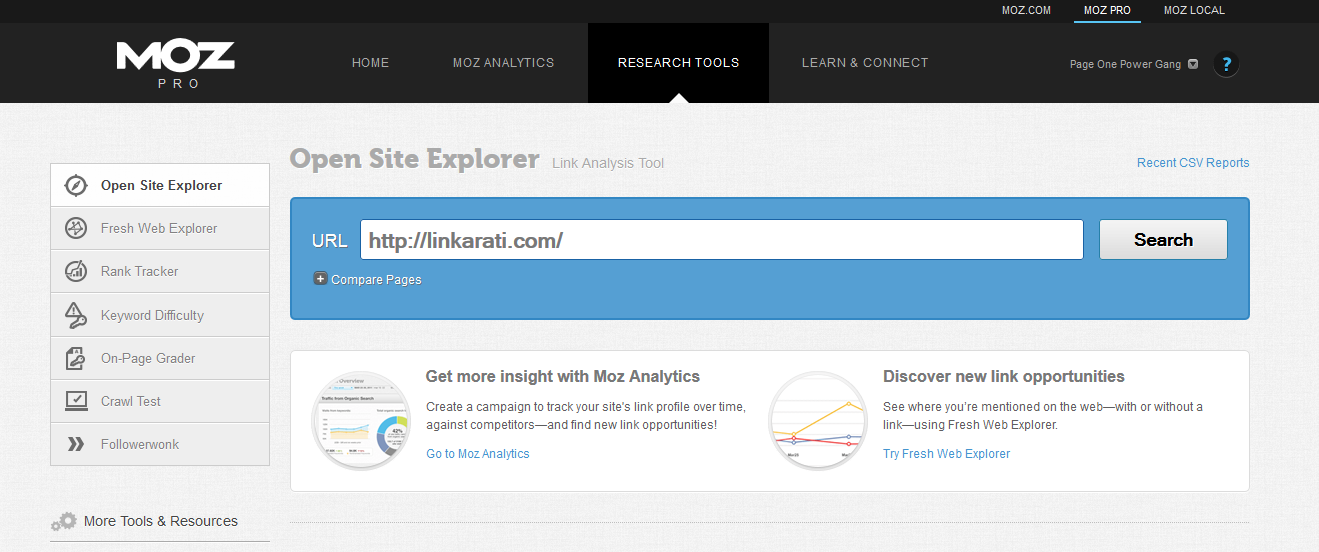 Open Site Explorer (OSE) is a tool provided by Moz, a tool which will allow you to thoroughly analyze the backlink portfolio (and more) of just about any site you choose. As of September 19 of this year, OSE has indexed 137 billion URLs. It's a highly valuable tool. It comes at a price, however. If you want to run more than three reports a day, you must be a subscriber to Moz Pro to use it. Membership cost ranges from 99 dollars per month to the premium service of 599 dollars per month, depending on how often you plan on using the tools provided by Pro. Those other tools include:

The dashboard is pretty awesome too.
Step Three: Analyzing the Top Pages
When you enter a site into OSE, it will return a page that looks like this: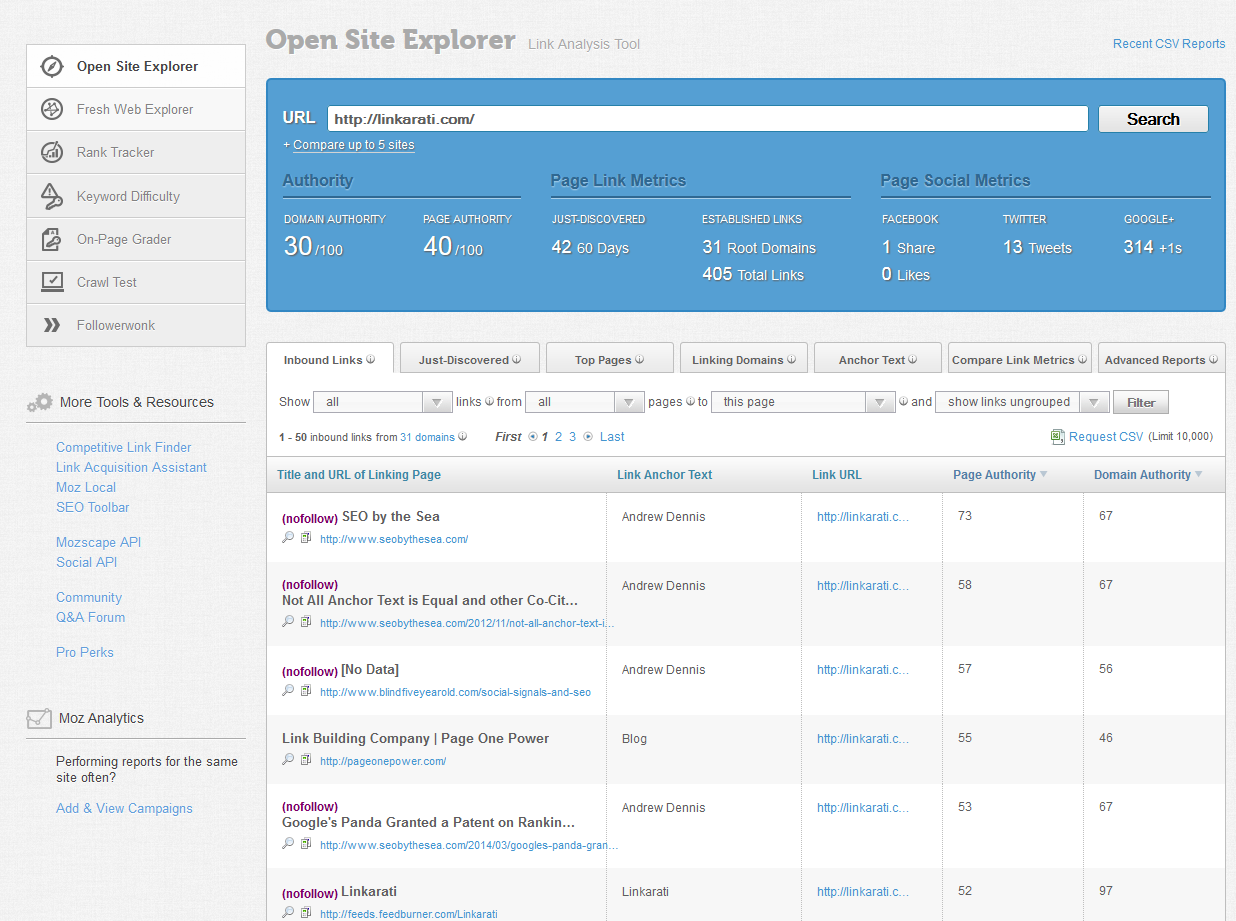 This report displays every link that points to the home page of the very blog you're reading. Typically, this is extraordinarily useful, but for our purposes, this is not the page you want. The page you want is one click away.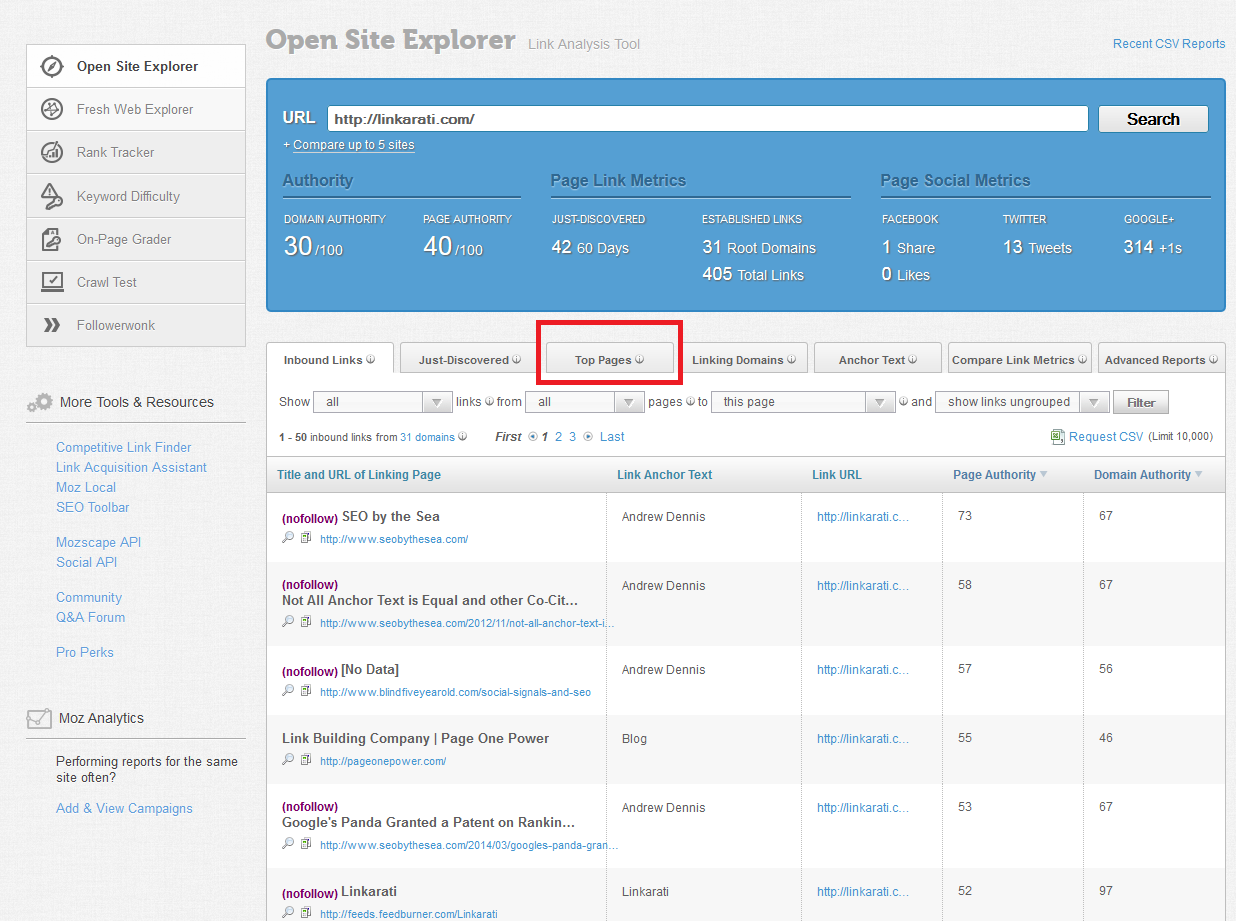 By clicking on the highlighted tab at the top, OSE will spit back a ranking of the best pages on the site you're examining.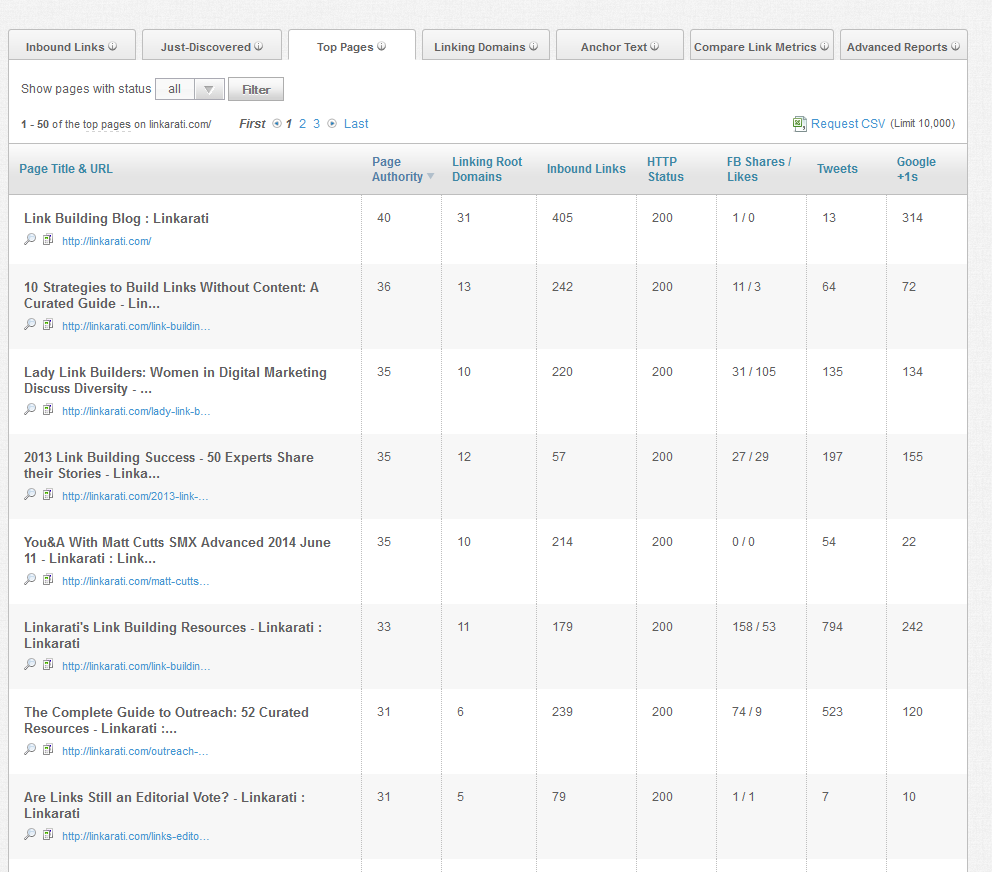 This list is ranked on the metric of page authority. Page Authority is determined by a myriad of factors, including linking root domains, MozTrust, etc. It is intended to predict how well a page would rank in search engines, and is scored on a scale of 1-100 (100 is the best). Right now, Linkarati doesn't have any pages over 50. Hey, we're still young.
It's hardly uncommon for the first result to be a site's home page. You can learn a lot from your competitor's home page, but we're looking for top-performing content, resources and product pages. This stuff will rarely be found on a home page.
The second result on this report is our curated guide about how to build links without content. Indeed, this resource was one of the biggest traffic successes this site has ever experienced, and it remains one of our most visited pages. It consistently ranks in the daily top five of page views for our site.
Step Four: The Export Process
As you can see, OSE provides more than the page authority. It provides
Linking root domains
Inbound links
HTTP status
Facebook shares/likes
Tweets
Google +1s
So maybe just maybe you're not particularly interested in Moz' ascribed page authority. Maybe you want to look at links specifically. Cool. I would suggest working with linking root domains, as opposed to inbound links. The former is in my opinion a far better indicator of value. Let's say page A has fifty more links than page B, but all of those links for page A are from the same domain. That's not an indication of value: that's an indication of one webmaster who was inordinately jazzed by that one piece of content.
OSE does not return results ranked by either option however. In fact, the only way you can sort this report on the OSE platform itself is by the page authority.
If you are indeed more interested in linking root domains and you would find it more convenient to sort the report by those domains, there is a way.
At the top right corner of the report, there is a button that allows you to export all of the information into an Excel doc.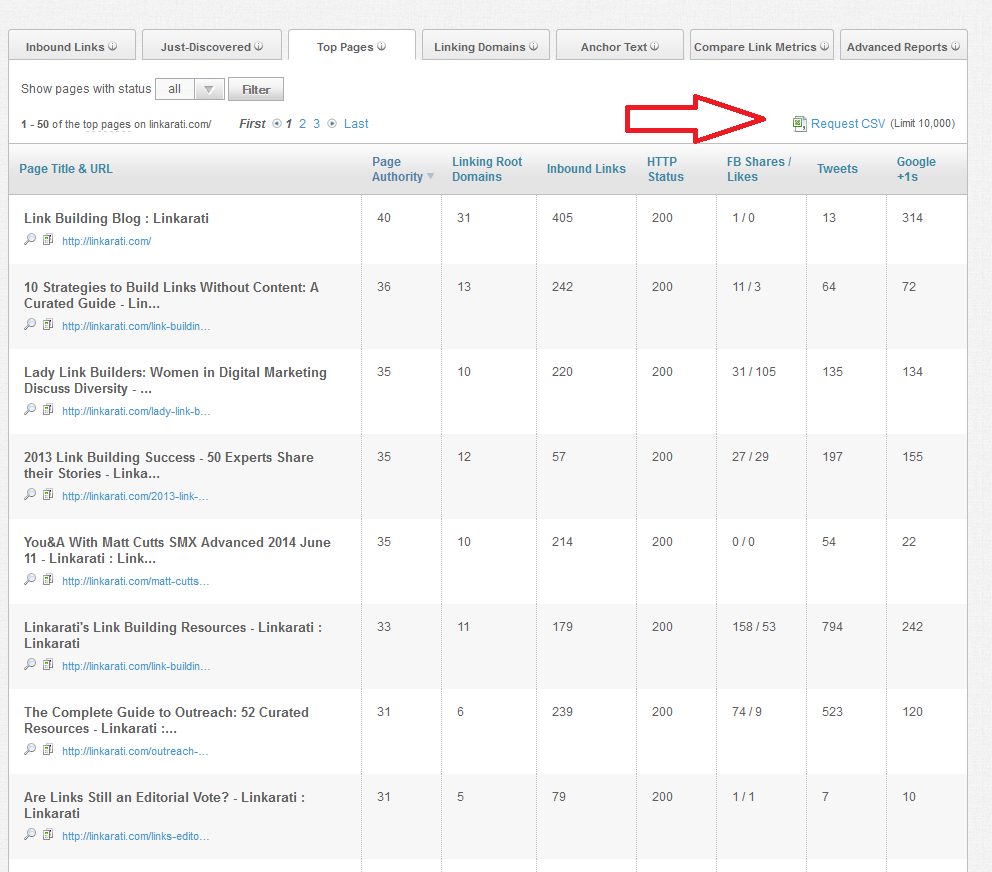 Be patient: the export can take up to fifteen minutes. Once the time has elapsed, however, you have your very own Excel doc that you can do whatever you want with.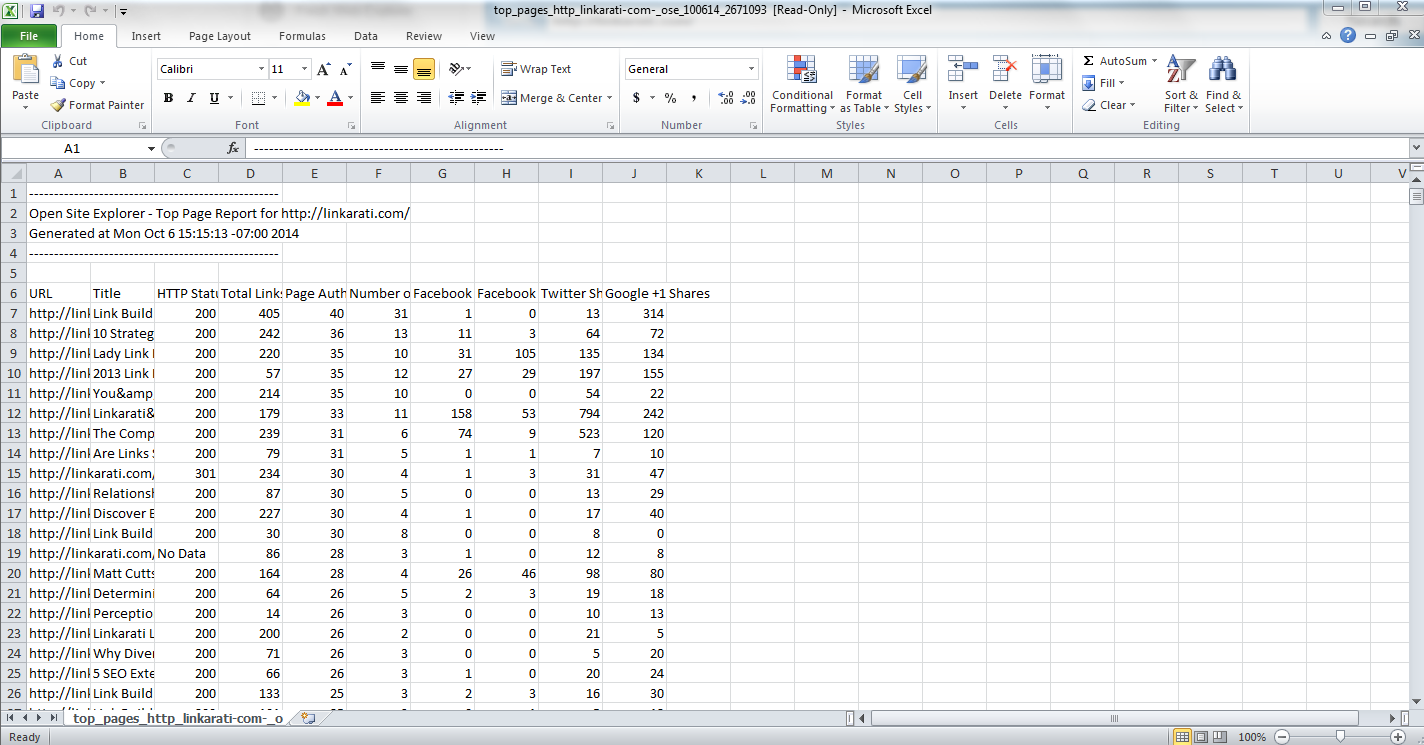 Step Five: Organizing Data the Way You Want
In this exported doc, Excel sorts by the same metric that OSE did: page authority. Unlike OSE, you can wield your magical customizing fingers over it.
If you wanted to sort this sheet by linking root domains, highlight all of the cells by clicking on the top left corner.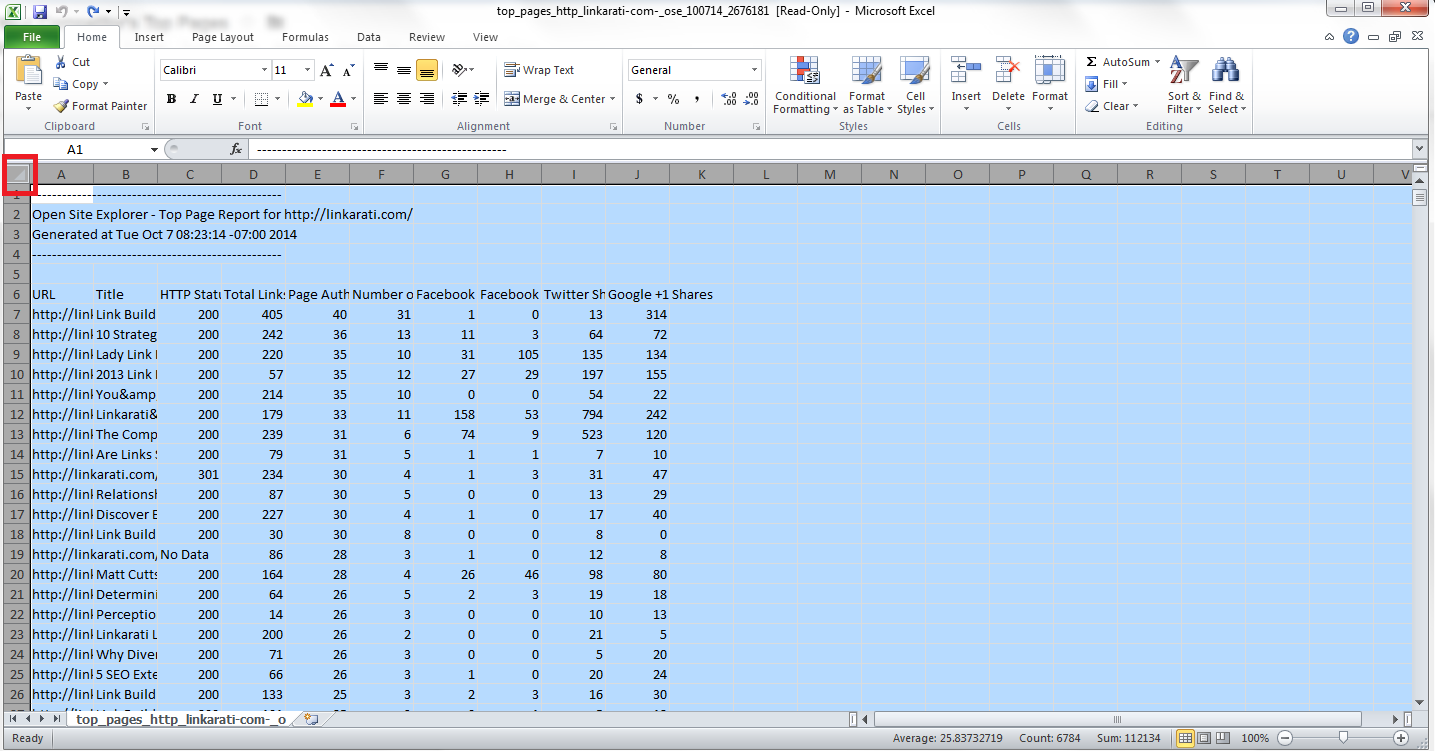 Once all the cells are highlighted, click on the "Sort & Filter" tab to be found on the top right.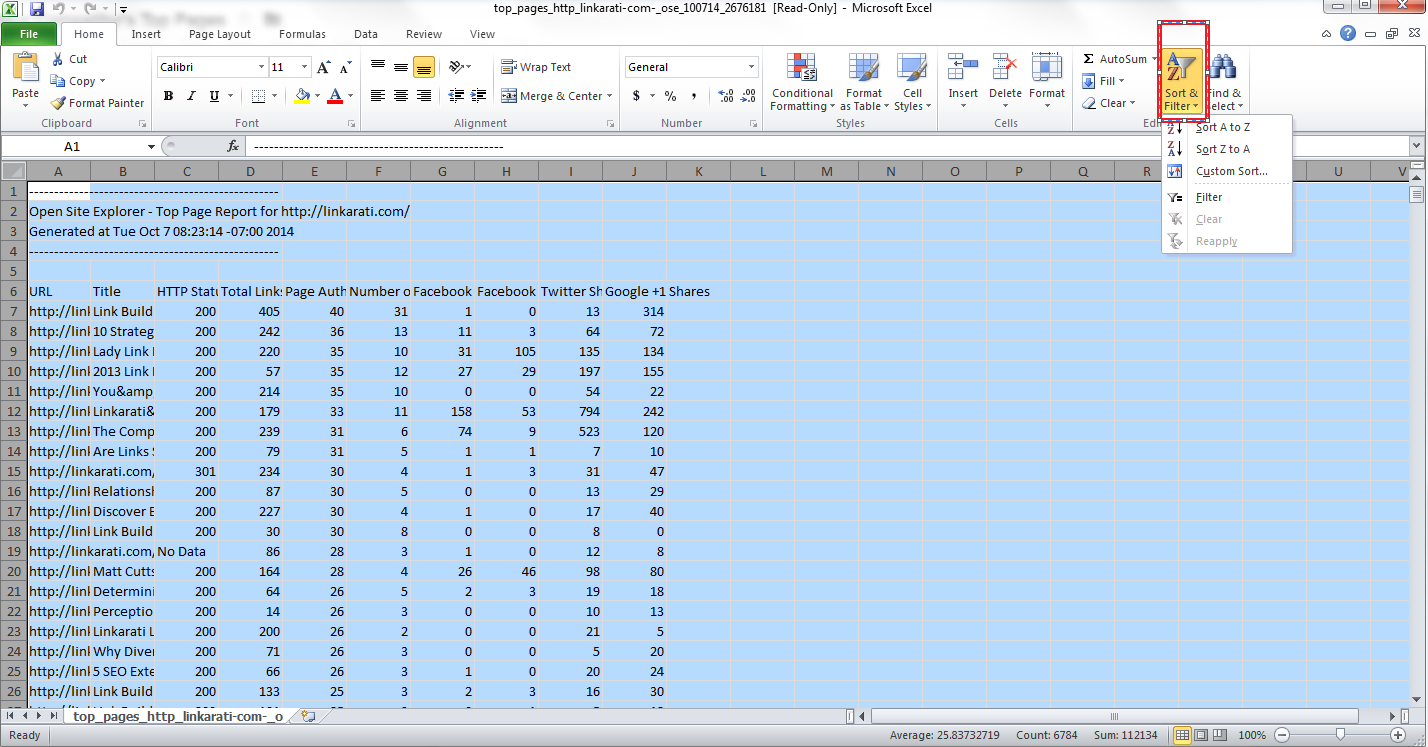 Click on the filter option, the fourth option on the dropdown. When you do that, dropdown icons will appear at the top of every column. Click on that icon at the top of column f (number of linking root domains).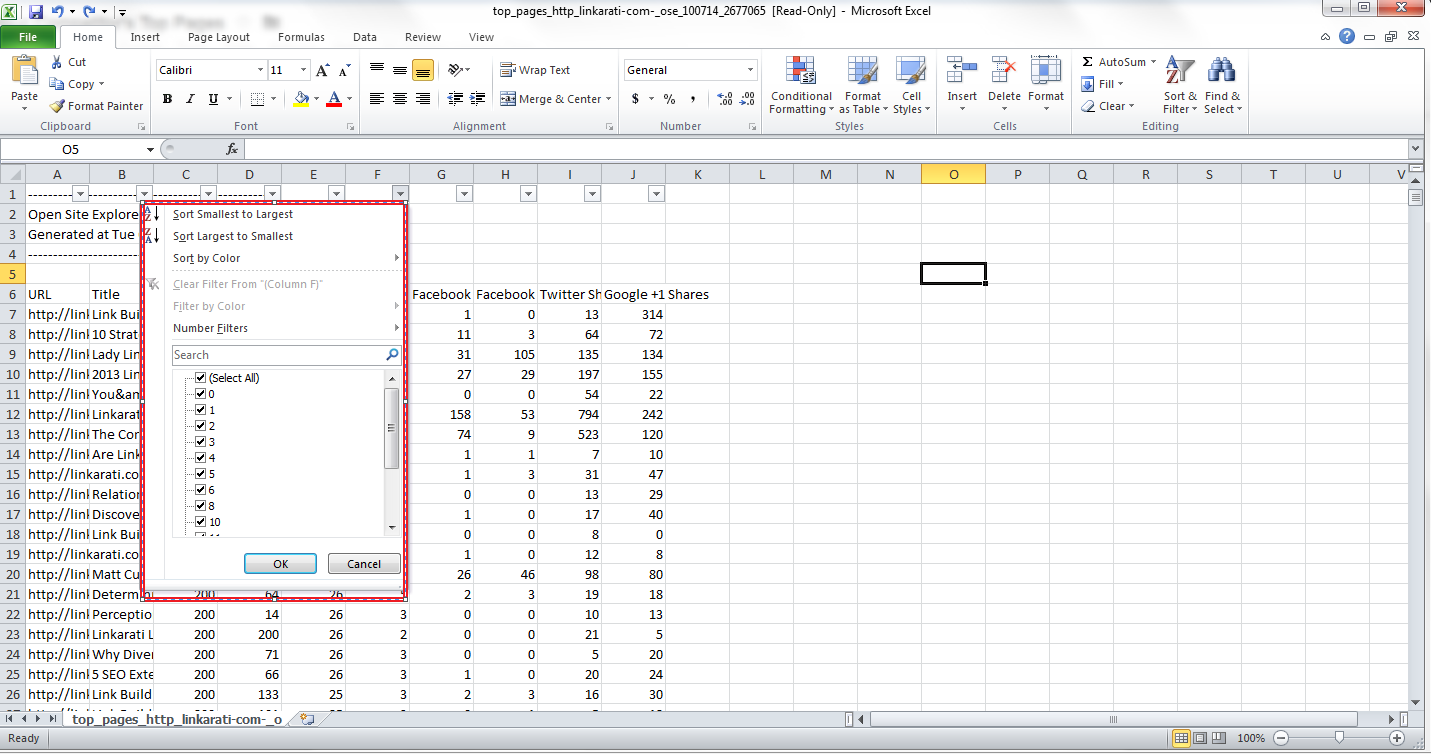 Click on the second option, "Sort Largest to Smallest."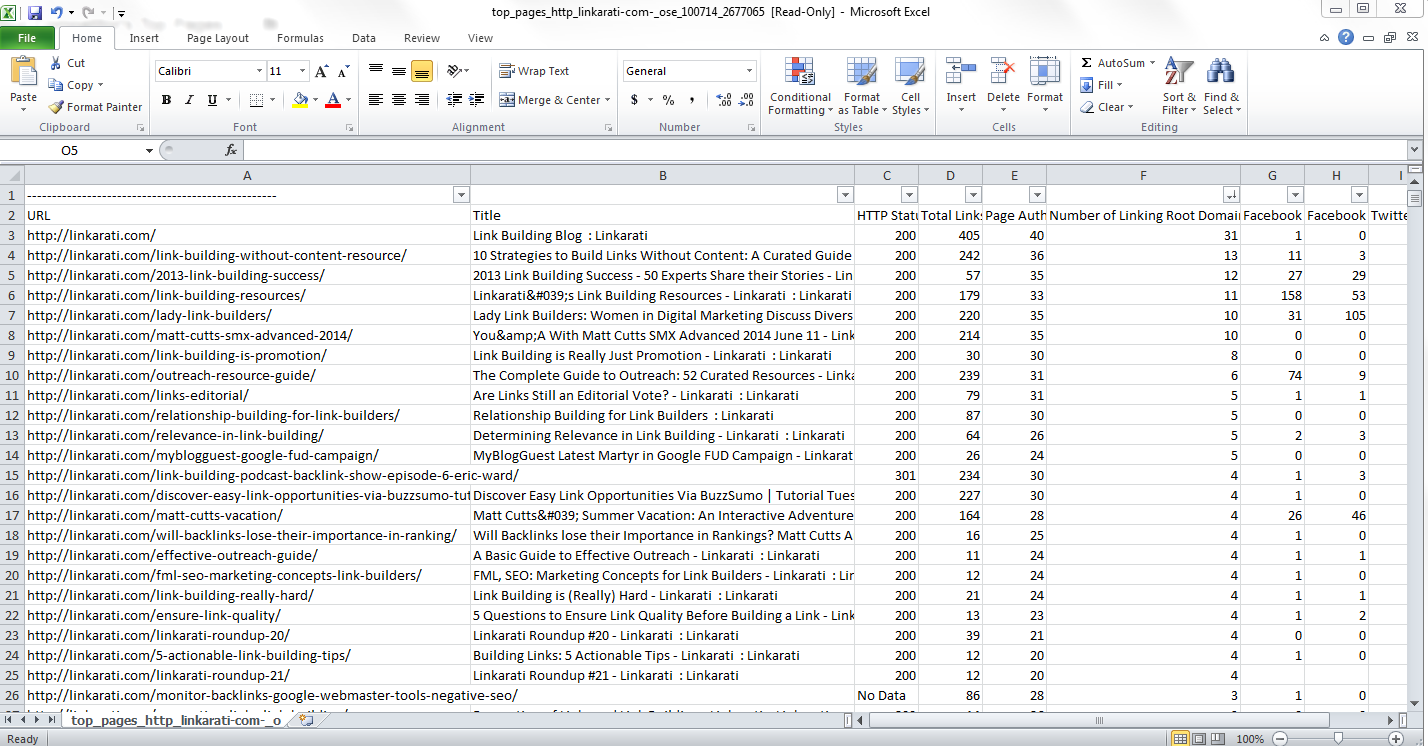 And there you have it! By expanding the columns, you will find that our home page has the most linking root domains: our aforementioned curated guide ranks second.
Step Six: Content Ideation
So you have all of your competitor's top performing onsite pages, the pages that have attained the highest levels of visibility, and you have them customized just the way you want. So… now what?
Now comes the ideation process. So you're competitor put together a resource guide that earned a lot of links and shares. Great, that gap's been filled. You can't just simply replicate everything your competitor did and pass it off as your own. We're no Carlos Mencias in SEO (or at least we should aspire not to be). You CAN improve upon your competitor, and attract more links than they did originally. Brian Dean refers to this as the Skyscraper Technique.
A lot of people go about the content ideation process differently. There's no one correct way, and I would always urge you to simply go with what feels right for you. But if you're really struggling to conjure up ideas for new content, OSE can be useful for ideation as well it turns out.
Conclusion
No one person or entity has all the right answers or best ideas. What's even more annoying is that your competitors are inevitably going to come up with some strategies and and ideas that are going to leave you awestruck and asking, "Why on earth didn't I think of that?" Rather than sulk and let your competitor reap the rewards, there's no reason you can't expand upon your competitors' successful ways. Open Site Explorer allows you to do this.
I'm a big fan of Open Site Explorer for a multitude of reasons. Rarely does a work day pass when I don't use it. It's effective for conducting a thorough backlink analysis, for content ideation, and it's a valuable tool in the competitor research utility belt.