Editor's Note: Today's post comes from Connor Bonam, SEO Strategist at Dealer Inspire. Connor discusses whether or not there is such a thing as "bad organic traffic".
Let's find out what he thinks!
No.
We've been fielding an increasing number of questions about whether national — or even international — organic traffic is a bad thing. The short answer is no, absolutely not. The long answer is that things are a bit more complicated.
SEO Goals From An Agency Perspective

Let's start with the basics: Considering your site, what are the primary goals of SEO? To improve rankings, get more users, earn more goal completions, and sell more products or services. That final goal is key: an agency wants to increase revenue for the client. The easiest way to do that is to reach local users who are closer to the company or service, especially for smaller local businesses like car dealerships or mom-and-pop stores.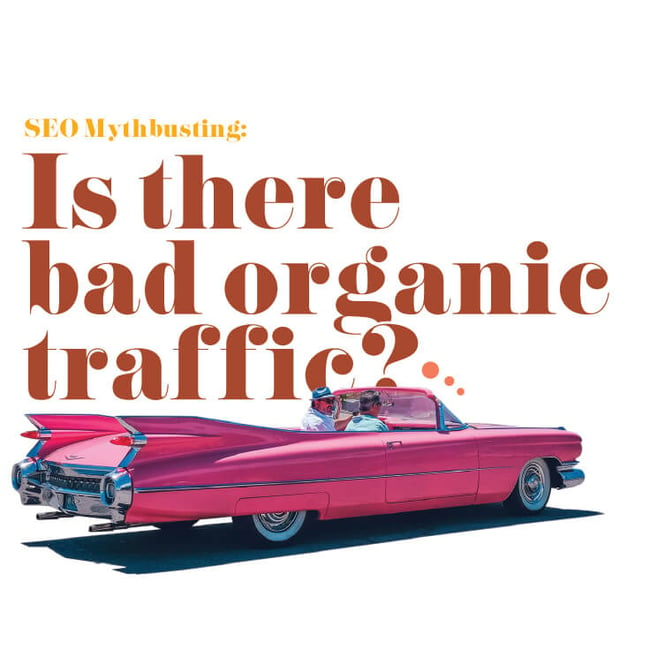 One of the best ways for a smaller business to improve rankings is through creating valuable content, with one of the quickest paths being Q&A-style content in their vertical.
No matter the industry, there are unanswered questions that potential customers are asking — and answers to those questions can bring significant results to those small local businesses. Tools like Answer the Public and forum topics in a client's industry can help an SEO find those unanswered questions to help drive traffic to a site.
It's not uncommon for a small business to answer one or more of these questions and rank nationally for them. Walla Walla Valley Honda (Walla Walla Valley Honda is a client of Dealer Inspire) has an Accord vs. Civic page that addresses common user questions with a direct and comprehensive answer, and the result is a featured snippet that's driving national traffic to that page. If this sounds to you like a clear example of a win, you're not alone, but things can quickly get blurry.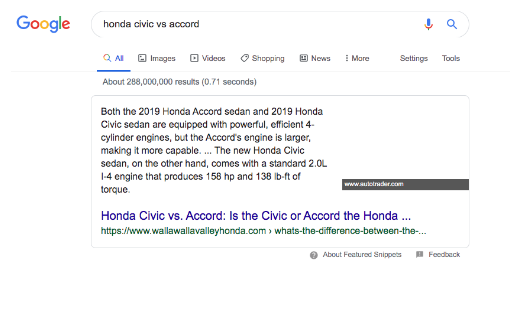 The Concern Around Nationally-Ranking Pages
From an agency perspective, a nationally-ranking page shows that we are creating content valuable enough to be shown to users well outside of a local business's customer base. It identifies the business as an authority in their field — growing trust, increasing brand awareness, and drawing traffic to the site.
While these are all wins, the concern comes from a mismatch between the goals we mentioned above and the primary goal of the business: to sell more products or services.
The "concern" around nationally-ranking pages comes from the business's perspective. A local business might see they are getting traffic from the other side of the country and be concerned that search engines are confusing where they are and who their customers are. Worse still, what if the search engines are no longer showing the business's site to their relevant, local users?
Pages That Rank Nationally Also Rank Locally
This might seem silly to point out, but the pages that rank nationally also have the same position locally. We reviewed a group of different pages that are ranking number one nationally and found that they are in the same position when looking at the top 3 target cities for the business.
Again, this is not earth-shattering information, but it's important to remind clients concerned about national traffic that their local customers and users are also looking for the same information — and it's valuable for users to see those answers come from their business.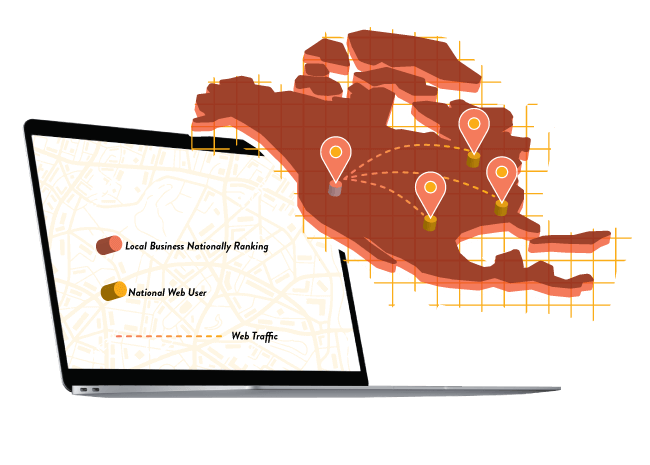 Expertise, authority, and trust are too often dismissed or ignored by smaller businesses despite Google's insistence on their importance as ranking factors. In addition to highlighting how nationally-ranking pages rank locally, it can be helpful to make an analogy to something more familiar. Point to the reputation of The New York Times or The Washington Post, and how trust in their expertise and in their answers has allowed them to retain readers and survive in the digital age.
A client ranking nationally, showing up in position 1 or position 0 in the SERPs, can help them build trust with users and establish a brand awareness that extends beyond that single ranking. Users will continue to trust their site and come to them first when shopping for their product.
Nationally-Ranking Pages Grow Returning Users
Trust matters for SEO. When users get that answer they are looking for, they are much more likely to return to that site when they are ready to make a purchase. When studying the sites from the group of nationally-ranking pages above, we found a 36% increase in returning users after the nationally-ranking page was published.
Returning users aren't just nice to have; they're much more valuable for a site. AnalyticsEdge.com says,
"Numerous studies have shown that websites tend to have more new visitors and fewer returning visitors. But the returning visitors tend to have a higher engagement — they bounce less, view more pages per session, and have higher session durations. They also tend to have higher conversion rates and higher sales…much higher. This makes us want more returning visitors."
More National Traffic Equals More Local Traffic
Ranking in position 1 or position 0 nationally will bring more traffic from outside a client's local customer base, but it should also bring increased levels of local traffic. When reviewing data for nationally-ranking pages and the sites they belong to, we found that they resulted in a:
100% average increase in organic entrances to the site after the page went live
272% average increase in out-of-state traffic to the site after the page went live
21% average increase in in-state site entrances after the page went live
Conversions Remain Relevant and Local
National traffic doesn't convert the way local traffic does. Part of keeping a client's name, address, and phone number consistent is keeping it visible; the average Internet user knows when they land on a small business's site and when that site is not local to the user. The address is right there, the phone number will often be in a different area code, and many small businesses have their location in their name (like Walla Walla Valley Honda). This means users aren't likely to fill out a form or request a service unless they're close enough to the business.
When reviewing the nationally-ranking pages and sites we mentioned:
91% of total page entrances were from out-of-state users
8% of total page entrances were from in-state users
27% of total conversions were from out-of-state users
72% of total conversions were from in-state users
While a majority of sessions to those pages were from out-of-state users, a majority of goal completions during that time were from in-state users.
The only annoying thing to come from a nationally-ranking page might be a slight bounce rate increase as well as a few forms from someone unaware of where the business is actually located. Depending on the type of business, forms from somewhere far away might not even be an issue.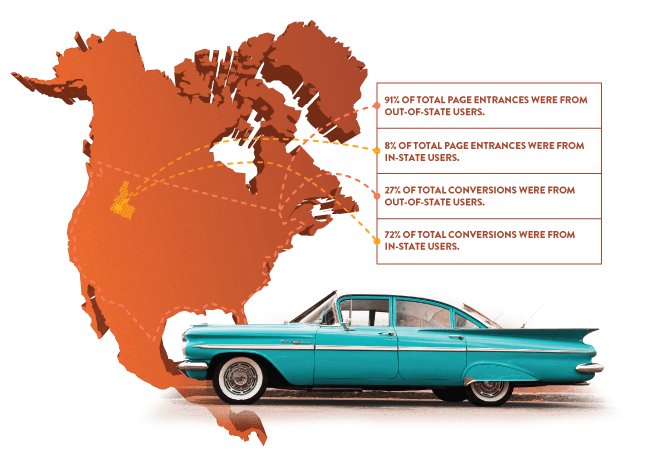 The true benefit of nationally-ranking pages is a 100% increase in organic entrances, a 36% increase in returning users, a 33% increase in local goal completions, and an increase in the authority of the site.
Sounds Good? How Does One Get These National Rankings?
Now that we've covered how nationally-ranking pages can be good — even essential — for small businesses, it's time to review the best way to get those position 1 and position 0 spots in the SERPs. The best tools to find those questions people are asking are:
SEMrush Keyword Magic Tool, set to questions
Answer the Public offers up all variations on a question, making it an ideal starting point for content ideation.
Without search volume or keyword difficulty though, an SEO's next step should be to head to a familiar tool like SEMrush or Ahrefs. These tools, and others like them, can provide you a keyword difficulty (how hard it is to win that number 1 ranking) and a search volume (how many people are searching for that keyword) so you can be confident those questions are worth targeting.
This is just the beginning of the research step, however. Even if you are a subject matter expert in the field you're working in, it can be incredibly beneficial to visit online communities to see the questions being asked and the answers being offered and accepted. This tier of research can bring up valid answers that may not be showing up in the SERPs at all.
Once you've got your question and have thoroughly researched your answer, it's time to write. Your H1 and title tag should be that question (or the answer to the implied question), and it's imperative that you make it 100% clear to search engines that you have the answer to this valuable question.
Your introduction should lay out the answer clearly and be as direct as possible. In some rare cases you might be finished at this point, but typically you'll have a few other header tags (H2s, H3s, etc.) that expand the scope of the topic.
You also may need to dive into variations on your answer or offer additional context. If your business has a relevant call to action — to schedule an oil change on a blog about how often you really need to change your oil — a link to a contact form can satisfy a user's needs and keep them on-site.
Otherwise, it can be helpful to have relevant links to other topics on your site to hopefully mitigate any damage to your bounce rate.
Now, go on and answer those questions, get that traffic looking for answers, and don't be worried about traffic not being "close" to your physical location.