Hello everyone! With cooler nights and changing leaves comes our next issue of PAGES SEO Magazine!
We're excited to be closing out the year with the biggest issue of PAGES yet, full of exclusive articles from some very special contributors — let's take a look.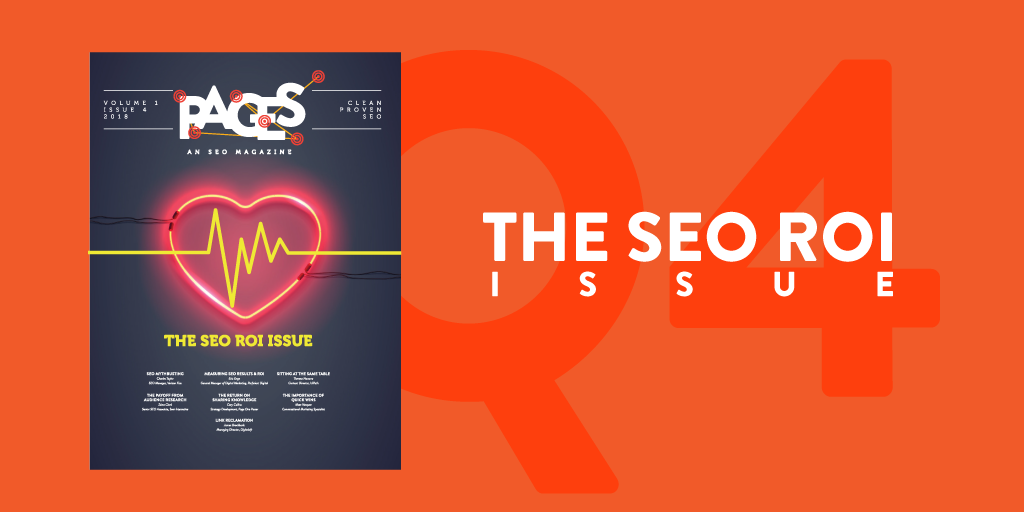 This issue of PAGES is focused on the ROI of SEO. We hope the articles inside help you get closer to the answer to the question, "What are you getting out of your investment in digital marketing?"
Optimization isn't limited to the performance of a website — it's also a big part of any successful marketing campaign. Most simply, it's about making the most of your resources. This issue of PAGES will help you get the most from what you put in.
Here are the contributors to Issue #4 of PAGES:
On this list, we're excited to feature several new contributors and one returning author.
Here's a sneak peek of what you can expect to learn in this issue:
Get an accurate way to measure the real ROI of SEO.

Impress your team with SEO quick wins that will keep them bought in for the long haul.

Start building connections with a link building method that's a tried and true path to success.

Try out a workflow model for aligning your content marketing and SEO teams to work better together.

Learn how to dive deeper into SEO "facts" to get to the truth of what impacts site performance.

Find out what you can learn from talking to your audience — and how it can improve your SEO strategy.

Discover the key to practicing SEO that earns returns long after the campaign term has ended.
These articles include tactical advice, case studies, and models for understanding the impact SEO has on your bottom line.
For more details on the contributors and the articles in this issue of PAGES, check out a full write up about Issue #4 over on the new PAGES blog.
You can also get subscribed to PAGES on the site — if you hurry, you might get on the list while print copies of Issue #4 are still available!
In other PAGES news, if you'll be attending SMX East later this month, don't forget to say hi to our Editor-in-Chief Joe Oliver. He'll be manning booth #100 to represent the PAGES team, hand out some copies of Issue #4, and answer your questions.
We're also excited to announce a shift in the format of PAGES! In the next issue, we won't be focused on one topic — instead, we'll be covering a range of SEO topics: from content, links, and technical SEO, to integration with your broader digital marketing strategies and SEO results. If you'd like to write for one of our next issues, you can find information on how to contribute over on the PAGES site.
We hope you enjoy this issue of PAGES, and can't wait to hear what you think once your issue arrives! Don't forget to share your thoughts on social by using the tag #pagesSEOmagazine or @pagesSEOmag.
See you next time!