Hello again all, it's time to announce another issue of PAGES!
Issue #6 is fresh off the press and about to start heading to mailboxes.
We can't wait for you to get your hands on this issue! It features some of the most unique stories we've sourced so far, from international SEO tips, to testing culturally-relevant rumors about bias in Google's results, to a story about one marketer who's working hard to get search marketing on university lesson plans.

Let's jump in!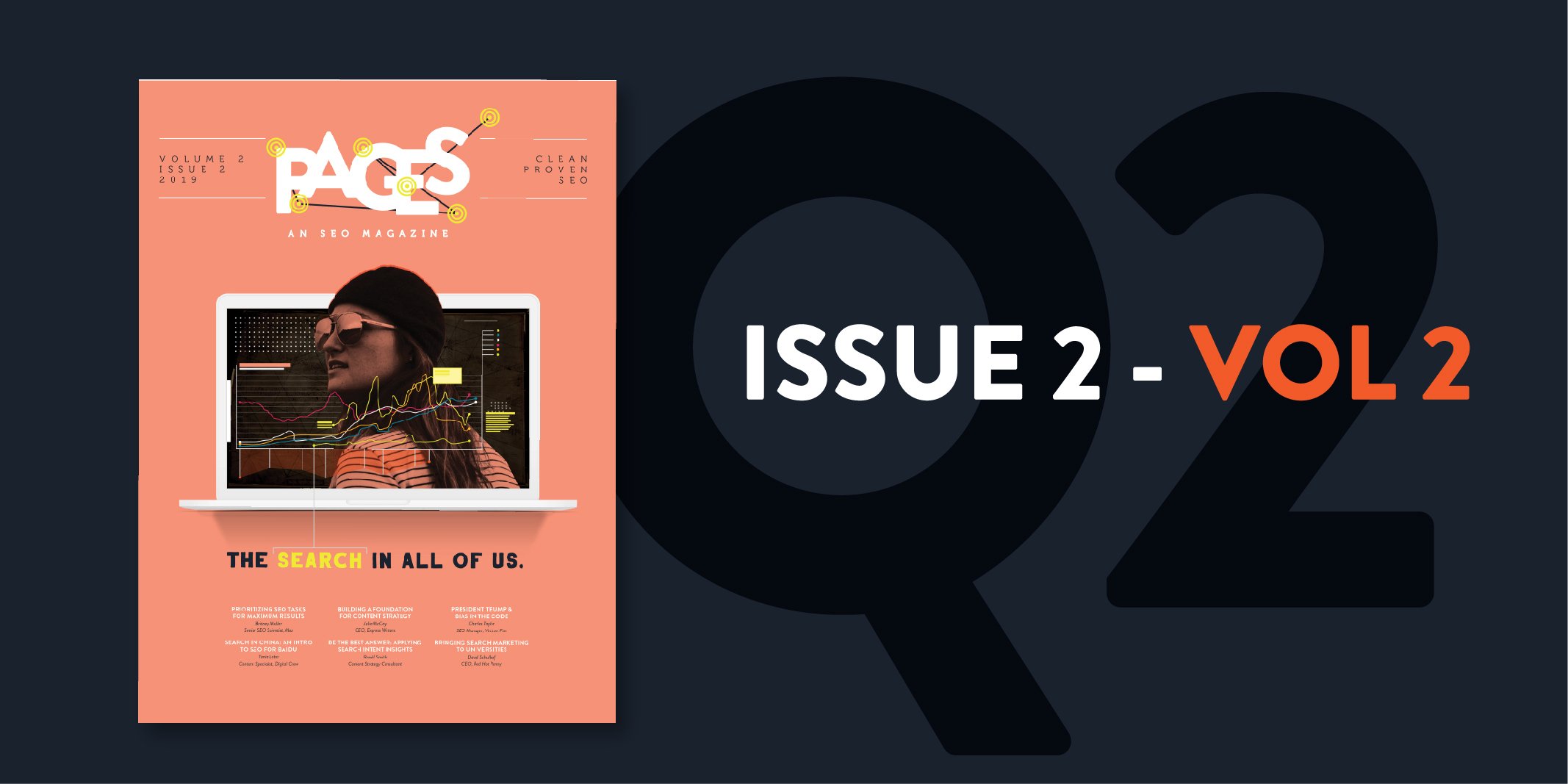 Issue #6
This issue features a variety of writers with a wide range of specialties in the search marketing field.
Here are our contributors to Issue #6 of PAGES:
The stories in guides in this issue range a wide variety of topics — from practical, actionable tips for digital marketing managers and SEO specialists, to stories about the ways we can make SEO better.
Get subscribed to PAGES for free on our website!
On the PAGES blog, you'll also find more details about our contributors, as well as blog versions of articles from past Issue #5 in the coming weeks.
Get Involved With the Mission
Our mission is to help marketers get more from search.
We do this through stories and guides in PAGES magazine and on our website, and through conversations with our contributors on our podcast Between the Pages, hosted by Editor-in-Chief Joe Oliver.
If you'd like to help elevate conversations about SEO, feel free to reach out to me! We accept pitches from anyone with a passion for search marketing who want to share what they know.
Find more information on how to contribute over on the PAGES site.
If you enjoy this issue, don't forget to share your thoughts on social by using the tag #pagesSEOmagazine or @pagesSEOmag. We appreciate the support of our subscribers — don't forget to spread the word!
An Exciting Announcement
We're also excited to share some news with our readers:
PAGES is a MozCon sponsor this year!
We cannot wait to join the Moz team in Seattle for another three days of community-building, learning, and advice from expert digital marketers.
Take a look at the speaker lineup right here — you'll see some familiar faces and names, both from current and former issues of PAGES. Keep you eye out for more folks to get added to the lineup, as there's more to come.
We'll be passing out Issue #3 of 2019 at the show, so if you'll be around, please stop by and say hi to the crew!
Thanks for staying in the loop with PAGES — we're excited to continue collaborating with the search marketing community to unique stories and perspectives to our readers. See you next time for Issue #7!