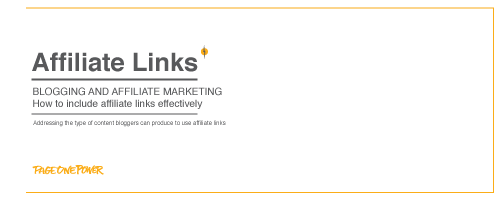 Editor's Note: Today we're pleased to feature a post from Joseph Berida. We don't talk about affiliate marketing too much here at P1P, but I liked this post for a lot of reasons. It focuses on the importance of relevancy (which carries over into every aspect of both SEO and marketing) and it gives actionable tips for making content that appeals to users/audience. It also talks about LINKS, which is why you're here in the first place. If you own a blog, give this piece a read through. Sometimes it's fun to go a bit off the beaten path.
We'd also love to know if any of our readers do any affiliate marketing stuff. Feel free to discuss in the comments.
It's no secret that blogging can be a full-time job that can rake in loads of cash. You've got Pete Cashmore, Michael Arrington, Mario Lavandeira, and all these other famous names that are now multimillionaires because of their founding of the biggest blogs in the world.
Of course, that's on the extreme end, but there are countless other bloggers out there living rather comfortably by simply posting consistently good content… with the help of a monetizing system such as advertising or affiliate marketing. This post will tackle the latter.
Read More