Editor's Note: Today's guest post comes from Jack Rivera. In this post, Jack explains why your blog might be losing its readership. But never fear-- he also tells you how to get them back! This is great stuff if you're just building a blog, or if you've been at it for a while and still haven't seen strong results.
Your blog is your most prized possession on the web and it is only proper to take care of it the best you can. Losing your audience is the last thing you want to happen since it's almost synonymous with shutting your blog down. No readers mean no reason for you to operate. But do you know why you can't control your audience' decline in number?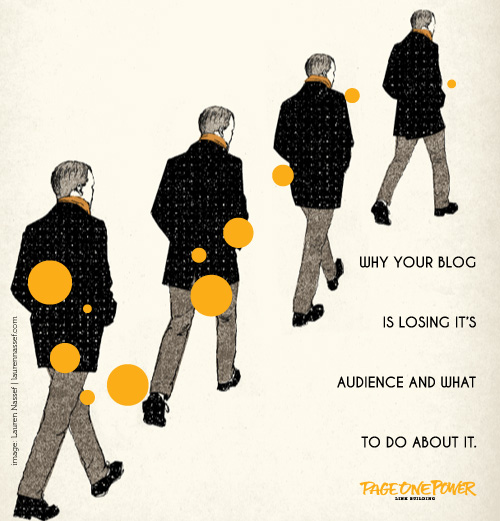 (original art by Lauren Nassef)
Why are you losing your audience?
Assess your site to see why, and check for the following tell-tale signs:
Your blog has boring content. Content that is not engaging enough, poorly-written, unoriginal, too short or too lengthy may be turning off new or returning readers.
Your audience base is not targeted. The blog's main theme doesn't seem to cater to a specific group of people, thus creating a muddled pool of content.
People are not aware of its existence. Despite what other people would have you believe, do not bank on the saying that "when you build it, they will come". Generating web traffic for your site takes planning and precision, and, no, there's no miracle involved.
It is not SEO-friendly. The web crawlers' job is to systematically check new and old sites for fresh content. If your site does not have any type of optimization mixed into it, you're going to make it harder for them to allocate a slot for you in the World Wide Web.
Your site design is outdated. Your blog may not be appealing to the palette and cannot keep up with the aesthetic standards of web design.
How to keep your audience
Does your blog fit in any of the descriptions above? If it does, don't fret—these are actionable problems. The good news is that we have these tips to help put a stop to your blog losing its audience:
1. Create interesting content
Immediately grab your audiences' attentions and reel them in. You should be able to capture them through the first few sentences and tell them to go on reading. A good intro consists of shocking or controversial arguments or facts, a thought-provoking question, or an exciting anecdote. It gives them an idea that you know what you're talking about and encourages the reader to read the body through the conclusion.
Make sure it has substance. Readers are bombarded with different kinds of content from different kinds of website presenting almost the same topics. To rise above the clutter, write from a different point of view or input new knowledge on topics other blogs have tackled before. Look for opinions from social media sites and face-to-face interaction with actual people not usually covered in the usual blog posts.
Do some research and never rely solely on your own knowledge. Consult related and authoritative websites to help you create content that kicks. It doesn't have to be too wordy but it should be rich and well thought-of.
Post regularly. Once you get a hold of your audience, never let them look for another blog to offer what you can give them. Feed them with interesting posts daily (that's the ideal), but weekly or monthly isn't a bad idea either especially when your blog is just starting out..
2. Target a specific audience
Decide who your readers should be. Are you a design blog? A blog that caters to businessmen? Know who you want to serve to know how you can approach them. If you're writing for a younger crowd, it would be best to use a less serious tone or incorporating Internet jargon or memes. A geeky or gamer audience appreciates references from their favorite comic books or movies.
3. Promote your blog
Spread awareness through social media. Social media is a powerful tool to promote your blog. Use it to engage with like-minded people and share your posts through major social media sites such as Facebook and Twitter. Follow influencers and enthusiasts from your blog's niche. Once they follow you back, they will see updates from your social media account. Use social media to encourage other bloggers to promote you as well.
Submit guest post/s to other sites connected to yours. This will add credibility for you as an author and your site as a destination. Don't forget to link to your blog either on the body of the post or in the author bio section.
4. Make it SEO-friendly
Use long-tail keywords. Long-tail keywords make searches more specific, enabling your posts to appear higher on search engines. Instead of using the keyword "smartphone models", use "top-selling smartphones of 2013." Since long-tail keywords are more specific, it is likely to appear on the top pages in Google search.
Link to good websites. Google Penguin punishes bad links that point to your website, and you should never plan on manipulating the number of links towards your website. It is pointless as it only pushes you down the rankings. Getting hit by Penguin is avoidable if you are cautious when guest posting.
Submit guest post to reputable sites that share the same niche as your blog, and avoid links from pornographic, gambling, drug-related websites.
5. Do not neglect the design
Give it a minimalist and responsive design. Web design is important as it is the first thing that your visitors notice when they arrive at your blog. If it appears cluttered and disorganized, they will not think twice about leaving your page. Make it appealing, use the right colors, text, spacing, and positioning to provide better aesthetic value to your readers.
All it takes to bring back your lost audience is to constantly upgrade your blog to better serve their needs. Your audience is important- make them go back for more.
Did it help you improve your blog's features? Do not forget to write a comment below!