Editor's Note: Today's guest post comes from Morrys Sarmiento. Morrys sent me some great outreach with an even greater Terminator reference, so me publishing his post was basically a sure bet. In this post, he outlines some of the essential, easy-to-do basics of on page SEO. If you're an SEO die hard, browse through and see if anything sticks-- but if you're just getting started or building your website, take notes on every detail.
Establishing a well-designed, functional website is not enough for your marketing or other business purposes. The web has become an arena where search rankings are being highly contested by different organizations and entities, and Google's evolution just made things a lot tougher.
When you enter a query in the search bar, the search engine doesn't really search the whole web – it searches its index of the web. All search engines like Google employ the use of algorithm that use "crawlers" or "spiders" that systematically browses the web to give you the most relevant results to your queries.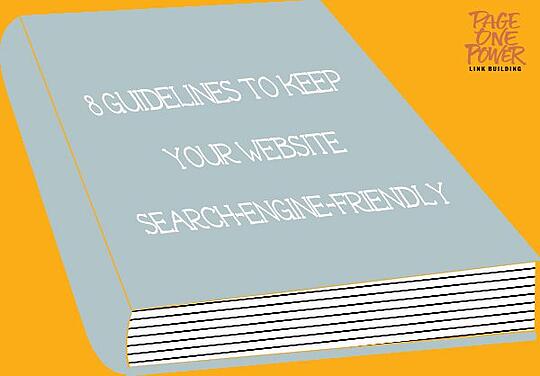 To get the most out of the effort you spent on creating your beautiful and functional website, it's important to help the crawlers understand what your site is all about by following a few key guidelines and procedures. Ranking high in their results is always a sure way of sending traffic back to your site, and making the crawlers' job easier is the way to do it. Here are some things to keep in mind for making your site search engine-friendly.
1. Create Relevant Content
The purpose of Google's many updates is basically to improve user experience by displaying more relevant and accurate results. Google has some mad hate on site owners who employ black hat SEO tactics like keyword stuffing and invisible text to cheat their way to the top of search results.
Google's newest update, "Hummingbird," allows the search engine to process whole queries that sound more conversational than segmented keywords. The new update doesn't really have much effect on SEO, just so long as you follow their guideline of providing relevant and useful content that's actually worth showing to end users. Always make sure to provide useful information that's accurately in line with your topic.
2. Get Other Sites to Link to you
Crawlers browse the web by following the links on the websites they visit. The more authoritative sites that link back to you, the higher your authority builds. That authority makes your site more relevant and credible in the "eyes" of search engines. Produce quality content that persuades influencers to link back to your site for borrowing your content.
Be wary though because Google has ways of knowing whether a link actually adds some value to the content or not.
3. Use Keywords
Keywords are still very important components of a site since it tells the crawlers what your content is all about. This is still relevant even after the release of the Hummingbird, which is meant to process long-tail search terms. Here are some of the best positions to place your keywords, but don't go overboard and put too many:
Alt Text
Title Attribute on Links
Main Website Copy
Internal Links
Footer Links
URLs
File/folder Names
Navigation
Breadcrumb Trails
H1, H2 and H3 Tags
Bullet Points
Title Tag
Meta Description and Keywords
Website Slogans
4. Use Headings
A neat layout and structure of a website is visually pleasing to readers, as it doesn't clog the readers' eyes with blocks of words, and a neat layout makes the text easier to read for crawlers too.
Headings tell readers what a particular segment of texts is about, and that goes the same for search engines. Also, one of the amazing things about search engines is that they recognize hierarchy – the bigger the heading is, the more important it is.
5. Use Crawler-friendly Image Names
There are certain things that really can't be explained by words. Suppose a user wanted to know what the color "dark blue" looks like and typed it in the query. The top results will show IMDB.com's (Internet Movie Database) links to the 2002 Ron Shelton movie and the Danny Cannon television series that aired from 2009-2010. But if you search the same query at Google Images, it will show you pictures of what the actual color would look like.
One of the limitations of search engines is that it cannot see images; hence the basis for its results is the image name. Change your image's name into something relevant and descriptive. Darkblue001.jpg would surely have a bigger chance of being spotted than Image001.jpg.
6. Use SEO-friendly URLs
It is important for e-Commerce owners to have a site that supports dynamic URLs, as it affects their website's search engine results. It's also important for any website owner to use page relevant URLs, since it's also one of the things that the crawlers look at when browsing websites.
Whole words would surely be read easier by crawlers rather than random codes made up of letters, numbers, and symbols. For example, Nike's http://www.nike.com/ph/en_gb//drifitknit is easily more comprehensible than Amazon's http://www.amazon.com/gp/product/0743269519/ref=s9_simh_gw_p14_d20_i2?pf_rd_m=ATVPDKIKX0DER&pf_rd_s=center-2&pf_rd_r=0V0B01ED7S5HRG56NBNJ&pf_rd_t=101&pf_rd_p=1630083502&pf_rd_i=507846
7. Use 301 Re-directs
It is common for users to experience the occasional "404" when visiting websites, as sometimes a websites' URLs can either be broken or closed for maintenance.
The 301-redirect is a permanent link from one URL to another, which then allows end-users to be relocated to another site in case the current URL they are visiting is non-functional. This ensures that you do not lose traffic when your site visitors are directed to your previous non-functional pages.
8. Increase Site Speed
Some of the most irritating things in the cyber world are those websites that take forever to open. In Google's quest to give the best search experience to their users, they then included site speed to its criteria of ranking pages.
Site speed refers to how much time your website needs to open. A website that takes a lot of time before opening naturally drives site visitors away, because people want information fast and making them wait on queue won't do any good for you.
Site speed is increased by disabling certain features like JavaScript, frames, flash animations and high quality images. Methods to increase site speed, however, have been contested by web developers as they argue that removing certain features of a site diminishes branding.
Even though search engines are getting smarter and smarter as time passes, they still cannot weigh information like human beings do. As the Internet evolves into a premiere communication and distribution tool, and with the crawlers leading the way for end users to get around the web, one of the best ways to get your website found is try to look at your website from a crawler's point of view.
Having knowledge of how these crawlers influence navigation by creating a roadmap for Internet users gives you an advantage. With that knowledge, you can employ the strategies that either make up for what your site is lacking or add to its best assets.