Editor's Note: Today we have a guest post from Sean Malseed of SEMrush. Sean brings to bear important real life examples of link building opportunities that shouldn't be missed. Take it away, Sean!
I spend most of my time in the world of PPC these days, but there was a time when I hung my hat on good old-fashioned SEO. I think there are a lot of ideas that never go stale, and with all of the emphasis on technicalities in SEO these days (hey, what's your ratio of branded anchor text to exact match anchors?), there's a good chance of getting lost in the details. I'd like to point out the blatantly obvious link building opportunities that are staring you in the face right now.

1. Your Suppliers
If you have a distributor that doesn't sell direct to end consumers, I bet that they have a "where to buy" section that lists their dealers. I spent a lot of time in the retail sphere, working on websites for businesses large and small. Are you on that section? More importantly, is the listing correct?
My favorite example is a billiards store I worked with. I came in, redesigned their website, and set out to give them a great starting point in search visibility. One of the first things I did was go to each of their distributors websites, and look for a "dealers" section. In the billiards realm, many manufacturers were their own distributors, and over 90% of these had a dealers section. We had 12 pool cue suppliers, 3 billiards tables suppliers, 10 billiard table light suppliers, among many others.
Looking at each revealed a huge opportunity. Over half of these dealer pages did not list my billiard store as a dealer. Of the half that did, 20% had either no link, or linked to the store's very old page on a free hosting server. Worse, the store's direct competitors were listed on way more of these sites than us.
The solution? It was simple – all it took were emails and a few phone calls. In the end, all of the distributor sites with a dealers section listed our business with a correct link to our site.
2. Your Customers
How much do your customers love you? I remember working for a regional company that installed and monitored alarms. They were a small provider of such services, and thus worried quite a bit about being drowned out by all the noise the big guys were making. Their strong suit, though, was extreme customer loyalty.
Almost every customer, at some point in the sales or post-sale process, had spoken to the owner. He was one of those guys that had a good rapport with everyone. So, we had a brainstorm. You know those signs that people put in their yards to show that they're secured by an alarm company? Would anyone be willing to put that on their website?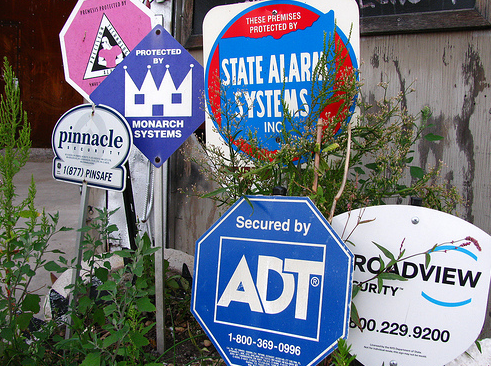 We created a little graphic with a logo and "Location proudly secured by XYZ Alarm Company." We generated the code that each customer could copy/paste onto their site. Then, we had the beloved founder reach out to commercial customers he had a good rapport with, and simply asked if they'd like to use it.
After a month, around 20% of the commercial customers had included our graphic and link.
3. Local Listing Sites
When you Google your company name, a lot of stuff appears. After your own site, you probably see things like Yelp, MerchantCircle, Foursquare, Manta, and more. This stuff is good, right? Yeah, so long as it's all correct. I'll invoke my favorite billiards store again.
They had listings in lots of the major sites. However, they weren't claimed by the company. Instead, there was a hodgepodge of information out there. Almost every site had a different name for the company (XYZ Billiards, XYZ Inc, etc.). All had varying levels of contact information, and only a few had the correct website address.
It's such a simple fix. Make a list of the websites that list local businesses, and then just run through and claim your company. Make sure you're putting in descriptions, URLs, location and contact information, photos, and such things. However, don't spend a lot of time creating blogs, paid accounts, or really anything beyond a single sitting. What matters here is consistency of base information.
What you should do now
Put a plan together. Make a spreadsheet of all the companies you have regular dealings with, and take stock of the current situation. Which have links to your competitors? Which have wrong information about your company? Which customers might be willing to link back to you? Then, follow up as simply as possible. Have pre-made HTML code for your customers, so they can list "Proudly serving ABC Hot Dogs" on their site with minimal effort.
If SEO is good marketing, take advantage of the good marketing you've already done.