Editor's Note: Today we're pleased to feature a post from Joseph Berida. We don't talk about affiliate marketing too much here at P1P, but I liked this post for a lot of reasons. It focuses on the importance of relevancy (which carries over into every aspect of both SEO and marketing) and it gives actionable tips for making content that appeals to users/audience. It also talks about LINKS, which is why you're here in the first place. If you own a blog, give this piece a read through. Sometimes it's fun to go a bit off the beaten path.
We'd also love to know if any of our readers do any affiliate marketing stuff. Feel free to discuss in the comments.
It's no secret that blogging can be a full-time job that can rake in loads of cash. You've got Pete Cashmore, Michael Arrington, Mario Lavandeira, and all these other famous names that are now multimillionaires because of their founding of the biggest blogs in the world.
Of course, that's on the extreme end, but there are countless other bloggers out there living rather comfortably by simply posting consistently good content… with the help of a monetizing system such as advertising or affiliate marketing. This post will tackle the latter.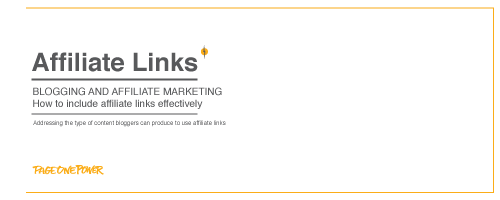 For those not in the know, affiliate marketing is essentially referring one's readers to a product/service and getting paid in return. It's not as in-your-face as straight-up advertising where you have to use big distracting banners, hope that your visitors get hypnotized by the insane offer and click on the link. You can use affiliate links which you can place anywhere in your blog, giving you more freedom to come up with great ideas to convince your readers to click on them.
The best way to do that is by inserting these links in awesome relevant content. If your readers find that the content you create around your affiliate links are useful, the higher the chances that they will click on those links.
But every blogger knows that coming up with great content isn't always the easiest thing. To help jumpstart your affiliate marketing efforts on your blog, here are five cool ideas that you can use.
1. Product Rundown Lists
It's one of the simplest methods of generating traffic and buzz for a blog post because, let's face it, just about everybody loves lists. They're easy to read, and they can be packed with enough information without taking too much time.
For you the writer, look up products relevant to the industry that aren't direct competitors of the product you're marketing, and try them out yourself. Present the list as something like "the top tools you need for x industry" with brief but dense copy. You'll be providing your readers a lot of resources while avoiding sounding too promotional for that one single product you're marketing.
2. In-depth Product Review
Going for a full-length review for the very product that you have affiliate links to is another great way to persuade your readers to check out those links. You just have to keep in mind one thing which applies to any review: be fair.
If all you do in your review of the product is gush over it as if it were the best thing since sliced bread, your readers will not believe you. Some of them will even start losing trust in you, and you end up losing a chunk of your audience. To avoid all that, be as objective as possible.
List down whatever faults the product might have to keep your credibility, but you can downplay them with its strengths so as not to self-sabotage your efforts of getting them to actually try the product.
3. Personal Endorsement
What's the difference between an in-depth review and a personal endorsement? The former requires you to be objective; the latter requires you to be honest. That honesty will hinge upon whether you've used the product itself or not.
A great way to personally endorse a product is to tell a story about your own experience using it. Considering the nature of this act, you'll definitely be leaning towards praising the product. Instead of talking up all its cool features, focus on how it actually has made your life much better. It's the benefits that will catch your readers' attention, especially for those who aren't as technically savvy about the industry you're writing for.
4. Productive Ranting
As the owner of your blog, you are permitted to air out your grievances every once in a while in full-blown rants. You can actually channel some of your rage in a productive manner that helps you in your goal to subtly recommend your readers to check out your affiliate links.
This idea in itself isn't the one single post that you'll include your link in. Just concentrate on talking about all the problems you encounter that the product you're marketing can address, but make no mention of the product in that post. It will basically serve as a lead-up to another post where you will talk about the product itself, whether it's a review, endorsement or whatever other idea you can come up with.
5. Creator Interview
Who else could give the most comprehensive look into the product you're promoting than the very creator of that product? Contact the people behind the affiliate program you're under, and they'd be more than willing to accommodate you knowing that you're doing this to help their business.
Prepare questions that go into the personal motivations for the creator's reasons in developing the product. Ask him/her what the product can offer, who it can help in practical terms, and its role in the industry compared to other products. The insight the creator will provide about his/her product can be the push your readers need to try it out themselves.
A Friendly Reminder: Avoid writing such "promotion" posts one after the other. Let your readers breathe by talking about other industry-related topics instead of bombarding them with posts mentioning that one product and including affiliate links. You don't want to come off solely as a marketing tool for one particular business.
Conclusion
These are just a handful of ideas that you can try out for your blog, and by no means is this list comprehensive. There is no limit to great content ideas that will convince people to click on your links. Just remember that your posts have to offer something of value and not just something for you to sell.