Editor's Note: Our post today comes from guest author Blake Akers, from Webology. Blake will be talking about an undervalued and overlooked link building opportunity — podcast interviews.
Podcasting might not be for everyone, but if you've ever thought about it or received interview requests, Blake is here to explain the potential SEO and branding benefits. Let's learn more!
Podcasting for links?
Yes, absolutely.
It's about more than just links though. Finding podcasters in your industry or niche and pitching yourself as a guest interview is a great way to promote your brand.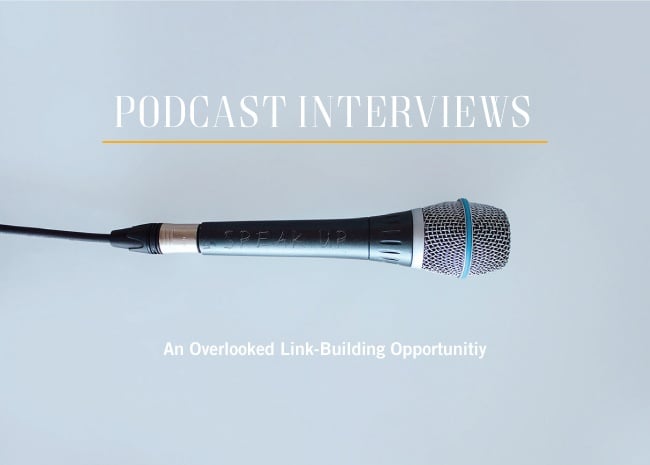 Podcast interviews are very similar to guest posting in a sense. Most podcasters also run a blog, and they typically include show notes from the podcast as a post on their site. If you do an interview on the show, you'll usually earn a guest bio link in the show notes that is like an author bio on a guest post.
It's an opportunity a lot of SEO's overlook, possibly because it involves something no one really likes — public speaking!
Getting Outside Your Comfort Zone
The major difference between a podcast interview and a guest post is that you're going to have to talk to a lot of people.
There's no delete key, backspace, or editorial content review. Sure, a good host is going to edit out anything you don't want in the final version, but they have control over what gets published.
So, practice not saying "ummm" or "uhhh".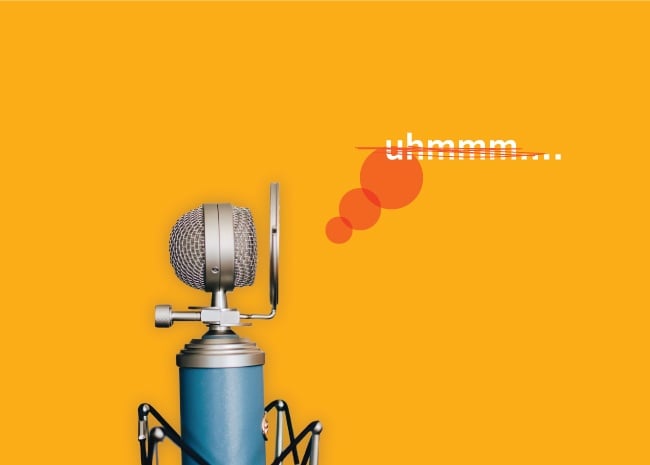 Some podcasts have massive audiences with hundreds of thousands of downloads within the first 24 hours of release. If you're shy or worried you'll say something you might regret, and you should likely stick to guest posting.
First-hand Experience with Pre-interview Jitters
I'm not at all ashamed to say I was a nervous wreck before my first interview.
Of course, I picked a show with 150,000+ daily downloads for my first experience on a podcast! My salvation? A few shots of whiskey 15 minutes prior to recording — don't judge!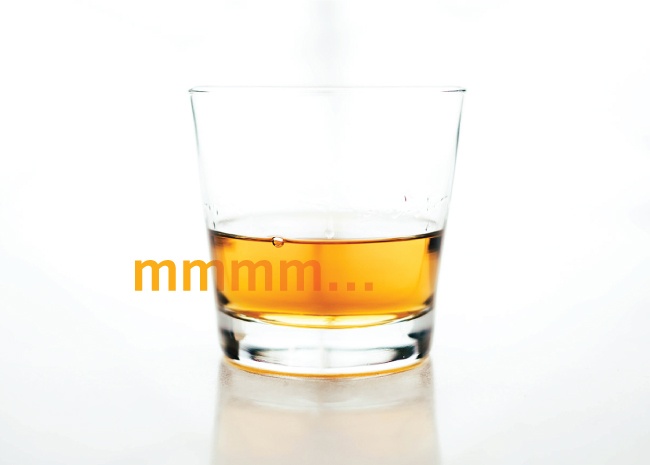 The interview turned out okay...after several edits. But like public speaking, the more you force yourself to interview, the easier it gets, and it has gotten easier for me over time.
Stick with it and you'll be a pro in no time.
SEO Benefits of Podcast Links
Probably the first thing that comes to mind here is that your competition probably isn't doing this.
Many SEO's prefer to analyze and mimic competitor backlinks — I see some value in this and do it as well — but it's also important to stand out from the crowd and pursue unique strategies.
If you're getting outside your comfort zone and promoting your brand on podcasts, chances are good that you're one of the few your industry taking that leap. You'll land niche-relevant links your competitors fear pursuing because no one really likes the idea of public speaking.
Plus, these are authentic, editorial links and we know how Google feels about that.
Benefits Beyond Links
If you're doing SEO for a site, it's just a means to an end.
The end-goal is almost always to build a brand and get some ROI out of your SEO efforts. If ROI is the real motivation, why not promote your brand in front of the right audience through a podcast interview?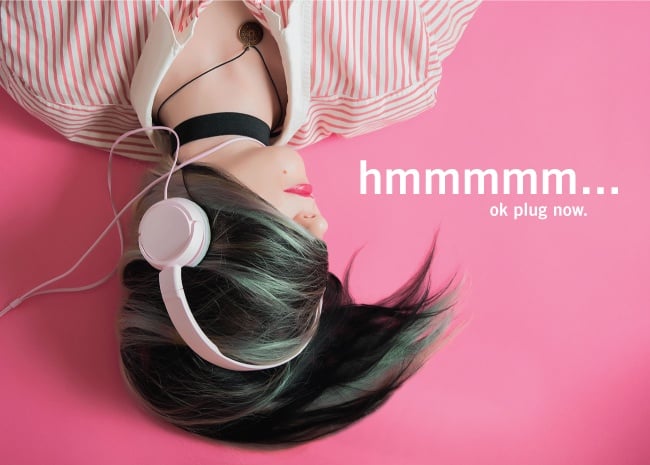 Most show hosts will let you put in a plug for what you're doing towards the end of the show. Even if they don't, you'll build credibility and establish yourself as an authority within your niche.
If you have expertise to share, you might as well go ahead and get started.
Getting Started: Finding Relevant Podcasts
Before you can pitch yourself as an expert guest, you'll need to find podcasters in your niche. There are a few ways to go about this, and I'll discuss the methods that have worked for me in the past.
If you've searched for guest post opportunities before, you're probably familiar with using an advanced Google search to find opportunities: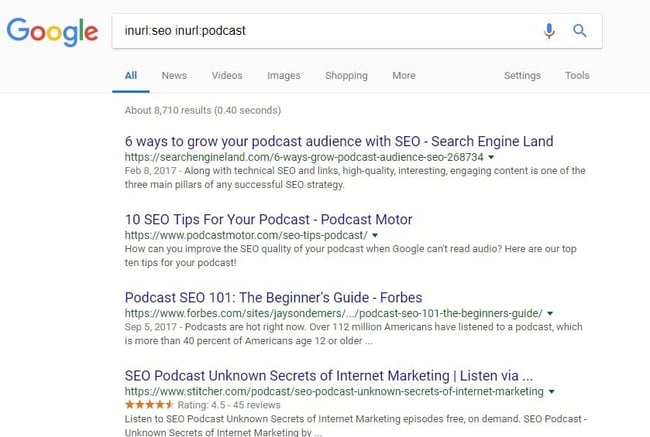 Honestly though, that method is going to be extremely time-consuming and I think there are at least two better options.
Using iTunes to Find Relevant Podcasts
The first one I'd like to share with you is to simply go to the source — iTunes.
Open iTunes and search for your topic.

Once you've done your search, you can click on any that interest you and iTunes will give you a link to their website: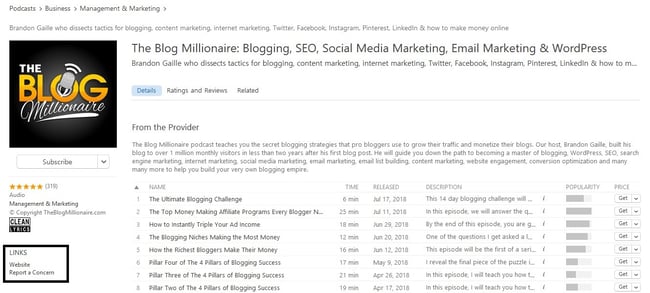 As you can see, iTunes lists the podcaster's website URL for us. Now it's just a matter of analyzing if this is a good target for outreach.
I'll use SEMrush for that: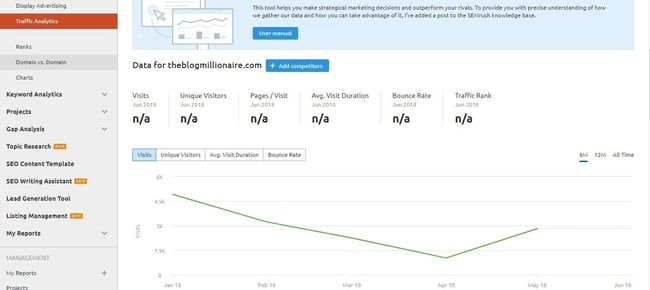 This site gets real traffic. Now let's look at the SEMrush score: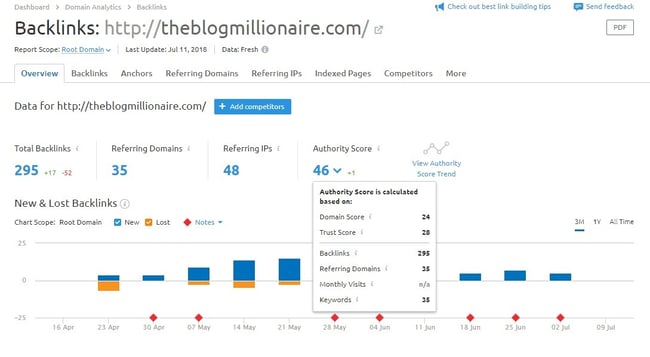 From an SEO standpoint, it's a go! But there's more to this than just scoring a backlink.
If I want to have a shot at being a guest, I need to do a little more research before the big pitch — I'll go into more detail on that later.
For now, let's look at one more tool you can use to find your prospects.
Hacking the SEMrush Brand Monitoring Tool to Find Podcasts
SEMrush has an amazing brand monitoring tool that looks for recent mentions of your word or phrase on the web.
Instead of looking for brand mentions, I'll use my keywords to generate a list of podcast candidates.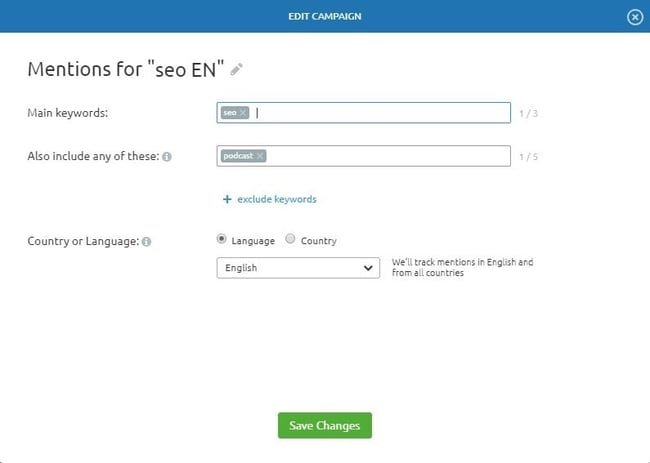 Be sure to place the word podcast under "Main Keywords" and "Also include any of these" sections and include your relevant niche keywords as well. This tells SEMrush to only include recent mentions that have both the word podcast and your niche search terms on the same page.
If you choose this method, get ready for a lot of manual sorting in Excel. You'll find tons of mentions of the word podcast on sites that do not host an actual podcast.
However, some of those are linking to sites that do host a show, so it's still a good strategy for finding prospects.
Pitching Yourself as a Podcast Guest
Please don't send out a mass email to your entire list hoping for the best! Podcasters get just as annoyed by blind outreach as bloggers do.
Take some time to listen to a recent episode, personalize your pitch, and don't make an ask on your first email. Spend some time engaging with the host before you pitch your topic to them.
Also, don't be disappointed if you find out the next available interview slot is months away. That's a good thing. It means the show probably has a big enough audience to attract tons of qualified interview applicants. Wait your turn and you'll be rewarded with a great promotional opportunity.