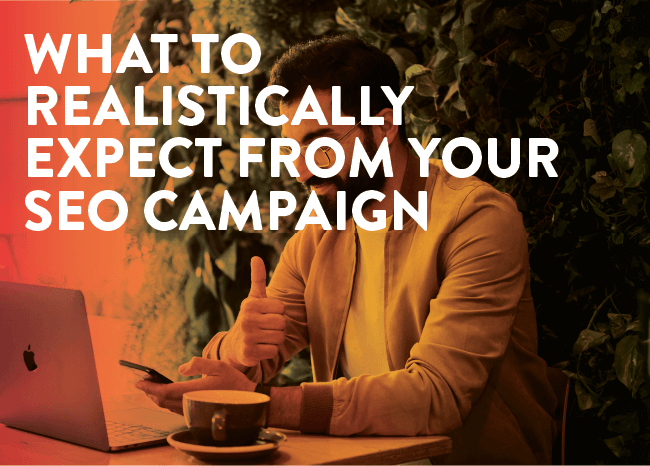 Any SEO professional or SEO agency that promises results in days, weeks, or even months is either:
A.) Planning on incorporating a PPC campaign — which can increase the price of their services.
B.) In possession of knowledge or techniques that thousands of other expert SEOs don't know about (which is highly unlikely).
C.) Planning to use black hat SEO practices.
Credible SEO professionals and SEO agencies know that a successful campaign will take time to achieve favorable results. I get it — you want your search visibility, lead generation, and revenue to increase immediately. However, credible SEOs know that successful campaigns take time.
This disconnect can create a world of frustration for all parties involved. A successful SEO campaign will require anyone who is enlisting in these services to agree on desired results and timelines with the professional they choose.
Of course, it helps if the professional can easily walk you through their processes. To know what you are getting into and to forecast realistic expectations, the site owners, webmasters, partners, clients, or whoever is interested in SEO services need to educate themselves on what goes into a campaign. This knowledge will help establish timelines, monitor results, understand successes, and pinpoint what issues could crop up to mitigate potential tensions.
Here is some information and questions you should ask yourself to make sure the SEO professional or agency you choose is cooperating with you correctly.
What Does a Strong SEO Campaign Involve?
The first thing that inexperienced SEOs, site owners, and anyone in the market for SEO services needs to understand is that there is no cookie-cutter solution for SEO. This understanding will help manage expectations right off the bat.
A firm understanding of you, your site, and its products and services will help you formulate a plan and direction for what SEO services you'll need. Depending on your particular situation, you may need one of or all of the following:
An SEO professional should hold a meeting and/or have an onboarding process speaking on your particular situation after an SEO audit. This analysis will be foundational in defining goals, establishing timelines, and building a plan for a successful SEO campaign. If both you and the SEO professional understand which services are needed, you can get underway with a plan to achieve specific goals in an estimated timeline.
Defining Objectives, Timelines, and Dependencies
Defining the goals for any SEO campaign will be paramount to understanding what work needs to be done, the amount of work necessary, and how long it will take to achieve these goals.
Defining what you want out of an SEO campaign will be essential to set realistic expectations. These distinctions will likely involve an SEO professional letting you know that some goals may be unrealistic or that methods of achieving a particular goal (which you may have heard work for another site) will take longer than expected, won't work the way you think it will, or will involve more intensive work and cost more.
Questions to Ask When Defining Goals
Michael Johnson, Partnership Development Manager at Page One Power, has several questions he always asks clients before beginning work. These questions are designed to make sure the client is philosophically aligned with an SEO professional's practices.
An SEO professional will need to know if they can achieve these goals, if timelines and budgets are realistic, and get expectations aligned with what can actually be done. Here are some questions Michael will always ask a client when onboarding:
This question helps determine your commitment to white hat strategies, mindfulness of link quality, and consciousness of best SEO practices.
By asking this question, an SEO can make sure you are on the same page for what will be a success — i.e., what goals are to be met.
This question can gain some insight into your target audience (if you have defined your audience) and help guide linkability efforts for content.
This question is asked along with #3 to understand your target audience further and understand who your site can help with their content and how.
This question will help determine who is doing things correctly for the same type of site/business, highlight keyword spaces to explore, and lucrative content gaps missed by your competitors. Competitor research is crucial to help both you and SEO professionals know that there is a ceiling for your content — rather than making efforts to rank for a keyword that a particular site/business should have no business ranking for.
After establishing goals, it would be a fantasy to start thinking about immediate results. Setting goals will help you break down your SEO campaign into all the work that needs to be executed. Understanding the work that will need to be involved in achieving these goals can give a better understanding to you and the SEO professional the time frames in which you may see any success or result.
Practice Patience
Patience pays for an SEO campaign and your business partnership with an SEO professional. For example, link building requires finding quality sites to relevantly acquire backlinks, strategizing content (if need be), outreaching, and waiting for site editors to secure the link. SEO agencies will likely be working and communicating across departments, which will take time. If either party is impatient, tensions may arise, and results may falter.
Many expectations of a campaign are nebulous, and maintaining patience for them to play out can make efforts go much more smoothly and deliver results on time. For instance, if you are impatient with backlinks and push an SEO professional to hound site editors on linking to your site, a site editor may reject the link altogether — squandering efforts and losing time.
Colby Stream, Lead Project Manager at Page One Power, understands the importance of patience and laying the groundwork to achieve desired results. "One mistake I see often is focusing on results right away," he says "Obviously, you want to see results. But if you build a plan, the first focus should be on if you are executing that plan and the timeline you originally set."
How Long Before You See Results?
Keep track of your SEO campaign so you can determine if the efforts made by your SEO partner are working or whether they need to modify them. It will also be essential that an SEO communicates their findings to inform you of progress. While traffic, ranking metrics, and other important KPIs won't be significant for a while, there are things an SEO professional can report so that you can get a pulse on the campaign.
Certain metrics and operations should be checked at certain intervals of a campaign. Early on in the campaign, success may not rely on traffic or metrics but on the efforts being made to gain these results that are promised within an agreed-upon timeframe. Once work has been done and published, metrics can begin to become a focus as Google crawls new pages — the timeline of which can vary.
So, what should you look at and when? If the following work and specific goal KPIs are delivered during the following time frames, your SEO campaign is on the right track for success:
After 1 Month: The first month of an SEO campaign will likely be all about research and discovery. During this phase, an SEO audit will be conducted (if it hasn't been underway already) on your site to identify competitors and keyword strategies and to deploy technical SEO adjustments.

Month one will help create the blueprint for which further SEO services will be needed — the identification of which should be considered a measurement for success. It will be crucial during this phase for SEOs to communicate their findings, budgeting, suggestions, and anything else to help you feel comfortable and educated on the SEO strategies pursued.
After 3 Months: With a solid framework to achieve goals, success will not be shown analytically during the first three months. Production such as content creation, outreach for backlinks, and technical improvements should be of importance during this time.

If SEO professionals have gotten the ball rolling on productivity, this can be considered a success. It is important that you understand that you will only see a slight improvement in rankings (if any) during this stage.
After 6 Months: After six months, SEO strategies should be recognized by search engines. During this interval, your site may see an increase in traffic, rankings, domain authority, and possibly even conversion rates. This timeframe will also be pivotal in recognizing what SEO efforts are working and where modifications need to be made.

SEOs will likely educate you on what is working, what is not working, and why. Additionally, alterations needed for the campaign to stay successful should be discussed and pursued.
After 1 Year: After a year, analytics such as traffic, rankings, conversion rates, click-through rates, domain authority, and more should be apparent and increase steadily if the right SEO strategies are successfully deployed. This should be a period of reflection and progression. You and your SEO professional should review campaign effectiveness and discuss continuing to work together to ensure SEO maintenance and success in the future.
Tracking Your Success (and Failures)
As no two SEO campaigns are the same, tracking success for a particular campaign will be different for every site. There are many things to track along the way during an SEO campaign — from goals to production factors to maintaining a healthy partnership. It will be up to the SEO professional to find which analytics and tools correspond with the goals and SEO services that they have provided for you, but it will ultimately be up to you as to whether you deem them a success or not.
As you reflect, ask yourself a few questions: What worked out or didn't work out, and why? Did things go the way all parties thought they would? Did you want different results than the SEO delivered? Did you go over or under budget?
Communication
Communication is an essential ingredient for an SEO campaign, and especially for setting realistic expectations for one. An SEO's ability to understand your desires and educate you on how they will deliver, if they can deliver, time frames, and projected budgets will all be facilitated through constant and transparent communication.
Client Reporting
It is not enough for SEO professionals to communicate with you; all parties will need to come to terms on how they will communicate. Client reporting, especially when measuring successes through data and analytics, can vary immensely (as there are hundreds of tools for communication and data visualization)..
However, SEOs don't just communicate through email, virtual meetings, or in-person meetings; they will need to show reports and data to back up their claims on results. Furthermore, these results will need to be customized and easy to understand for you (i.e. no jargon). Whatever software you choose, make sure all parties understand how to discern critical information from them.
Identifying and Managing Tensions
For every SEO service provided — factoring in production and delivery of those services, technologies used for a campaign, and any other factor that goes into SEO efforts and communication — an SEO professional will need to foresee what can go wrong and come up with possible solutions if they do.

It will be vital in managing expectations and mitigating tensions to initially discuss what could go wrong. There are a number of things that could extend timelines and impede desired results (after goals are set)., and will be imperative for the SEO professional to minimize tensions and come to an agreement on what can be done if problems do arise during the campaign.
Contingencies and miscalculations may happen, and it is best to know what may crop up so you have confidence that your SEO knows what to do when they do. Cory Collins, Strategy Developer at Page One Power, knows this well. When dealing with his clients and managing expectations, he says:
"You'll hit a point in every project where something goes wrong. Knowing up front how you're going to deal with that is going to be important, and often you should be considering that early on in the campaign when you're onboarding the client, getting a read on their personality, their position in the organization, and their expectations. Every campaign hits a tension point. Identifying those early and knowing how to best address them — both best case scenario and worst — is half the battle. As they say, an ounce of prevention is worth a pound of cure."
You may not know much about SEO, but as long as you understand that it's important, that's usually enough to begin with. It is an SEO professional's job to educate you on what goes into a successful SEO campaign, how it will work, and to ensure that you and your site are a good fit for an SEO's practices. Not only will this communication help manage expectations but it will build a strong partnership for campaigns in the future.