Hello and welcome to Tutorial Tuesday, where we break down an SEO process, tool, or tactic.
This week I'll demonstrate how to do quick and easy SEO keyword research with SEMrush. This process will show you how to find keywords that drive some search traffic to your website, but could drive significantly more with targeted SEO and link building.
Specifically, I'll show you how to find keywords your website already ranks for, but not well enough to secure the traffic it deserves.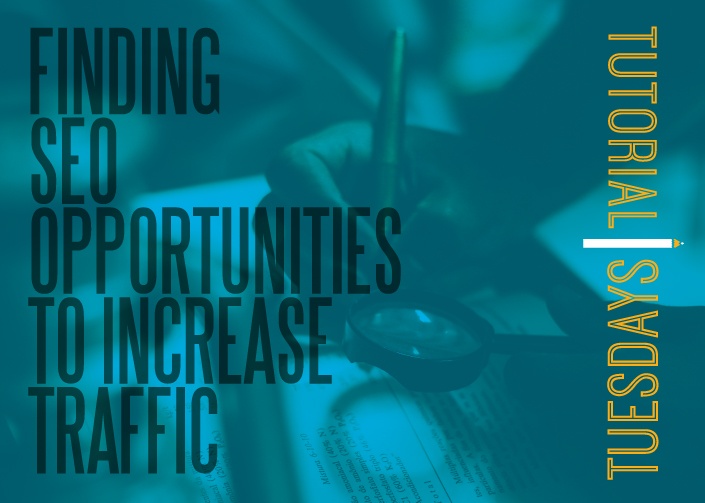 These pages represent SEO opportunities—if you're able to further optimize the page for the keyword (and secure a few good links), you'll be able to drive considerably more relevant and qualified traffic to your website, and therefore make more money from search.
This is SEO 101—identify opportunity keywords (via keyword research) that drive traffic to the pages you've created. Optimize your opportunity in order to secure rankings, traffic, and ultimately revenue.
I'll be using the website Carved as my example. I've had a case from them on my Samsung Galaxy 5 for just about two years and absolutely love it. If you're looking for a case for your smart phone, I strongly recommend checking out their site.
Full Video Tutorial
I've recorded a short video walkthrough demonstrating this entire process, which I also outline step-by-step in this post.
If you're looking to see it live in action, look no further:
If you want to digest the process at your own pace, I've outlined the entire process step-by-step below.
Step One: Enter The Website's URL into SEMrush
Head into SEMrush's dashboard and plug in your website's URL. As you can see below, I've entered Carved.com (our example) in: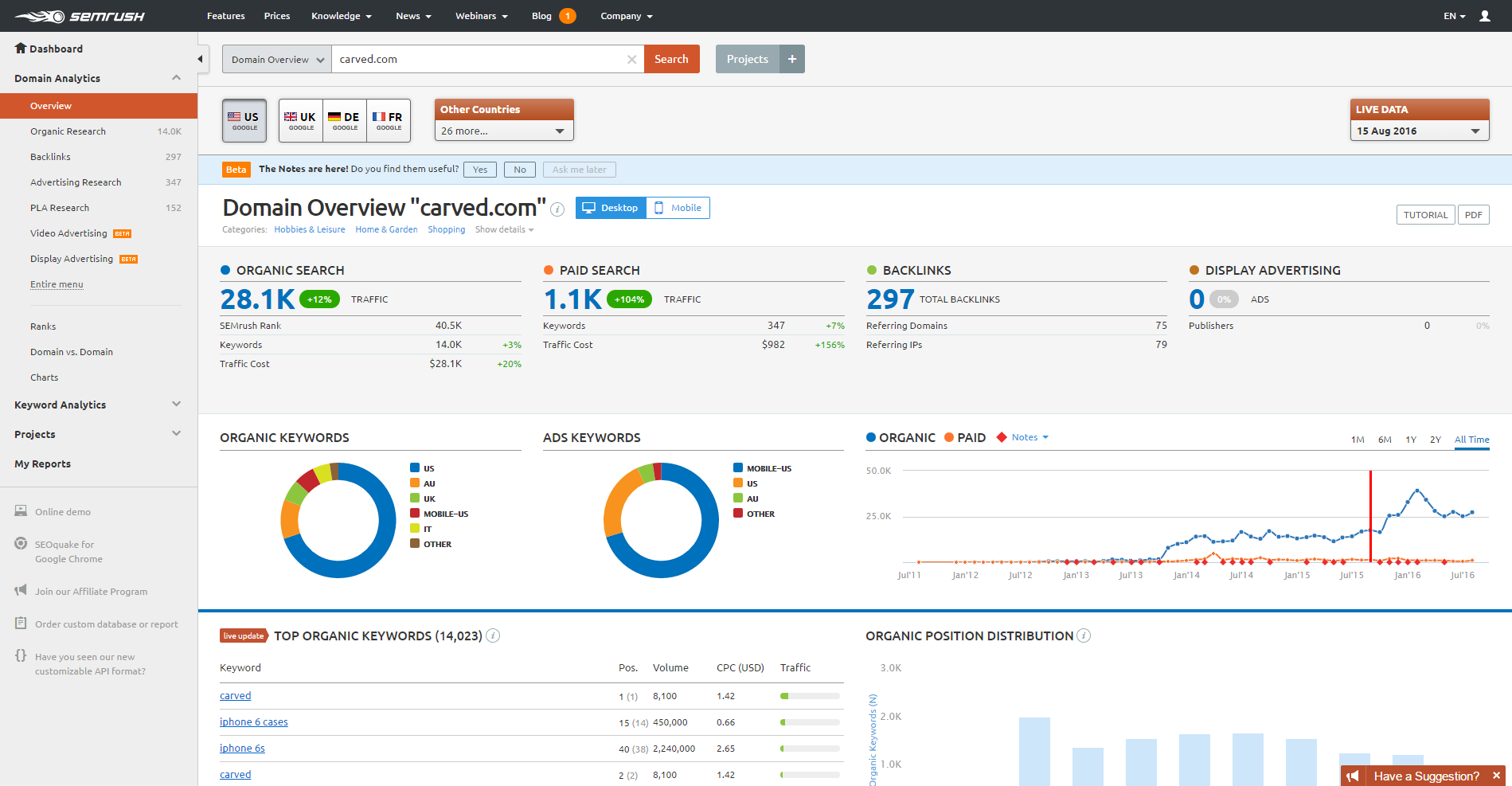 This dashboard shows a variety of relevant information about Carved.com's performance in search.
Within SEMrush's general dashboard you can find:
Organic and paid traffic growth (SEMrush estimation).
Top organic keywords.
Competitors.
Top paid keywords.
Backlinks.
And more.
If you're just beginning your site assessment I strongly recommend taking time in SEMrush to familiarize yourself with the performance and history of the website.
To find search ranking opportunities we'll head into "Top Organic Keywords".
Step Two: Review the Top Organic Keywords
Click into the top organic keywords dashboard, either by clicking in the general dashboard or by choosing it from the left menu navigation bar.
This will take you into the positions tab of the Organic Research dashboard: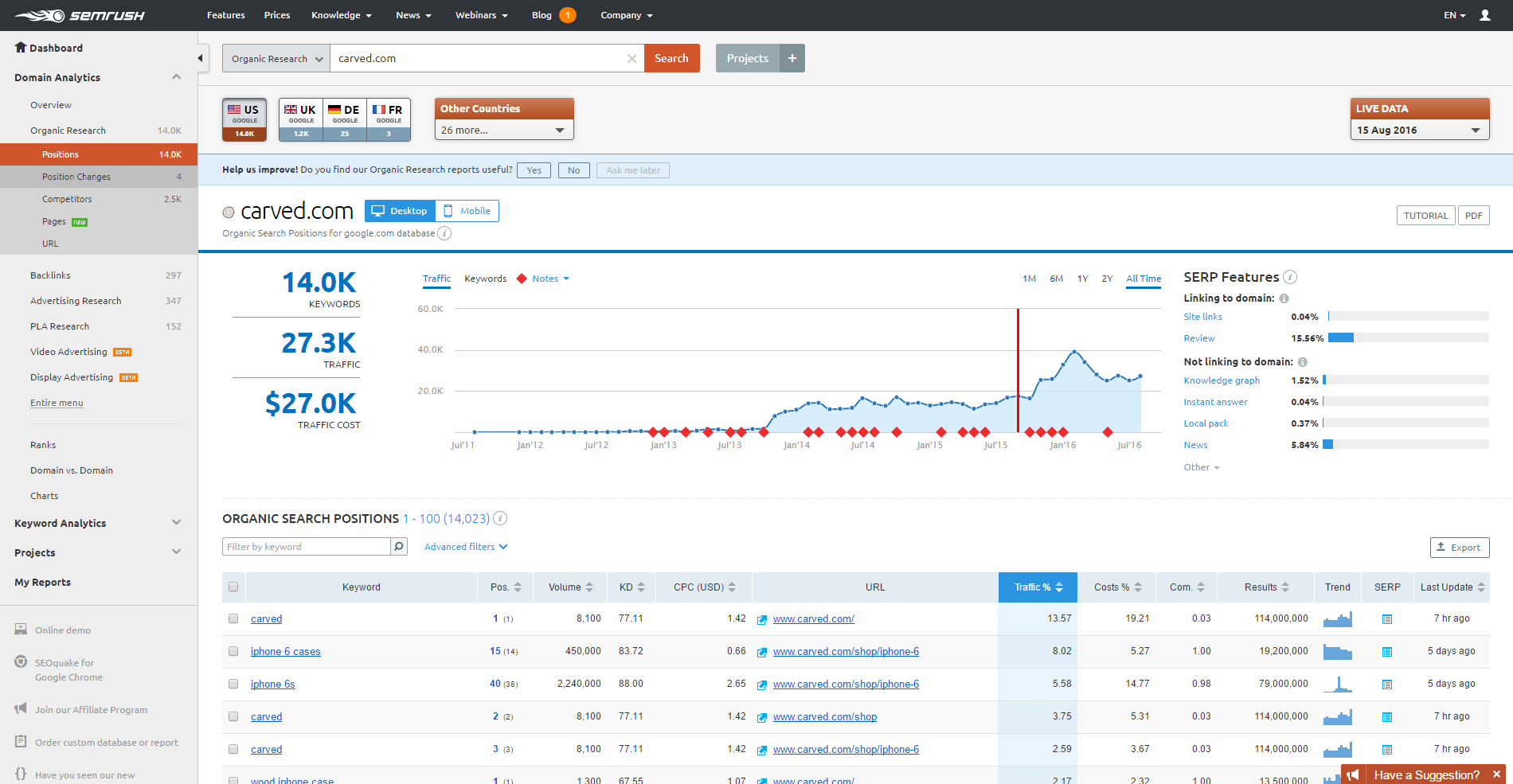 Scroll down to view the keywords and phrases your website ranks for in search. Bear in mind SEMrush automatically filters these by the percentage of traffic the keyword accounts for—basically, which keywords are driving the most search traffic to your website.
Here's what we see for Carved: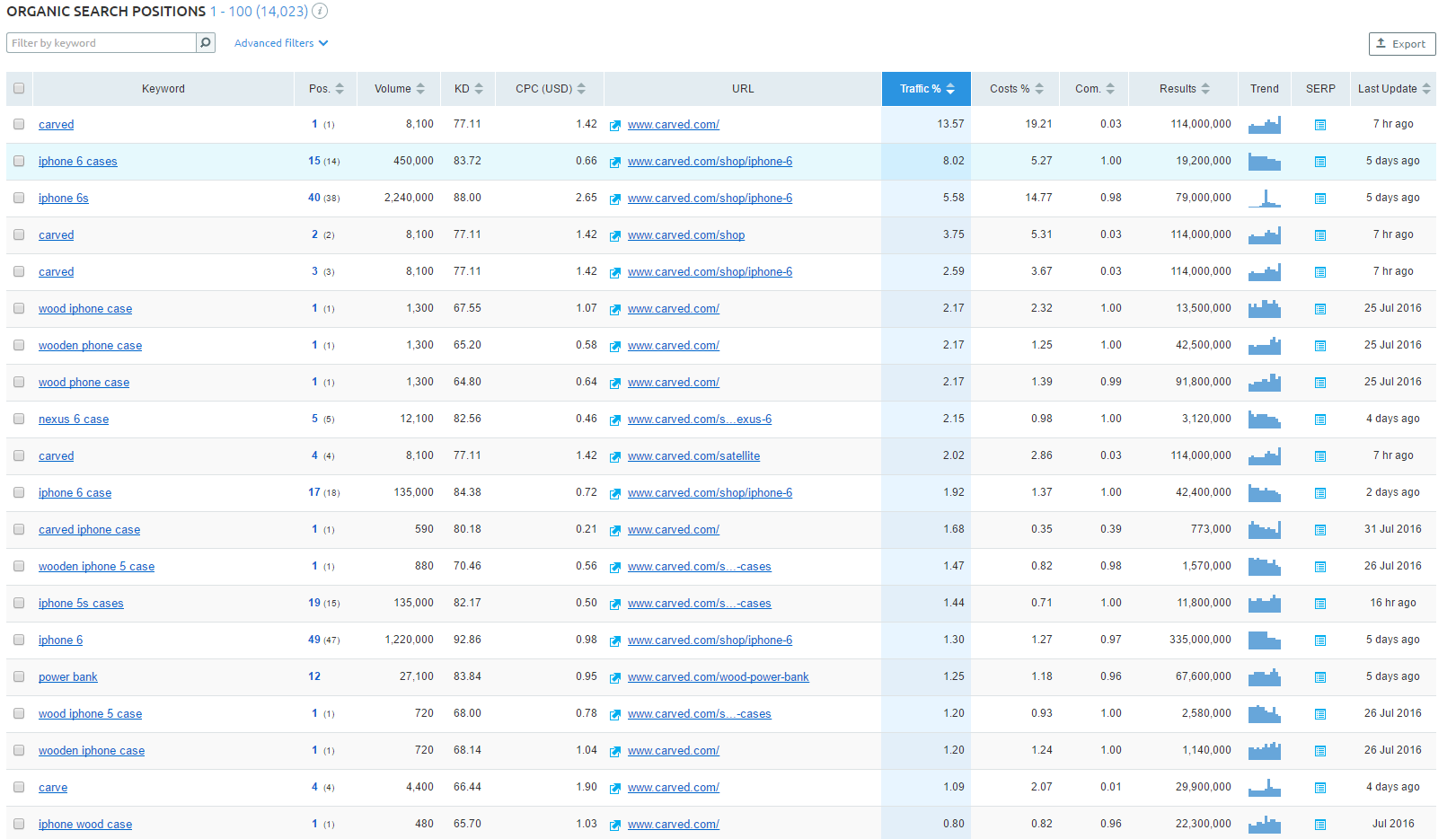 Branded traffic—their brand name, Carved—is accounting for 13 percent, a fair share of the traffic from search. They have a healthy reputation and great product, and their audience is seeking them out by brand.
Other keywords that Carved is ranking well for that drive traffic:
Wood iPhone case Wooden phone case.
Wood phone case.
Nexus 6 case.
Wooden iPhone 5 case.
Custom cases.
Etc.
A quick scan of this list makes it clear Carved ranks well in search for terms related to specific phone models and the keyword theme of "wood cases".
Let's do a quick check of the highest volume keywords your website ranks for. If you're close to ranking on page one, these could represent huge traffic and revenue opportunities.
Step Three: Sort by Keyword Search Volume (Instead of Traffic %)
Click the down arrow next to the word "Volume"—this represent the amount of times people search with that keyword per month.
This will sort the list by top searched keywords in Google US, per month: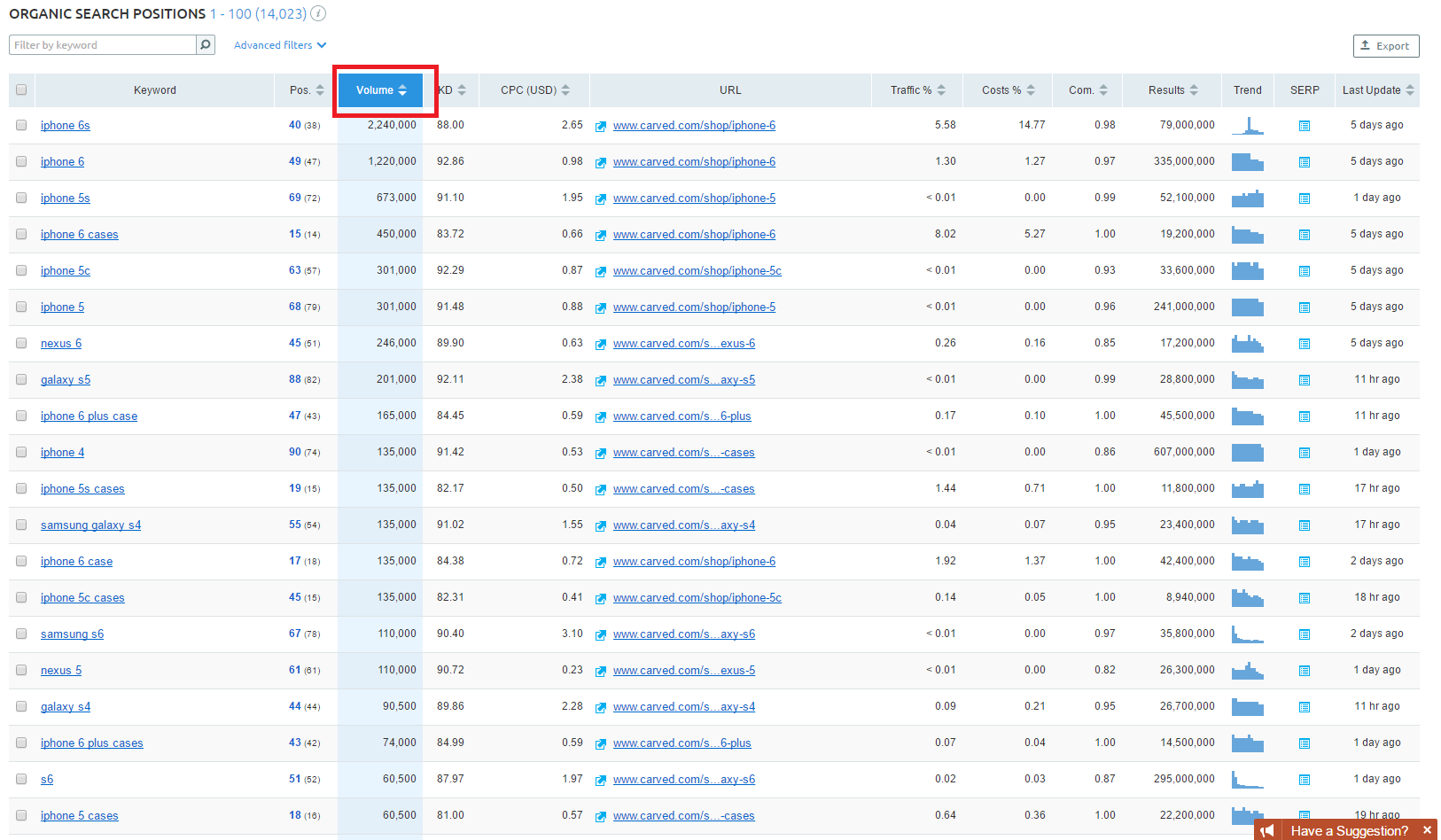 It's important to disregard the irrelevant or overly competitive keywords that show up in this list. While the traffic opportunity is high, don't forget your actual goal: revenue. You want the people who arrive on your website to want what you offer.
For Carved, I would disregard phone models such as:
iPhone 6s.
iPhone 5.
Nexus 6.
Galaxy s5.
Etc.
The phone models have huge search volume, but Carved doesn't sell the phones—only the cases. Therefore, even if Carved COULD rank for these terms, it would create a bad result for the people searching and not result in any sort of sale.
Carved would be much better served going after terms that match the intent of their website: phone cases.
Here are some of the terms that do stand out for Carved when filtering by search volume:
[iPhone 6 cases] at 450,000 searches per month. Carved's page is currently ranking #15, halfway on the second page.
[iPhone 6 plus case] at 165,000 searches per month. Carved is ranking #47, the bottom of the fifth page.
[iPhone 5s cases] at 135,000 searches per month. Carved is ranking #19, bottom of page two.
And more.
Carved ranks for a variety of keywords that are broader than the typical wood thematic keywords much of their site targets. The broad keywords represent SEO opportunity to improve the rankings, traffic, and therefore revenue of their website.
It starts with recognizing opportunity.
Let's dig a bit deeper into the list of organic search keywords to find opportunities where Carved deserves to rank, but isn't quite on page one. These opportunities can lead to greatly increased search traffic, but require further optimization and link equity.
Step Four: Use Advanced Filters on the Organic Keywords List to Identify Opportunity
At the top of the organic keyword list you'll see a "Filter by keyword" search bar along with an "Advanced filters" link.
In this step we're going to apply advanced filters in order to find keywords that match a specific criteria—keywords that have high search volume with current rankings on page two or beyond.
Click advanced filters: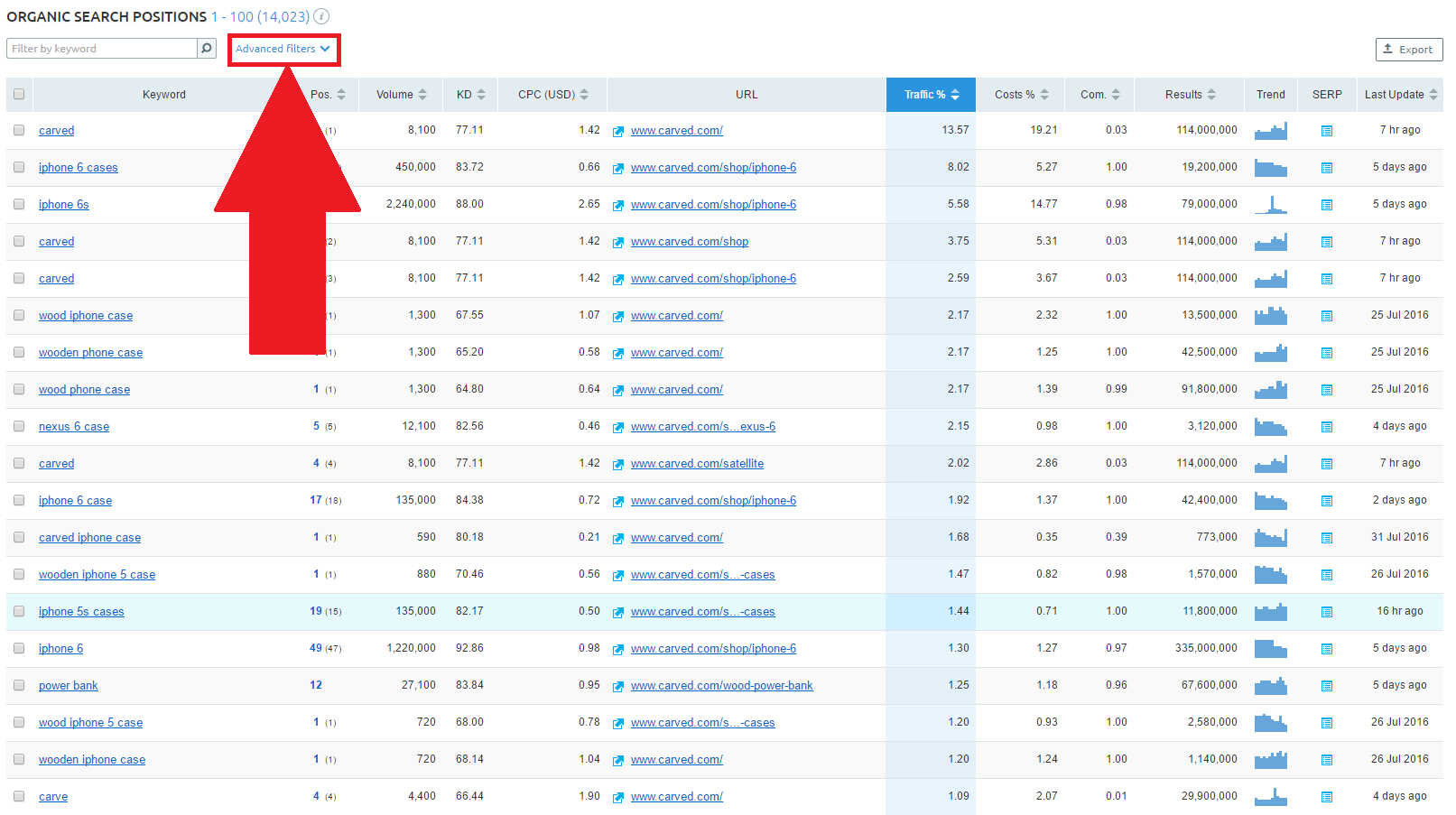 Now click the middle button "Keyword" and select "Pos", which stands for position. You'll want the first button to be "Include" and the third to be "Greater than". Go ahead and enter 7 into the form.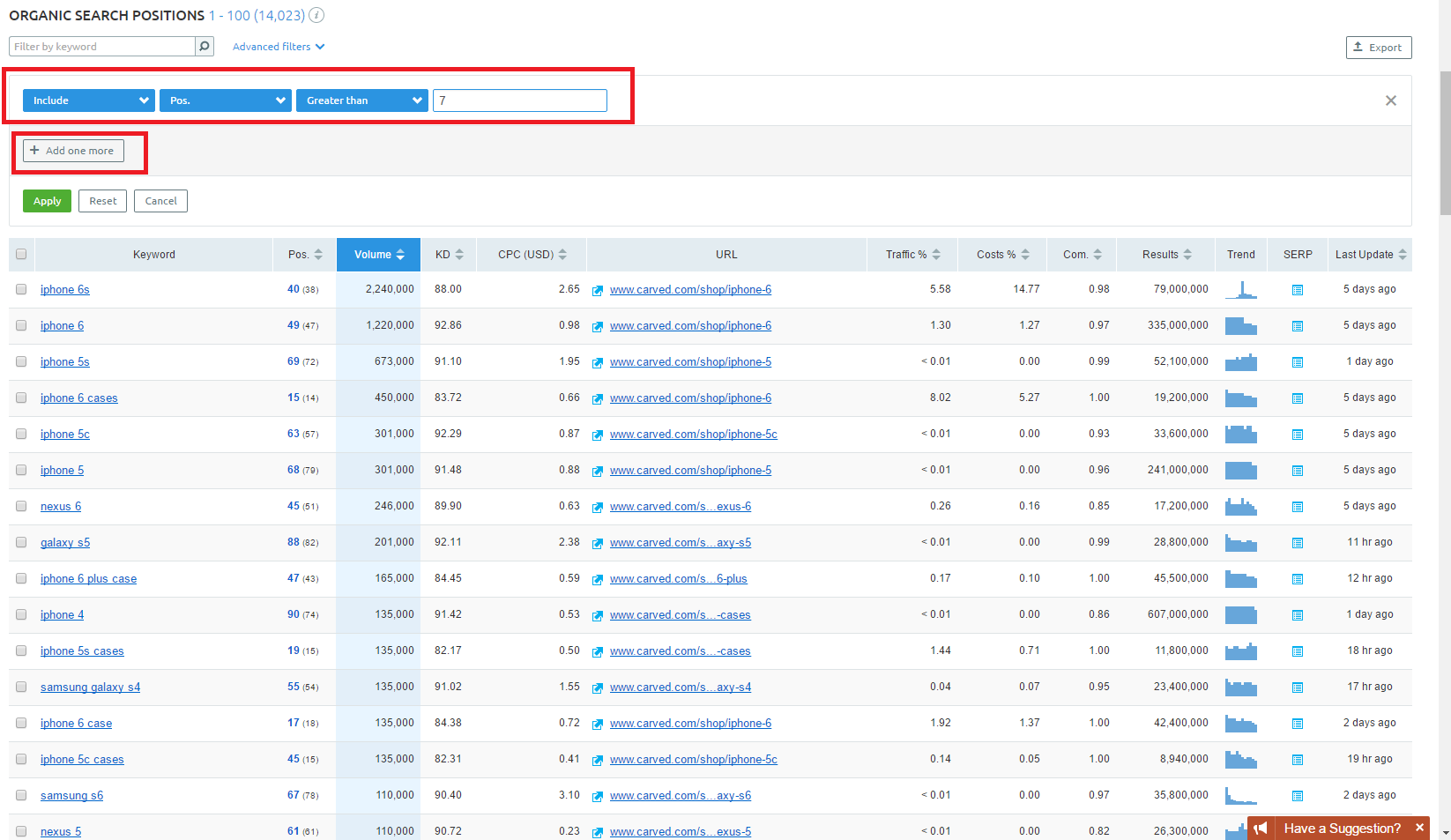 This will return keywords and pages where Carved ranks lower than position seven.
Now click "+Add one more".
Select "Pos." again and choose "Less than" and enter 50 into the field. Just that simple, we have a list of the most opportune keywords for Carved: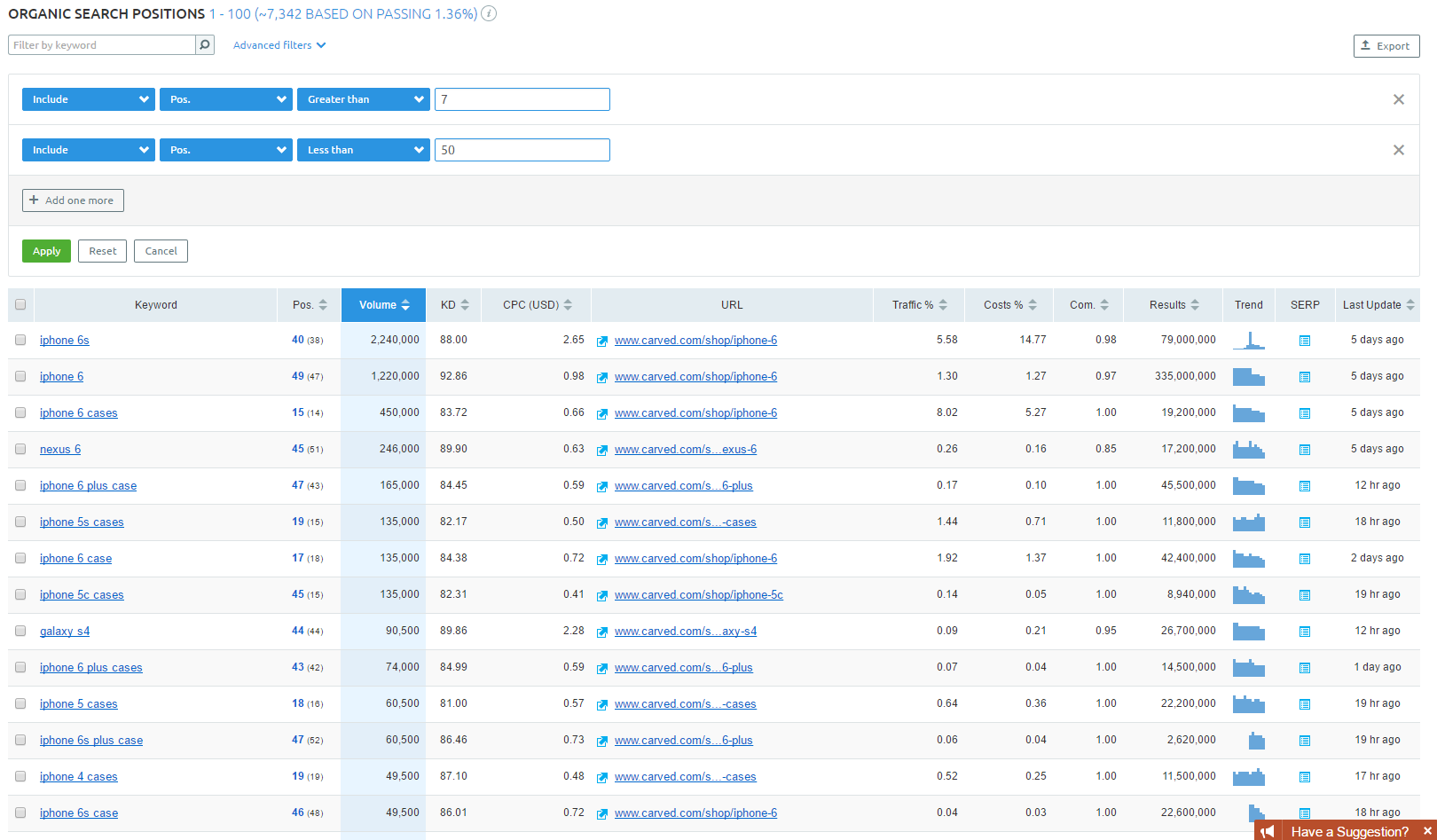 These filters ensure we're finding important keywords Carved is ranking for, but not as well as they could. If we can improve any of these pages to rank on page one, there's a significant chance of increased search traffic that is directly relevant to our website.
The goal of this process is to discover keywords that:
Have tremendous search volume.
Our site already ranks for.
While we're analyzing the results and opportunity we also want ensure the pages:
Have the opportunity to improve with targeted on-page SEO.
Lack proper internal link structure, which can improve link equity.
Serve as a linkable asset—another website would be willing to link.
If any of these conditions are met we've successfully found a page that has SEO opportunities to improve rankings, traffic, and revenue.
Optional Step Five: Further Filter The Organic Keywords
At this point you should have a core list page and keyword opportunities for your SEO initiative. You've identified quick wins that can have a significant impact on website traffic and thus revenue.
If there are still irrelevant results in your top organic positions list I'd suggest applying an additional filter.
Click once more "+Add one more" and try a few filters to see if you can remove the irrelevant results.
For Carved, I would select to include the keyword "cases" to ensure I don't see any over broad keywords: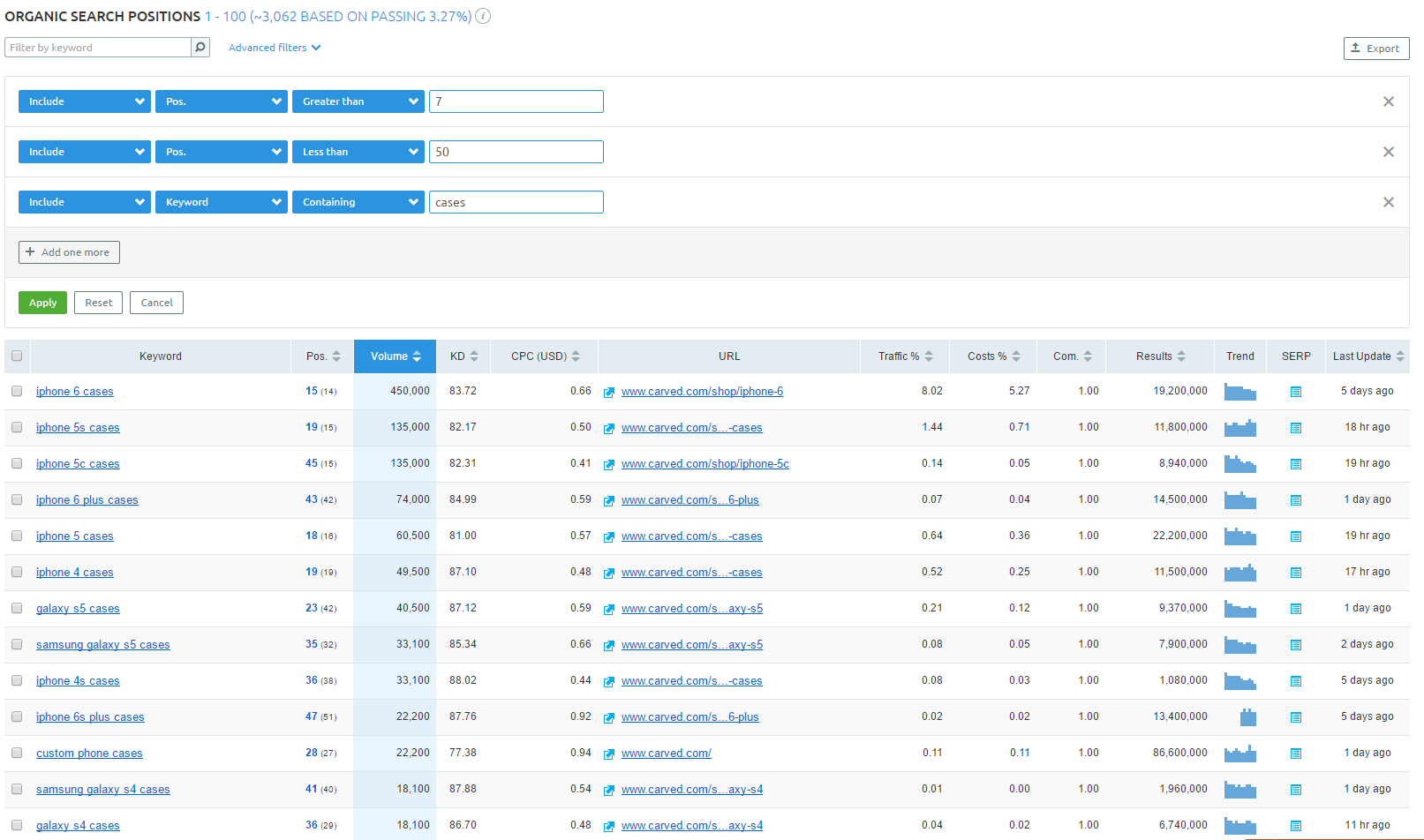 And if you truly want to dig into the data, don't forget you can export this all to Excel where you can directly manipulate the data: