Editor's Note: Here's a super convenient link to the last piece in this Keyword (Not Provided) series (which shouldn't be too hard to find as it only happened two posts ago, but just in case...): be sure to read Keyword (Not Provided) Research for Link Building: Find Your Words!
Now that you have a document stuffed with potential keywords, I implore you: PLEASE DON'T OVERUSE THEM.
By which I mean don't use them in your content to an unnatural degree. Or as anchor text. You don't want your guest posts to look like this:

Why? Well, first of all, this is poor writing that isn't saying anything new about spicy pickles. And I'm assuming that the "spicy pickles" anchor text is being used as part of a link building campaign in an effort to rank for the term "spicy pickles."
If "spicy pickles" is in your mega-document of keywords (and accurately describes your product), by all means, optimize for it. Only in the age of semantic search, you want to optimize for the concept of spicy pickles. This means that yes, you should use the term "spicy pickles," but as sparingly as you would use a, well, spicy pickle at a barbeque.
It wouldn't be a stretch to suggest that knowing this particular set of terms matters more to on-site SEO than it does to link building. There are only so many pickle sites, after all. When link building, what you need is to be able to find the foodies and other pickle devotees that will love your product, as well as other link building opportunities.
This doesn't mean that our keyword research was conducted in vain. Once you organize your keywords, you can use them:
to determine your link prospecting keywords
as a part of long-tail anchor text for a link that leads to your site
to inspire concepts for link bait, resource creation, and guest posts
Your research was far from useless. Instead, it revealed what people search for when they think about pickles, and therefore what sort of pickle-related resources may be useful to them.
Organizing your Keywords
If you did it right, the first installment of this article helped you to find far more keywords than you would want to focus on. Nevertheless, just focusing on "spicy pickles"-- a concept that receives a fair amount of search traffic and accurately describes your product-- could get boring, and fast. Especially if you're aiming to do a lot of link building.
Once you've eliminated words that people don't search for, separate your terms into categories that make sense to you. I like to use the breakdown provided in the KISSmetrics infographic supplied in the previous post:
Brand keywords
Product keywords
Substitute product terms
Complimentary product terms
Audience terms
They suggest organizing your keywords this way, too. They also suggest focusing on keywords "closer to the center of the target." If you researched the way I laid out, your list is probably heavy on the product keywords. These are the most helpful when it comes to figuring out long-tail anchor text and what kinds of link bait and other resources you can create. The other kinds of keywords will help most when you're link prospecting.
Find your Link Prospecting Keywords
As you may have suspected, the link building opportunities within the pickle niche are rather limited. "Hot pickles" and "spicy pickles" may receive their fair share of search volume, but what about "spicy pickles blog"?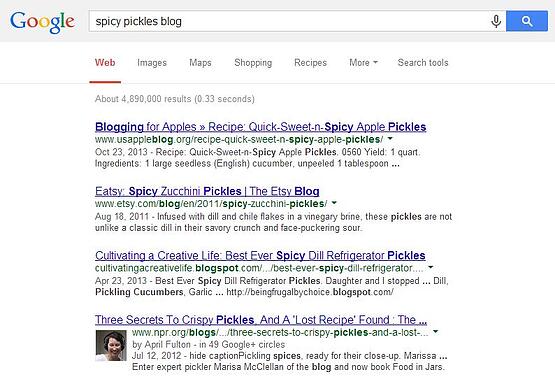 Not a single result that is a blog dedicated to spicy pickles. You are going to need to look elsewhere for your spicy pickles content, but as you can see from these sample search results, there are other kinds of blogs that would be interested in running content about spicy pickles.
Just like with every other aspect of link building, you brain is going to be your best tool when using your site keywords to determine your link prospecting keywords. For example, think about it: eating spicy foods is appealing to some thrill-seekers, to an extent that I would be willing to wager that someone is writing a blog about it.
If your pickles are indeed spicy, there are a number of way that you could get a link on these sites-- a product review, a guest post, a recipe, and this is only one niche related to your product!
When considering your link prospecting keywords, you want to ask:
who would be interested in buying my product or visiting my site? (And don't stop with pickles in general-- again, "spicy pickles" and "organic pickles" will appeal to different audiences.)
when would someone be interested in buying my product or visiting my site?
why would someone be interested in buying my product or visiting my site?
Again, many kinds of people may be interested in your product. Pickles could appeal to foodies, thrill seekers, fermentation enthusiasts, farmers, chefs, and bartenders. Think about the products pickles go with-- bloody marys, hamburgers, appetizers. People are likely to be more interested in giving pickles as a gift over the holidays, or as part of the menu for a themed party. These customers are visiting your site because they want a new product, a pickle unlike the ones available in the condiment aisle. Looking at it this way, your pickles are relevant to both gourmands and holiday shoppers.
Your link prospecting keywords are merely the terms you use to find blogs and websites that are relevant to the populations interested in your website or product.
For more ideas, I like to turn to Pinterest. Not only can you use Pinterest to find out who is pinning images from your site and your competitors sites, but to discover who else is talking about gourmet pickles.
To discover who is talking about McClure's pickles, enter http://www.pinterest.com/source/www.mcclurespickles.com. This will show you all of the users that have linked to their site.
If you study these results, you will notice that users have pinned pickles to food boards, but more specifically a board of recipes for deviled eggs, a board of recipes inspired by a user's CSA share, and a board called "A Catered Affair." They are also on a holiday gift guide board or two. By studying these boards, you can gain even more insight into your audience. For instance, if your pickles appear on a holiday gift guide with J. Crew leggings and the first season of Girls, it wouldn't be a bad idea to seek out link opportunities from twenty-something, city-dwelling female bloggers.
Additionally, consider that some of the Pinterest users themselves may have blogs or websites that would be willing to link to your site. Thanks to Pinterest, link keyword prospecting can easily morph into plain old link prospecting.
Link Bait, Guest Posts, and Other Resources
Okay, so you've found more link prospecting keywords than you could pursue in a month even if you were to hire someone to get you 500 high-quality backlinks (but don't do that because that's fishy!) Depending on which niche you're targeting for your link building campaign, your keywords will help to give you ideas for guest posts, link bait, and other kinds of resources.
Consider "spicy pickles," for instance. Say you're writing a guest post for a high-quality, authoritative spicy foods blog. A product comparison between your spicy pickles and another brand would give you an opportunity to link to your site even if you determine that your competitor's pickles are spicier. Alternatively, you could concoct a list of "pickle hacks"-- pickle additions that could serve to make your pickles spicier than any pickles you could buy online.
Taking this a step further, you will notice that "dill pickle recipes" is a keyword phrase that drives a notable amount of traffic. You will also remember that pickles have been pinned to many food boards on Pinterest. Your research shows that recipes using pickles could be both a great linkable resource on your site or a great guest post concept that would create both a natural way to link to your site in addition to using your keywords and their synonyms.
What about recipes that already mention your pickles-- or "spicy pickles," for that matter-- but don't link to your site? This article goes through ways in which you can find fresh web mentions of your brand name and keywords that are just waiting to become resource links to your site. Knowing which keywords could potentially drive traffic to your site helps you to know which words or phrases to receive Google Alerts for, or what to track on Moz's Fresh Web Explorer.
Other ideas? An I Took the Spicy Pickle Challenge badging campaign could both build links to your site and build a sense of community around those who love spicy pickles.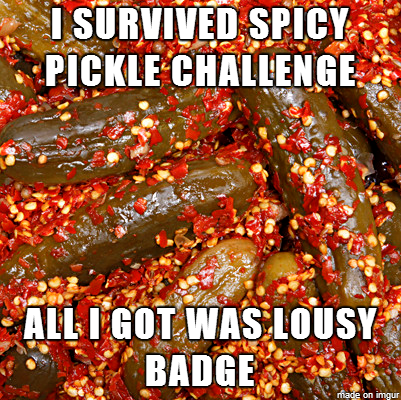 These are only a sampling of ways that your keyword research can inform link bait, guest posts, and other resources that you may use over the course of your link building campaign. Again, the human brain is your best link building tool, and keywords are solid muses for creative, relevant link building tactics.
Long-Tail Anchor Text
A third way that you can use your keywords is as part of a long-tail anchor text. While we can never know anything about Google's algorithm for sure, backlink anchor text remains one of Google's many search ranking factors. Just like the human internet users you ought to be building your links for, Google expects that your anchor text will describe what it links to. Luckily, if you've chosen your keywords well, it shouldn't be difficult to fit them into a long-tail anchor text that describes your site.
This is, of course, different than making "spicy pickles" your anchor text every time. But if you really hope to rank for "spicy pickles," you could focus on writing content about ways to use spicy/hot pickles, and vary the anchor text using phrases that include "spicy pickles" as well as synonyms like "hot pickles." Again, you want to use your keywords, not stuff your document to the brim with them.
Thankfully, even if it failed at everything else, this article shows that "spicy pickles" can fit naturally in a wide variety of sentences-- potential long-tail anchor texts-- talking about spicy pickles.
As you can see, keyword research for link building purposes remains relevant. The way we use keywords has changed, but they will exist as long as we use language in our search queries.
When asked about whether one should eat pickles (and all other foods), the great Michael Pollan suggested that we "Eat food. Not too much. Mostly plants." My keyword advice isn't too different from that:
Use keywords. Not too much. Always in context.