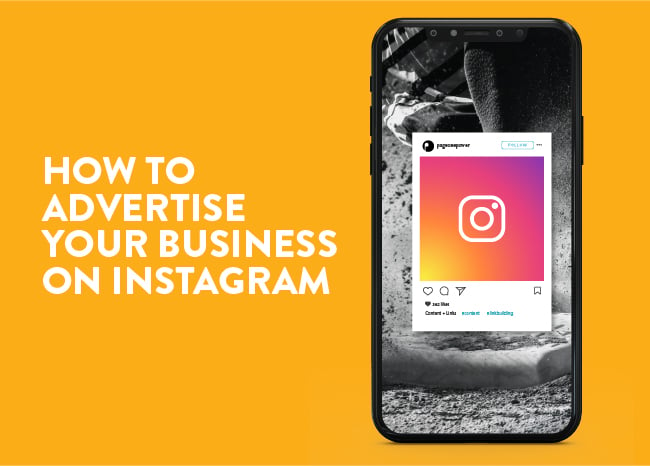 Modern businesses are always searching for ways to build their brand identity and reach more consumers. This constant push to innovate, coupled with the growing popularity of social media, has led more advertisers in all industries to explore the advantages of marketing through Instagram. The audience for Instagram marketing has exploded as the platform's monthly active user numbers have doubled in the past four years and now exceed 2 billion worldwide.
Social media outreach and search engine optimization are essential components of any holistic marketing strategy. Establishing a strong presence on social media can benefit SEO efforts and generate brand awareness, but it's critical for businesses to research the platforms and tools they'll be using to advertise. When it comes to Instagram, there are several fundamental concepts and best practices that all marketing professionals must understand to design and operate successful campaigns.
What Types of Ads Are Available on Instagram?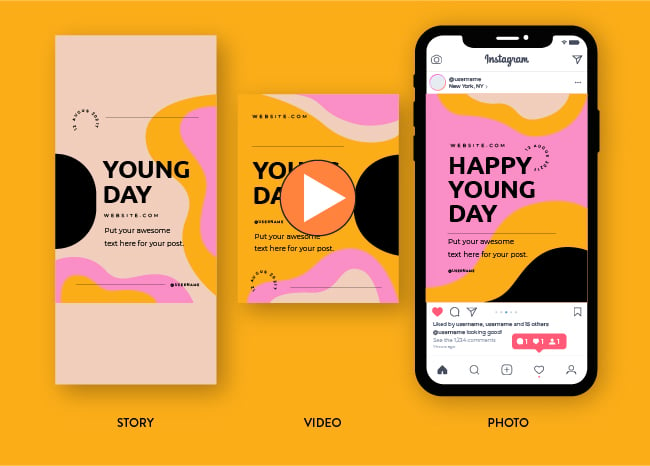 There are several types of Instagram ads for businesses to choose from, each with its distinct format. When developing an Instagram marketing campaign, businesses must determine which ad formats to utilize based on their unique goals. Ultimately, the optimal ad format(s) for you depends on your target audience, your plan for engagement, and the types of media you'd like to incorporate in your marketing.
Photo Ads: Instagram photo ads appear on users' feeds as sponsored posts with CTAs. Photo ads can communicate simple messages quickly, and are ideal for catching users' attention as they scroll through their feeds. You can choose between square, portrait, or landscape image formats when designing photo ads.
Video Ads: Video ads are sponsored posts that contain video messages. Videos in Instagram ads can be up to 60 seconds long and appear in landscape or landscape format. Video content takes longer to view than static images, but can transmit more complex messages and provide your audience with a more immersive sensory experience.
Stories Ads: Stories Ads are messages that appear to Instagram users organically as they scroll through their followed stories. These ads can contain photos or videos, and utilize an engaging full-screen format designed to stand out in the fast-paced environment of the Instagram stories feed.
Carousel Ads: With Instagram carousel ads, marketers can include up to 10 related videos or photos in a single post that will appear on users' feeds. This format is ideal for highlighting groups of products or services, as each photo or video can contain different information and links.
Instagram Shopping Ads: With an Instagram shop, you can set up a virtual store where consumers can browse your products and make purchases directly through Instagram. Instagram shopping ads allow you to build eye-catching links to your Instagram shop from your regular posts. This gives audiences an easy way to interact with your content and learn more about your products/services.
Instagram Reel Ads: These ads utilize the same 30-second format as non-sponsored Instagram reel videos, allowing them to be smoothly integrated into users' normal reel feeds. The short video format of reel ads makes them useful for communicating brand your message in a succinct yet immersive way
How Can Businesses Advertise on Instagram?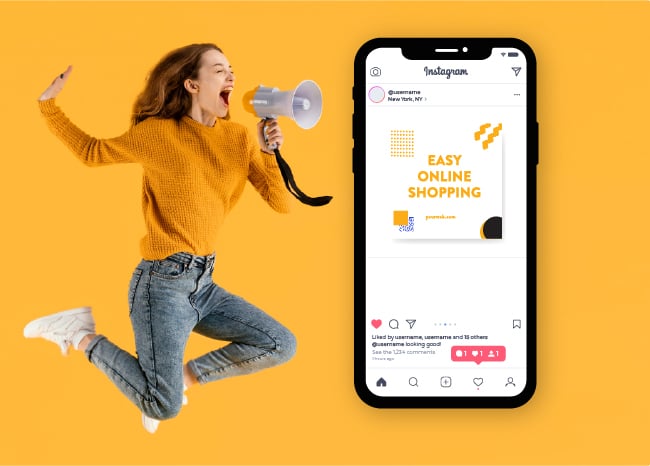 The next thing to consider when promoting your business on Instagram is the way that you purchase ads and promote your content. There are three main ways to get started advertising on Instagram, and it's critical to understand the unique considerations and practices associated with each method before you begin your campaign:
Instagram App
Promoting existing posts through the Instagram app is one of the simplest ways to showcase your business online. By "promoting" an existing post on the app, you can turn the content into an ad. The main advantage of this strategy is that promoted ads will be seen by a much wider audience than standard posts, which are typically only viewed by followers.
The app also allows marketers to select their budget and define a target audience for their newly-promoted content. Posts that already have high engagement should be considered first for promotion, as they are more likely to perform well in front of an expanded audience. Once you promote a post, you can track the content's performance in detail via the Instagram promotions tab.
Ads Manager
Using Facebook's Ads Manager program, marketers can develop custom ad campaigns for Instagram and track the results of their efforts. Ads Manager allows you to identify goals for your campaign (higher traffic, more conversions, etc.), set your budget, and establish a clear timeline for reaching individual benchmarks.
Once you decide which formats to incorporate, you can manually select where your ads appear on Instagram (newsfeed, stories, reels, etc.). If you aren't sure which location(s) to choose, Ad Manager's "automatic placement" feature will distribute your ads based on your target audience. To determine the success of your campaign, you can use Ads Manager to track the performance of your ads with a variety of key metrics including video views, sales, app installs, store traffic, and more.
Meta Partners
Social media marketing is not a substitute for a traditional link building campaign, but it can benefit SEO efforts in several key ways. While social links won't boost a page's authority score in the eyes of Google, they are excellent tools for sharing content and building a wider audience. Social discovery can help generate new interest in your products and services, which can lead to more branded searches for your organization, or even put your linkable assets in front of new sites that may opt to link to you outside of social platforms. However, optimizing content for social channels requires different knowledge and strategies than optimizing for searches.
If you're interested in the benefits of Instagram marketing, but don't have the resources or expertise to create and operate a successful social media campaign, outsourcing your marketing services may be the most prudent solution. Developing a social media campaign requires specialized skills and knowledge, but the Meta Business Partner program can help you locate a trustworthy service provider with a proven record of success.
The Meta Business Partner Program works with a range of affiliates that specialize in various marketing areas, including strategy consulting, creative design, conversion tracking, and campaign management. All partners are screened by Meta before joining the program to ensure their reliability and expertise in Facebook and Instagram marketing. You can find a partner by entering your location, industry, and desired services into the Meta online marketing partner directory.
Influencer Marketing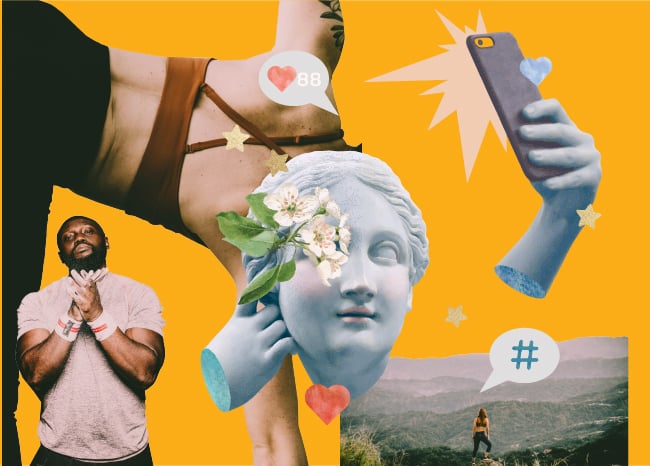 To build a successful marketing campaign in any industry, it's important to create content that speaks to your target audience. In many cases, traditional advertisements simply aren't interesting or relatable enough to engage younger audiences on social media. As a result, many modern advertisers are working with influencers to bridge the gap and create more engaging content for Instagram.
The influencer marketing industry has surged in recent years as social media has become more ubiquitous, and Instagram's high engagement rates have made it an ideal platform for reaching consumers. Influencer marketing can help you build brand awareness and connect with a wider audience, but your success depends on your campaign strategy and the influencers you choose to work with.
Choosing the Right Influencer
Selecting the right influencer can boost your marketing efforts in numerous ways, but it isn't always a clear choice, as different businesses often have vastly different marketing needs. The ideal influencer for your unique brand will depend on several factors:
Niche: In the world of social media, most influencers have a niche of some kind. The niche of an Instagram personality can shape their content and determine their target audience. Examples of common niches include sports, pets, travel, and video games. The influencer you choose for marketing should have a niche that clearly relates to your products, services, or industry for them to relate to your audience and generate authentic content.
Reach: When choosing an influencer, it's crucial to select one with a reach that suits your marketing goals. Generally, influencers with more followers will have a wider reach, but you should also consider whether their reach extends to your target audiences. In many cases, influencers with smaller fanbases can still be effective if they share an audience with your brand.
Voice: The influencers you choose to partner with are often the voice of your brand. To create content that resonates with your audience, it is important to find an influencer whose voice matches your brand. For example, if you provide business-to-business services, then you should seek out influencers who maintain a professional image.
Engagement Rate: Before working with an influencer, you should study their engagement rate using metrics like comments, likes, and shares to assess how they connect with their audience. Performing this analysis can help you avoid spending money on ineffective marketing.
Influencer Ads for Instagram
When you're developing an influencer campaign, you must utilize ad formats that work for your needs and appeal to your audience. There are several different ways for brands to advertise through influencers on Instagram:
Sponsored Posts: These are posts that communicate your brand message, but are made by influencers on their own accounts.
Branded Content: These are posts made from your company account that feature influencers by picturing or tagging them.
Reviews: In these posts, influencers will review your products or services on their account. These reviews should always be honest and objective to preserve credibility and audience trust.
Contests: For this promotional strategy, influencers will hold contests or giveaways for their followers, and give out samples of your products as prizes.
Each of these formats represents a different way to engage consumers and showcase your products or services. The influencer marketing strategies you choose will determine how you relate to your audience and shape the public's perception of your brand.