Welcome to Tutorial Tuesday, where each week we walk you through a process to help you improve the efficiency and efficacy of your online marketing, SEO, or link building.
Today I want to share a process near and dear to my heart – content discovery.
Content discovery is vital for any brand invested in creating content, building an audience, and performing well in organic. Content discovery and monitoring is important to understand what content is popular in your industry so you can create valuable and popular content for your own audience.
Good content discovery is systematic, organized, and far-reaching. Great content discovery includes:
Active content discovery through top-shared content.
Passive content discovery through social channels, newsletter signups, and tools.
Consistent content monitoring, creating a database of content worth reading and considering.
Today I'm going to show you how to set up your own content discovery system in five easy steps.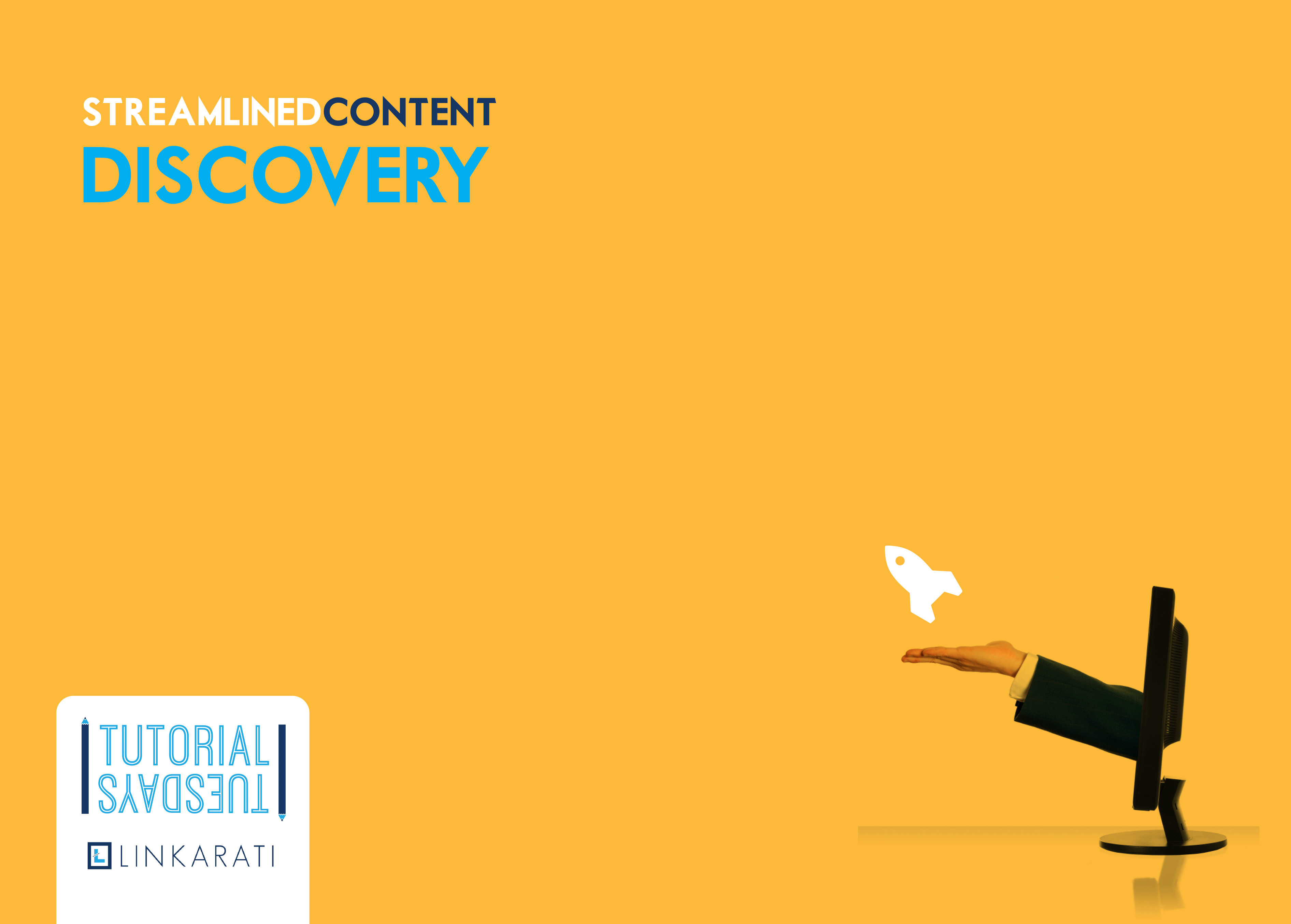 Step One: Fostering the right mentality - sign up for newsletters, follow influencers, subscribe to publishers
I can't stress this enough.
You'll never create a passive content discovery system if you don't have the right mentality during the active, manual searching phase.
You NEED to sign up for every newsletter, follow every author, publisher, and community on social.
Content discovery as a process is 70% (if not more) social listening and newsletter monitoring. It's about building the right channels in, so you never miss an important piece of content in your inbox, social feed, or community.
You want the content to come to you.
Every single publisher online – be it a blog, a business, or an entire network – is actively working to share their content with you. If you're competing in the same space, make sure they do the work of content discovery for you.
Your competitor will reveal their own content strategy if you let them.
So the first step in creating a smooth, efficient, well-oiled content discovery machine is to have the right mentality whenever you actively search your niche for new, exciting, or popular content.
Anytime you read a post or article that has signs of popularity, is well-written, or ranks well in search, you need to:
Sign up for that publisher or business's newsletter.
Follow the business and author on Twitter, connect on LinkedIn, circle on G+ - whatever your industry's social platform of choice.
Add that site to a list of publishers within your niche.
Make life easier for yourself. Allow the competition to promote their best content to YOU.
Step Two: Active Content Discovery via Google
A quick step, but vital.
Every online content creator and site owner should start with Google. Google is after all the ultimate research tool of our modern day society. And honestly, if you want your content to rank in Google, it stands to reason you should know what sort of content is ranking for your key terms.
So pop in and take a look at what pages are ranking for your key phrases. Bear in mind that this is only gauging one type of popularity – what Google preferences, which is influenced by links. Not all content should be designed for links alone.
Let's use the term fly fishing, because I've got fishing on the mind. Pop our head term in there and see which publications come up.
Right off the bat we can see a few viable opportunities to discover important sites and content producers in the fly fishing niche.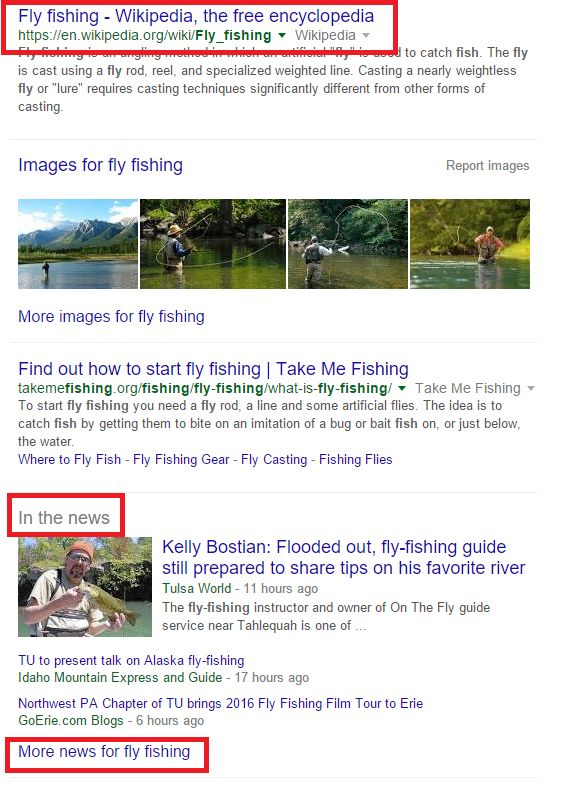 First, Wikipedia. Although an unlikely source, I'd pop my head into the fly fishing article and see what sort of sources they're citing. These could be authorities or influencers within the niche.

I've circled the citations pointing directly to websites. These are sites authoritative—or crafty—enough to earn a link and citation on Wikipedia. Definitely sign up for their newsletter and follow them on social.
Next notice the "In the news" rich feature in Google's results. Let's click "More new for fly fishing" and see what sites come up.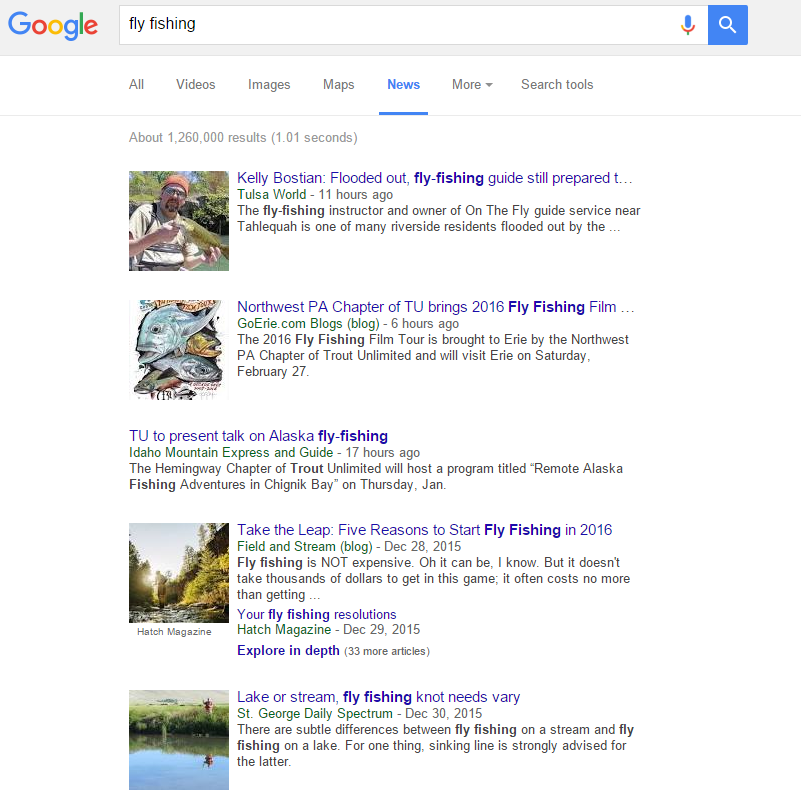 Immediately we have a wealth of publishers, blogs, and news networks to explore, follow, and sign up for newsletters.
…and all of this was with the simple head term "fly fishing" within Google itself. There are many other fly fishing oriented terms we could search with to continue to unveil popular content.
I will however leave further searching to you. I recommend this article on advanced search and complex search strings if you're unfamiliar with Google's search modifiers.
Let's check out a few other ways to actively discover popular content.
Step Three: Active Content Discovery via BuzzSumo
BuzzSumo is one of my go-to tools for active content discovery. If I ever have a question about what type of content is performing best within a niche I simply fire up BuzzSumo and search away.
BuzzSumo highlights the top-shared content within an industry, quickly and efficiently.
Let's demonstrate with our fly fishing example.

A few things to note:
Filter by Date
Language
Country
Filter domains
Content type.
There are filters we can and should use here. To reduce the noise let's filter out giveaways, videos, and interviews.
If we were getting non-English results we could trim that as well using the filters on the left.
The filter domains function is super-handy if we want to cut out domains we've already found and are aware of. This is particularly true for a smaller niche like fly fishing, which makes content discovery harder when big sites like National Geographic and The New York Times overwhelm smaller publishers.
Let's take a peek at the results:
Glancing through we have a handful of large publishers:
Field And Stream
Almanac.com
Bloomberg
NYTimes
Orvis
While following these publications won't necessarily bring in a torrent of fly fishing content, following the author on social just might.
Let's remove these bigger players in the filter domains option and see if we can uncover more niche-specific sites.
There you have it – fly fishing specific publications and sites worth following with just a bit of filtering using "fly fishing" as the head term.
Further research and searching with more specific terms should yield even better results – I'll leave it to you.
Let's jump into BuzzStream's Discovery for our third and final method of active content discovery.
Step Four: Active Content Discovery via BuzzStream Discovery
Next on our list is BuzzStream's new tool, Discovery.
It's worth noting this tool is in beta, so it's still being refined. Despite this, we've already began implementing Discovery into our processes and are quite pleased with its performance here at Page One Power.
The tool is designed to help you find influencers within your niche. It uses a variety of data:
Followers on social networks
Content published on authoritative sites
Amount and frequency of content published
…and probably a few others I don't know about, because I don't get to see the guts of the tool. That's my own summation on how it works. The important thing is that Discovery works, and it works well.
So let's pop in our search for fly fishing.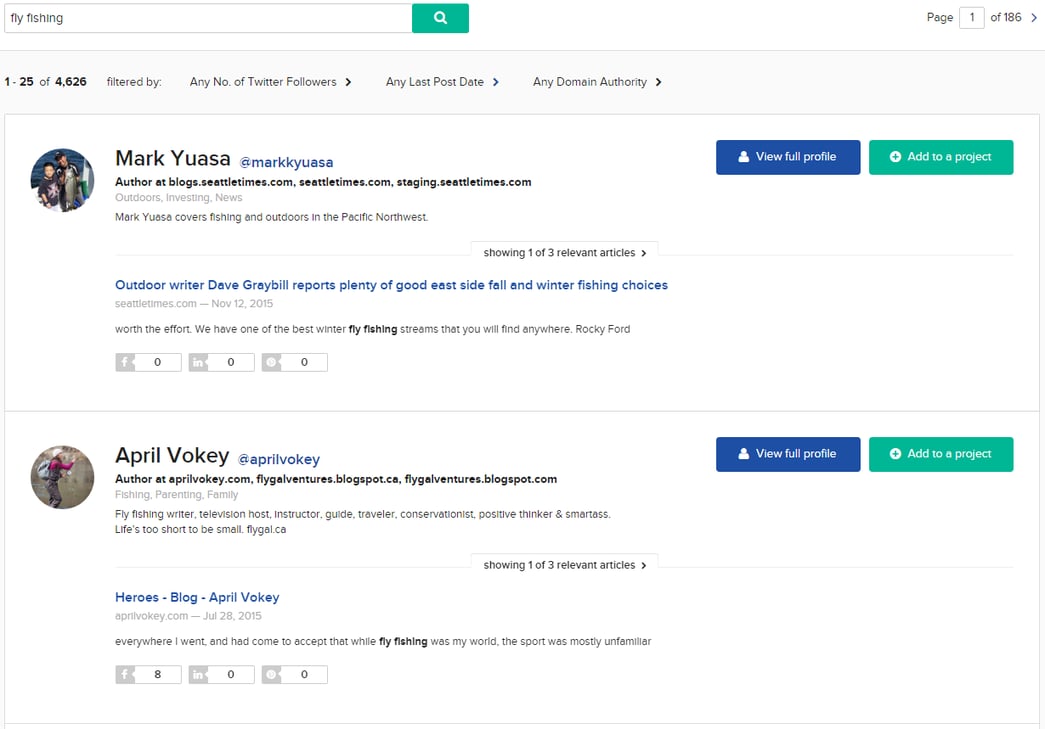 Within the results, you'll see:
Author's name
Twitter handle
Their latest relevant post
The site where it was published
The date
An excerpt
The social shares.
Seriously amazing information, all presented in the results for quick and easy scanning. If you can't quickly pick out influencers to follow with BuzzStream's Discovery tool—and great niche content—you're not trying.
If at first your results are less than relevant, don't forget there are options to filter your results:
Number of Twitter followers
Last post date
Domain authority (or where they're posting)
And don't ignore the View full profile button. Let's check that out for our first result, Mark Yusa:

Click that and you'll be taken into the full profile page: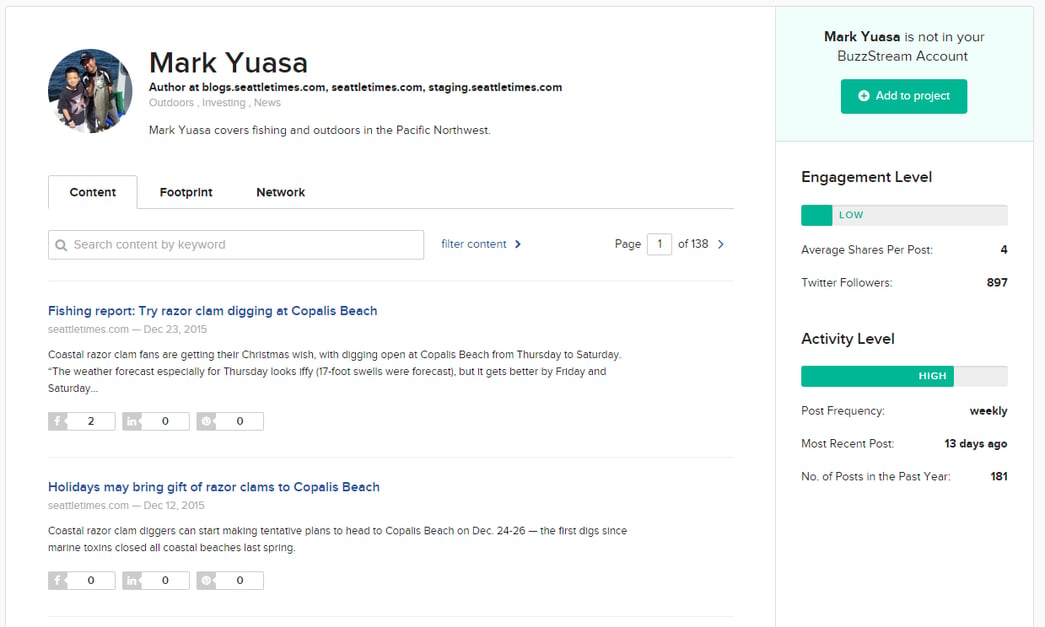 Here you can view:
Full publication list
Engagement level (shares per post & followers)
Activity level (publishing frequency)
Recent content published
Where the author publishes
The domain authority of those sites
Author's social network
…and more.
This page is replete with everything you need to know about the author, the content they've published, and where.
It's a veritable content discovery goldmine, ripe for the picking. Simply put your subject in and enjoy the rabbit hole you tumble down. And DO NOT forget to sign up for newsletters and follow the authors & publishers on social!
Step Five: Passive Discovery With Nuzzle
Finally, we're ready for the passive portion of content discovery and monitoring.
Nuzzle should be the secret weapon of every writer on the web. I honestly can't sing Nuzzle's praises loudly enough.
Nuzzle is great because:
It's passive: you signup once with Nuzzle, through Twitter, and they'll email you every day with what's being shared in your network.
It's custom to you: The content Nuzzle shares (in your inbox!) is based on what's being shared by those you follow.
It's brainless: you literally don't have to do anything. If you're already following the appropriate people on Twitter, you're set.
Simply head over to Nuzzle.com:
And click the giant Sign in with Twitter button.
This will immediately bring you into the application, as well as fill out your "News From Your Friends" based on who you follow on Twitter: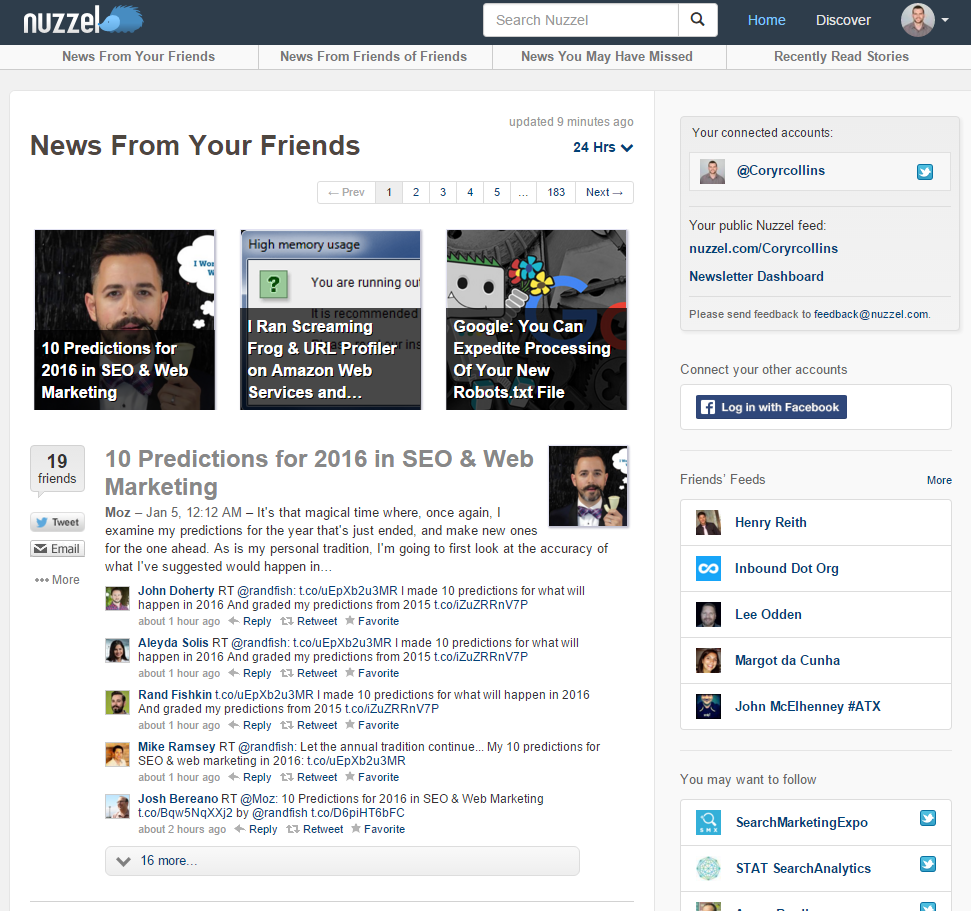 Anytime you want, you can pop into Nuzzle to see the top-shared stories in your network.
But here's where the genius part really comes in. Click on your profile in the top right hand corner: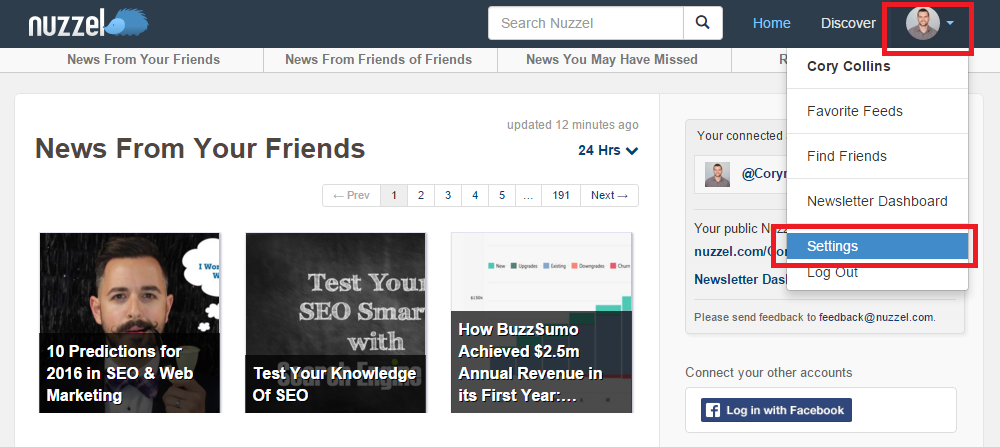 And choose settings. Here's where the magic happens.
In your settings page, make sure you've entered your email address under Email Notifications, selecting the time which you'd like Nuzzle to email you the list of top shared content from those you follow.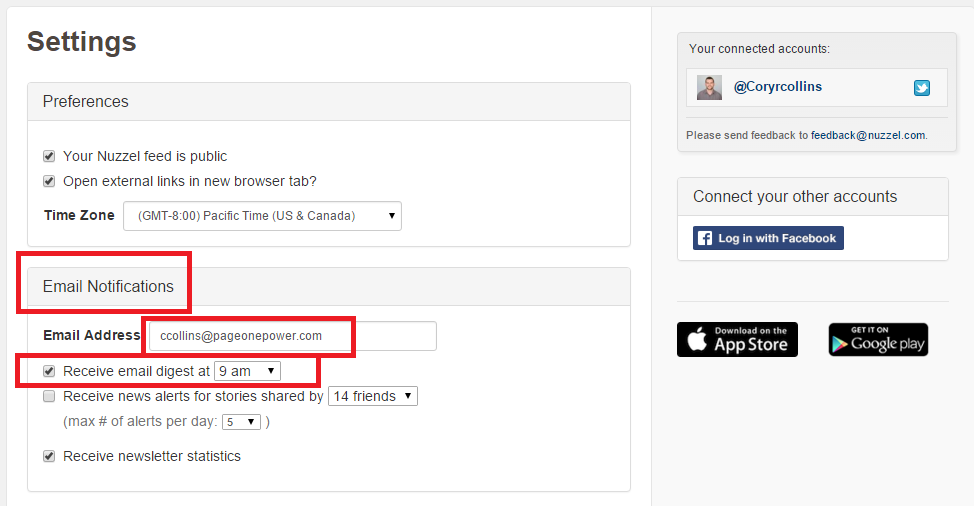 Now at the selected time you'll receive an email from Nuzzle that shows the top-shared content by those you follow.
And since you've been making sure to follow all the publishers and authors we've found in our active content discovery process (RIGHT?! RIGHT?!) then voila! Content discovery is now passive, and directly to your inbox.
You've automated your entire content discovery, assuming you've followed all the right content publishers and authors on Twitter.
The only active discovery you'll need to do from here on out will be natural content discovery. Anytime you see a new piece you really like, follow that author and publisher to be sure you never miss anything important from them again.
Welcome to the easy life, friend.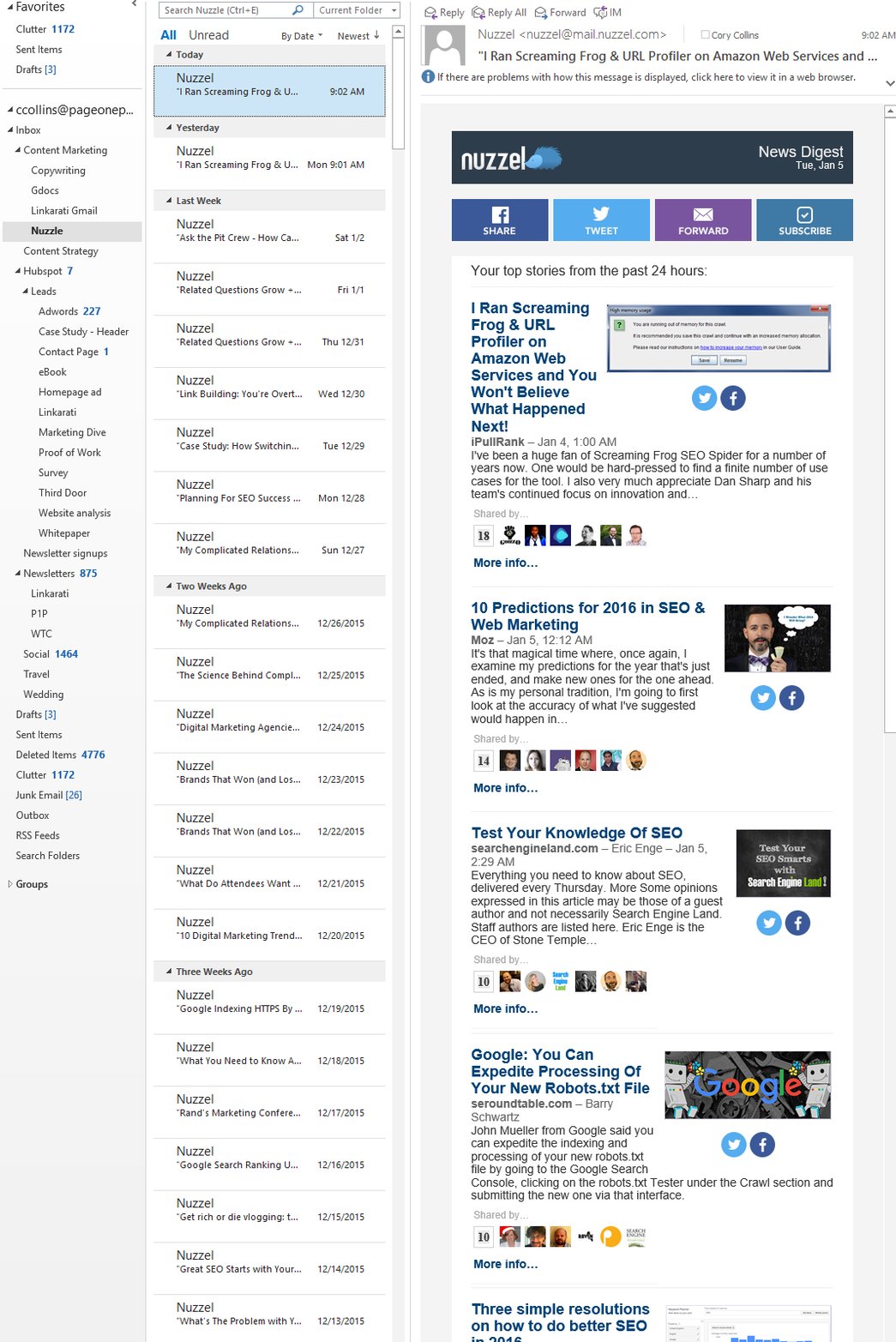 Bonus Step Six: Create A Content Database With Feedly
Coming soon, as its own post. Stay tuned (or better yet, sign up to receive updates from Linkarati!).
Bonus Step Seven: Save with Pocket for Complete Reading
Coming soon, as its own post. Stay tuned (or better yet, sign up to receive updates from Linkarati!).