Hello all, and welcome to another installment of Tutorial Tuesday here on Linkarati.
As the new year approaches, it's the perfect time to start preparing and developing a marketing plan for the upcoming year. Finding industry leaders is the first step to building relationships, growing brand reputation, and earning additional amplification for your content marketing, PR, link building, and more.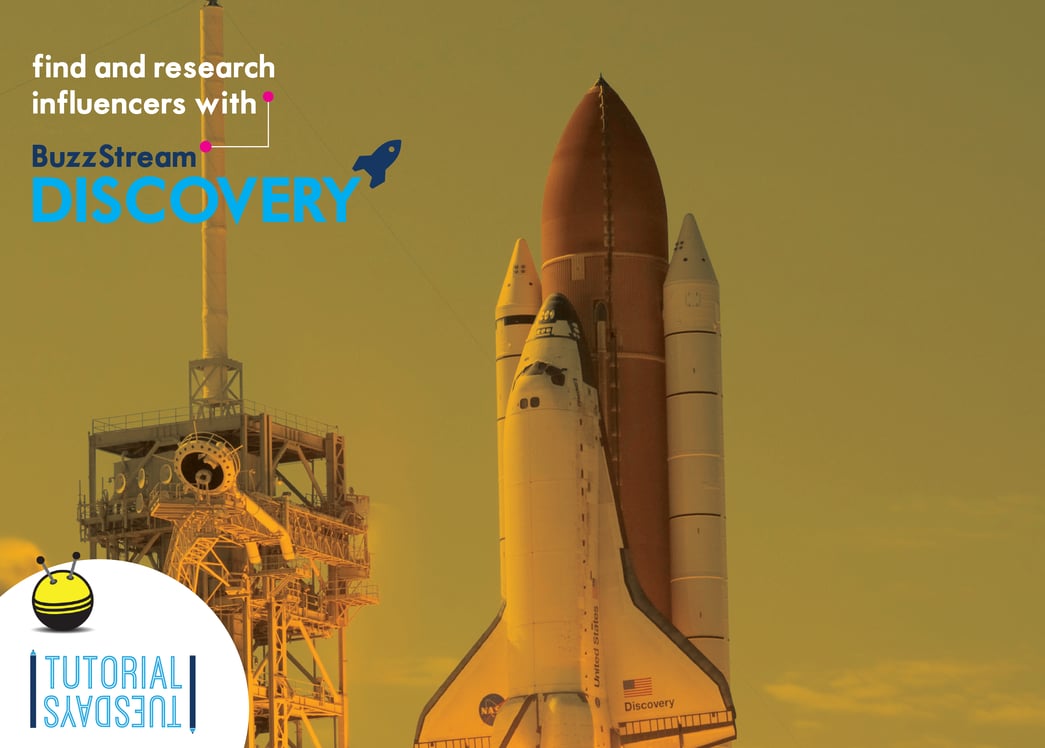 Today I want to share a process for finding niche influencers with a new tool from BuzzStream named "Discovery".
Before we dive into the tutorial I have a couple quick disclaimers:
Discovery is still in Beta, and BuzzStream is continuing

to improve and polish its features.

I will be using a paid account for this tutorial, which I recommend. There is a free version available, but the results are limited and you can only search five times per day.
Without further ado, let's jump in.
Step One: Enter a Topic into Discovery's Search Bar
Navigate to the Discovery home page: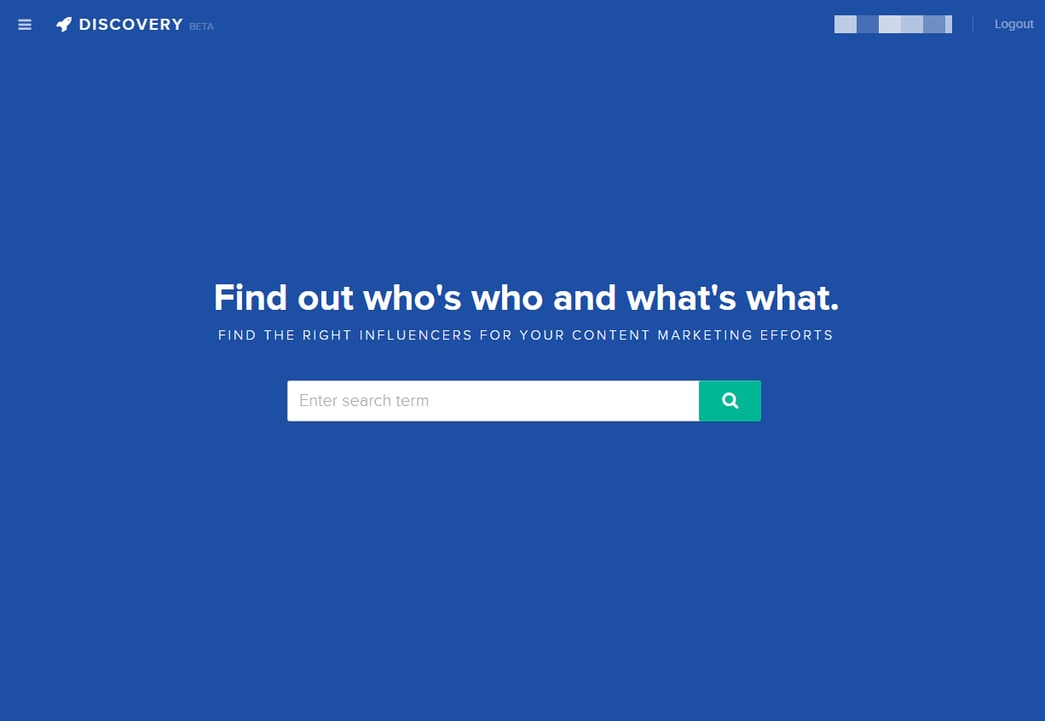 Then you can begin influencer research by submitting a query into the search term box: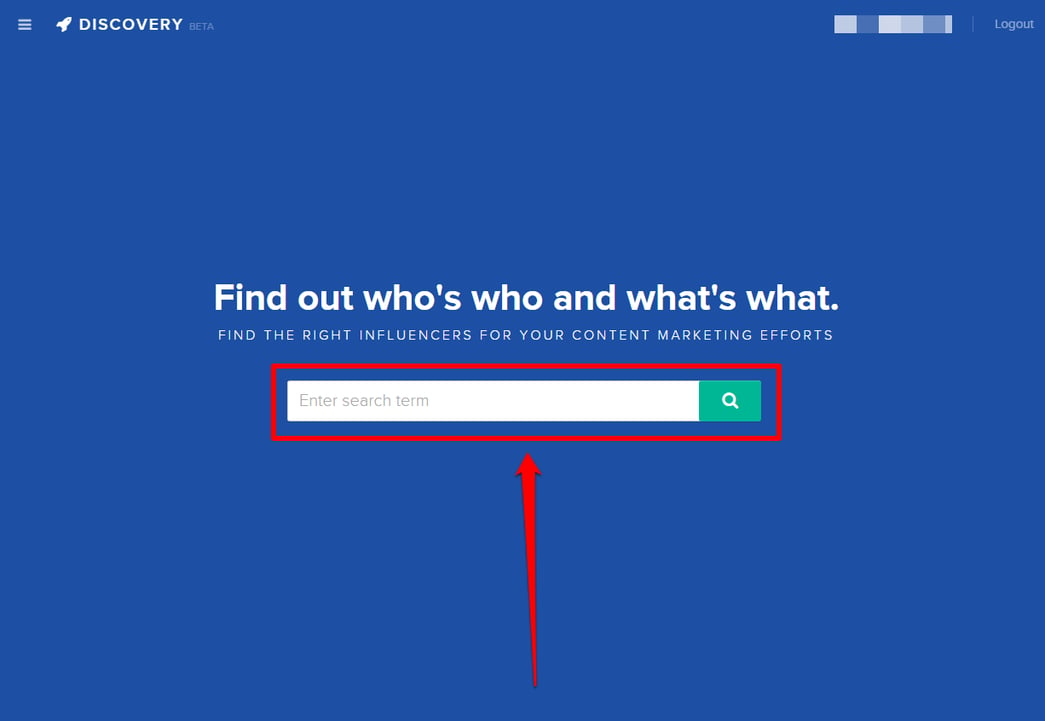 For this tutorial I will be using the term 'beer brewing' (because I'm an avid home brewer myself):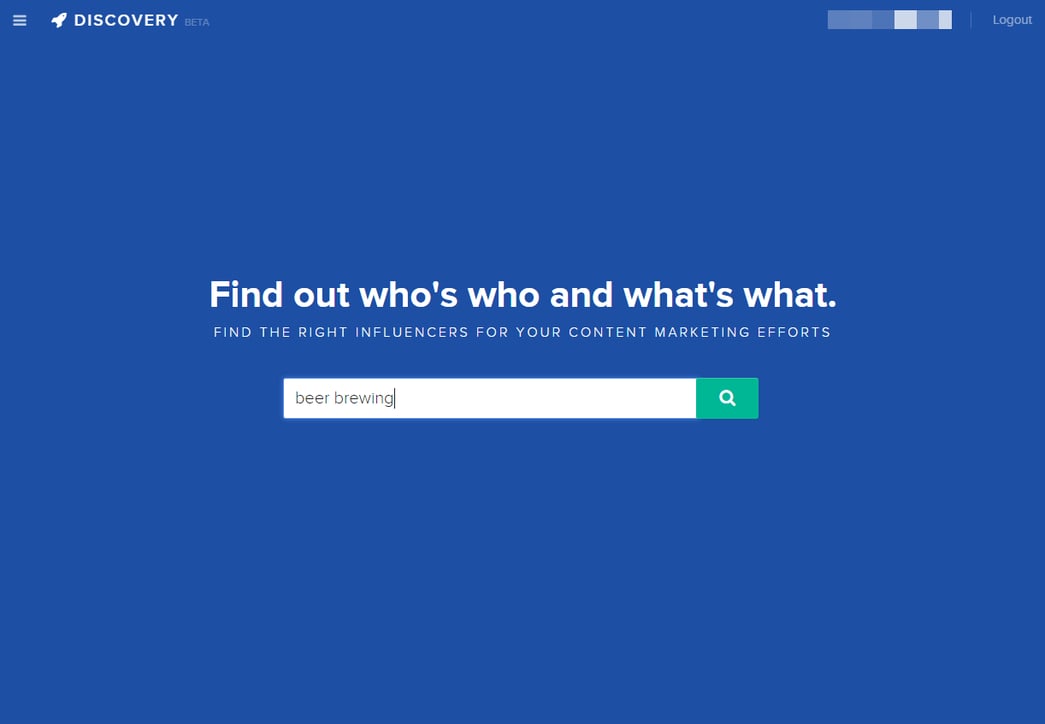 Simply hit enter or click the green magnifying glass icon: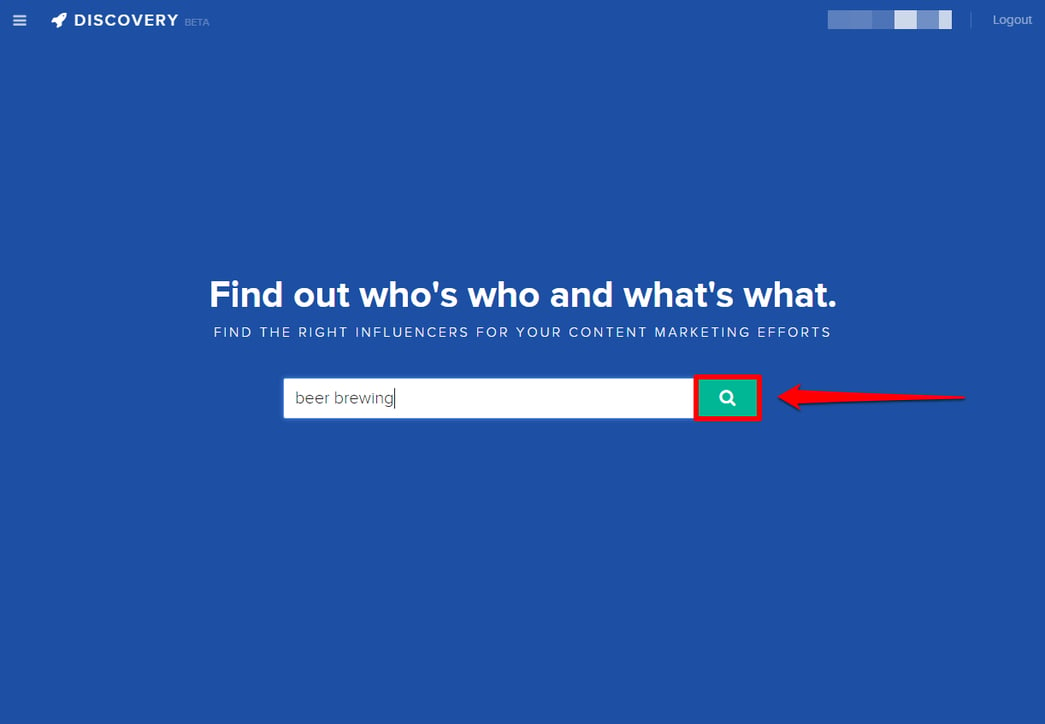 This will take you to the Discovery search results: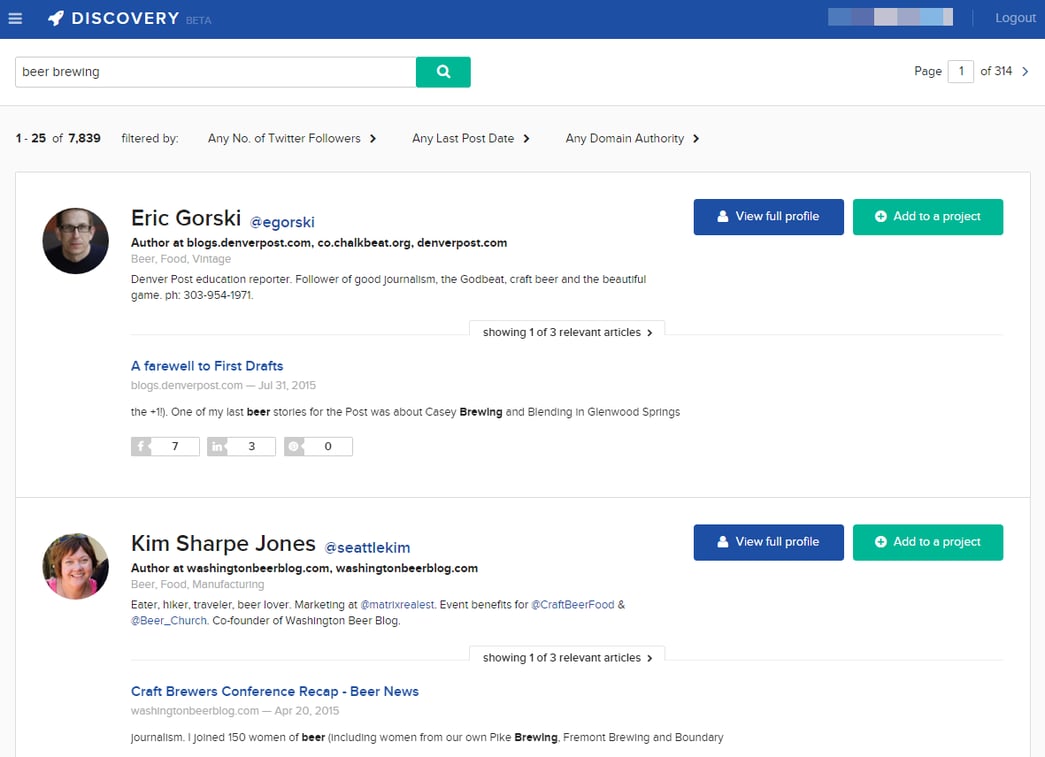 The number of results will vary based upon your search. I've seen Discovery return anywhere from 100-250,000+ results, depending on topic popularity. In my experience the results are accurate and diverse, derived from an amalgamation of authority stats including social following, publication authority, and overall activity.
Once you've entered your search term you can begin to analyze the results.
Step Two: Examine and Organize Discovery's Search Results
After you've entered your search into Discovery, it's time to examine the results Discovery returns and the information it provides.
First, look at the various filter options. You can filter by number of Twitter followers: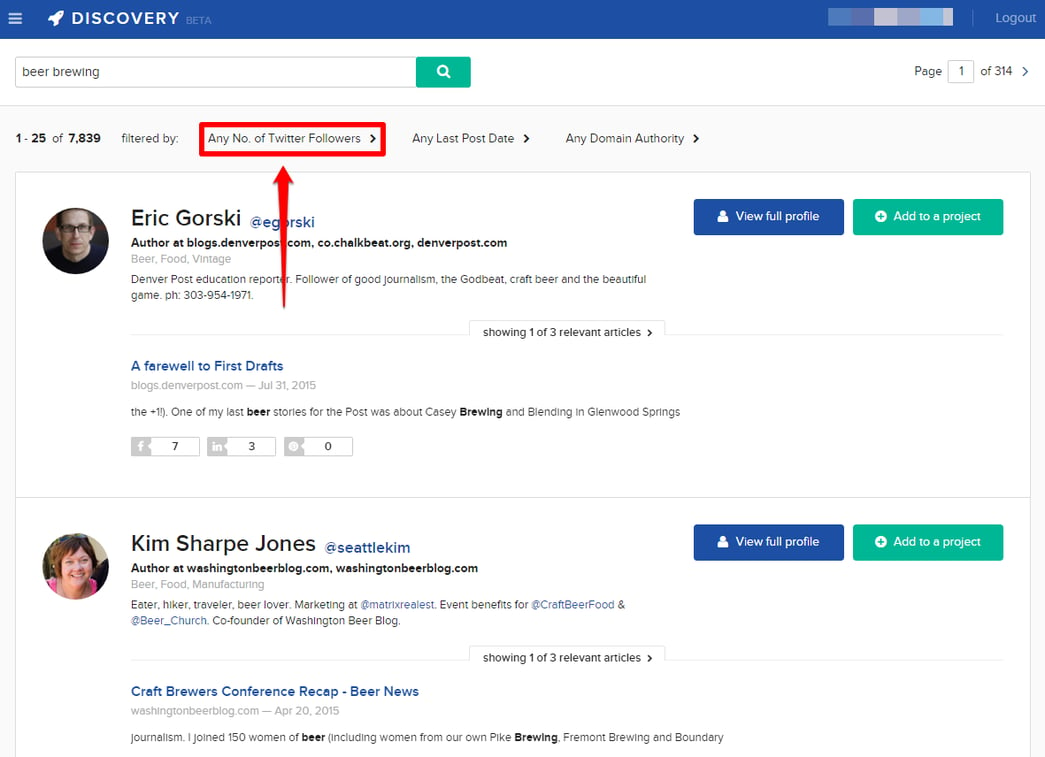 Or by last post date: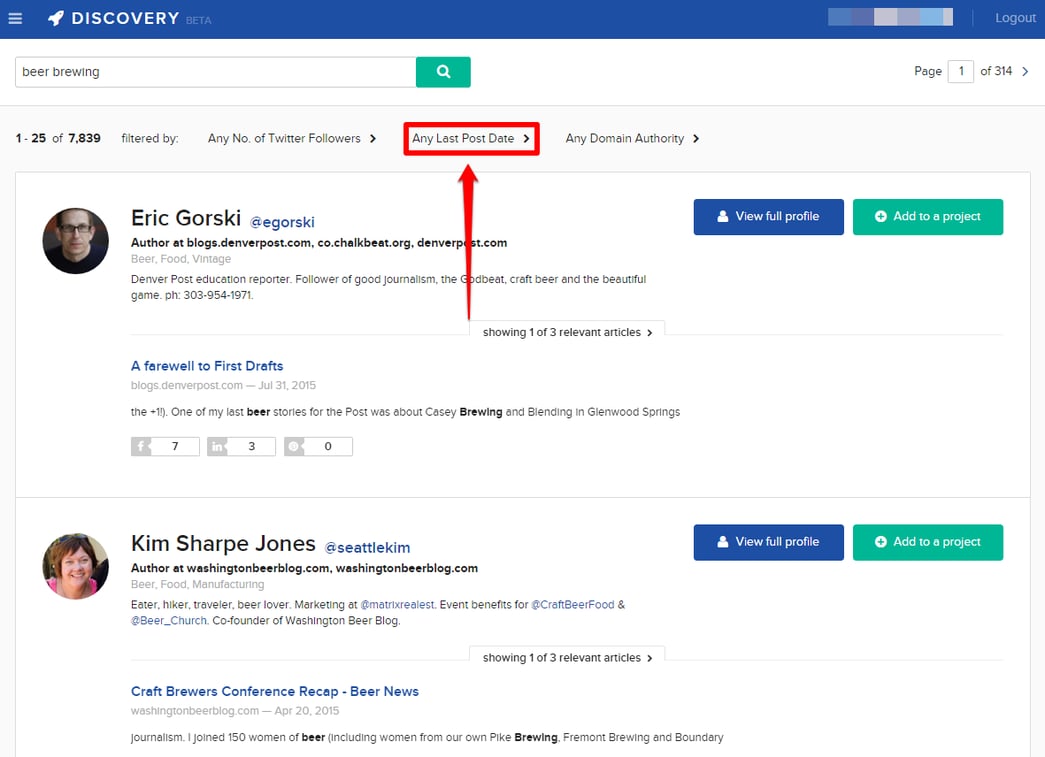 Or even by the Domain Authority of the sites published on: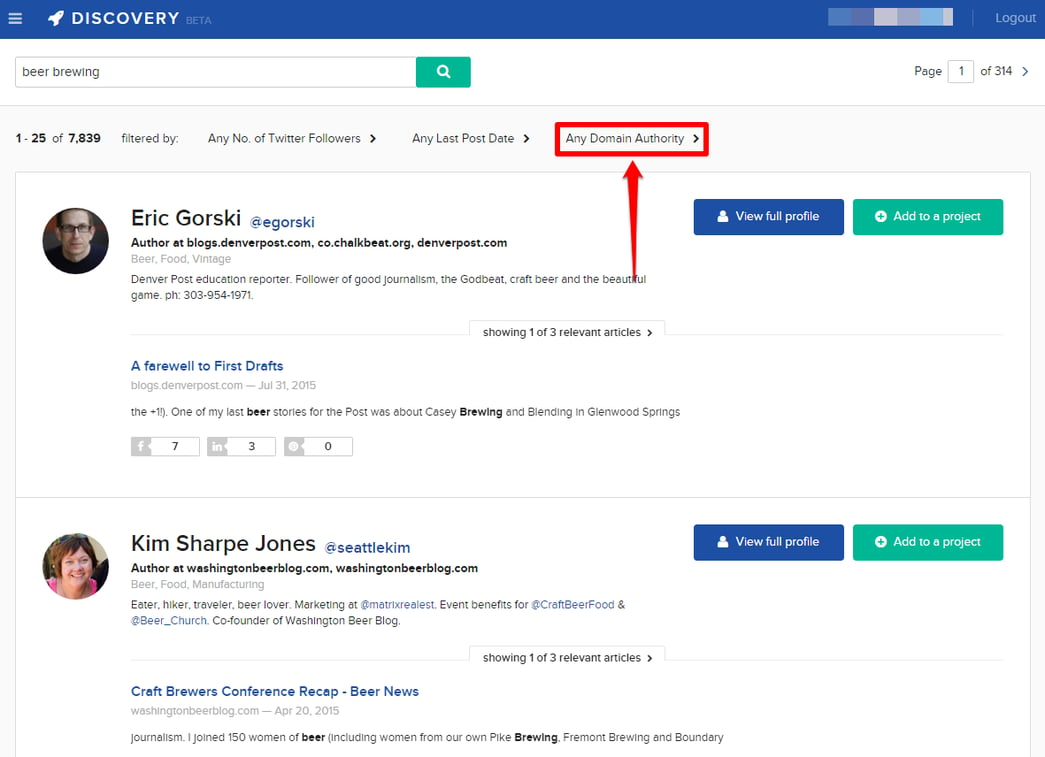 Each filter is useful for different goals.
Number of Twitter followers - good for finding influencers with more sway on social, particularly for industries where Twitter is the popular platform.
Last post date – helps with finding the most prolific authors within a niche.
Domain Authority – makes it easy to pull out influencers with the most clout, publishing on authoritative industry sites.
Once you have filtered the results to your liking, you can investigate each individual result from this page with some high-level information.
Each result includes the person's Twitter handle and bio: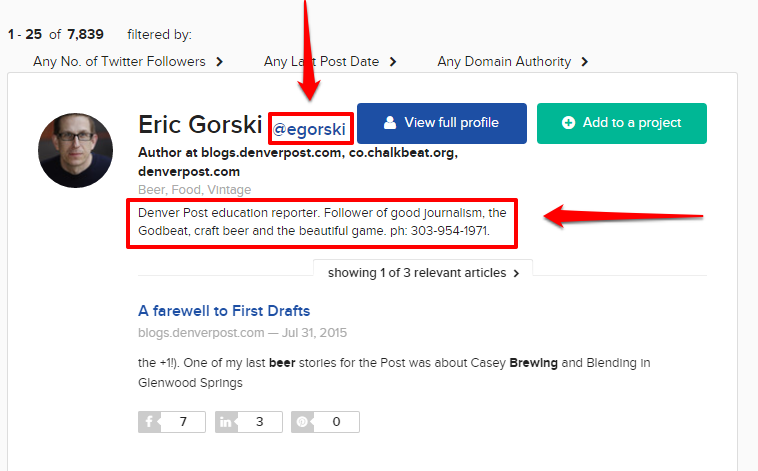 Discovery also lists any sites or publications the person contributes to: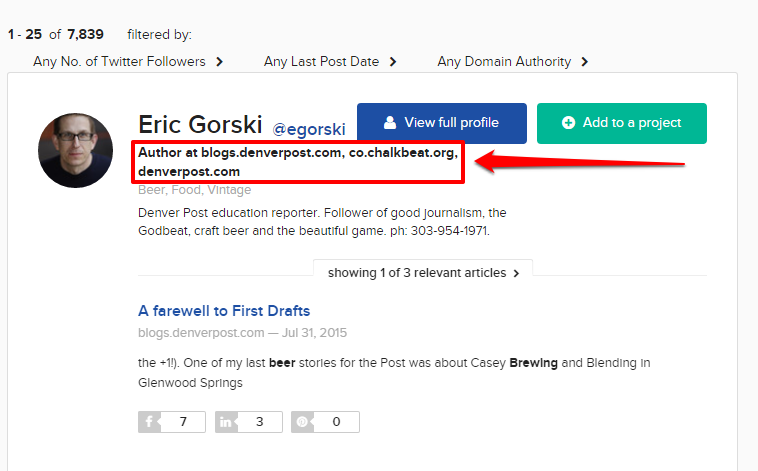 And you can even view relevant articles the person has written: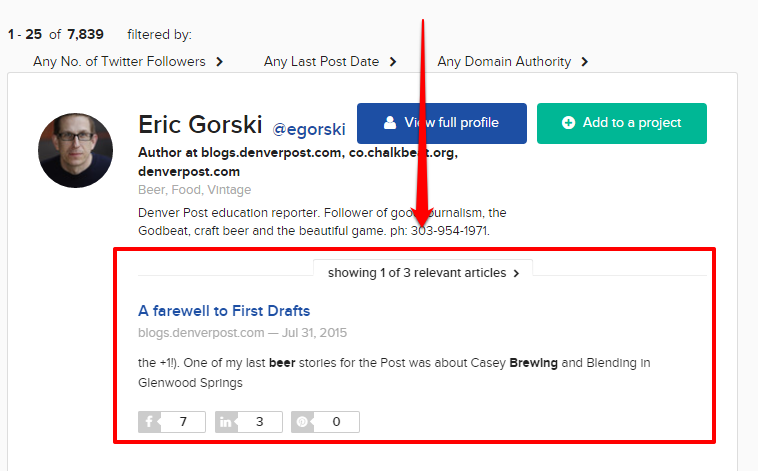 Along with a link to the articles, Discovery also provides the corresponding publish date and social sharing numbers: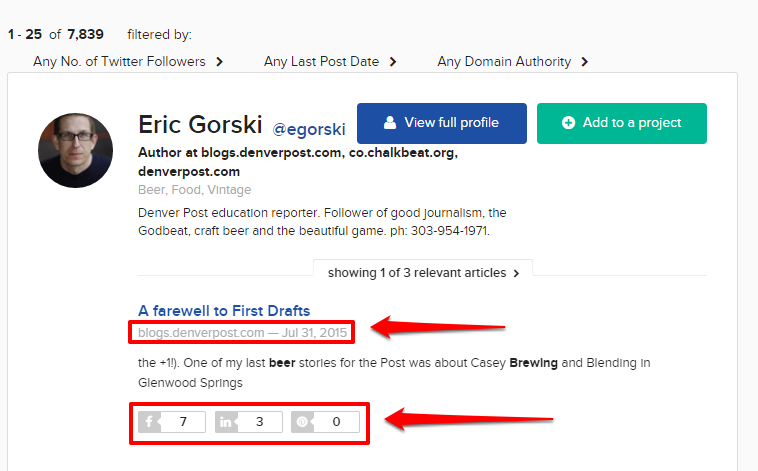 Note: Twitter shares aren't present because Twitter recently pulled API access which has made it impossible to display social share counts from their platform.
By viewing an author's bio, relevant publications, and social share numbers you have a quick snapshot of a given influencer's social profile, and the type of content they write and where they publish it.
Quick and easy influencer research at its finest.
To research deeper into a specific person, you can view their full profile.
Step Three: View an Influencer's Full Profile for Deeper Research
Discovery allows you to view each person's full profile to get a better idea of how influential they are, how they're involved in the community, and which sites they're active on.
Star by clicking the "View full profile" icon (I'll be using John Verive for this example):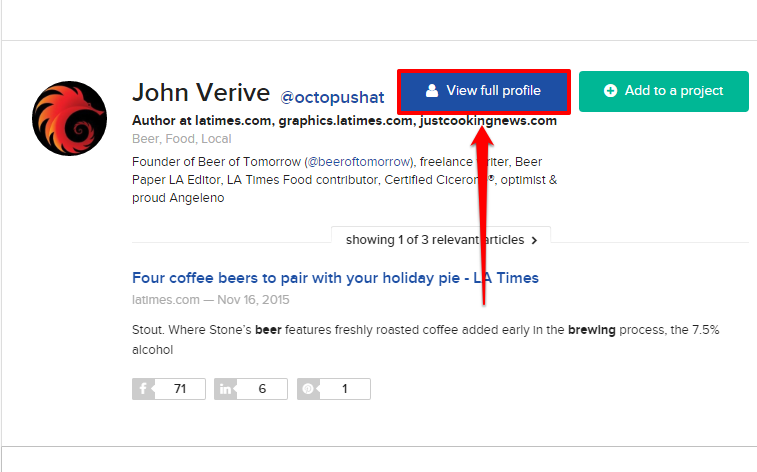 Here is what John's profile page looks like: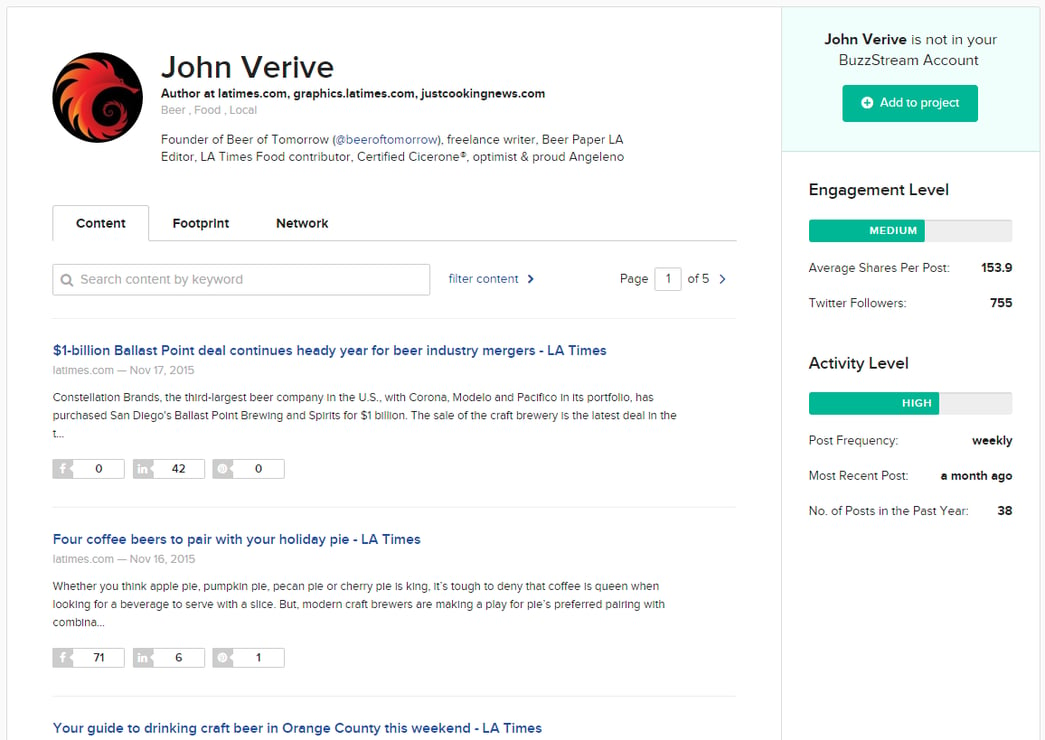 There's an abundance of rich information here. Fortunately, Discovery does a good job of segmenting everything to make it easily digestible.
There are three tabs to choose from at the top:
Content
Footprint
And Network.
I'll start with "Content" because this is the default tab the tool uses.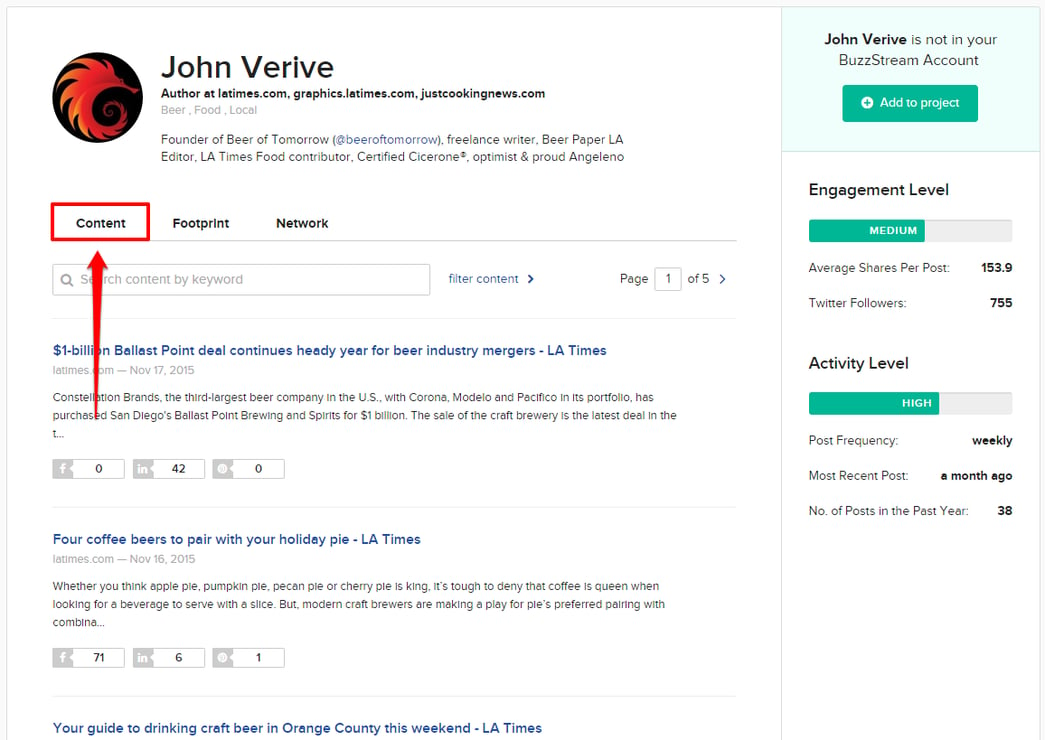 The Content tab fittingly shows the author's most recent articles. Included are links, publish date, a short snippet, and social share counts.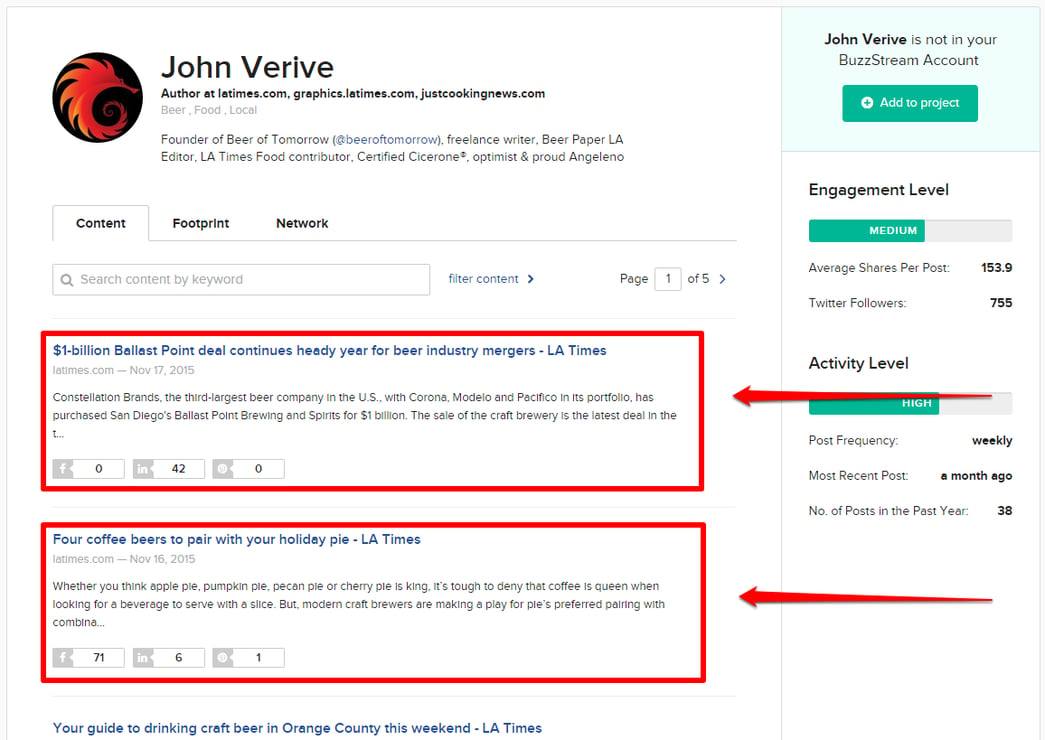 You can filter the content results here also. Click "filter content" and a drop-down will appear with filtering options: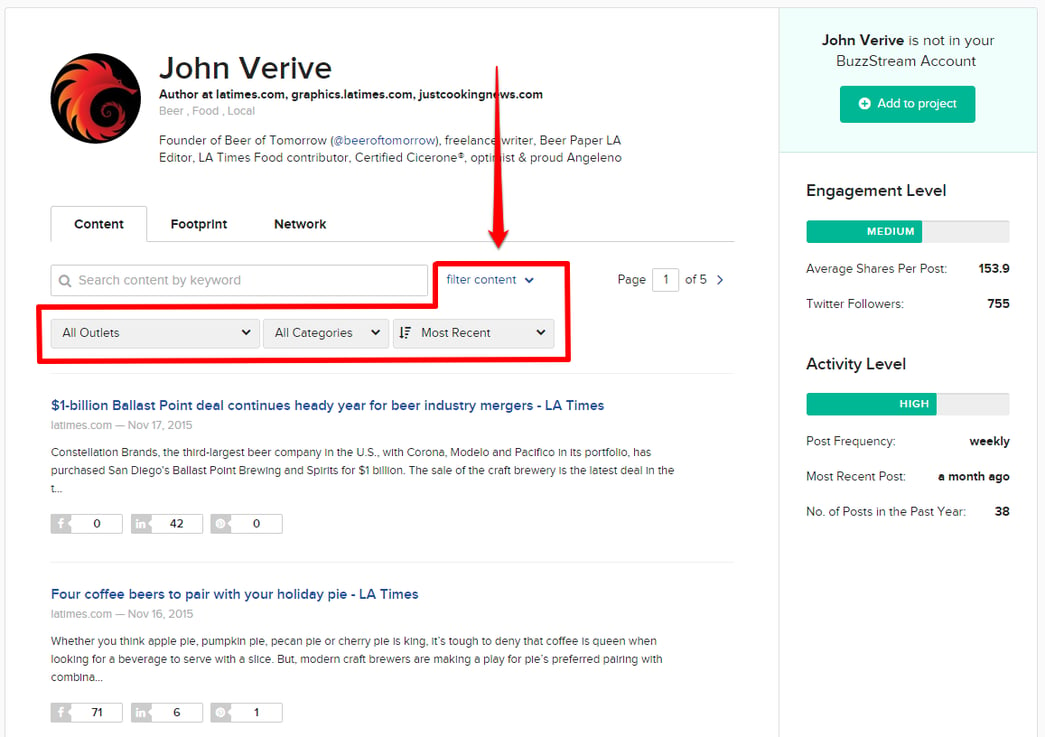 You can filter by "Outlets", which will show posts from specific sites and how many the author has there: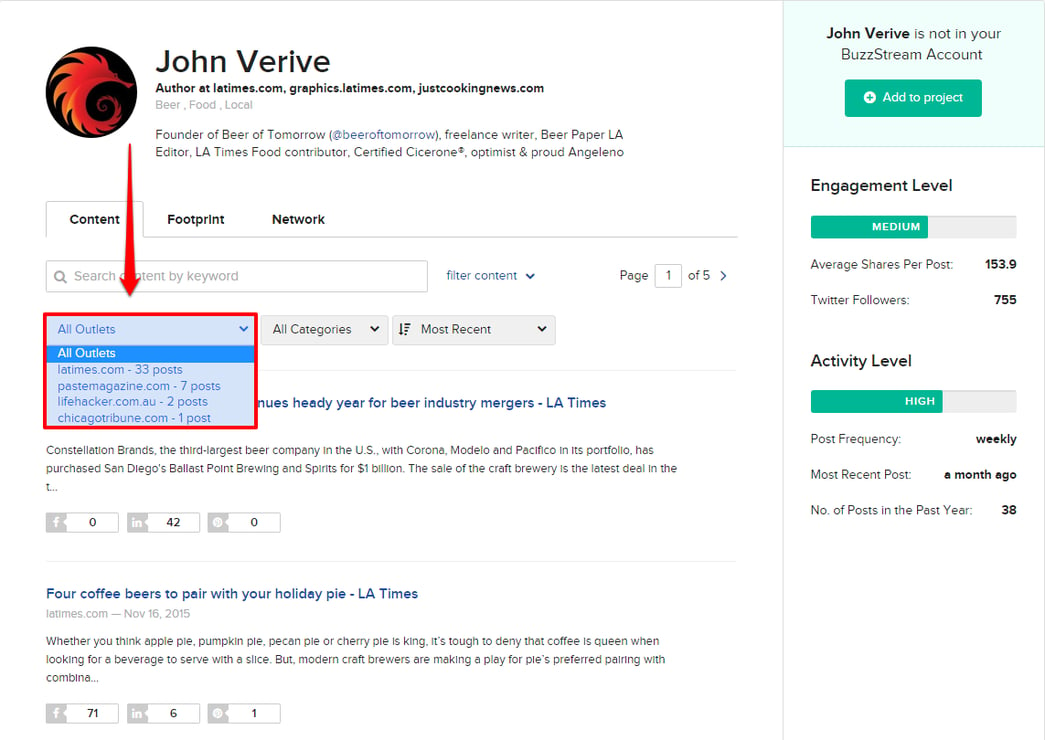 Or you can filter by "Categories" that are relevant to the author: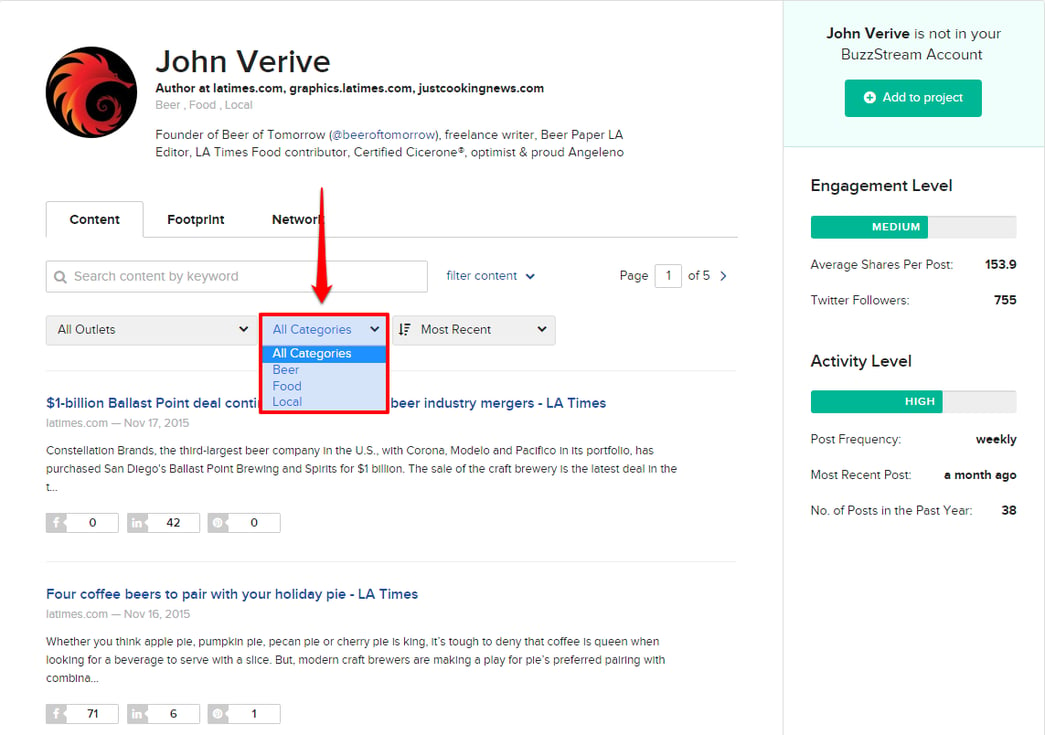 And you can switch from "Most Recent" to filter by Facebook, Pinterest, or LinkedIn shares (Keep in mind Twitter shares aren't included, likely because Twitter pulled the API, and this skews the data – particularly if Twitter is the author's dominant platform):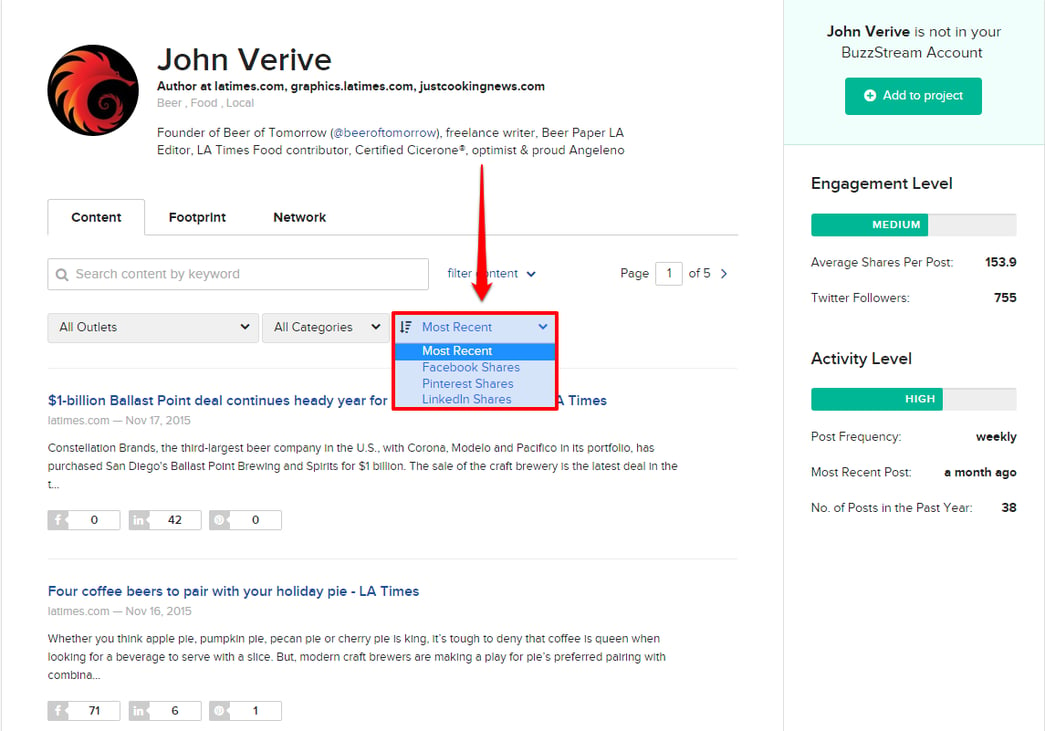 You can also filter the author's content by searching for a specific keyword: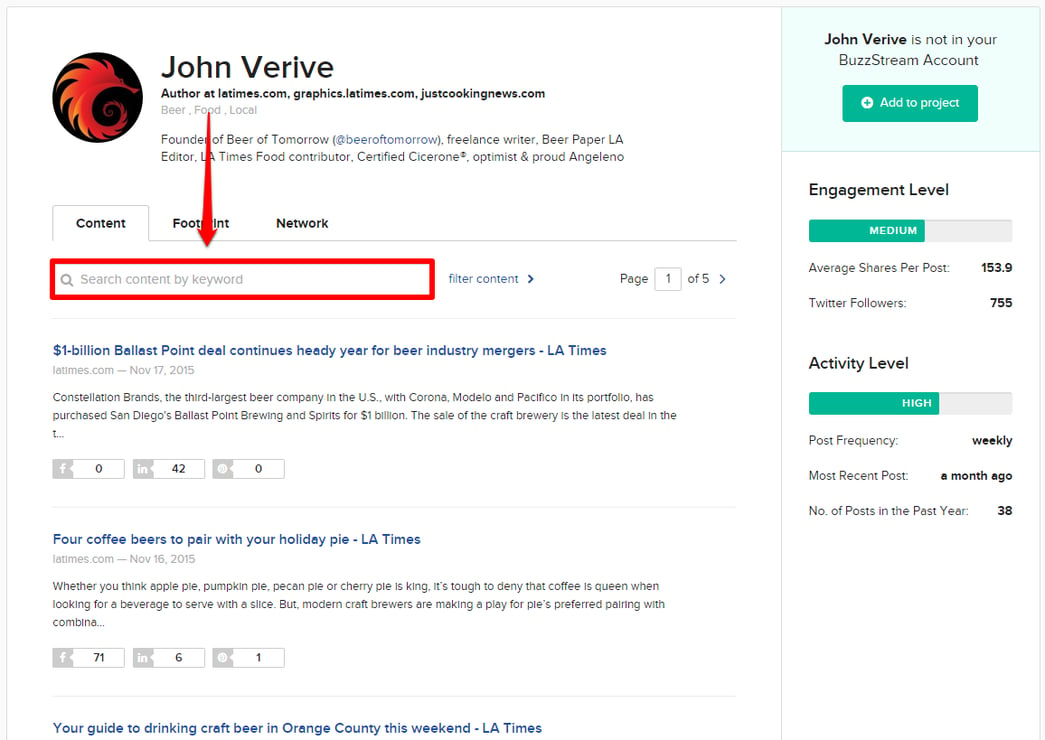 This highly filterable content lets you quickly and easily comb through an influencer's writing history online. Seeing where an influencer publishes, what they write about, and how it's generally received gives you an understanding of their involvement in the online community, which is extremely valuable in relationship building and online marketing.
Another interesting section within the full profiles in Discovery is the "Footprint" tab, which displays the author's Twitter profile, where they're published, the DA of the sites, and average shares:
This is a great section to quickly review the author's online footprint, as well as measure their influence.
You can also see Twitter data (Followers, Following, and Tweets):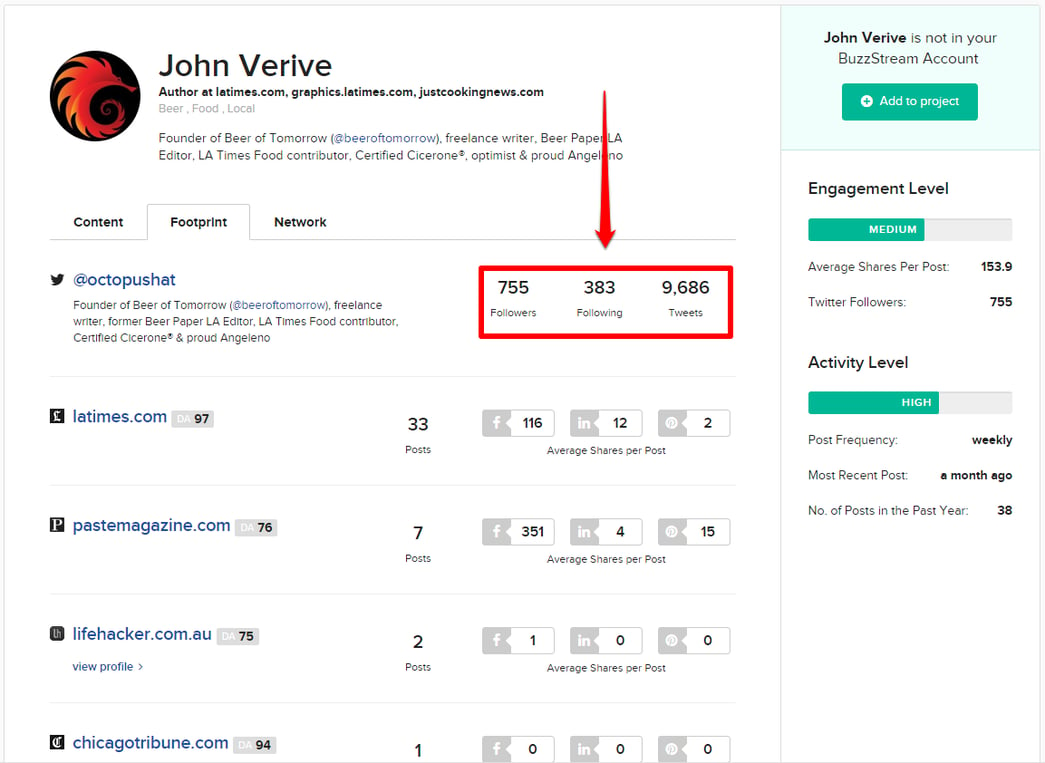 You can also analyze where people have been published by viewing Domain Authority of the publications, number of posts on that site, and their average shares per post: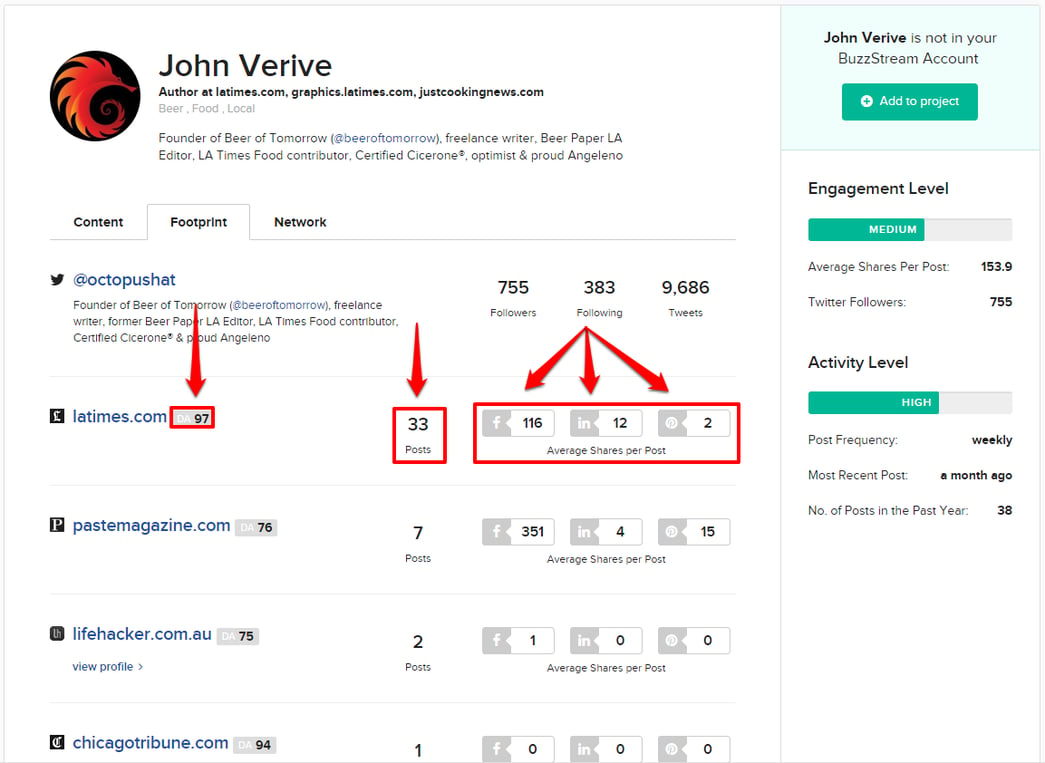 And finally, you can check out the "Network" tab, which offers an interesting graph: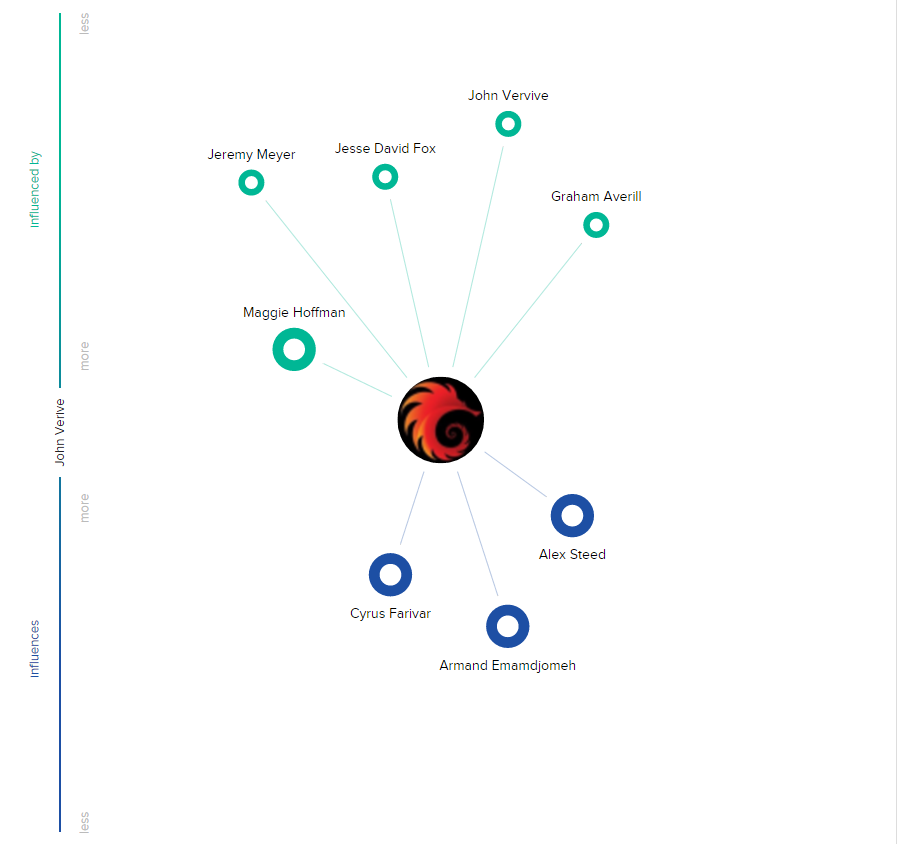 This graph indicates who John Verive has been influenced by (green circles above), and who he influences (blue circles below). You can examine this graph to see how various influencers within your niche are connected – again, extremely helpful for industry research and understanding the important members of an online community.
Step Four: Reference Side-Bar Information and Add to Project
The last step in our research into influencers with BuzzStream's Discovery tool is taking a look at the information Discovery provides on the side-bar.
Discovery offers some high-level metrics on the side-bar that can be used as a final "spot check" for influencers.
The numbers under "Engagement Level" will give you an idea of the potential amplification and reach of an influencer. These numbers include average shares per post and Twitter followers: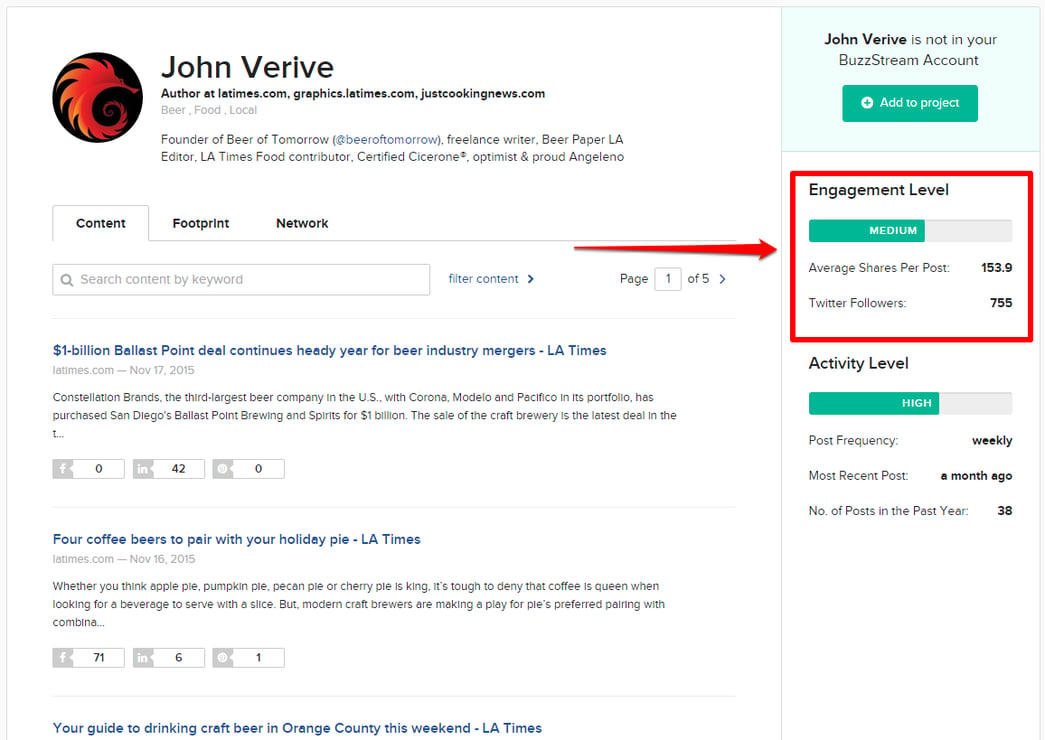 The information listed under "Activity Level" will help you determine how active and involved an influencer is within their niche. Here you can see post frequency, when their most recent post went live, and number of posts in the past year: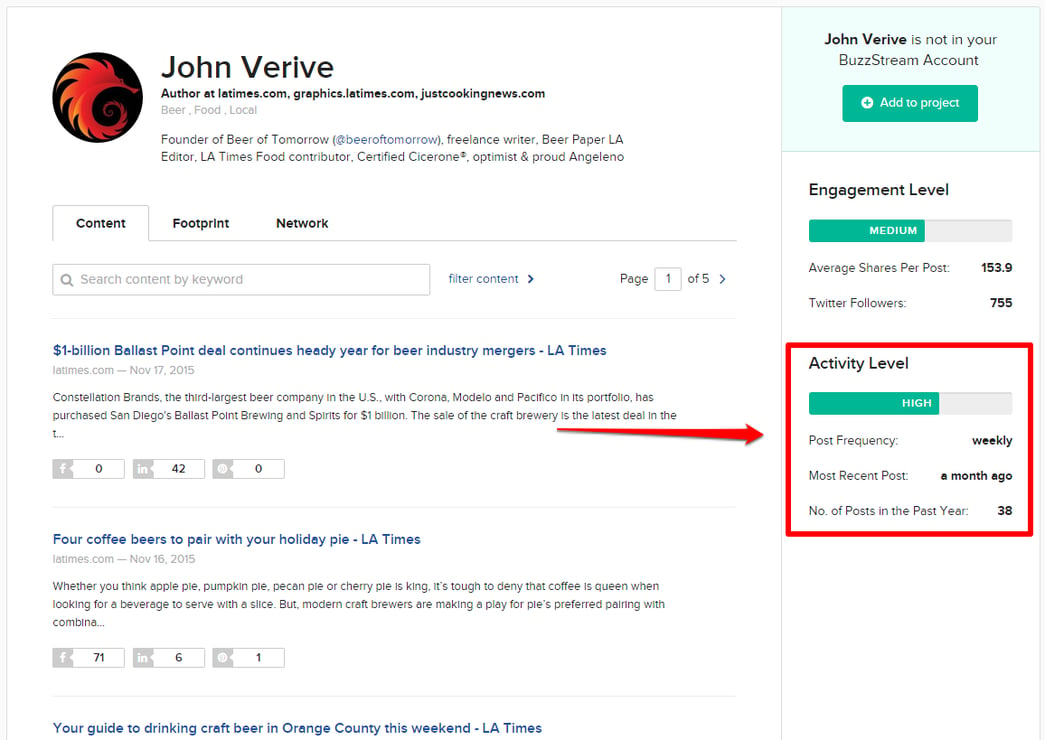 If everything checks out and you want to pursue building a relationship with this person, you can easily add them to a BuzzStream project via the icon in the top-right corner: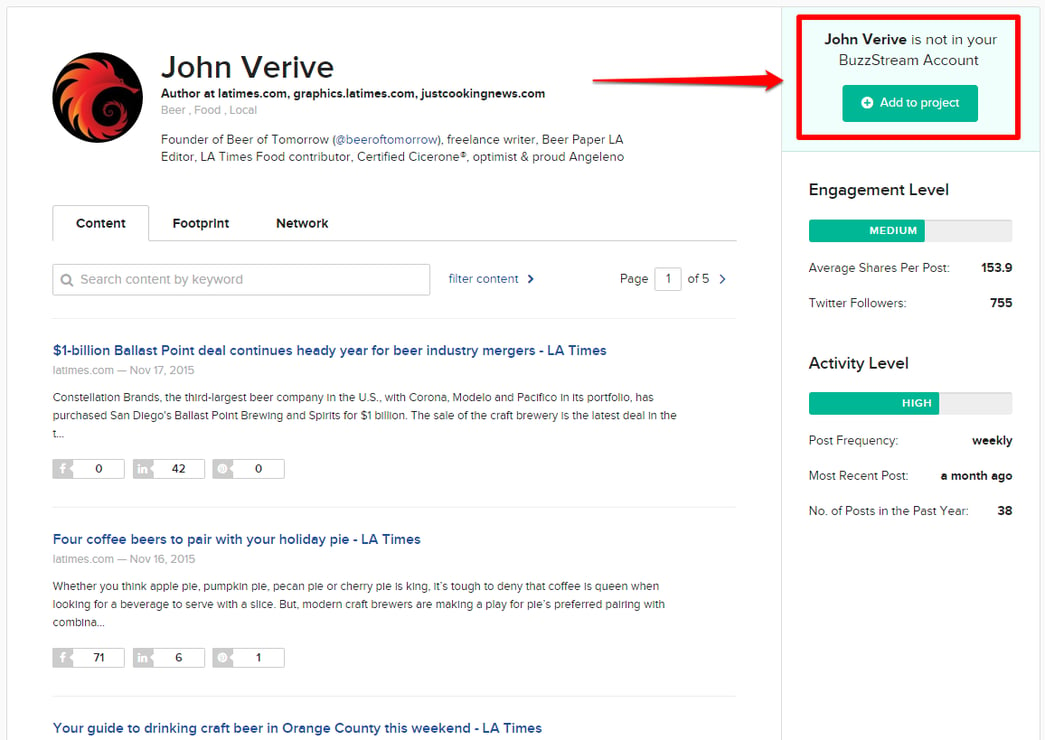 And that pretty well covers how you can use BuzzStream's new Discovery tool!
For more information on what the tool offers, and what BuzzStream has planned for it in the future check out this helpful post by Stephen Panico on the BuzzStream blog.
Also check out Matthew Barby's Moz post about the power of authors for link building to learn more about why finding influencers can be so important.
Discovery is an excellent tool for researching and finding influencers within an online niche, community, or industry - particularly considering the tool is still in beta. BuzzStream is continuing to work to improve the tool. Any marketer searching for relevant authors or industry leaders for influencer marketing campaigns should consider using Discovery.
Thanks and see you next time on Tutorial Tuesday!