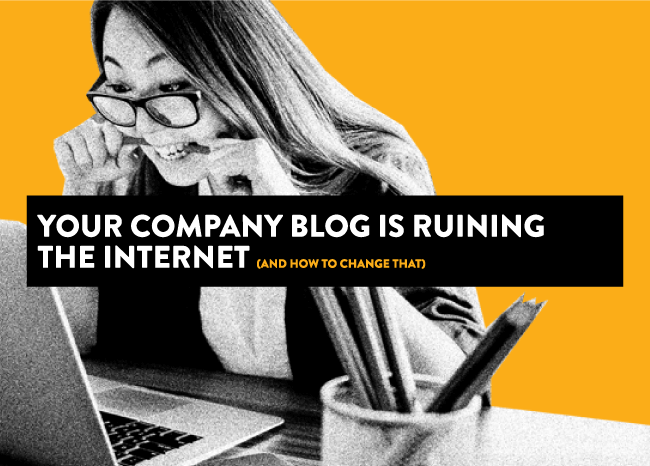 Digital marketing is a must for every business aiming to rank higher in search engine results pages (SERPs). One way to attain a competitive edge is through a content marketing strategy that educates potential customers. A blog is a popular choice to provide valuable insights into brands, helping readers make informed decisions. Such informative content guides their decision-making process and builds a relationship between them and their businesses. When mixed with search engine optimization tactics, businesses can start winning rankings.
However, with more than 600 million blogs worldwide, it has become harder to stand out in the SERPs. Many companies don't have the resources needed to publish high-quality content on a regular basis. Unfortunately, publishing low-quality content can hurt search engine optimization strategies.
That's why it's imperative to find effective ways of publishing high-quality content without depleting your resources. Fortunately, there are several simple tactics businesses can use to improve their content marketing strategies.
The Importance of a Well-Performing Blog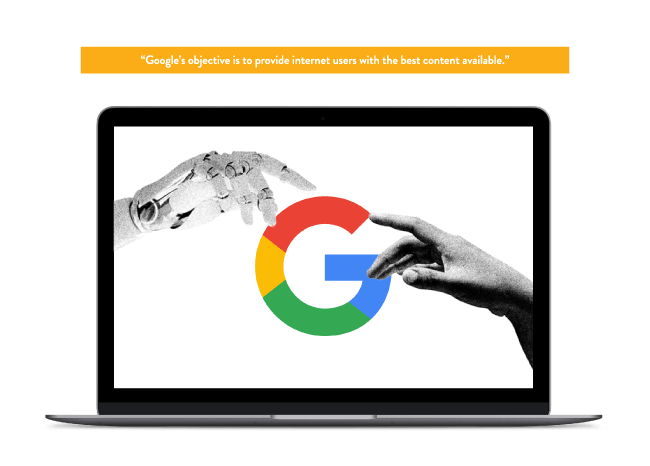 A blog is essential for a website because it helps companies showcase their expertise. Some benefits include:
Decreasing bounce rate.
Showing search engines that your website is a credible source of information.
Improving chances of capturing rankings or other special SERP features.
Helping obtain more high-authority backlinks, which helps increase authority to your site.
Creating a better user experience for potential customers starting their journey with your brand.
Generating more leads.
While blogs are an integral component of a marketing strategy, the creation of relevant, high-quality content is often overlooked.
Google's objective is to provide internet users with the best content available. Accordingly, the search engine emphasizes content that offers a unique perspective and valuable information. Additionally, content that is relevant to a business' brand tells search engines what your website is about and how it should be indexed.
So, in order to have a well-performing blog, the content must be relevant, helpful, educational, and valuable.
How To Make Your Blog Better Right Now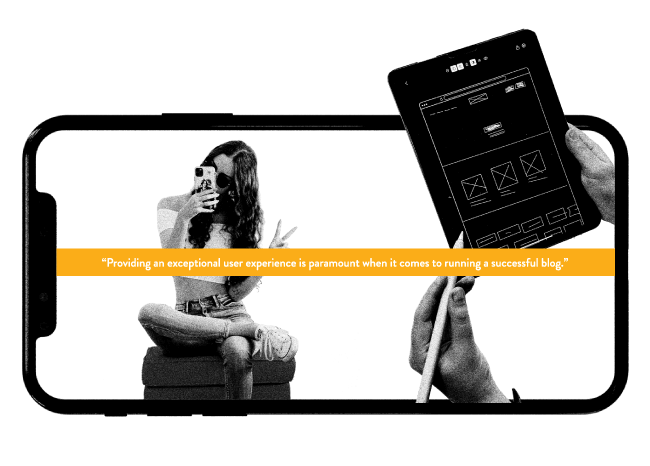 Enhancing a blog doesn't have to cause stress. You can use these actionable tips to improve your blog's performance quickly. These steps are just a starting point — you'll need continuous effort and a long-term strategy for ongoing success.
Ensure Optimal User Experience
Providing an exceptional user experience is paramount when it comes to running a successful blog. If visitors can't read your posts or have trouble navigating your website, they'll leave and find what they need elsewhere. Here are some tips to enhance the user experience on your blog:
Increase the font size to a readable level.
Contrast the text with the background to aid those with visual challenges.
Create a mobile-friendly website design for easy mobile access.
Utilize whitespace to break up text into readable chunks.
Include related posts at the bottom of the page for quick navigation.
Remember, a positive user experience leads to greater readership and engagement, so always strive to improve the usability of the blog.
Declutter Your Page
Readers appreciate simply-designed blogs.
This is because many readers are in the "awareness" stage of the buyer's journey and don't want to be shown advertisements.
Take a critical look at your blog's layout and remove any unnecessary clutter that might distract or overwhelm your readers. Streamline the design by eliminating excessive ads, banners, or widgets that don't contribute to the overall user experience.
Instead, add the essential elements that help readers navigate your blog:
A search box to type in key terms.
An email subscription form to stay up-to-date with your blog.
Author bios to ensure credibility.
Blog categories to help readers navigate topics.
A clean and visually appealing layout improves readability and encourages visitors to engage with your content.
Reformat Your Content
Redesigning your existing content can give it a fresh look and make it more reader-friendly. Remember to break up long paragraphs into shorter ones, use subheadings to organize your content, and use bullet points or numbered lists to make the information more digestible. Additionally, consider incorporating relevant images, infographics, or videos to enhance your blog post's visual appeal and engagement.
Finally, consider updating your old posts by implementing basic SEO to boost your blog's visibility in search engine rankings. Then, use descriptive and keyword-rich meta titles and descriptions for each blog post, optimize your images with alt tags, and ensure your URLs are clean and keyword-friendly.
These quick changes can significantly boost your blog's search engine performance. However, remember that a comprehensive SEO strategy involves more than just formatting. You must regularly revisit and revise your content to align with the latest SEO best practices.
Creating a Long-Term Content Strategy for Your Blog
A plan without a strategy is a lot like fishing without a hook: you can cast all you want, but you probably won't catch anything. Without a clear, focused content strategy, your blog won't be able to generate any meaningful traffic from search engines.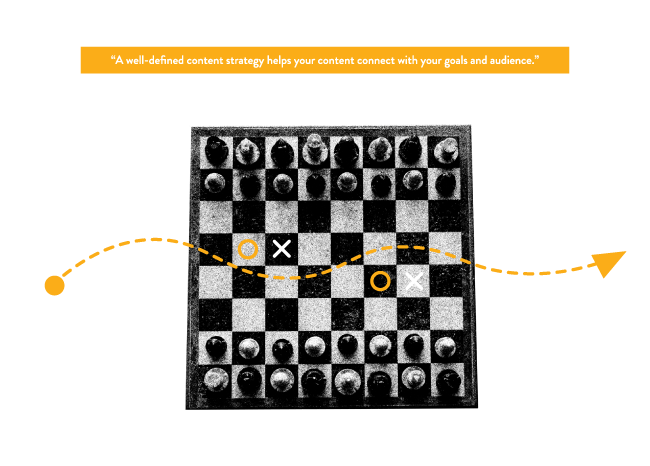 A well-defined content strategy helps your content connect with your business goals and resonates with your target audience. You can create a well-defined content creation strategy by conducting thorough research, identifying your audience's pain points and interests, and developing a content calendar for a consistent workflow.
Establish a Goal
To create a thriving blog, it's crucial to establish your end goal. It acts as a guide for content creation as well as helps assess the success of your blog. Have a clear objective in mind, and produce valuable topics accordingly. Examples of content marketing goals include but aren't limited to:
Increasing Brand awareness
Obtaining new customers
Engaging with customers
Fostering brand loyalty
Educating current and new customers
To begin, consider your blog's objective.
If it aims to inform customers, craft definitional pieces that address specific keyword queries. To attract prospects, produce linkable articles aimed at a broad readership.
Bear in mind, however, that regardless of your focus, your blog must guide the reader through the customer journey, empowering them to make wise purchase decisions regarding your product or service.
Create a Publishing Frequency
To ensure maximum visibility and engagement for your content, establish a publishing frequency. Consistently updating your blog not only maintains your online presence but also keeps your content up-to-date. Moreover, frequently published web content can boost your rankings on search engines as it signals an active online presence.
When creating a publishing frequency, consider how often you want to publish new posts and when it would be best to post them. Consider factors such as:
When your audience is online.
The goal for your blog.
The industry's trends.
The type of content you are producing.
By using tools like Google Analytics, you can find the best time to publish your blog articles. For example, if your site traffic spikes mid-morning, a 9 AM publishing time may be successful.
Creating a consistent publishing schedule can build an audience that trusts your brand and looks forward to seeing new content from you.
Research Your Audience
Google prioritizes relevant and valuable content on the search engine results page. You can create relevant and valuable articles by tailoring that content for your target audience. Dig deep by going inside your audience's heads to uncover their pain points, how they spend their time, and what makes them tick. This collected data is called a customer persona.
To create a customer persona, conduct thorough research to identify your audience's needs, desires, and pain points. This research includes information like:
The topics your readers care about;
Any related interests;
Questions they ask;
Problems your business can help them solve;
You can find out your readers' pain points by looking into online forums, social media groups, and communities where people share and discuss their issues. This strategy will offer valuable answers and establish your authority to users.
You can also gather demographic information to help bring context to who you're writing to. This information includes:
Gender
Location
Age
Job title
Job industry
Keeping your customer persona in mind while writing articles will help you create content that is relevant and valuable to your audience.
Additionally, make sure to optimize your content for both the user and search engines. While it's necessary to include relevant keywords for better search engine visibility, putting the user first is equally important. Finding the right balance between search optimization and user-friendly content will help attract and keep a devoted audience.
Brainstorm Content Ideas
To be a successful content creator, it's crucial to understand your industry beyond just promoting products. Here are some tips to help you engage better with your intended audience:
Stay informed with industries that are relevant to your business: Follow industry publications, subscribe to relevant newsletters, and connect with thought leaders through social media. Staying informed can help you identify emerging topics and provide valuable insights to your audience.
Network and collaborate: Collaborate with experts or influencers to create content that offers unique perspectives and appeals to a broader audience. Attend conferences, webinars, and networking events to establish relationships.
Invest in content marketing services: Consider leveraging content marketing services provided by professionals in your industry. These experts can provide valuable insights, research, and create linkable content that resonates with your target audience. They can also help develop keyword-focused content strategies to enhance your blog's visibility in search engine rankings.
Conduct customer surveys: Gather valuable information about your target audience and improve the overall customer experience by conducting customer surveys. By asking specific questions, you can gain insights into any knowledge gaps your customers have about your business.
Create a Variety of Content
A common misconception among bloggers and site owners is that every link should lead directly to product pages. While promoting your services is important, primarily focusing on product-centric content can limit your blog's potential. Diversifying your linking strategy can create a more comprehensive and engaging user experience.
Instead of directing all links to product pages, consider incorporating links to relevant blog posts, informative articles, case studies, or external resources that add value to your audience. This approach enhances the user experience by offering a wider range of information and establishes your blog as a go-to resource in your industry.
In conclusion, businesses that prioritize content marketing and blogging are more likely to establish themselves as credible sources of information. When done well, informative content can boost search engine rankings and overall website authority, leading to increased traffic and customer engagement. By regularly publishing high-quality content and utilizing effective SEO strategies, businesses can stay ahead in an increasingly competitive online marketplace.