Let me ask you one question before you read this article: Which link building techniques do you use for your site?
That's a tough question, right? There are many link building strategy available to use, but have you ever done your research which one works best for you?
If your answer is a big "NO," then stay tune and read this article. This post should help you to understand one of the most powerful and easy link building techniques available. Many of you already know the power of quality backlinks: the more quality backlinks to your site, the more traffic your site will get. But how do you get those quality backlinks that equal traffic?
My answer: "BROKEN LINK BUILDING" – a white hat technique.
Many people are still not clear about what broken link building actually is, so they're not getting the results they expect from this tactic.
In this post I will explain in detail how to make broken link building effective.
Broken link building is a very simple process.
1) RESOURCE - How to find quality resources or pages or blogs
2) SEARCH – How find broken links
3) PITCH – Reach out to the webmaster to replace broken links with your own
Simple, right? Let's work through each individual step in detail.
STEP 1: RESOURCE - How to Find Quality Resources or Pages or Blogs
Let's look at an easy example. We were working for our client to promote a treatment for clubfoot and had designed a content marketing plan; an online eBook on how to treat clubfoot in infants.
We want lots of resources lists for our marketing plan, as demonstrated by the example below.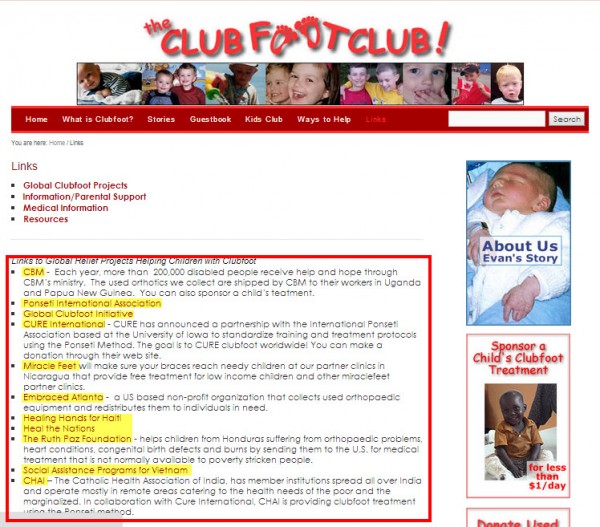 It is very easy to find lists or resources by using some advanced search operators on Google.
[clubfoot inurl:links]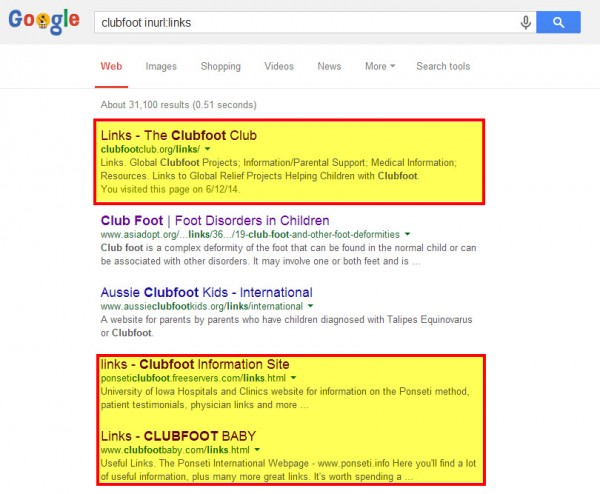 Google search saw over 31,000 results for the term 'clubfoot.'
Give it a try with your site using your KEYWORD followed by "inurl:links" This search query tells Google to find relevant pages to your given keyword that has 'link' in the URLs. So if you're looking for bodybuilding list, try this search term: "bodybuilding inurl:links"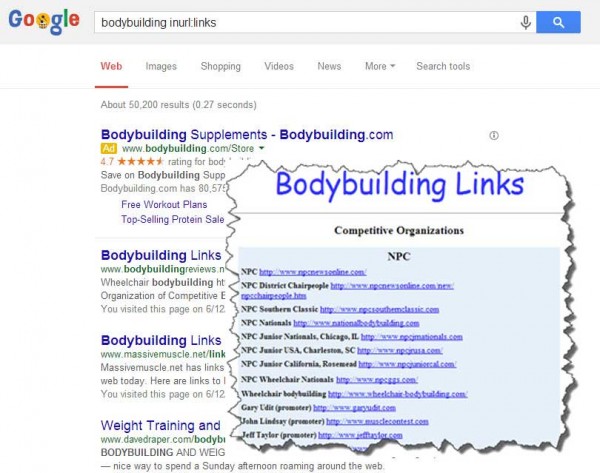 The resources pages you'll find with these search queries are extremely popular. Most of the time you will find broken link on these pages or resources. When a reader clicks on the broken resource, they'll get an error message such as a 404 error. This is not good for either the webmaster or the site owner because their visitors become disappointed because they cannot find resource that they are interested in.
So we're doing a favor to the webmaster by informing them about the broken link. In return we are asking them to include our link to replace that broken resource.
STEP 2: SEARCH - How to Find Broken Links
Now that we have some resources and pages that contain many links, the next step is to find the broken links. There are many websites that can help you find broken links quickly and easily. I personally use deadlinkchacker and a Chrome plugin called check my links.
I ran the test and found one broken link; see image below.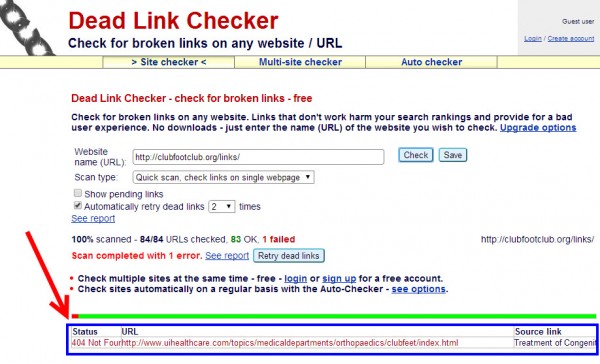 STEP 3: PITCH – Reach Out to the Webmaster to Replace Broken Links with Your Own
Now we have everything ready and we've found our broken link.
The next step is to inform the webmaster using a short email pitch.
Hey (publisher name),

I was checking out your website and found some very useful information about clubfoot treatment, but I also noticed that one of the resource link wasn't working on this page: (insert page link)

That link gives me 404 page not found error.

If you need a replacement resource, I have written a detailed clubfoot treatment guide for parents and thought it might help your readers.

Here is my guide: (Insert your guide link).

Hope that helps and keep up the awesome work with the blog!

Cheers,
That's it - a very simple process.
The Downside of This Simple Process
The downside of this technique is "TIME." It takes a good deal of time. In my research, I found that if I contact 10 webmasters and inform about their broken links and ask them to replace their broken link with one of mine, about 3 of them agree to use my link.
That means the success rate for this method is 30%... which is not bad at all.
Many SEOs think this method isn't worth the time and effort, so they decide that broken link building is not for them, but I've found that this technique increases your search engine traffic with just a little effort.
A Few More Google Tricks
Try these Google searches and see which ones give you good results for your site.
For example, we could use these searches:
[bike inurl:resources]
[bike inurl:links]
[bike inurl:websites]
And the same say on iPhone:
["iphone" inurl:resources]
["iphone" inurl:links]
["iphone" inurl:websites]
And yoga:
["yoga" inurl:resources]
["yoga" inurl:links]
["yoga" inurl:websites]
Keyword choice is very important.
This technique doesn't work well for long tail keywords. We only got two results for the keyword "nutritional benefits of organic food," but when I search for "nutrition"…. wow, that's 541,000 results.
Now I have a quick question for you: Did you get some value from this post?
If so, leave a comment and let me know.