Link building is one of the best ways to catapult your brand to the top of Google's SERPs (Search Engine Results Pages), and it's also an important part of any integrated online marketing plan. The problem is, not everyone has time to build the amount of quality links it takes to get to the top of the SERPs.
Link building is hard work, and it takes a considerable amount of skill. It's also a time sink.
The good news, however, is that there are a few types of easy, effective links you can build with a minimum of time. These links are white hat, relevant and sustainable. They're not spammy, sketchy or toxic.
This post is about those easy links. They're effective, but they're also so easy that a monkey could build them. I doubt you have a monkey, though, so the task of building these links is going to fall into your lap.
These links alone won't get you to the top of the SERPs, but they'll help your SEO efforts tremendously—and everyone has to start somewhere.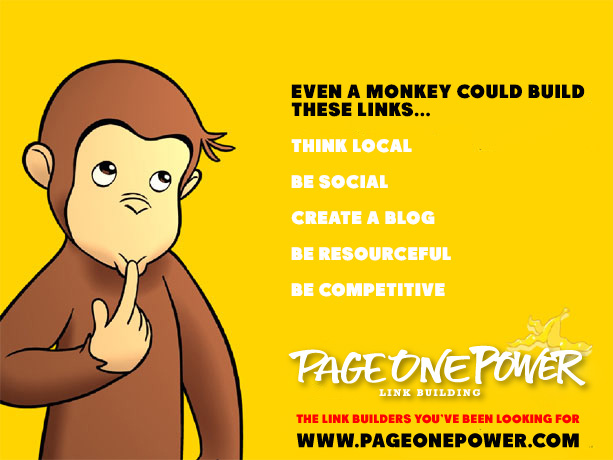 Think Local
First, let's start with a local mindset. I already wrote an article about how local link building is an easy win that goes more in depth than this will, but thinking locally is the best way to start.
Google Places and listings.local.yahoo.com will both allow your brand to place hyperlinks that don't include the no-follow tag. The Yahoo! listing even allows a few keywords if you're smart about it. Both of those take mere minutes, and they're quality, helpful links.
Also think about who you've interacted with in the community. Can you reach out to any schools, businesses or charities? If you've had positive experiences with anyone in the past, they might hook you up with a link. A local link is always great, and sometimes all you have to do is ask. It doesn't take long to send a friendly, straight-forward email.
This is just the tip of the iceberg for local link building, but it might give you some ideas on how to build a few easy links from the connections you have in your community and your physical location itself.
Create a Blog
Your company/brand probably needs a blog if it doesn't have one.
Some blogs are time consuming and require constant care, but yours doesn't have to match that description. You can use your blog to host photos, small blurbs, event descriptions or just short snippets of content. You can also interview other people in your industry, post employee profiles or do anything that strikes your fancy—posts don't have to be 1000 word essays. Have fun with it.
If you're having fun and producing content that's enjoyable and relevant for those in your industry, you're on the right track.
You won't gain links instantly, but it's essential to have a blog for when those links do come. You have to make it easy for people to link to you. Include social share buttons in your blog design, as well.
The most important thing about hosting your own blog, perhaps, is giving out link love to other people. Be generous with your links. Let people write guest posts for you. If you like something, link to it. The links will come back around eventually, and it takes minimal effort.
Social
Social media is not a substitute for link building. It's another part of that integrated online marketing plan I mentioned earlier, though, so they can work together.
There are a few links you can build with social/sharing sites, and social media is useful beyond that as well.
If you have any video content, then please start a YouTube profile immediately. You get a do-follow link from a huge site, and it's also a great way to embed your video content on your blog. A Google+ profile is also a no-brainer due to its do-follow link and the social sharing possibilities.
Share other people's content as much as you can on your social media accounts. Just do it as you go, even if there's no immediate "return." The links you gain from return mentions won't directly influence your standing in the SERPs, but they can indirectly help you a lot in that regard.
Finally, if you're ever a part of any "big" content (an amazing photo, a funny video, a great case study, etc), post that content on Reddit and Digg. Carefully read the rules for each, and don't be disappointed if they don't take off—Reddit especially is a place where trial and error reigns supreme.
Resources
There are two ways to go about getting resource links. One of those ways is very time consuming and includes finding a ton of target sites, organizing them and then launching a big outreach campaign with personalized emails.
That's not what I'm suggesting to you. Think about your site and your brand—what do you do? How do you help people? Who would you be a resource for?
Find the sites those people go to. Do a quick Google search every night and throw a few websites in a spreadsheet. Jot down ideas while you're doing other work. Send some emails (polite, friendly, brief and personalized—no crappy templates) and ask those sites for a link on their resource or links pages.
Find associations and relevant directories that deal with your industry, as well. Just send a few emails every once in a while. Your success rate won't be 100%, but if there's real value in what you do then you're going to get some response and get a few links out of it. Take it slow and go for the sites that make the most sense—if you have to over explain why you're a resource then you're not a resource. If it's an easy fit then it's an easy link.
Competitors
This one is a little more time intensive, but it's still so easy that a monkey could do it. Log in to Moz's Open Site Explorer and input your competitors' website. You'll find a list of their backlinks, which allows you to see where their good links are coming from.
You can copy/paste a few them into a document or go whole hog and transfer them all into a spreadsheet. Only worry about the good, relevant sites. Pick one or two a week (or month) to send a guest post, an infographic or a video to. Or, alternately, you can just strike up a conversation with those websites and build up something for the future.
It's a good, foolproof way to find potential links from great sites because someone's already done all of the work for you.
A monkey could build these links, but you're actually lucky that you have to do it yourself—monkeys don't consider important factors like relevancy, and they can't spot spammy websites. Take your time and focus on relevant sites (local sites, industry sites) and the easy-win links mentioned above. Do it in small increments.
It will probably take you more than these easy links to get to the top of the SERPs for your keywords, but if you use these methods you'll be off to a great start with minimal time and effort invested.